There are two ways to earn money, fame and respect in the world, either you earn them through your talent, hard work or you simply gain prominence by doing things differently, that is, things that are out of the way. The latest news that has stirred the entertainment world as well as the cricket sphere is Mathira's statement about Shahid Afridi.
It was previously heard that the cricketer and heartthrob of many youngsters, Shahid Afridi is way too unhappy about the movie "Main Hoon Shahid Afridi" which has been released last Friday, August 23rd and since then doing a good business all over the nation. Shahid Afridi shared his feelings with media and stated that he is pretty much not satisfied with the item song which has been included in the movie featuring Mathira and Mahnoor Baloch. He said that the he let the filmmaker make a movie on his name so that the youth of today can learn from his examples and get attached to the cricket world but adding intimate scenes within the movie is somehow he hates about it and also requested the filmmakers to exclude the song before its release.
When Mathira was questioned about how does she feels regarding the statement been passed by Shahid Afridi, Mathira was blunt and quick in declaring the cricketer as mentally blocked and a person with disturbed mindset who owns a narrow mentality. She also holds her point of not excluding the song from the movie which was obediently respected by the team.
Here is a clip that was been shared in one of the printed media!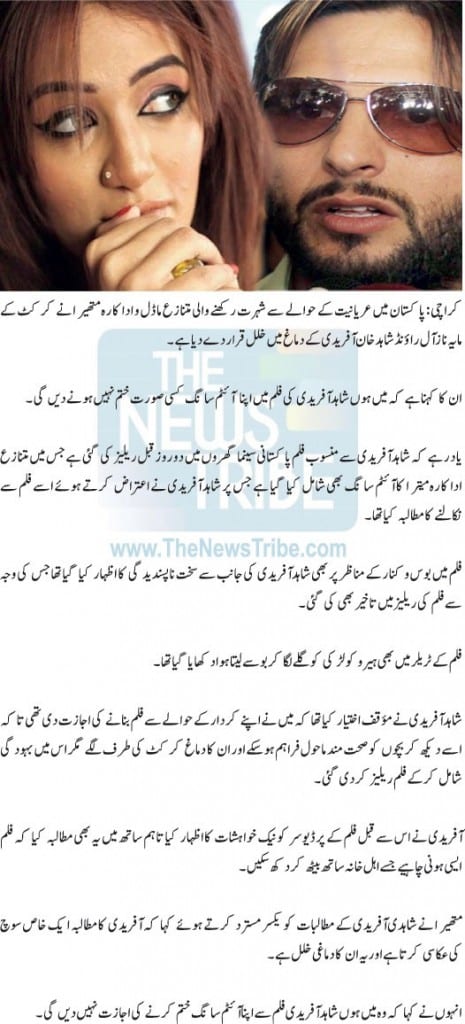 You as an audience are a better judge,
Share your views,
Nida Zaidi