Ahad and Sajal are undoubtedly the IT couple of the entertainment industry right now. People just did not fell for Dr Asfi or Dr Zubiya alone, it was their couple that made people crazy. The audience was shipping the reel life couple when the actors started hinting on them being the real thing.
Sajal and Ahad are seen together since then always praising and supporting each other. Sajal just openly supported Ahad in the Ko Ko Korina controversy. The families f both the actors are also seen praising them and Ahad hinted on them being together in his interview with BBC. The couple will be seen together in the upcoming Aangan and have done a shoot together recently. Ahad posted a picture from the shoot where he is looking at Sajal dreamily and wrote this caption:
Similar to how I am admiring Sajal in this photo, let's all take a second to appreciate how beautiful Sajal is.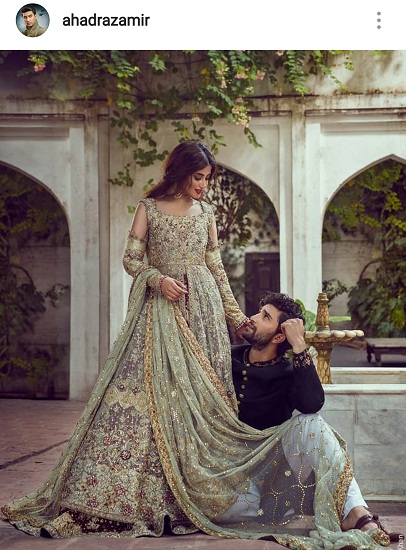 Yes, Sajal is loved by Ahad's family and Saboor Aly has expressed her approval on record but the couple have not gone public with their relationship yet.
Don't you think this post is a confirmation in itself? Share in the comments section below!