Ahsan Khan is well-known for playing the hero in dramas. Now this man is on a mission to play a hero in real life too. All of us can make a difference in someone's life if we try and Ahsan Khan is urging people through social media to do whatever they can to make a difference in someone's life. Yesterday Ahsan Khan came across a beggar on the street who had a story to tell. There was a time when this man used to work in the Middle East, had a wife and seven children but all of that came to an end when his car crashed and he lost his entire family. His brothers made him sign on a blank paper and took everything he had. His story is very saddening. Ahsan Khan made a video of this person who speaks very fluent English and wants to earn a decent living because he does not like what he is doing. Even in these trying times, this man has a strong faith that God is on his side. Ahsan Khan asked people to help him make this person's present and future better.
Watch the video here:
Ahsan Khan also started the day today with this statue update.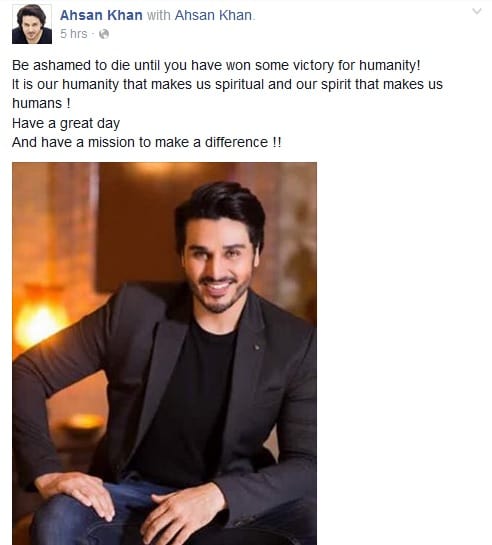 It looks like this year Ahsan Khan wants to do everything he can to make a difference in someone's life.