Aiman Khan Got Angry with Hina Altaf's Remarks about Her Husband and Marriage – Hina Altaf and Aiman Khan are popular celebrities but there is a definite difference between the personalities of the two celebrities. While Aiman Khan is always calculated and to the point in interviews, Hina Altaf never shies away from speaking her mind. Hina Altaf was invited as a guest on the show To Be Honest which is hosted by Tabish Hashmi and directed by Azfar Ali.
A clip of this show has gone viral in which Hina Altaf and the host Tabish are seen talking about Muneeb Butt and Aiman Khan in a way which wasn't liked by the celebrities concerned, for obvious reasons. The host asked Hina Altaf to name an actor who doesn't know a thing about acting but is all airs and graces. Hina Altaf immediately named Muneeb Butt. What was even more belittling was that the host said that he had no idea who she was talking about since he did not follow television. He turned to google to search for answers. This clearly was another way of questioning Muneeb Butt's fame and recognition. Hina Altaf's reply to this was equally offensive when she said he is the one who had that expensive wedding , suggesting that that's all he has to his credit.
As if this was not enough, the host replied by saying that he remembered this wedding because the bride Aiman Khan posted a picture discouraging people from giving and taking jahez right after her marriage. Aiman Khan and Minal Khan immediately expressed their anger via facebook statuses. Aiman Khan called Hina Altaf and the host 'uneducated' because in her opinion it was really upsetting to watch them making fun of their co-stars in such a manner. Minal Khan also questioned why there was so much hatred in the industry.
This was either something which was planned or perhaps the content of the show is such that they get ratings because of bashing celebrities.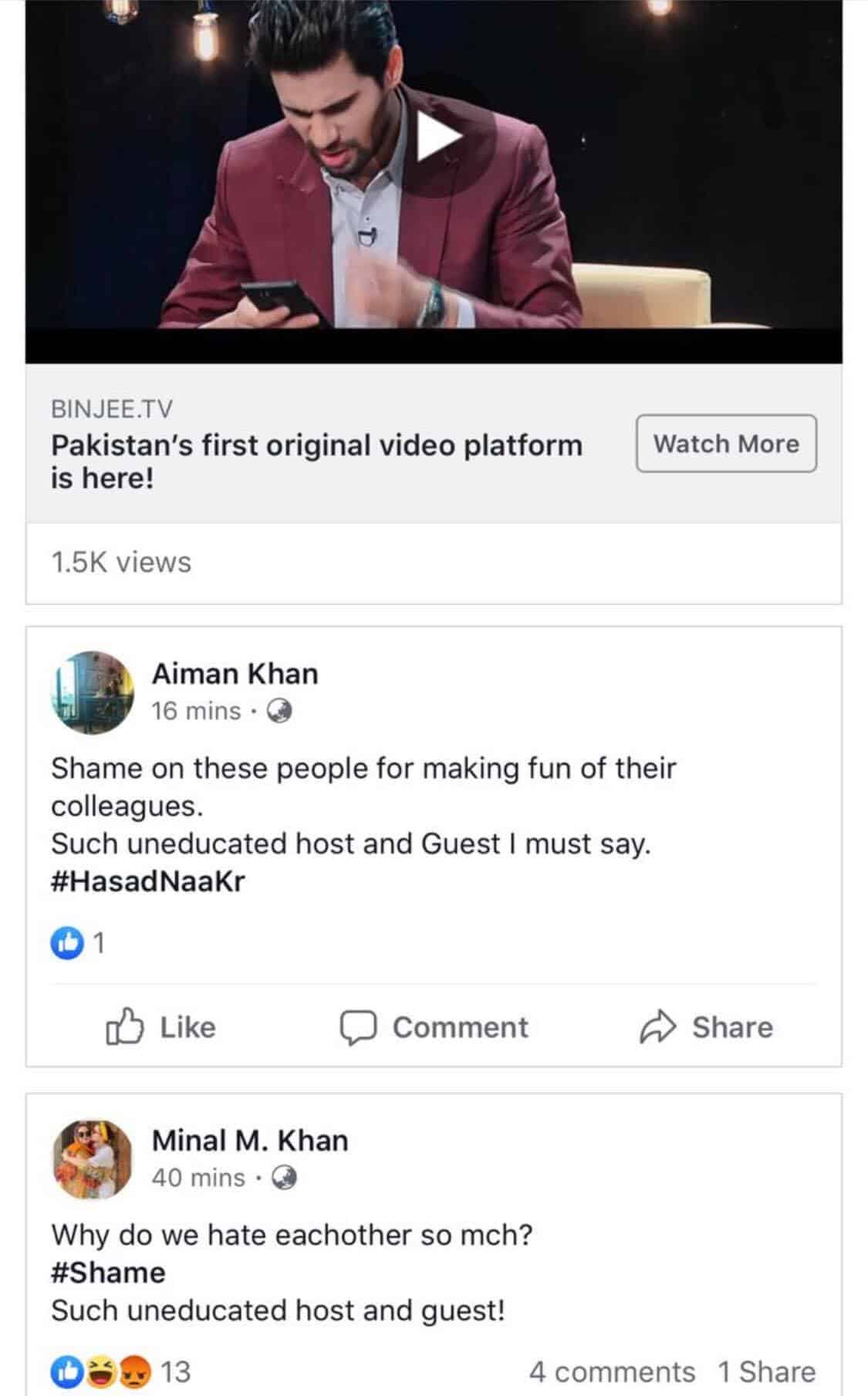 Hina Altaf Took Revenge from Aiman Khan – Old Video is a proof