Aiza Awan is a relatively new actress who has been a part of the showbiz industry for 3 years now. She always wanted to be a ramp model but she was told by those running that particular industry that she should try her luck in acting. Her first project was with MD productions; it was a small role but it was the first step towards a successful career. Apart from her acting skills, Aiza Awan is also loved by the viewers because of her good looks. She takes her acting career seriously which is why she makes sure that each one of her characters stands out not just because of her performance but also her overall look in these dramas.
In the drama serial Yeh Na Thi Hamari Qismat, Aiza Awan is playing Alishba's role. Alishba is an immature young girl who gets married in an ideal household but she fails to come up to the expectations of her new family. Since Alishba loves dressing up and her lively personality along with her good looks are her most prominent traits, it was really important for Alishba to look good on-screen all the time. Aiza Awan did her homework right; she has been looking appealing in the drama throughout. Her make-up and dresses have been carefully done and designed. The Koti designs from the drama already have the attention of the female viewers. Apart from that, she wore some of the most stunning formal dresses in the drama designed by top Pakistani designers.
Here are some of the most appealing dresses worn by Aiza Awan in Yeh Na Thi Hamari Qismat along with the details about the designers:
Stunning Formal Wear
Aiza Awan wore some of the beautiful formal outfits In Yeh Na Thi Hamari Qismat. The main dress she wore for the poster of the drama was an electrifying blue and gold dress is from Ansab Jahangir Studio's formal wear collection. Ansab Jahangir has designed formal outfits for many actresses who have been part of some of the most popular dramas. Aiza Awan paired this dress with striking jewelry which went so well with the overall look. This was the perfect look for the poster.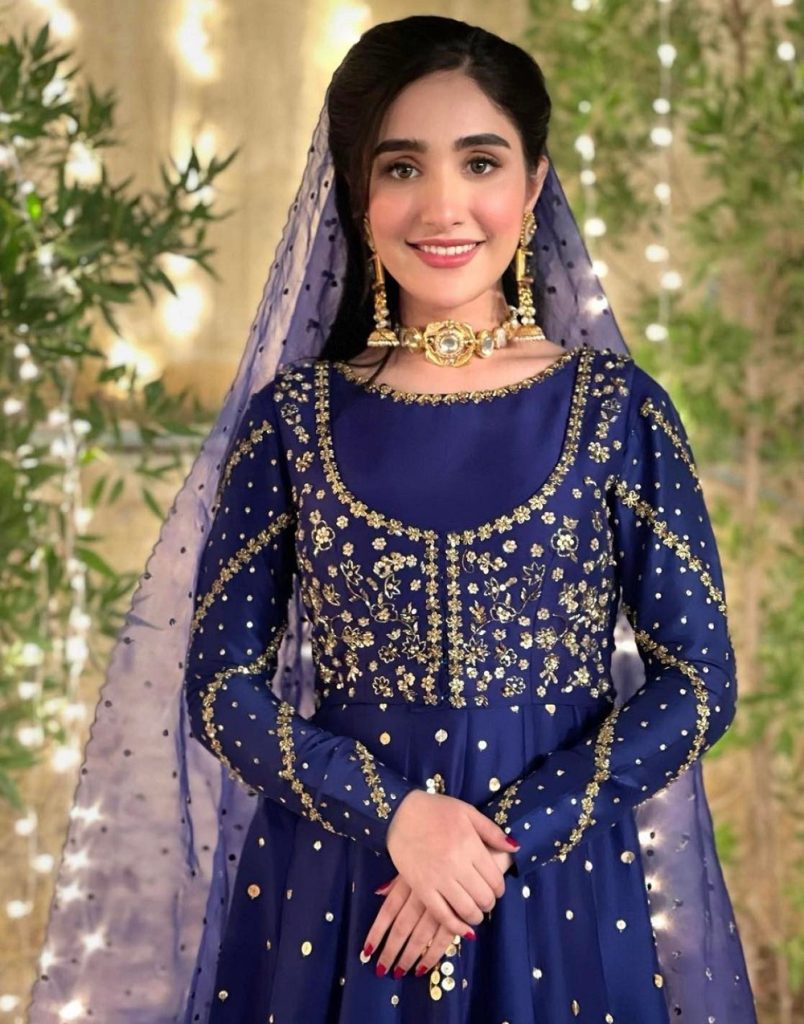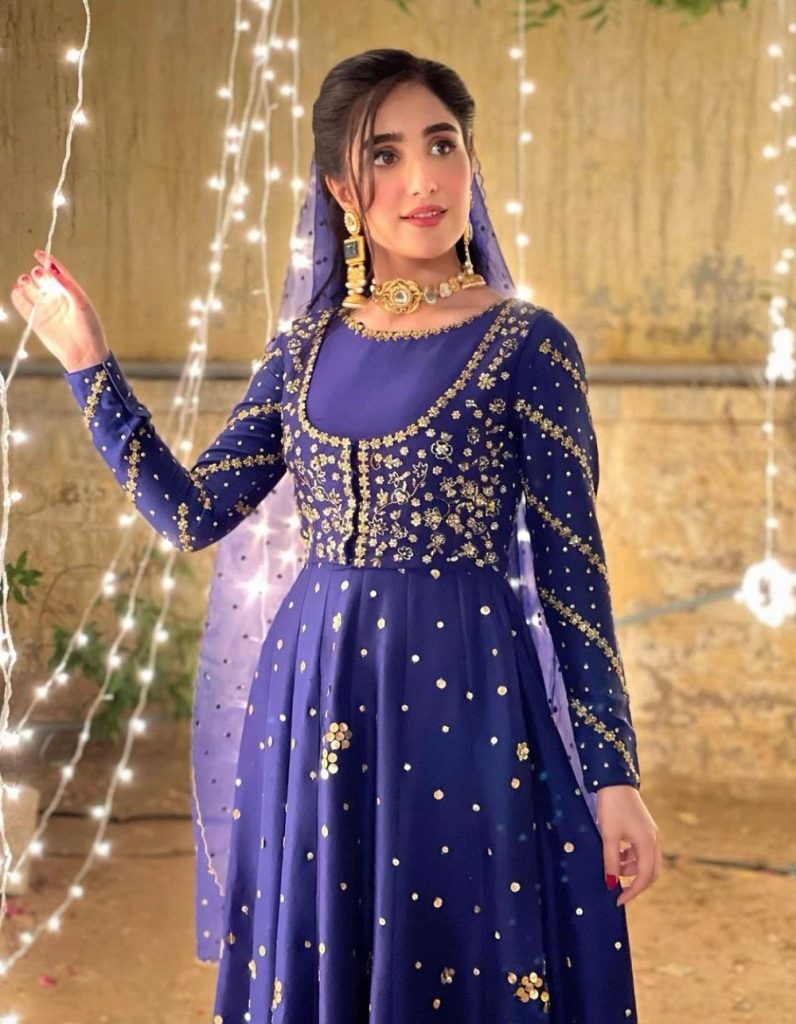 The Valima dress worn by Alishba in the drama was designed by Sunnia Manahil who has designed dresses for many leading actresses of the industry. This was another look that was carefully put together.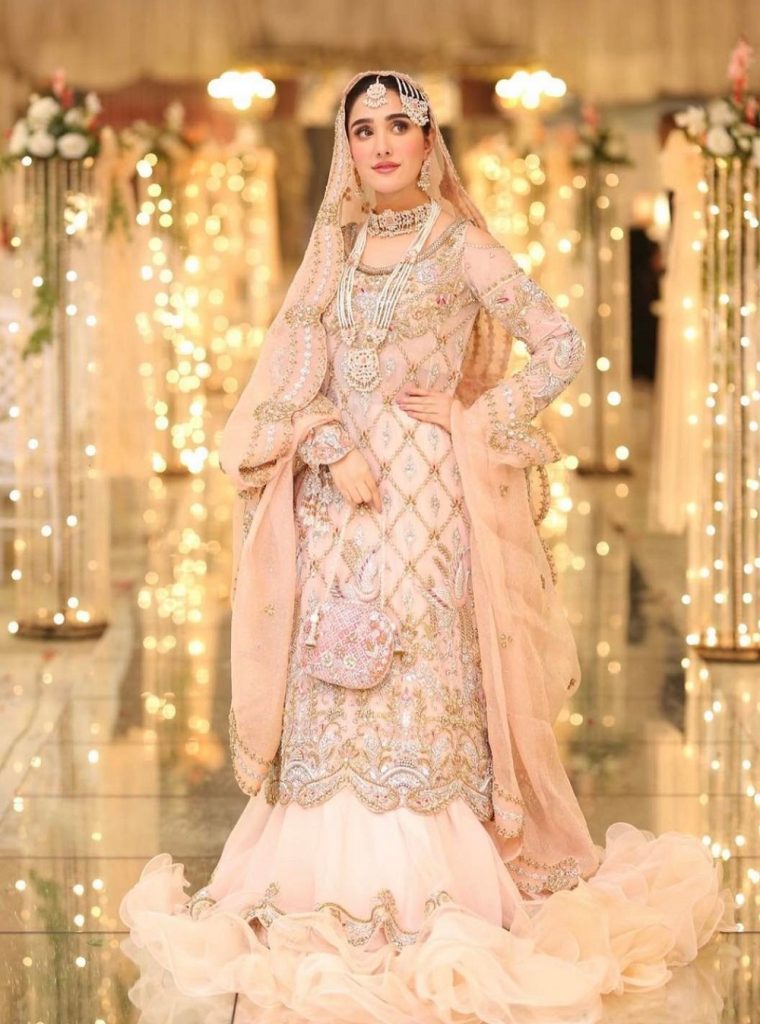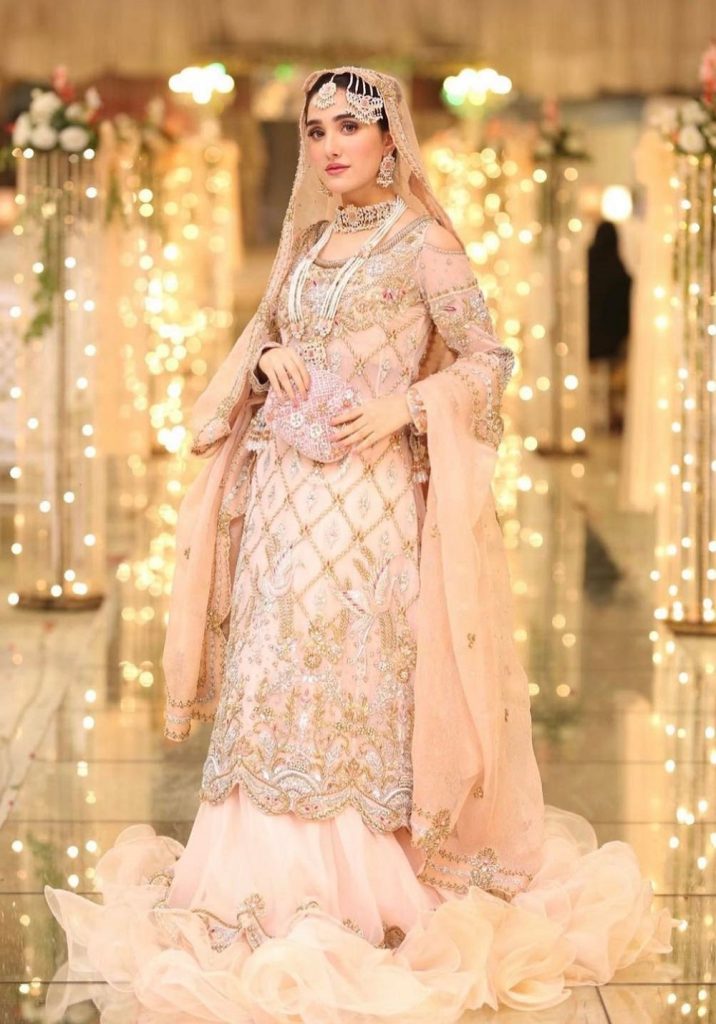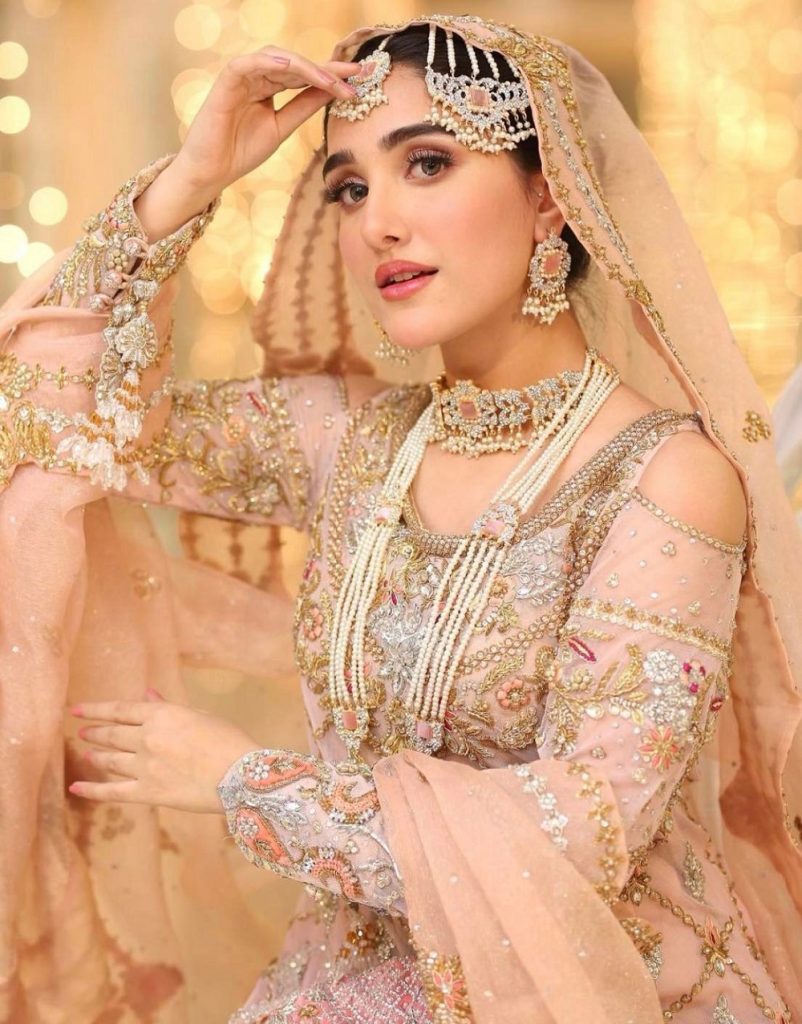 The lilac ensemble Alishba wore on one of the wedding functions was from Asim Jofa's chiffon collection. The sequins work on this dress gave it the perfect formal look. Aiza Awan carried this dress so stylishly that it looked more stunning.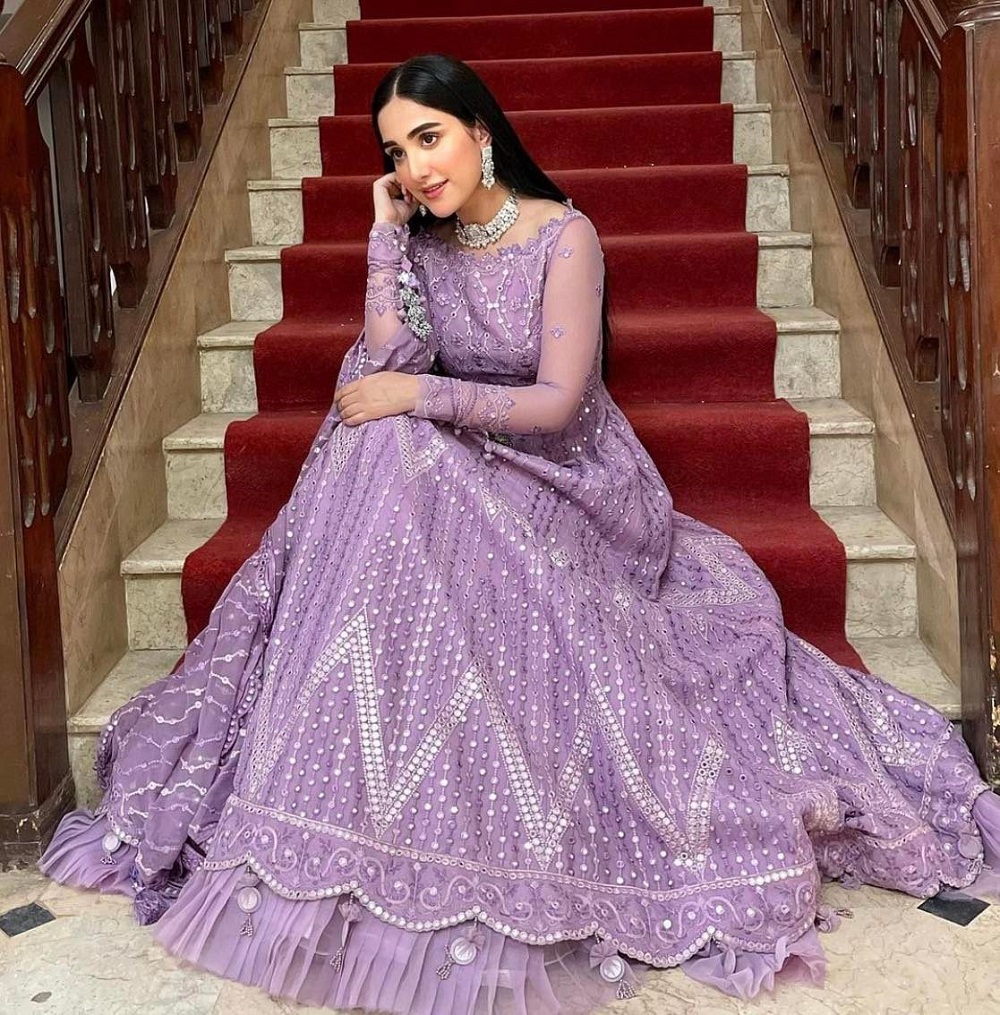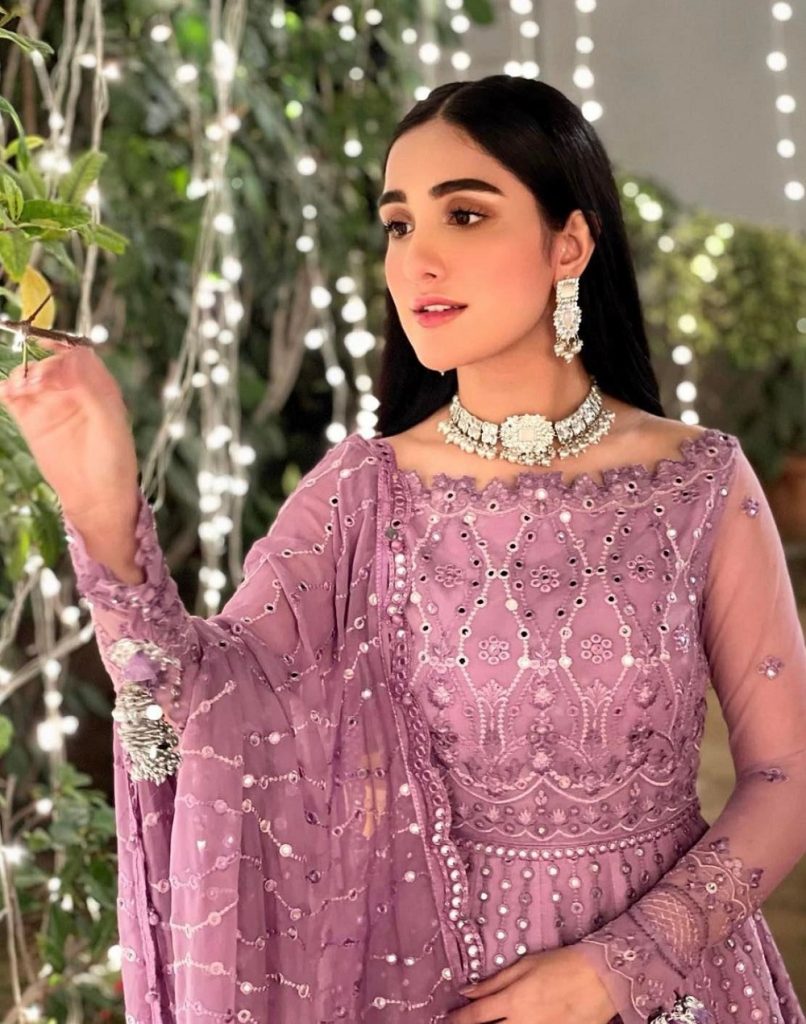 Another formal outfit worn by Aiza Khan in the drama which stood out was this black multicolored koti kalidaar from Ansab Jahangir's collection Waliya. This was also worn by Sunita Marshal and it looked equally stunning. There is no denying the fact that no one designs such formal outfits better than Ansab Jahangir, no wonder so many actors choose to wear her formal dresses in dramas.
This magenta kalidaar with a beautiful mukesh dupatta was one of those formal dresses which Alishba was seen wearing right after her wedding. This dress might have gone unnoticed by many since it was worn by Aiza only for a short while but it is definitely appealing enough to make it to the list. This was another one of those formal dresses which were designed by Ansab Jahangir.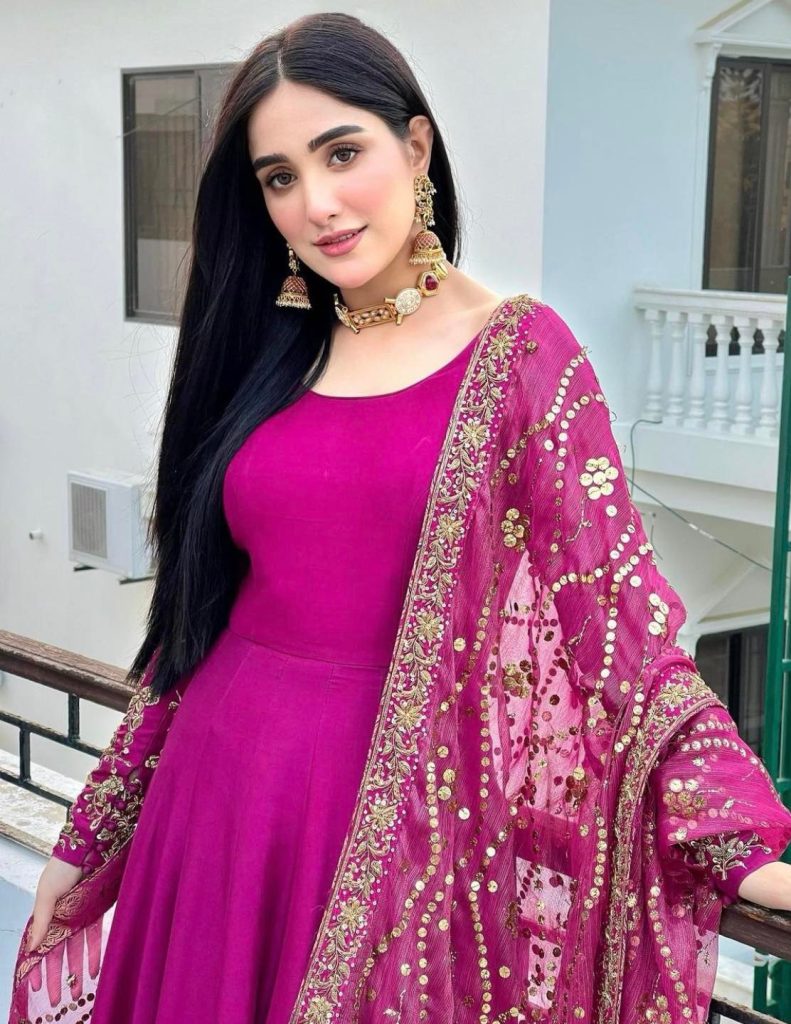 Aiza Awan wore another intricately designed dress designed by Ansab Jahangir in the OST video of the drama when she is seen sitting in the boat and getting pampered by her husband. This beautiful dress is all black, Aiza paired it with a heavy chokar with green stones.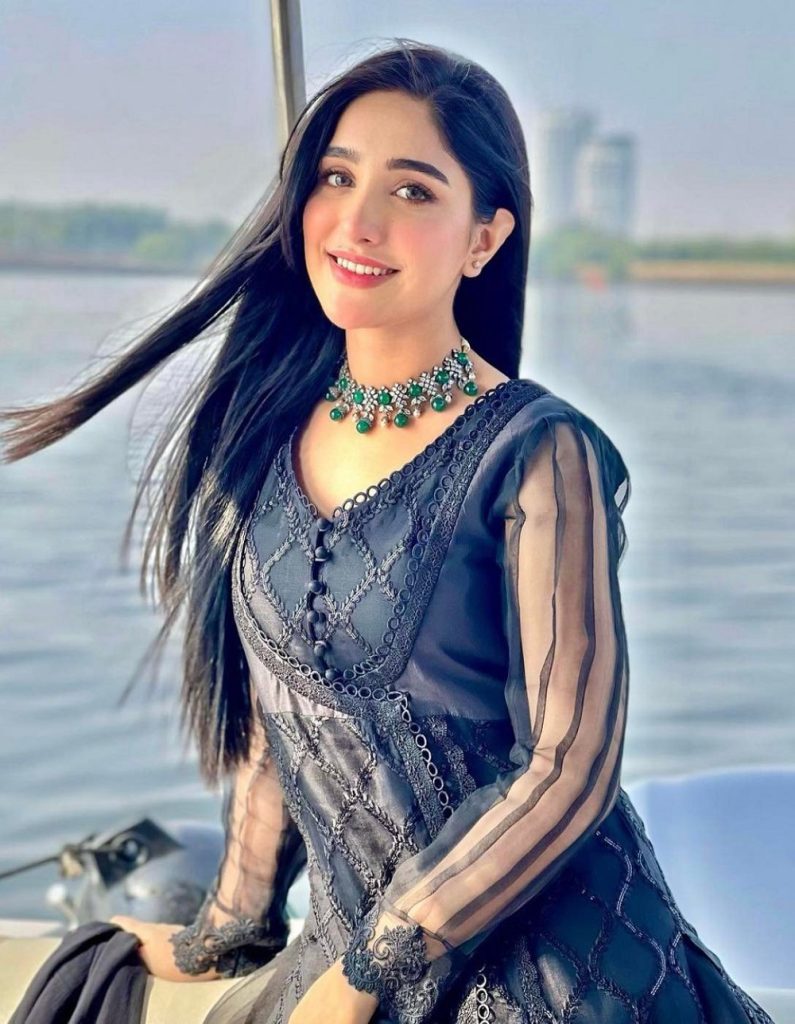 Casuals In Unique Designs 
Aiza Awan made sure that even her casual dresses in the drama got noticed for all the right reasons. She made the most of the koti trend which has lately made a comeback. Most of her casual dresses were plain suits with printed or embroidered kotis. The colorful kotis definitely made these plain outfits appealing. The color combinations were also refreshing and not run-of-the-mill. She also wore simple plain suits but the cuts were such that they looked great on-screen. She also wore some dresses with embroidered sleeves and some embroidery on the front of the shirt. All of her dresses with the kotis were designed by Ayesha Jawad who had a boutique with the name Parniyaan by Ayesha Jawad. She has designed dresses for many leading Pakistani actresses and is known for her handmade shawls and suits.
Which one of these dresses is your favorite? Share your thoughts.