Tonight's episode of Dobara reminded me of the drama serial Pyar Ke Sadqay particularly the scene covering Affan's first day at the office! It was a lot like Abdullah's first day in his father's office but this time around the main protagonist is the step-father and not the son! And obviously, even with all his flaws Mahir is definitely not as evil as Sarwar. There was a time when I was completely on Mehru's side but things have changed in the past few weeks. Now, all those explanations Mehru gave before for taking the decision and her statements about her children do not sound as convincing as they did before. Minal finally decided to visit and I must say that I was once again disappointed by Mehru's response! She did not even get up to greet her which took the excitement away from this scene. Mahir is the star of the show right now, he keeps you guessing even after he openly shared his actual intentions. It is sad to see Mehru take a backseat and her double standards right now make it difficult to side with her. Being flawed is not the issue here but being hypocritical is. Since Mahir's track and character are interesting enough; he keeps my interest alive. I am glad that Sehar had a difficult time giving into phupo's demands and the story at least for now did not take a clichéd turn.
Latest Developments
Mahir was completely in control in this episode; it was almost as if he had undergone a complete change. He was always a street smart young man but I could never have imagined Mahir taking charge the way he has done. Mehru is so sure that her young husband with no prior experience can run the business but she feels her son is not capable of doing so! I found this particular aspect of Mehru's decision-making flawed completely. The advice she gave Affan before he left for the office was not in line with her character at all since she has not once checked on anything regarding the office. Tonight for the first time when she finally got in touch with Safdar, it was to ensure that Mahir has support in the office while he puts Affan in his place! Mehru is a lot like Mansoora from Pyar Ke Sadqay at the moment, she is smitten by her husband and is willing to do whatever it takes to please him.
The opening scene would have been more meaningful had Mehru made better choices in the past few episodes. Initially, she did try hard to maintain a balance between her children and her relationship with Mahir; her children being the priority but now she has completely lost that balance. The fact that Mehru did not try hard enough to make Minal understand her situation and tonight when she finally came she gave her such a thandi welcome, has to be the one thing about this track that does not make a lot of sense. While she is going all out to help Mahir's father and she is generally an extremely kind-hearted person, she has not 'missed' her daughter enough and that makes it really difficult for me to relate to this character.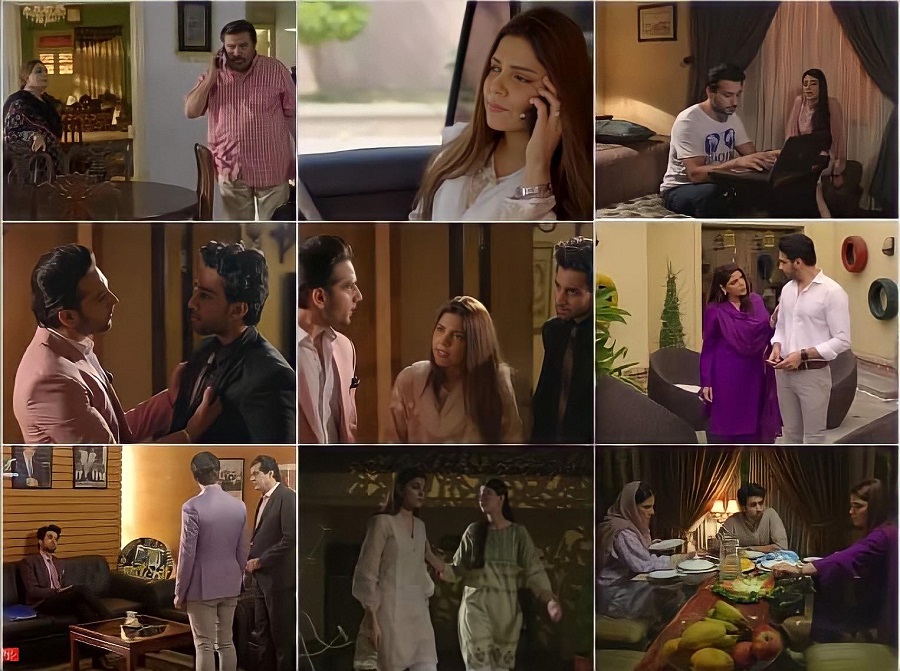 It is interesting how different Mahir is when he is around Mehru. He threatened Affan and even instigated the argument with Sehar but every time Mehru is around he is the one taking a step back and not escalating arguments with her children. I agree with phupo Mahir is clever enough to know how to please his wife and what to say to win her heart. He knows that Mehru needs a savior therefore he is always playing that role whether it is needed or not. Tonight, at the dinner table when he gave Sehar that lecture about how much Mehru had sacrificed for her kids; he was making the most of another opportunity! The last scene of this episode was one of my favorites tonight; such scenes make you feel for Mahir and you do blame the parents for not being there for him. He felt abandoned and scorned all his life; Mehru knows that and in a way she is saving him as well!
Most of Phupo and Sehar's scenes were more or less the same. It seems as if eventually Phupo will convince Sehar. For now, I liked the fact that Sehar was uncomfortable lying particularly in the way Phupo wanted her to. For the first time, I actually felt that she really had an innocent side to her. Affan and Sehar both come across as immature youngsters. Zameer's call to Fareed uncle suggested that Mahir did manage to talk to him and these two have a surprise in store for Zameer! I definitely wanted to see more of Minal and Zameer in this recent episode.
Final Remarks
Overall, Dobara continues to be an entertaining drama even though Mehru's character has definitely gone downhill in the past few weeks. The preview of the next episode was interesting. Jahangir's wife will find out who Mehru is and it remains to be seen how she will make the most of this situation.
Did you watch tonight's episode? Do share your thoughts about it