Ali Zafar has big plans for this year, he has decided that he wants to make himself more accessible to the people of Pakistan who gave him the name he has today. Ali Zafar is going to do that by doing 50 live shows in 60 days.
While talking to Express Tribune Ali Zafar said,
"In the same period I also worked on 4 TV commercials. Music had recently taken the back seat for me but that's not the case anymore. I am working on my next album which will be out this year."
Ali Zafar also wants musicians to get together and work on different projects. He also wants to help these musicians reach that goal. He said,
"I want people to get together. Back in the day it was always like that. Musicians, artists and writers would sit together, discuss their work. That culture has sort of waned. I built a state-of-the-art studio in my basement for the sole reason. I call everybody to come, jam and have fun."
Ali Zafar's concert in Lahore last week was a huge success. It was attended by 5,000 to 6,000 people. Although it rained at the time of the concert but Ali Zafar and the crowd did not let the weather effect them. Talking to the media he said,
"This is the first time I have ever experienced something like this. While me and my band kept soaking in the rain, we kept on performing for the crowd who refused to leave and kept on dancing. I have never seen so much love — that even in the chilly winter rain, fans would stay to hear their favorite songs. One of the most memorable nights."
Ali Zafar was very moved by this event. He also tweeted about it.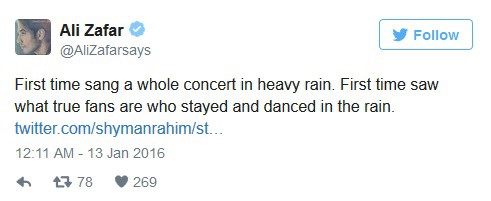 Here are some pictures from the concert.