Does anybody remember Ashir Azeem, writer of drama Dhuwan (Smoke in English) and the lead player in the role of ASP Azhar as well in 1992. Ashir Azeem was the writer/actor who worked in only one drama serial Dhuwan, aired in 1992 from PTV Quetta Center. Dhuwan was a blockbuster drama of its time, very popular among youth audience. It was basically a story of a police officer who worked to combat crime. The drama portrayed a progressive image of police. But after Dhuwan, Ashir never worked in any other drama serial though he made few telefilms.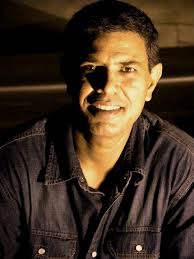 Now after a gap of more than 20 years Ashir has announced his comeback. As per his official facebook page, he is working on a project named 'Maalik' which is expected to be aired in fall 2014. The comment on Ashir's official facebook page says
"Hi everybody,
I have finally decided to do a play. Maalik will go on air this fall.
At present i am trying to put together a team of the best possible talent. NOT CAST but the production team.
AD1&2, DOP, Location hunters, editors, CGI, Script & screenplay people, post production etc. . .
I want to accomplish this task ASAP, so that I can move on. If u have the necessary skill / experience / desire and time available to be part of the team, or if you know someone, Please send me stuff by which I can determine if u r suitable. . . email at
[email protected]
i will pick people purely on merit, and I am open to students and youngsters (In the same discipline). There is just one limitation, since the project is predominantly in Karachi, obviously karachiites have an edge . ."
Its too early to comment about story or other aspects of this project. But for admirers of Ashir Azeem, expectations will definitely be on a high side.
Image of official facebook page of Ashir Azeem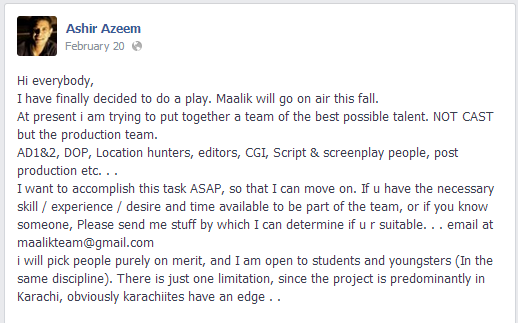 Rashid Nazir Ali