It was the birthday of Shahrukh Khan who is also known as the king of Bollywood and also considered one of the biggest movie stars of the world. He has got a massive fan following in Pakistan too with many of our celebrities too being his fans. On his birthday singer, Asim Azhar tweeted him where he wished him on his birthday and also expressed his wish to sing for him. He wants to see Shahrukh lip-synching to his song.
The tweet became a huge fan moment for Asim when Shahrukh replied to him. He tagged his tweet with #zerotrailer which is his upcoming movie. Here is the twitter exchange between the two stars: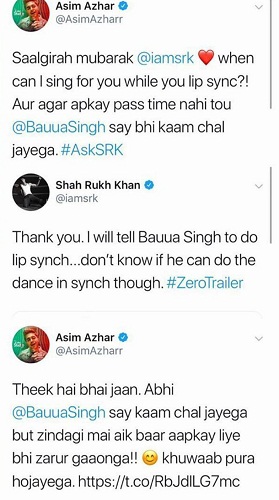 Asim definitely was grateful at this and also shared SRK's reply on his Instagram story. He further said that it would be a dream come true for him if he ever got a chance to sing for the superstar.