When I wrote the post about the Little Miss Jihad T-Shirt which Ayesha Omer wore in Zindagi Gulzar Hai while many people supported me but there were also some who thought that talking about this issue was of no use because the celebrities don't care. Well, guess what Ayesha Omer decided to tell her side of the story because the public decided to openly speak up against something that was completely unacceptable to them. It is good to know that our actors do care about the public opinion. Here is what Ayesha had to say: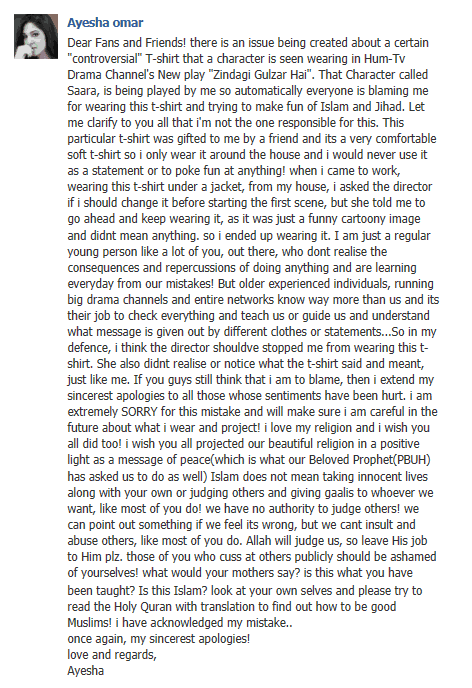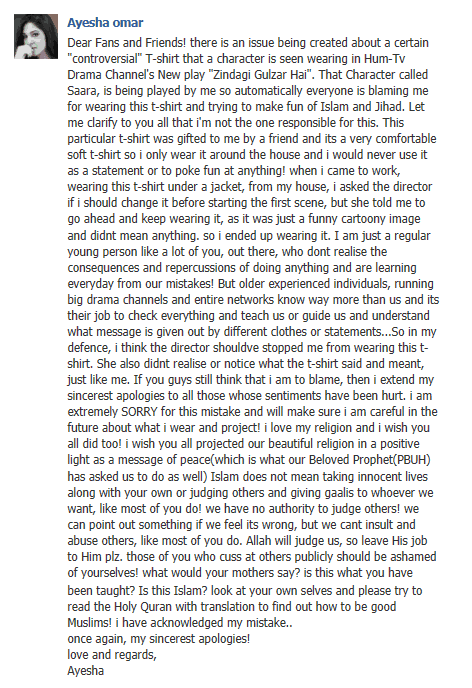 It is very apparent that Ayesha wanted to change the shirt but the director and the rest of the team members thought it was only a "cartoon" so there was nothing wrong with wearing it. In a way Ayesha Omer is blaming the seniors on the set who should have known better.
The few lines in the end suggest that Ayesha is very annoyed with people who used abusive language against her and thinks that they should judge themselves as well.
Share your views about this. I think the matter is resolved now and the actors and crew will be more careful in the future.
Saud.