Ayeza Khan loves dressing up and she has a really good taste. She also makes sure that her make-up and styling is also as appealing as the outfits she wears. Pink is a color that every woman loves. It has so many different shades and there are so many ways to style a pink dress. Ayeza has been seen wearing the most gorgeous pink dresses more than once. Like every other color she has worn in all these years, pink also suits her a lot. Apart from the styling and accessorizing, the way Ayeza carries every outfit she wears also makes all the difference. Her poses are also really stylish.
Here are some of the most gorgeous pink outfits worn by Ayeza Khan.
Cool and Vibrant Pink Combination
This semi-formal pink dress was worn by Ayeza recently is a must-have. The organza detailing adds to its beauty. The vibrant colored organza dupatta gives it a formal look which makes it the perfect pink dress for a dinner party. It is also suitable for a formal lunch since this shade of pink would look just as cool during the day time.
Pretty in Peach
Peach is a beautiful shade of pink especially ideal for those ladies who do not like a baby or shocking pink colors. Ayeza Khan wore this trendy and formal peach and silver outfit when she was endorsing a leading brand's Eid collection. She always makes sure that she compliments all her looks with the most stunning jewelry pieces.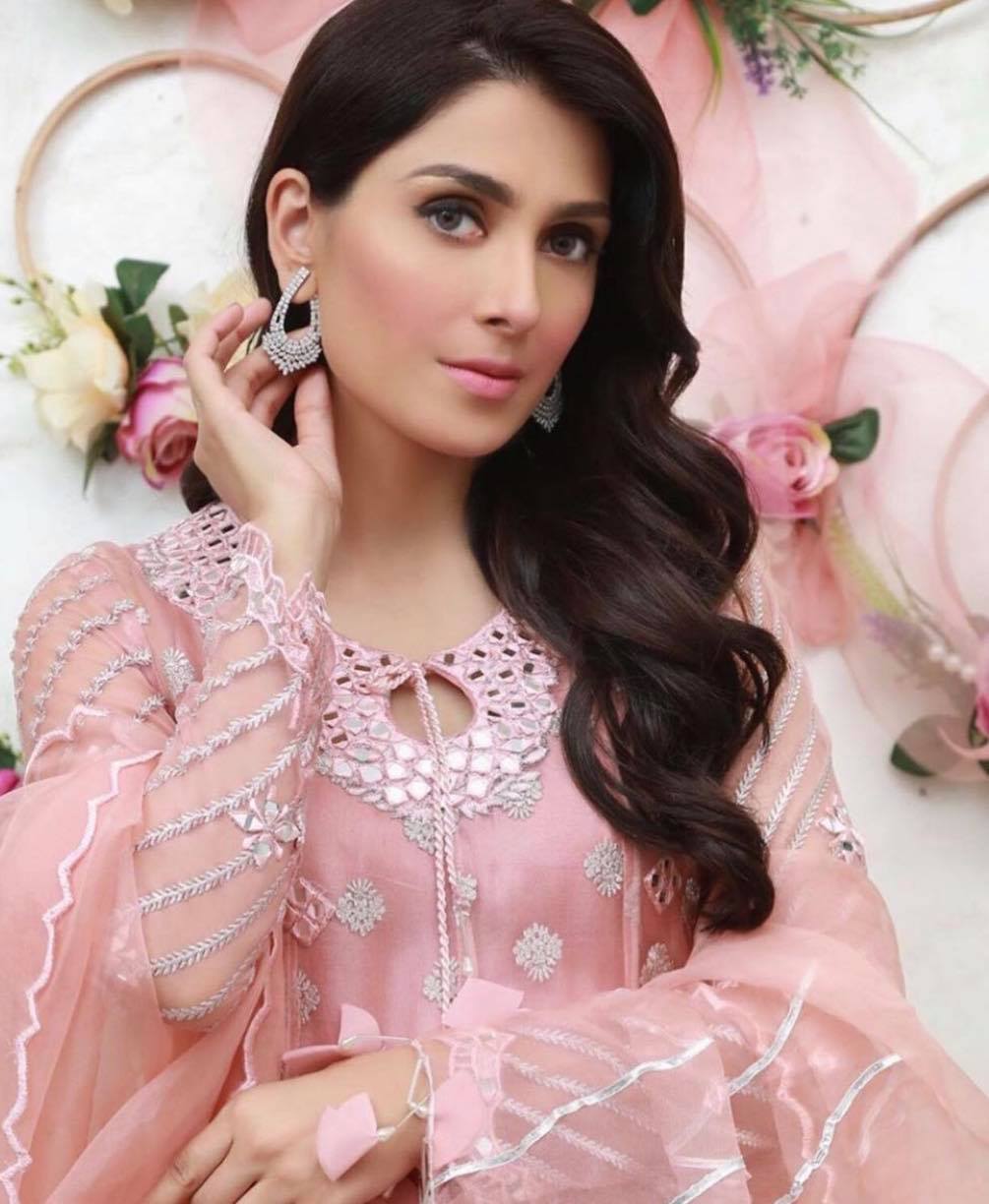 Traditional and Stylish
Ayeza Khan wore this stunning light pink outfit with a bright pink embellished dupatta when she was promoting her drama serial Thora Sa Haq. The different shades of pink along with a hint of red make this an outfit that any girl can easily copy. If this outfit is made in silk or chiffon, it would be perfect for a dholak or even a mehndi function.
Enchanting Anarkali Dress
Anarkali dresses are in fashion nowadays and no one carries it more stylishly than Ayeza Khan. The mirror detailing on this dress makes it look even more exquisite. Once again, Ayeza is seen striking a pose in this picture which makes the outfit look even more beautiful. She wore this dress when she was invited as a guest on a Ramazan special show.
Sleek Long Dress
This elegant and stylish sleek long dress is the most dreamy shade of pink. The hand embellishments on the neckline and sleeve give it the kind of detailing which makes it all even more attractive. Ayeza wore this stunning outfit on a really special day, the screening of Mere Pass Tum Hi finale. She styled it with an equally trendy hairstyle and her jewelry is just as attractive.
Cute Floral Dress
This was another extremely cute pink floral dress that Ayeza wore on a special occasion. After endorsing one of the leading brands in the country for 2 years, she bid farewell to this memorable journey with this stunning photoshoot. Ayeza Khan doesn't wear floral prints often therefore this was a nice change too.
More of Ayeza In Pink
Here are a few more gorgeous pink dresses worn by Ayeza Khan on different occasions. She makes sure that she wears all the shades of pinks and also wears different kinds of fabrics. In all these dresses, Ayeza looks exceptionally pretty.
Which one of these stunning outfits worn by Ayeza Khan is your favorite?