Ayeza Khan is a Diva herself. She has accomplished herself as a great actress with multiple hits under her belt. Ayeza is known for her extreme beauty and poise. She is the face of many brands and always awe the audiences with her confidence and beauty.
Ayeza also has walked for many designers and knows her way on the ramp. She walked for Sar Rohale Asgher in the recent FPW18. Ayeza was the showstopper for the designer and looked regal in a gold gown. She completed her walk with confidence and looked like a force to be reckoned with. Ayeza later was thankful for her walk went well. Supermodel Mehreen Syed walked on the first day as a showstopper for a designer and she slipped on the ramp. She handled the fall with a huge air of confidence and completed her walk. Mehreen is pregnant with her second child and still showing others how you do not have to sit back because of it. Ayeza applauded her and was thankful that she could complete her walk. This is what Ayeza said: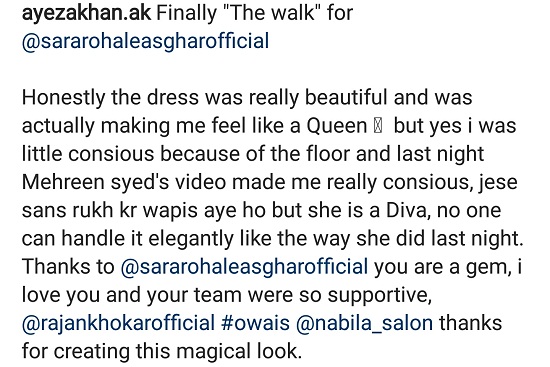 What are your thoughts on Ayeza's look for the FPW18? Wasn't she looking like a dream? Share your thoughts in the comments section below!