Ayeza Khan was part of the Fashion Pakistan Week Summer/ Spring 2016 which started yesterday with a big bang. Top designers showcased their collections on this first day and all the top models were seen walking the ramp. Ayeza Khan also walked the ramp after a long break of 2 years and her facebook status suggests that she had certain reservations while walking the ramp. Although Ayeza Khan's clothes are not revealing just stylish but even then her facebook status makes it look like she was conscious about what her fans will think of her. She was excited to be a part of this show. She considered it a learning experiencing but at the same time she felt like this it was something new which she was not used to. She stated in her status,
"maybe it's not "Me "actually maybe it Looks different."
Ayeza Khan looks stylish and beautiful but she is also apprehensive at the same time. Ayeza is one of those very few female celebrities who have always been seen keeping their decent image alive by making sure that they dress up according to Pakistani cultural values at all times whether it is in dramas or in award shows.
Here is what Ayeza Khan had to say about this experience, she sounds excited and confused at the same time.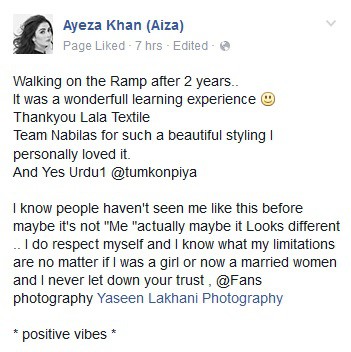 Here are some beautiful pictures from backstage of Ayeza Khan and some from her walk on the ramp. She walked the ramp for Lala textiles which is a big name in Pakistan's textile industry. Ayeza Khan for the show stopper for them.