Mahira Khan's first ever project as a producer "Baarwan Khiladi" has been officially released. The sports series is directed by ace director Adnan Sarwar and written by Shahid Dogar. The web-series has been produced under the banner of Soul Fry Films, in collaboration with Nina Kashif. Lead cast of the web-series includes Danyal Zafar, Shahveer Jafry and Kinza Hashmi in lead roles.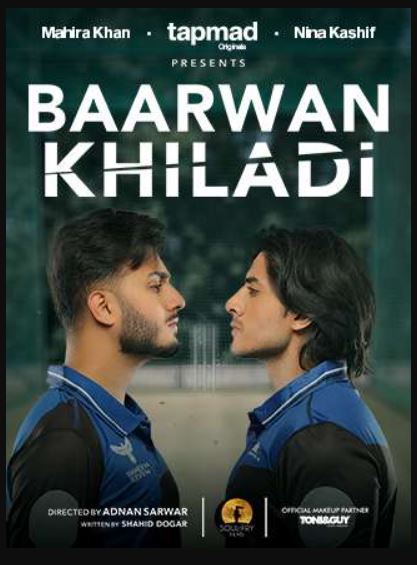 Recently, the first two episodes of "Baarwan Khiladi" has been released officially. The first episode has been revolving around Shahveer's character "Jahangir" who blackmails Ayan to quit the cricket team. Now the battle between Akbar (Danyal Zafar) and Jahangir (Shahveer Jafry) begins to win over the coach and claim their position as the best player of the team.
The audience was anxiously waiting for the series to be released officially, and right after the episode was released the audience was quick enough to respond. The netzines applauded the storyline and our in love with Shahveer and Danyal's performance. Here we have gathered some public reviews, have a look!
The first two episodes of #Baarwankhiladi had all the trappings of an entertaining show that we should have been able to binge watch in one go. Wish all episodes had been released at the same time. @TheMahiraKhan @ninakashif3

— AHI (@aamnaisani) March 6, 2022
#BaarwanKhiladi 1st episode was really mazay ki. Literally enjoyed every bit of it. Performances were so good specially @DanZafOfficial @shahveerjaay and #sarmadkhoosat . Can't wait for @_fawadakhan_ cameo and remaining episodes. Every cricket fans should watch it @TheMahiraKhan

— Herry (@HarisBu55633341) March 6, 2022
Just Watched #Baarwankhiladi As I'm not a sports fan but I loved it so much !! Such a beautiful Cinematography, So proud of you producer Sahiba for bringing new series !! May ALLAH bless you always!!
Keep shining always ☺️

— ✨ нυмαяι ѕι∂✨ (@sidk24) March 5, 2022
@TheMahiraKhan
MashAllah 🤩
Congratulations Producer Sahiba. So proud of you. Just finished watching #Baarwankhiladi & i actually loved it. Just like you, i'm really bad when it comes to sports, but i swear i really, really enjoyed it. Good luck 🤞🏻 ♥️🧿 pic.twitter.com/whyeYjHN69

— Fareed (@FaredSays) March 5, 2022
@TheMahiraKhan I have watched the first episode of #baarwankhiladi and it was fantastic and I have to say you're the flag bearer of good content and change And there were names of catering services and electrical team you did this Mk and I'm so proud of you 👏🏻👏🏻👏🏻😘❤️#mahirakhan

— sadiajeelani (@JeelaniSadia) March 6, 2022
Watched the first episode of #BaarwanKhiladi and I strongly loved Sarmad's performance. He's so good ! And apart from that, I liked some scenes of Daniyal. And his scenes with Saba Jee. Kinza, too. And sadly, it sort of failed to attract me towards it. But I will try…

— Faizan 🌠 (@jaanehumayun) March 6, 2022
Sarmad Khoosat & Shahveer Jafry have done exceptionally well. #Baarwankhiladi #Tapmad https://t.co/Li9sDN6GQp

— Meer Basit (@IamMeerBasit) March 6, 2022
@TheMahiraKhan
This man, steal the show ;)
Brilliance on its peak#Baarwankhiladi pic.twitter.com/FVjT5AwUoN

— Fareed (@FaredSays) March 5, 2022