Day weddings are not a new concept. People have been having the day or afternoon ceremonies for decades. Day weddings are always a different experience than the usual night weddings, which are conducted in the wedding halls and enclosed venues. Day weddings are usually conducted outdoors and provide natural sunlight for beautiful pictures and coverage of the couple and the event. Over the years, a lot of celebrities have also opted for day events and weddings. It has encouraged the trend further and has given people a different perspective of enjoying the weddings. Events like Mehndi and Walima can always be conducted in the evening by gathering well-wishers and relatives to celebrate but having Nikkah or Rukhsati in the day not only saves a lot of time, but breaks the monotony of the events, along with making it less tiring for everyone involved. One of the best aspects of a day wedding has to be gorgeous photoshoots and photographs of the couple.
Let's take a look at the beautiful day weddings of Pakistani Celebrities:
Hamza Ali Abbasi and Naimal Khawar Khan
Hamza Ali Abbadi and Naimal Khawar Khan not only took everyone by surprise with their wedding announcement, the way they conducted their marriage was another beautiful surprise. It was kept short and sweet. Few of Hamza's celebrity friends gathered to throw him a bachelor party and Hamza then held the Walima function in Marriot, Islamabad, where he invited a good amount of people to be a part of this new chapter in his & Naimal's lives. The highlight of their wedding was the Nikkah day, which was held in the afternoon at The Monal, Islamabad. Hamza allowed the official wedding photographer to go live on the social media and share details with his well-wishers, because of which everyone got to see the floral fantasy that their Nikkah ceremony was like. Walking into the beautiful venue was nothing short of a dream, the decorations were simple and classy. The event planners relied on candles and flowers to decorate the entire space. The best aspect was the floral hangings from the ceiling which tied everything together. The setup where Hamza and Naimal were seated was a simple wooden platform with wooden frame at the back, which was also decorated with the help of flowers. Hamza and Naimal's Nikkah was a beautiful event.
Iqra Aziz and Yasir Hussain
Iqra Aziz and Yasir Hussain also surprised everyone with their simple approach towards their wedding. They gathered all their celebrity friends at Yasir's place for Mehndi, that is when he got his house decorated. Yasir and Iqra had Nikkah and Walima during the day and kept their wedding short and durated it in such a way which was easier for them as well as all those who were attending the functions. Yasir himself took it to the Insta to let everyone know his thought process behind taking such decisions because it was economical and something that he could easily afford. Yasir also explained that he would've loved to hold his Nikkah ceremony at his own place but because of the amount of people he had to accommodate, he had to choose a venue. The decorations of Iqra and Yasir's Nikkah were gorgeous. They had an elevated stage which was decorated with flowers. They also opted for a floral framed divider away from the stage, where Yasir and Iqra had their Nikkah in a most romantic yet traditional manner. They both sat face to face separated by a veil of flowers and had their Nikkah. Not to forget, their pictures were gorgeous too.
Urwa Hocane and Farhan Saeed
Urwa Hocane and Farhan Saeed also had an elaborate wedding, with Mehndi, Valima and post-wedding Dholki events. However, they didn't go for a traditional Rukhsati and decided to opt for a simple Nikkah at Badshahi Masjid, Lahore. It was a day event where everyone gathered to witness them tying the knot. Urwa and Farhaan had their Nikkah and the photographers made the most of the stunning sacred backgrounds, which beautified their photographs even more. The which was further enhanced with white flowers, white fabrics like curtains and sparkly table runners, silver menorah candle stands and beautiful floral centerpieces on every table. The combination of green grass and white gorgeous setting was such a visual treat.
Ali Xeeshan and Myrah
Renowned fashion designer Ali Xeeshan got married to his lady love Myrah, a journalist in Islamabad. The couple tied the knot in a day wedding. Their wedding venue was beautifully and elaborately decorated. Ali Xeeshan is known for his larger-than-life designs and appearances on red-carpets and fashion shows, therefore his wedding was an event to remember with everything beautifully crafted and brought together. From silver decorative ornaments hanging from the ceiling to beautiful flower centerpieces, from glass aisle to gorgeous colored floral arrangements, everything was classy, regal and complimented the couple's bridal wear beautifully. They also had a ritual of standing behind a veil as a couple after their Nikkah and had their Nikkah in a most traditional setting with a veil separating them before they said 'Qabool Hai'. It was more like a royal wedding in a day setting which was carefully planned with attention to detail paid on every little aspect.
Saheefa Jabbar Khattak and Khizer Hussain
Saheefa Jabbar Khattak got married to the love of her life in a day event too. The couple had a simple mehndi and nikah ceremony at home and then they arranged a day wedding for everyone to gather and celebrate this auspicious occasion of their lives. They had an open air event too with white and pink floral theme. Flowers played a huge part in making this event gorgeous and visually appealing. White table runners and floral centerpieces added beauty to the event. The couple also arranged a gorgeous floral platform as a center stage for dancing and mingling with the guests.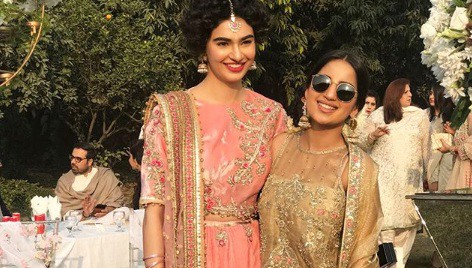 Emaan Suleman and Jamil Haider Rizvi
Emaan Suleman is a renowned model. She is also known for speaking her heart out and being brutally honest about the things she feels for the most. Emaan always has an unconventional take on things, therefore it did not come as a surprise that her wedding had to be different and conducted in a unique manner. Emaan had two day functions, Mehndi and Rukhsati. Emaan and Jamil tied the knot in Lahore and their wedding venue decoration was a vision. They opted for an organic and earthy theme, where the woods were the star of the show and they were used as props to create the canopy. There was no fancy stage, just a basic setting with lots of lighting, some flowers and glass decorations. The Rukhsati decorations were vibrant, quirky and fun. They recreated the weddings from the 80's with traditional tenting, also who would've thought that a couple would choose a red bench on their wedding as their seating arrangement, so cool!
This completes the list of beautiful day weddings of Pakistani celebrities. Which one of these weddings are your favorite? Feel free to share in the comment section below!