Sajal Aly is one of the biggest names and stars of Pakistani showbiz industry. She has earned a name and fame for herself with her persistence and hard work. It won't be wrong to say that Sajal Aly rules hearts and she is one of those very few celebrities who have always maintained a healthy relationship with her fans. She is poised, elegant and most importantly she carries herself with grace. This is the reason why no one has ever seen Sajal Aly being involved in controversies. Despite being so popular, Sajal Aly has maintained a low profile and when it comes to her personal life, she keeps it private and away from the public eye. Sajal Aly is one such celebrity who believes in earning fame purely based on her body of work.
Everytime Sajal's name comes into the limelight, Ahad Raza Mir's name also crosses the mind. Although Sajal and Ahad have kept their private lives to themselves, it is safe to say that they are loved by millions of fans across the world. They are one of the most loved and celebrated couples of Pakistani showbiz industry. Sajal and Ahad do compliment each other every now and then. However, another endearing aspect of their life is the love and encouragement Ahad Raza Mir's mother showers on them both. Mrs. Asif Raza Mir goes by the name of Mama Mir on Instagram and she actually has proved time and again that she is a loving Mama to Sajal Aly as well.
In literal sense, it is safe to say that Sajal Aly and Mama Mir are #relationshipgoals because they are redefining the bond that a daughter and mother in law share. Since celebrities all over the world are keenly followed by masses and they also inspire their fans and followers, it is a fact that Sajal and Mama Mir's relationship is teaching a lot of good things to young and old.
Let's take a look at some of the aspects of the beautiful relationship shared by Sajal Aly and Mama Mir:
Mama Mir Is Sajal Aly's Best Friend
Sajal Aly might not be too vocal about her personal life but when it comes to her feelings about Mama Mir, she doesn't hold back and shares it every now and then. Sajal Aly feels blessed to have a mother in law like Mama Mir who is more like her best friend. Unfortunately, Sajal Aly lost her mother at a young age, therefore she has found a safe haven in her association with Mama Mir because she treats her like her own daughter, which is absolutely beautiful. It is actually a depiction of how strong their relationship is where Sajal Aly has given Mama Mir the same status as her mother, it shows that it is a two-way affair. Mama Mir welcomed Sajal in her family and treated her as her own daughter, similarly Sajal Aly accepted her love and gave her the status of her mother.
Mama Mir's Encouragement Towards Sajal's Career
Mama Mir is known for being the # 1 fan of Ahad Raza Mir, but it rings true for Sajal Aly as well. Mama Mir has time and again shared how much she is proud of Sajal, how she is always rooting for her and looking forward to her projects. For Mama Mir, Sajal Aly's dramas and her projects are just as important as Ahad's. In this day and age, it is a rarity to see a mother in law not only being supportive but being vocal about her feelings for her daughter in law's passion and career. In true sense, Mama Mir has encouraged Sajal Aly every step of the way. Even before Sajal Aly officially became a part of the Mir clan, Mama Mir was seen cheering for her and wishing her success since Yakeen Ka Safar days. This definitely sets a beautiful example for all those mothers in law with career oriented daughters in law, that all they have to do is support and help them chase their dreams. It will do wonders because it will nourish and flourish the relationship their daughters in law will have with them.
Mama Mir Gives Credit Where It's Due
Mama Mir's social media feed is filled with her special moments with her family – her husband, her sons and her daughter in law. This is why, in one of the pictures, Mama Mir took a moment to give Sajal Aly the credit of doing her hair and makeup, which was absolutely sweet. It is nice to see them having this kind of relationship where they take care of basic things, like makeup. It also means that before making an appearance on events, Mama Mir must be taking styling and clothing advice from Sajal Aly too. Another beautiful aspect is that Sajal Aly is very much celebrated in the Mir family. On Sajal Aly's birthday Mama Mir posted the snippets of the intimate birthday celebration they had and she also shared the pictures of cake and beautiful flowers carefully picked for her.
Sajal Aly Is Mama Mir's Favorite
Mama Mir has time and again posted captions telling how much she adores Sajal Aly. It is a done deal that she not only finds Sajal Aly beautiful but she happens to be her favorite. Mama Mir might have two sons but it is a beautiful thing to know that for her Sajal is just like her own daughter and she treats her the same way. Mama Mir feels truly blessed to have Sajal in her life and it is absolutely sweet how she has happily taken the responsibility of being Sajal's mother. Mama Mir finds the world beautiful with Sajal's presence in it, which goes to show how important her daughter in law is for her and the kind of healthy, beautiful and strong relationship they share.
Mama Mir's Beautiful Relationship With Sajal Aly's Siblings
Mama Mir has not only taken a role of being a mother to Sajal Aly, in fact she has very much become a mother figure in the lives of Sajal's siblings – Saboor Aly and Muhammad Ali. All these siblings were very close to their mother and her early departure from the world left them shattered. Although no one can replace the way a mother loves her children but Mama Mir has beautifully taken that role and she showers Sajal, Saboor and Mohammad with all the love she has. Many times, it is actually very sweet to see Mama Mir posting compliments on Saboor's pictures. She also makes sure to comment on Sajal's brother; Mohammad's pictures too. This goes to show that she has not only welcomed Sajal in her family, she has also maintained a healthy and beautiful relationship with her siblings.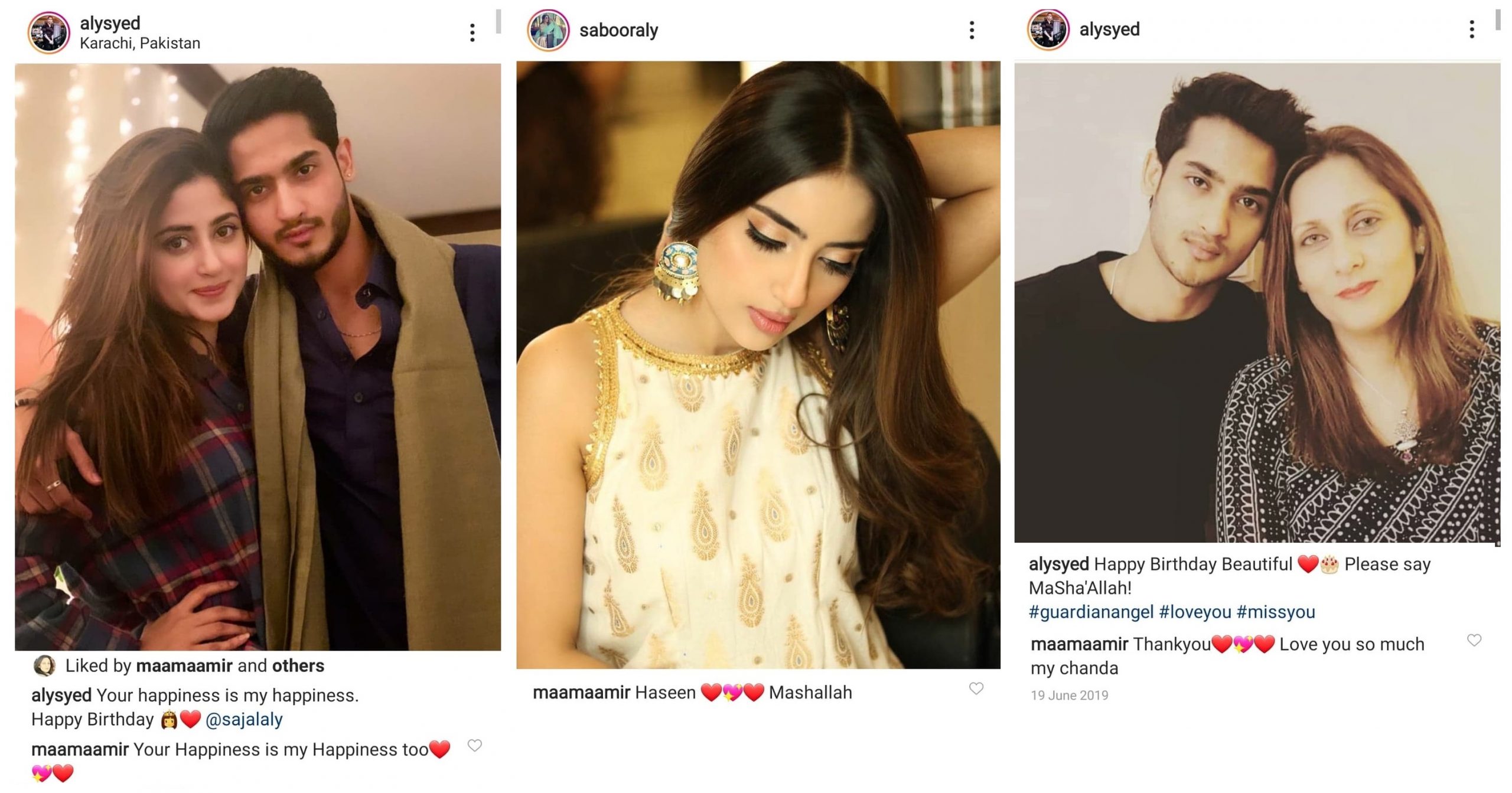 Sajal Aly Acknowledges Mama Mir's Love & Encouragement
When Ahad Raza Mir's debut film Parwaaz Hai Junoon was about to release, Sajal Aly took it to the social media to express the beautiful moment she witnessed between a mother and a son. For Sajal, it was a beautiful reminder of how her mother used to root for her. Sajal Aly could relate to it because she saw Mama Mir cheering for her son and being proud of his success. It very sweet of her to document and then word her feelings about what she experienced. We can only begin to imagine how passionate Mama Mir must be about Sajal Aly's career, this is the reason why she constantly shows her support towards her dramas and lets everyone know how proud she is of Sajal and her choices.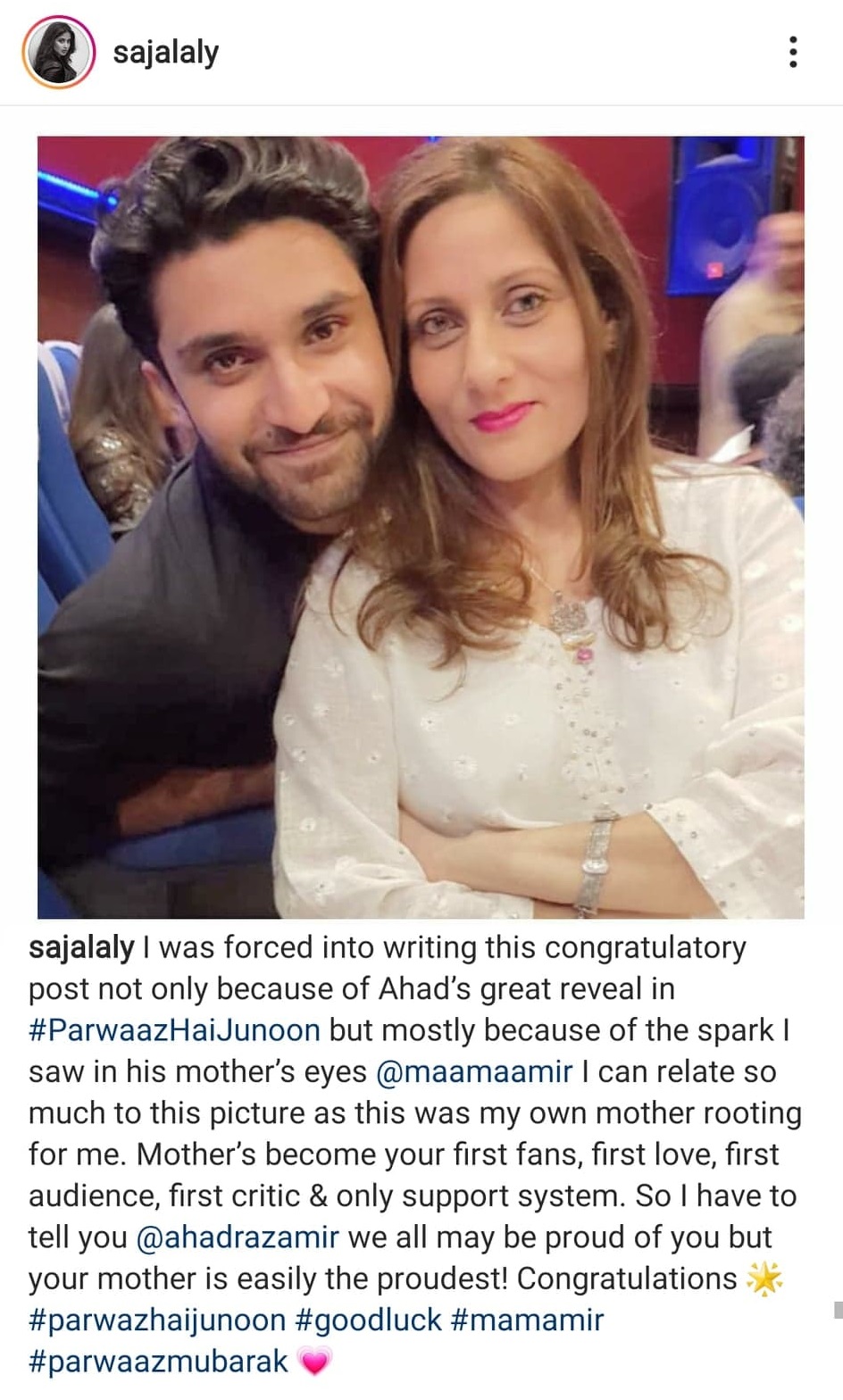 The mother-daughter in law relationship of Sajal Aly and Mama Mir is exemplary. It shows how a mutual feeling of respect, love and support establishes a strong relationship. All the things they say about each other is free of pretense and fabrication, because it shows in their attitude towards each other that they have nothing but immense love and respect for one another. This truly sends a very strong message to people following them that it takes an effort from both sides to develop something beautiful and nourish it for the rest of their lives. They both have definitely redefined the beauty of this relationship and have shown to the entire world that it just needs a bigger heart and a lot of love to become an important part of each other's lives. We wish love, power and lifetime of togetherness to both Sajal Aly and Mama Mir where they continue to be like mother and daughter to each other.