This was yet another beautiful and thoughtful episode of Ehd-e-Wafa. The meaningful dialogues, superb performances by all the actors involved and the fact that the outdoor scenes in particular were shot so well made this episode a treat to watch. The pace of the drama and the screenplay is much more engaging now than it was few weeks back. Ehd-e-Wafa is refreshing, original and entertaining.
Latest Developments
Tonight's episode of Ehd-e-Wafa opened with Saad finding out that his seniors were actually playing a prank on him and later on the viewers were shown how Saad continued to show his leadership skills. Saad and Gulzar's conversations were entertaining and enlightening at the same time. In a fun way the viewers got to see different ways in which the soldiers are trained. This episode also had a short but meaningful scene which showed the special relationship Saad had with his mother. She is the first one he shares his achievements and fears with.
Raani's scenes tonight were hilarious. Raani and Shahzain have not changed at all, their essential nature is the same as it was in the beginning. Raani was shown fooling the women so that they would vote for her husband. It was amusing watching Raani tell these women the importance of education. Raani's dialogues about how politicians use fake promises to get votes were sadly a true reflection of our political system. It was however good to see Shahzain telling her not to do that but at the same time he does not really qualify for the seat he is contesting from. The preview of the next episode also suggested that Shahzain is just as arrogant today as he was so many years back.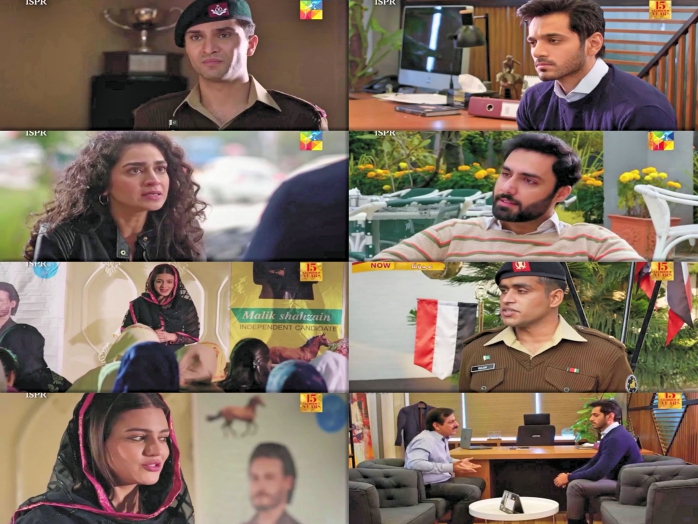 Shariq was always focused but now he has a definite direction in life which has given him so much confidence. The relationship between Ramsha and Shariq is truly refreshing. Both these actors have amazing on-screen chemistry and their performances have been on point right from the start. The way Shariq managed to have his own way and wasn't willing to work without Ramsha was likable. At the same time Ramsha was more than happy with Shariq going ahead with this position without her. I have said this before but I feel the need to say it again – I don't remember the last time we saw such a healthy and positive friendship between a man and a woman in a Pakistani drama. The writer deserves full marks for this realistic representation of so many young men and women who help each other grow as friends.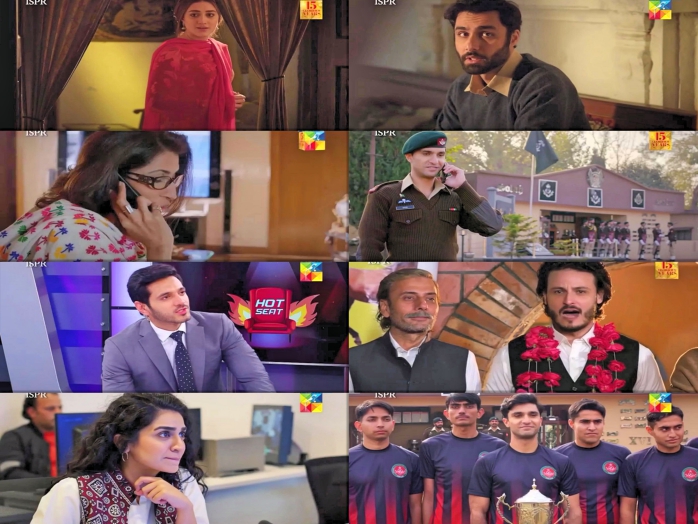 Similarly, Shehryar too wants Masooma to study and the idea of marriage doesn't appeal to him just yet. Just like all the other youngsters in the drama he too wants to focus on his studies which he knows that is the only way to get a good job and improve his living conditions. Having said that, I truly felt for poor Masooma. It is definitely great watching men who expect more from women than chai and roti! Masooma has a completely different mindset and I do think that there is nothing wrong with that. A lot of women are housewives and they also contribute in their own way. It was good to see Shehryar re-evaluating his actions later on and heading back home to perhaps apologize to Masooma. I am wondering if Shehryar telling Masooma off will give her the motivation she needs to change the way she perceives her future. Through Shehryar, Gulzar and Shariq's track, the writer has aptly shown how young people can change their destiny by setting certain goals for themselves and working hard to achieve these goals.
Final Remarks
All the actors performed absolutely remarkably tonight and I love how the writer has represented the youth in this drama. The variations in the characters and their journeys has made Ehd-e-Wafa a must watch. The preview of the next episode was brilliant – Shariq's confidence and conviction on one side and Shahzain's arrogance on the other! Also, looking forward to Dua and Saad's conversation. Ehd-e-Wafa has taken off for good and it seems like it will only get even better from here on.
Did you watch tonight's episode? Do share your thoughts about it.