Hum Style Awards 2020 were held in Karachi on the eve of January 25, 2020. Award functions bring celebrities from all walks of showbiz industry under one roof and they not only get to celebrate the noticeable work that has been done, they also get to make a style statement. This is the reason why a lot of Pakistani celebrities have now started paying more attention to their red carpet looks. All the outfits are carefully picked, designers and stylists keep in mind what will work on a celebrity and the hair and makeup artists also get to showcase their skills. Getting a celebrity ready for an event conducted on such a scale is a team effort. Where some stand out for the wrong reasons, there are a lot more celebrities who wow the audience and their fans. Looking at the kind of styling and outfits some celebrities chose at Hum Style Awards 2020 is enough to know that not going overboard most certainly works. Celebrities always look good in what suits them and the kind of styling they can carry gracefully. A lot of times, simplest of outfits when stylized properly make the celebrity look well-dressed. Hair and makeup also play a huge part and at the end, confidence and grace add more charm to the overall look.
Let's take a look at the Best dressed celebrities at Hum Style Awards 2020:
Reema
Reema does it again. There has not been one public appearance where Reema has not made a statement or hasn't looked good. The most beautiful aspect of Reema's preferences is that she stays true to her style every single time. Reema usually carries the kind of looks that make her look drop-dead gorgeous and graceful at the same time. This look was no different, therefore she was definitely one of the best dressed celebrities of the event. She wore a beautiful royal blue dress. It was a traditional attire with some modern twists to it, however the overall look was elegant. Silver embellishment on the sleeves, blue velvet bustier and flared tissue duochrome skirt – this shade of blue looked beautiful on Reema. Her hair and makeup was beautiful too and the blue complimented her skin-tone as well as hair color a lot. Reema went for bold eye makeup and pink lips. She kept the accessories to a minimum and completed her look with a beautiful silver clutch. She looked gorgeous for sure.
Imran Ashraf
Imran Ashraf has started paying more attention to her red carpet looks and we are not complaining. It is nice to see that his efforts paid off. His appearance at Hum Style Awards was no different. Imran Ashraf made a statement with black and white checkered tux. A simple bow tie, shiny boots and thick waistband.. He accessorized himself with a wrist watch and tinted sunnies. Imran Ashraf has proved that you can look at your absolute best without going overboard. His look is just right. The hairstyle suits him a lot too.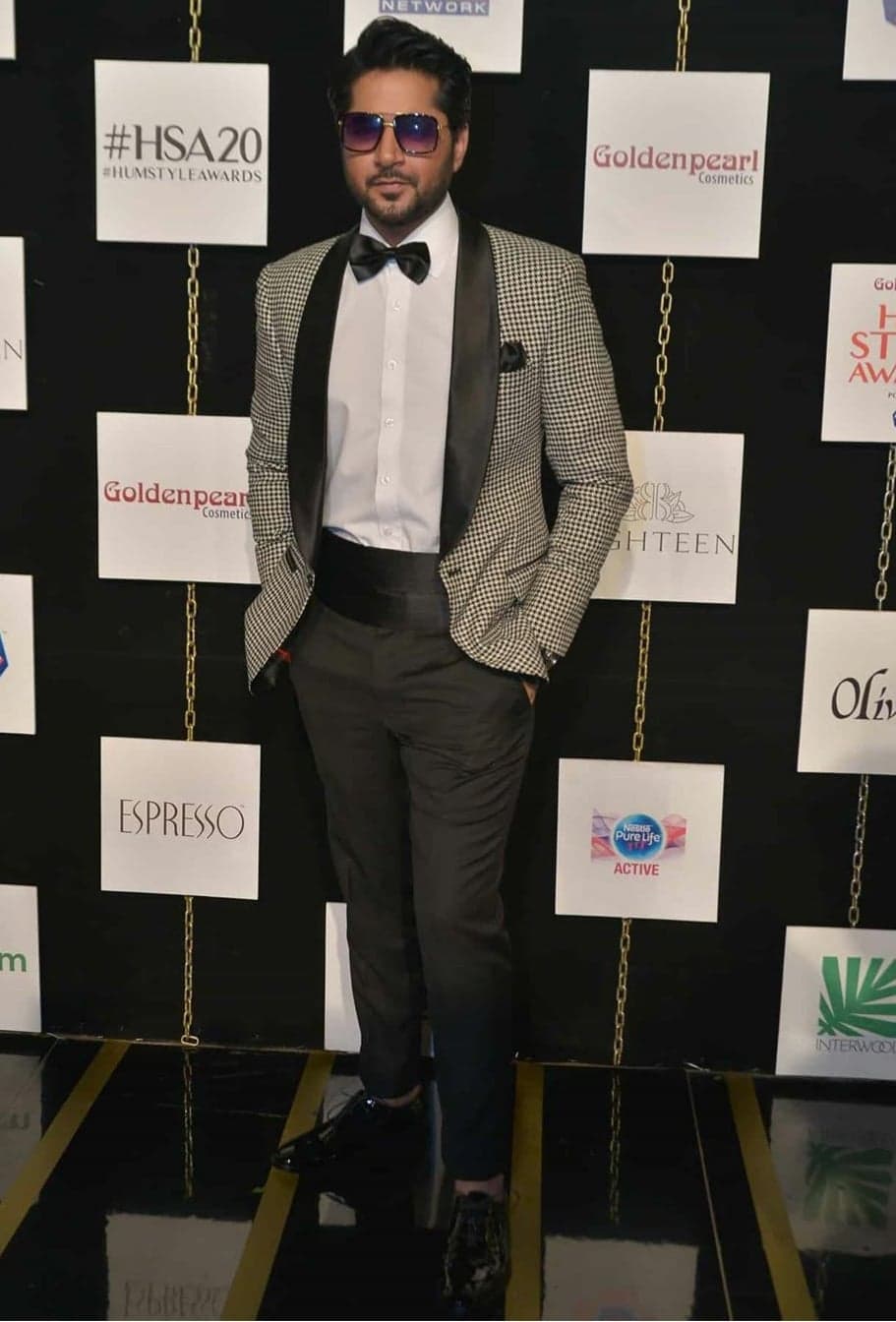 Urwa Hocane and Farhaan Saeed
Urwa Hocane showed up in a silver gown. It was sparkly, it was beautiful and sat well on Urwa's petite frame. She let the outfit do the talking which was partly off shoulder with one full sleeve. A long tail and a belt also amped up the gorgeous gown. Urwa kept her hairstyle simple but her makeup was vibrant and made her look fresh. She paired it with silver earrings and voila. Super pretty and definitely well-dressed! Farhaan Saeed and Urwa are known for color coordinating, which is not only sweet but a beautiful statement that they make as a couple. This event was no different. Farhan wore the shade of grey which beautifully complemented Urwa's silver gown. His suit was simple and elegant and hairstyle was perfect. They were a best dressed couple undoubtedly.
Adnan Siddique
Adnan Siddique looked suave and charming. His choice of suit was brilliant and the colors that he played with complimented his grey hair beautifully. Adnan wore a navy blue turtleneck underneath a charcoal grey suit. He wore glasses as an accessory and and kept his hairstyle neat. The grey hair suit Adnan Siddique and give him a very graceful look. No doubt, he was dressed to impress.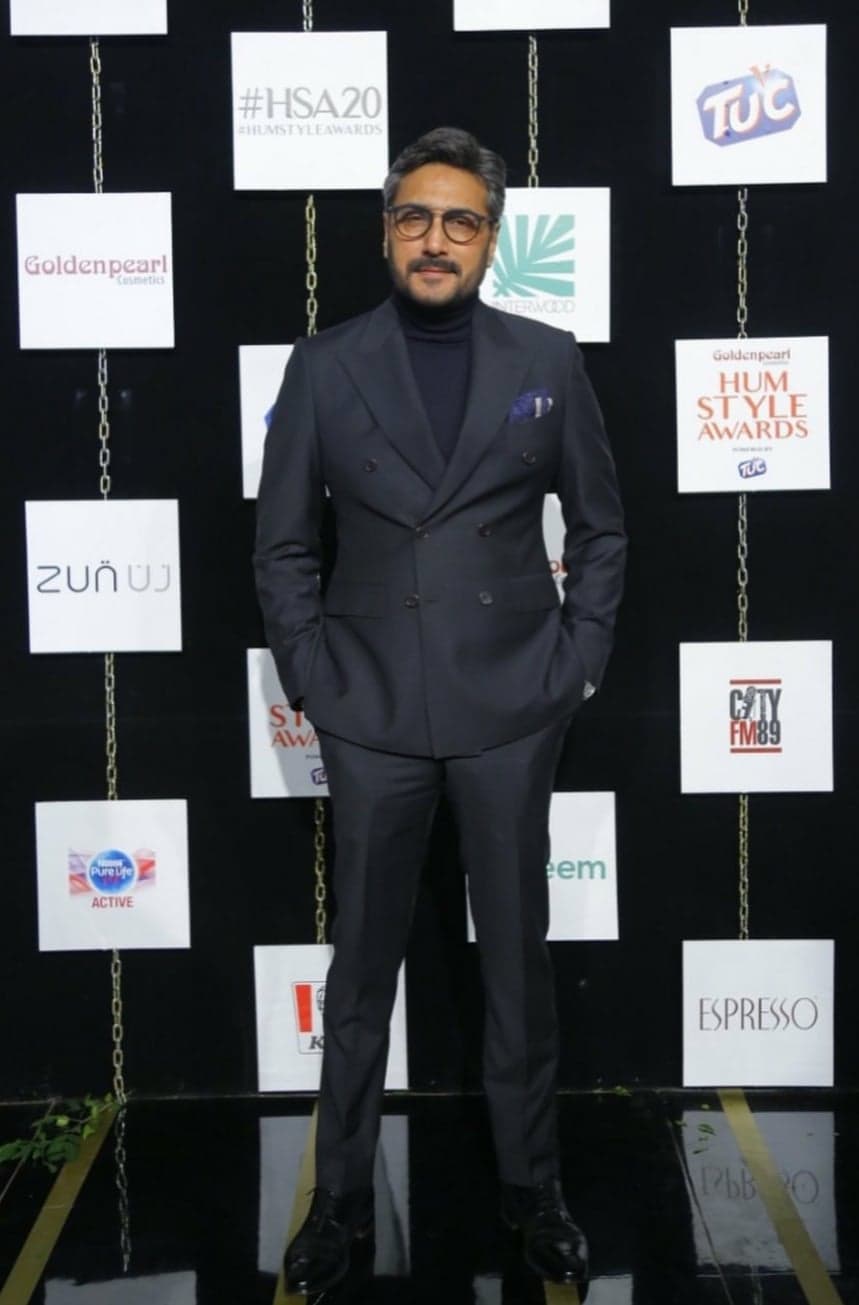 Zara Noor Abbas
Zara Noor Abbas takes her clothing and styling seriously. She has been paying a lot of attention to her outfits and makes sure to make a statement, this is the reason her instagram feed is filled with gorgeous pictures of Zara looking beautiful. Her look at Hum Style Awards was simple, fresh and beautiful. Zara kept her hair and makeup simple to let the beautiful Asim Jofa gown do the talking. It was a gorgeous shade of plum which complimented Zara's beautiful complexion and made it shine a lot more. Zara's overall look was effortless and minimal, but she still looked gorgeous. Simple pink toned makeup, loose curls were what completed her look. The dress was a beautiful net gown with heavy body and tail. It accentuated Zara's slim waistline a lot more and sat well on her frame.
Hira Hussain
Hira Hussain collaborated with TUC and she was there to host for them, this is why she wore a yellow dress which was different from the rest but definitely made a statement. She looked feminine, cute and vibrant. The dress was sleeveless gown in a beautiful vibrant shade of yellow. Hira kept her styling simple with her short hair parted sideways, a bangle in her wrist, a colorful clutch and sleek dangling earrings. It was not an elaborate look but it was different from what has been seen on the red carpets, however it worked and Hira carried this dress confidently.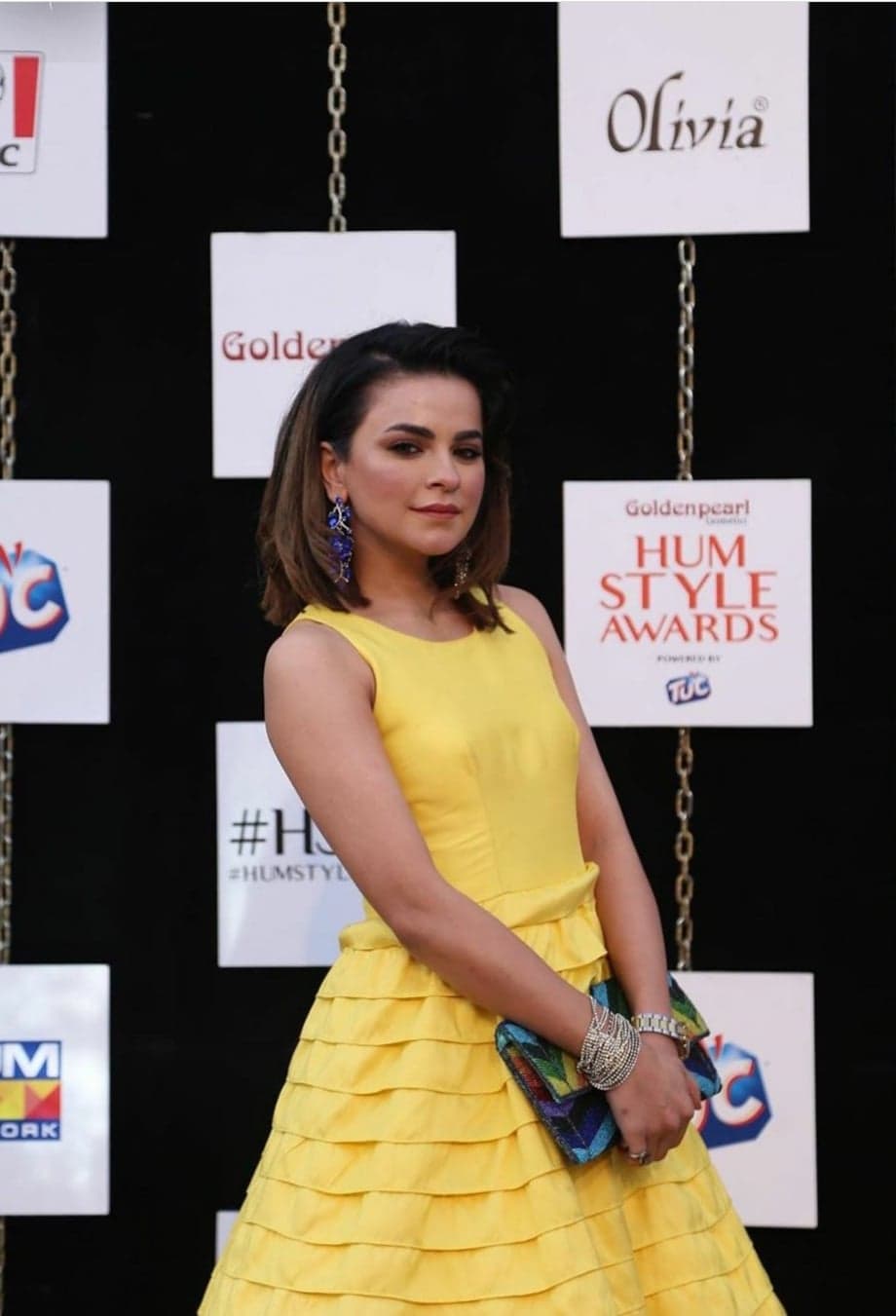 Ali Rehman
Ali Rehman is one such celebrity who always loves to incorporate something traditional in his attire. This the reason the coat that he wore was no different. It was inspired by truck art with some inspiration also taken from Ajrak print and it most certainly worked. It was quirky and graceful at the same time. Ali Rehman kept his styling simple with gel back hair and a few rings in his fingers. Finally, it is good to see Ali making a style statement after disappointing at quite a few events held previously.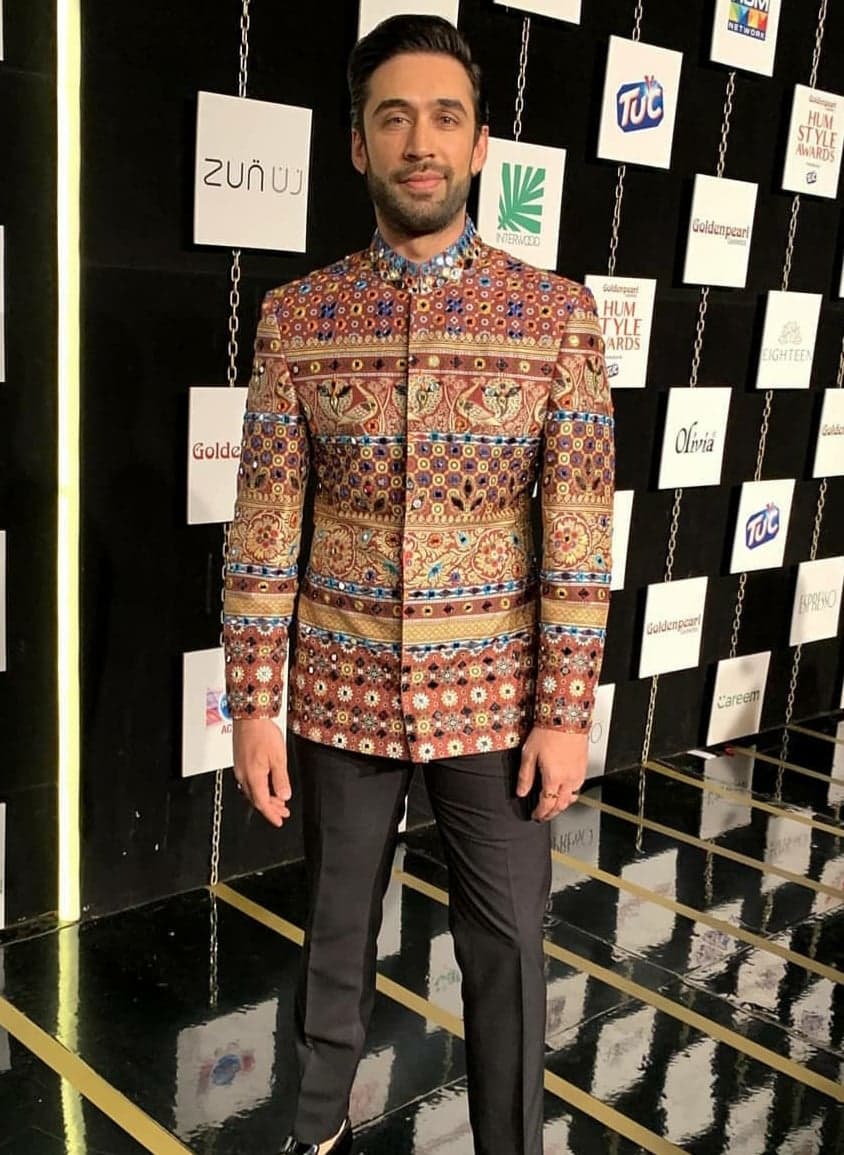 Fouzia Amaan
Fouzia Amaan showed up in a sleek partly off shoulder gown and she made quite a statement. She showed keeping styling simple and classy always works. Her velvet gown was a beautiful shade of blue and it fitted her tall and slim frame beautifully. Fauzia Aman went for a gel back sleek hairstyle and glowy makeup with brown smokey eyes. She wore a gorgeous set of silver necklace and earrings. She complimented the jewellery with a matching silver clutch. Simple, elegant and classy are a few adjectives that can best describe Fauzia's red carpet look.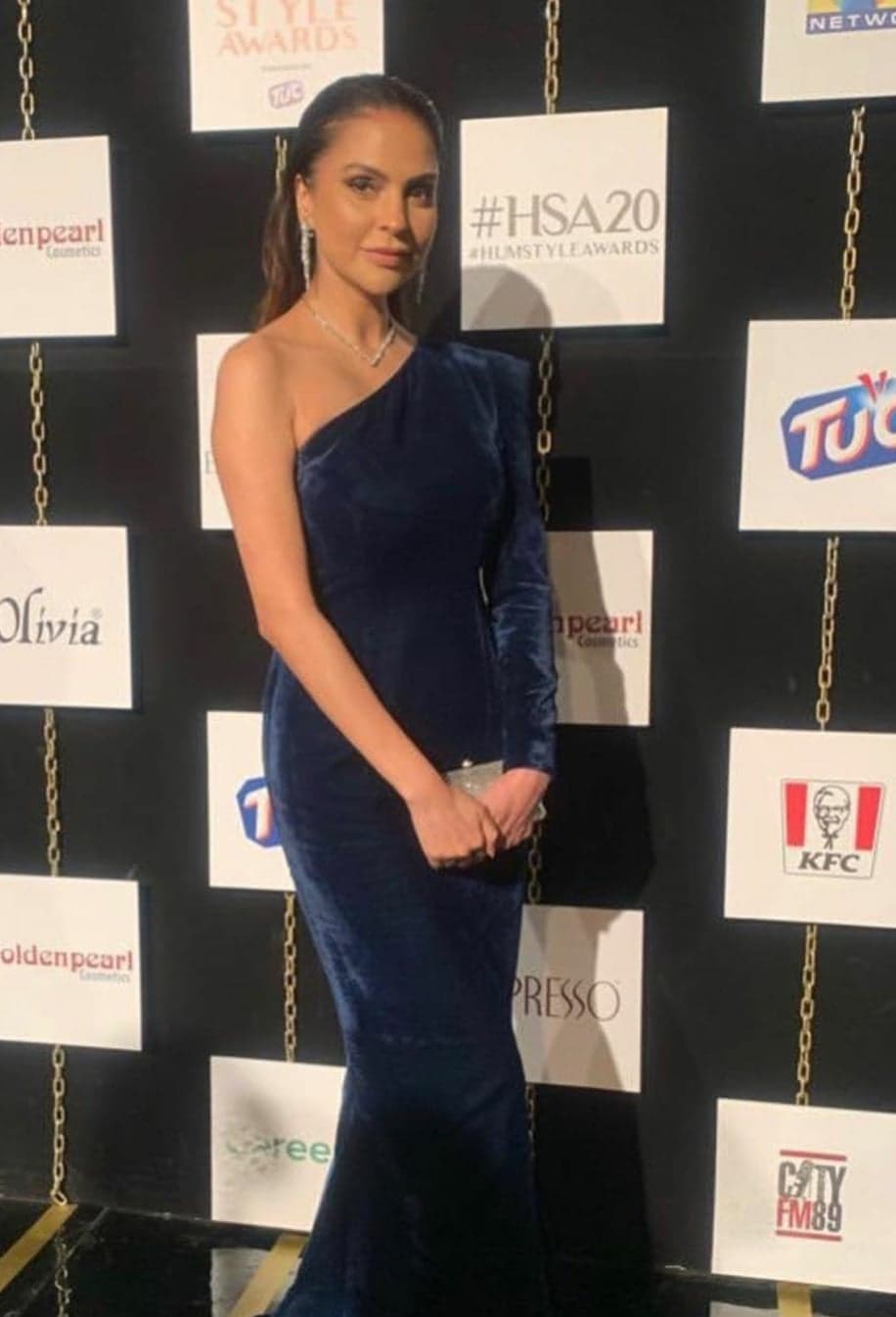 Sajal Aly and Ahad Raza Mir
People could not take their eyes of the Sahad couple and what acted as a cherry on top was their color coordination. Sajal and Ahad showed up in black outfits where Ahad wore a simple black suit paired with white dress shirt – effortless and classy. Sajal Aly wore an off-shoulder gown and wrapped a ruffled net veil around her arms. Sajal straightened her hair and parted them from the center. Understated was the vibe that they went for and they ended up making quite a statement. Not calling for too much attention, still getting so much of it. They surely were best dressed celebrities at the event.
Hania Amir
Hania Amir made quite a statement with solid colored orange outfit. She wore a shimmery embellished blouse underneath, went for Hollywood waves hairstyle parted from the side, a glamorous makeup look and an orange fitted gown that had a formal look to it. Hania Amir's choices have always been unique and she picks up such colors that add more beauty to her complexion and compliment it. She is young and that is why it is nice to see her experimenting and wearing the kind of outfits and such looks that suit her age. This was definitely one of them.
Bushra Ansari and Asma Abbas
There's no denying to the fact that both the sisters have not only aged gracefully but surely know what looks good on them. Bushra Ansari and Asma Abbas chose to wear Sarees to Hum Style Awards and they both looked graceful and beautiful. Bushra Ansari's Saree was traditional in a gorgeous shade of purple. Her hairdo was classy which goes well with the saree. A handful of glass bangles, a dangling pouch and earrings. Bushra Ansari's look was timeless and elegant. Asma Abbas wore a beautiful beige silk saree, her look was modern and glamorous as well. It was a self printed silk saree. Asma Abbas also carried her hair in an updo, went for bright orange lipstick and some gold accessories. A gold purse and she was event ready. Bushra Ansari and Asma Abbas, both the sisters were definitely best dressed last night.
Mushk Kaleem
Mushk Kaleem wore two outfits, one for the red carpet and the other for the main event. The second outfit was indeed beautiful. It was a black and white gown with a slit and a huge bow at the back. The black fabric was shimmery whereas the white was a beautiful satin. The entire outfit was wrapped around Mushk Kaleem's slim frame like a dream and she looked like a diva. Probably Mushk is the only one who did justice to this elaborate and appropriate award function dress. She wore her hair back and gave it a messy look. Her makeup look was grungy yet it complimented her outfit and amped it up. This quirky outfit worked and it makes a statement that those who can carry such dresses should wear them more often.
Usman Mukhtar
Usman Mukhtar succeeded in looking well-dressed at the event. He wore two different outfits throughout the function. A white coat and a bow tie during the red carpet and a maroon velvet blazer during his hosting session alongside Amina Sheikh. He looked at his absolute best and those big bold specs gave him a geek look in a nice way.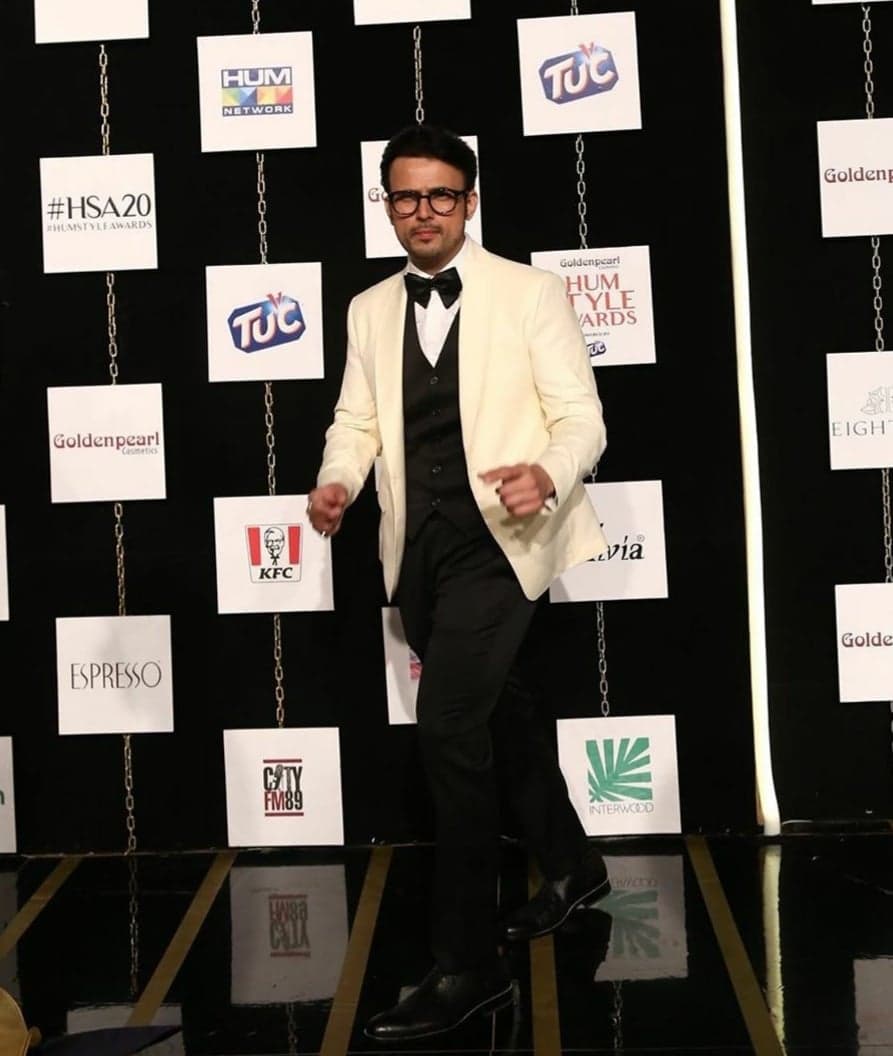 Maira Khan
Maira Khan wore the kind of outfit which is not usually seen on the red carpet but guess what, she made it work and dazzled in it. It was a gorgeous chiffon frock with stars spread all over. She also wore a golden shiny bustier underneath which peeked through the sheer chiffon material of her frock. Maira Khan's choice was different and unique and without trying to call for a lot of attention, she ended up looking well dressed. She showed that different choices can also be sported at such an event and she carried it gracefully. She paired it with green stilettos and wore a belt. Her hair and makeup were simple and effortless. Not your typical over the top glamorous award function look but it definitely works.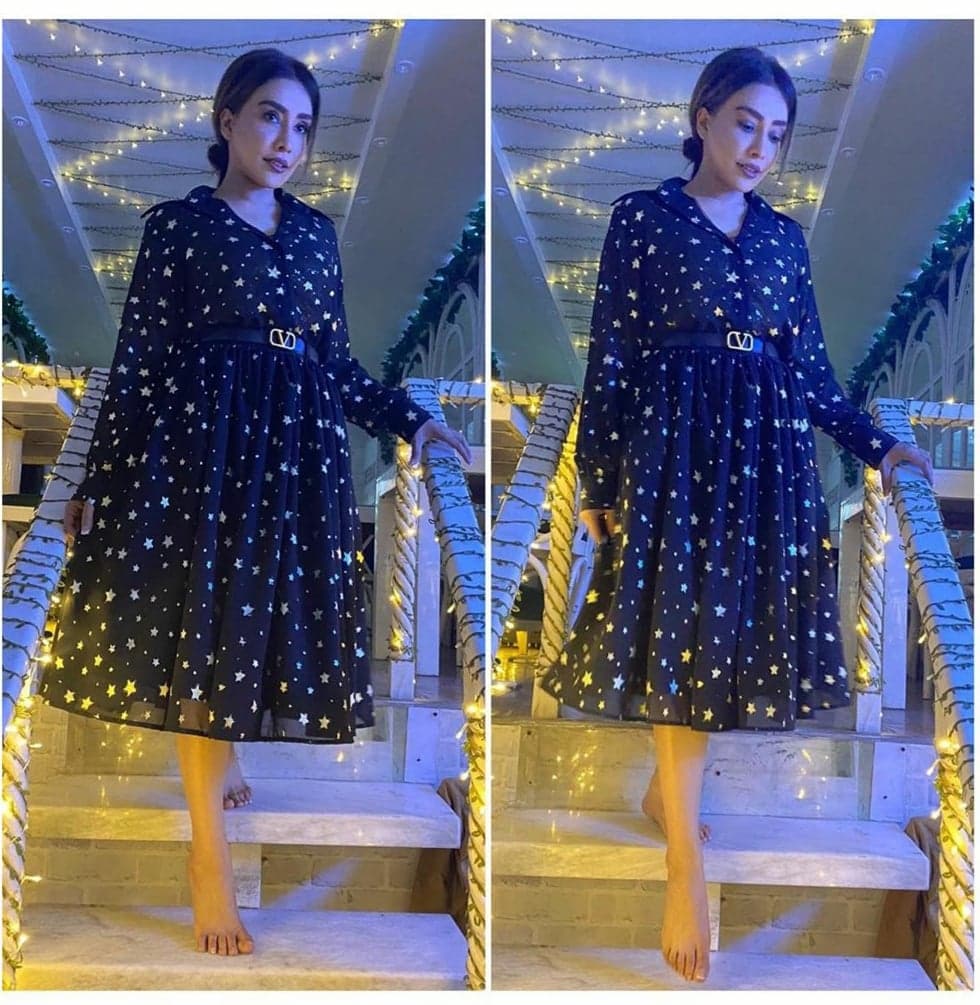 This concludes the list of best dressed celebrities spotted at Hum Style Awards 2020. Which one of these looks were your favorite? Feel free to share your thoughts in the comment section below.