Award functions are a star-studded event. With the success of Pakistani showbiz industry, these award functions have taken a different route where they are now conducted on a large scale, both locally as well as internationally. Award functions not only help in celebrating the noticeable work that the entire industry has done but it also opens domains for costume designers, makeup artists, hair stylists as well as photographers to join hands and create looks for the stars and celebrities. Over the period of time, Pakistani celebrities have started paying more attention to their red carpet and award functions looks. This way, they get to experiment and showcase their personal preferences in terms of clothing and styling.
Hum Style Awards were conducted in Karachi, on January 25, 2020. Just like every award function, this one was no different because every single celebrity showed up trying to look their absolute best. Unfortunately, where some stood out for their beautiful picks and choices, there were a lot more who stood out for all the wrong reasons. It is commendable that Pakistani designers try to showcase their talent by designing varied outfits for celebrities to be worn at such events, however, not every design works and brings negative attention towards the celebrities who show up wearing those dresses.
Let's take a look at the worst dressed celebrities at Hum Style Awards 2020:
Sana Fakhar
What was she thinking?
We love Sana Fakhar for a lot of reasons but unfortunately, this look isn't one of them. Sana Fakhar has worked a lot on herself and no wonder why she looks fit and fab than ever. However, her choices have left us wondering what was she thinking? The only work that comes to mind when taken a detailed look at Sana Fakhar red carpet look is tacky. Her tightly curled hair look unkempt, the bronzed makeup is making her look tired. Her entire makeup is done with similar shade of browns which make her look washed out. Coming to her dress, if she had styled it properly, it might have worked but the overall look is just meh. The stockings are a wrong color, her heels are not at all going with her outfit and the Chanel clutch that she is carrying seems to be a desperate attempt to show that she is carrying a designer item. Better luck next time Sana!
Momina Mustehsan
Red is not your color Momina!
Momina Mustehsan seems to be a red color lover. Be it in the form of her hair color or an accessory or her entire dress, she has to incorporate red color in her styling one way or the other. We have seen red working at any given occasion but not sure what is it about Momina Mustehsan that it just doesn't seem to work at all. Momina has definitely changed her hair color probably after 5 years of being in the industry which must've been a good change for her fans, however, it seems she is not ready to let go of the color red just yet. The gown that she has worn is too gaudy. A straight silk gown with flared detailing on the sides is not flattering at all. As if that wasn't enough, the tassels on her shoulders are another unnecessary detail in this poorly made dress. Her hair and makeup is also pretty unimpressive. She has gone heavy handed on the bronzing, but it still doesn't seem to work because her hair color is washing her out. Better luck next time Momina!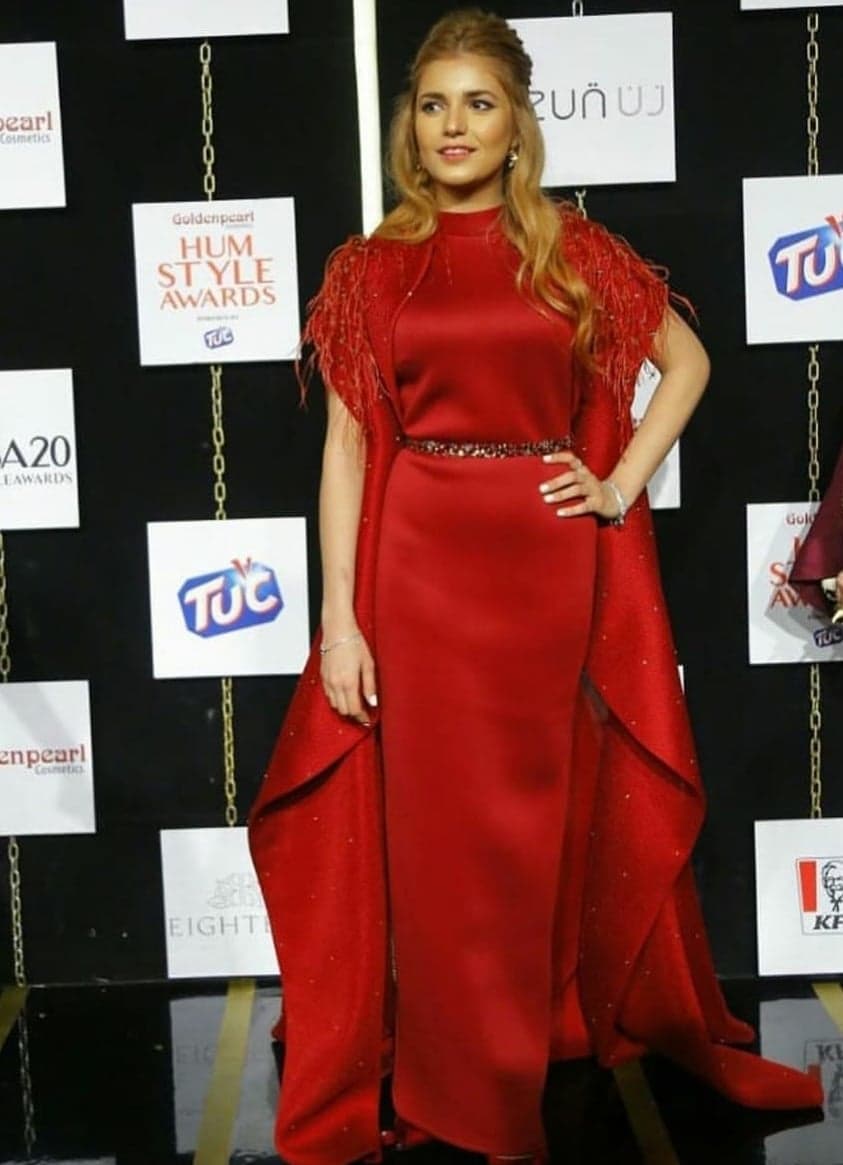 Nausheen Shah
Boss lady gone wrong
Nausheen Shah is known for her quirky choices. Usually she is able to stand out and look at her best because she knows how to make things work but this red carpet look is going to be remembered for all the wrong reasons. There is absolutely nothing about this punk look; be it her hair, her makeup, her jewellery or her entire outfit that is working. It looks like Nausheen Shah got the invitation at the last moment, therefore she did not have much time to think things through or contact someone reliable. Nausheen Shah can definitely rock the dark smokey eye makeup look but in this case it doesn't help at all. We are sure that people won't be able to look past her hairstyle. Better luck next time Nausheen!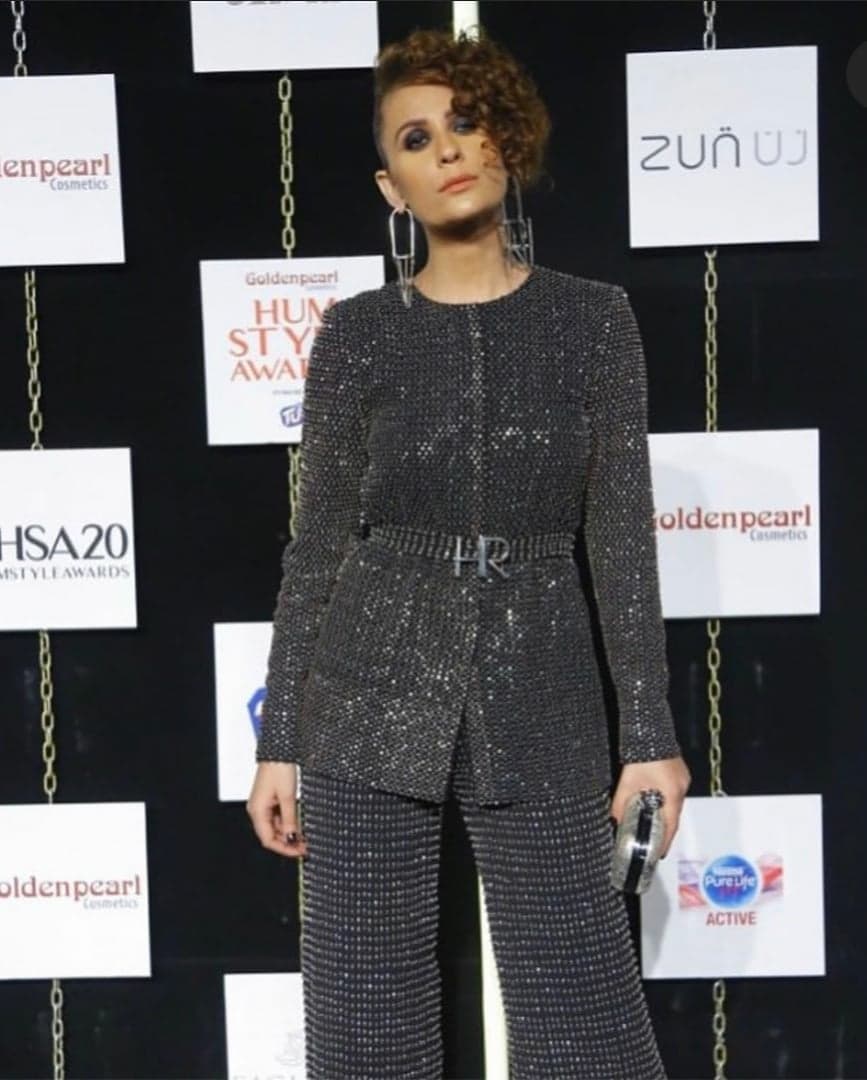 Eeshal Fayyaz
Old dress from her closet
Eeshal Fayyaz is a model, therefore it isn't too much to expect from her to have amazing styling sense and great choice. However, she proved that she didn't want to showcase too much of her skills on the occasion of Hum Style Awards. May be she missed the point that word Style is a part of the event. She showed up wearing a net nighty. We are all unique and quirky choices but this one is a major fail. The red embroidery on the net poncho, followed by a similar pattern on the dress she is wearing underneath is not a pretty look. The shade of black that she has worn makes this dress look old as if it were hanging in her closet for a couple of years. Her hair and makeup is definitely nice but the dress is what we are not too happy about. Better luck next time Eshal!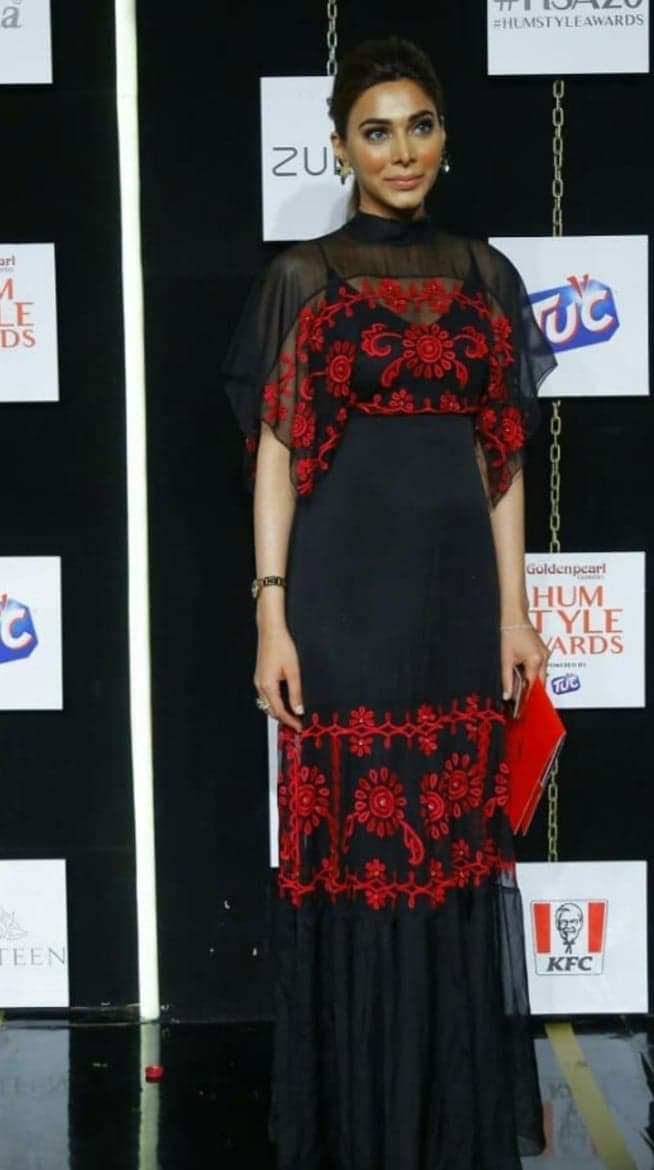 Mansha Pasha
So much is happening but nothing is right
Mansha Pasha has made it to this list in the past and guess what, she proudly landed herself in yet another list this year. What is Mansha wearing, seriously? A traditional embellishment on the sleeve, off shoulder formal dress on the other, a slit, some buttons, a cut on the bust, sheer tights and court shoes heels. This dress seems to be a result of someone's confusion. It seems Mansha had some scattered ideas in her mind, therefore when she saw all of that happening in one dress, she picked it up and decided to make a statement. Well, you do make a statement but it isn't a good one. The shade of pink is lovely for sure but the styling and making of this dress is in poor taste. Mansha decided to go for a sleek look, she kept her hair simple and makeup a little smudged smokey in plum tones. We are wondering when will be the event when Mansha will wow us. Hopefully soon. Better luck next time Mansha!
Mira Sethi
Kareena Kapoor at Veere Di Wedding Promotion, oh no, Mira Sethi at Hum Style Awards
Mira Sethi was seen trying very hard to make a statement. The shade of blue is gorgeous but the outfit most certainly is not. Skirt paired with a skimpy blouse & topped with a coat. Is this a dress suitable for interview, corporate event or midwifery? Too much is happening in a solid colored dress, but still it is not really making much sense. Mira is one of those celebrities who do not do much when it comes to hair and makeup, but for an award function, this look isn't too appealing. Her hair look greasy and earrings seem to be picked at the very last minute, probably the only thing she had in her sight so she decided to wear them. Oh, it is just us or there are striking similarities in the outfits as seen in the picture shared below? Better luck next time Mira!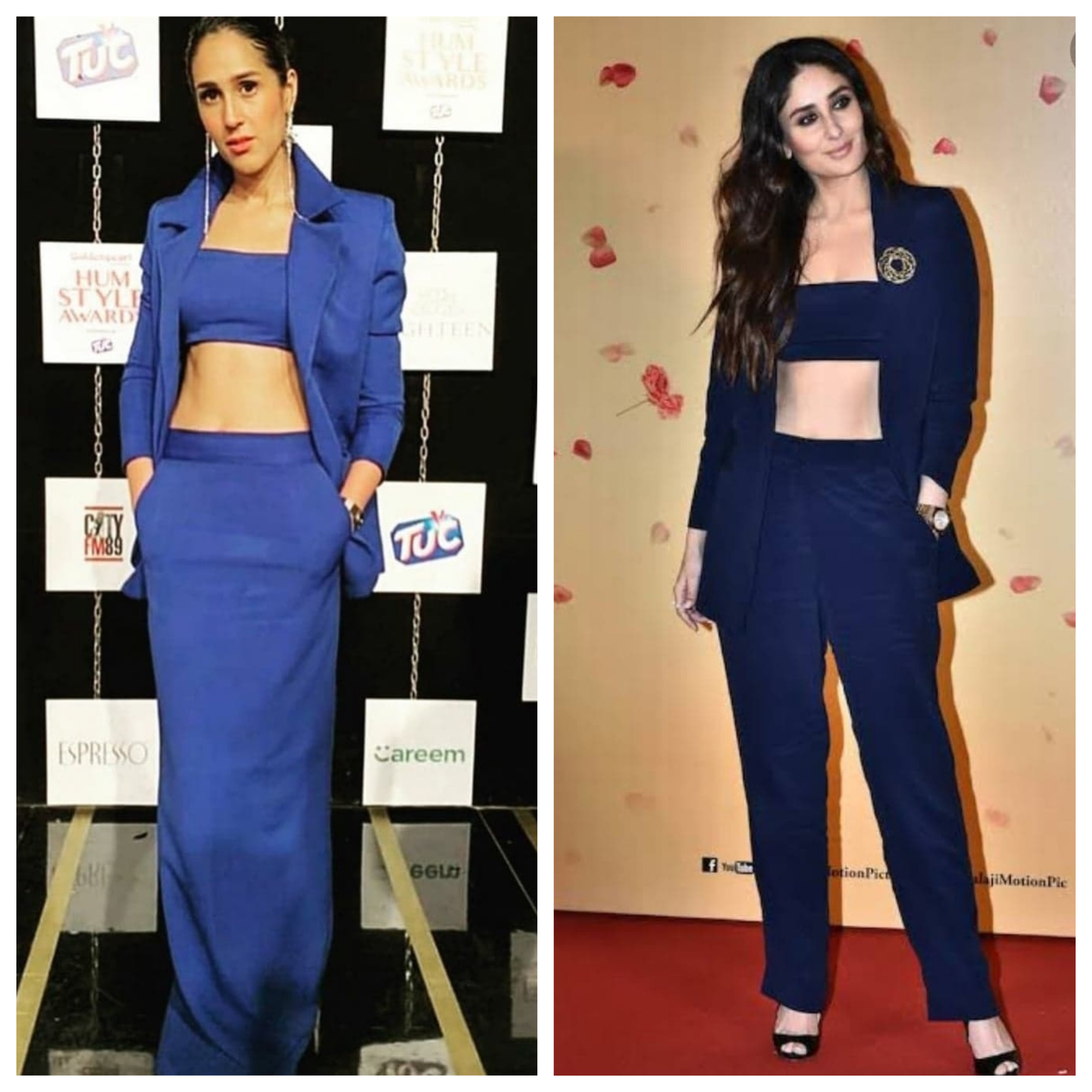 Ghana Ali
How much is too much
Ghana Ali has a very pretty face but her clothing choices are mostly hideous. This one falls in the similar category. Ghana Ali tried to present a modernized version of herself, but it ended up looking too much and too bad. The blouse is not doing her any favors. Yes, we can see that she is proud of her weight loss, however this blouse fails to sit on her properly. Ruffled detailing on the shoulder as well as the blouse make this dress look uncomfortable. The plain skirt is probably the only good thing about this outfit. Her hair is sleek, makeup is a bit too exaggerated and graphic, which is not doing justice to Ghana's beauty. We are also not sure if such dangling earrings are the right choice to go with this kind of western outfit. There may not be any rules but things have to make sense at least, don't they? Better luck next time Ghana!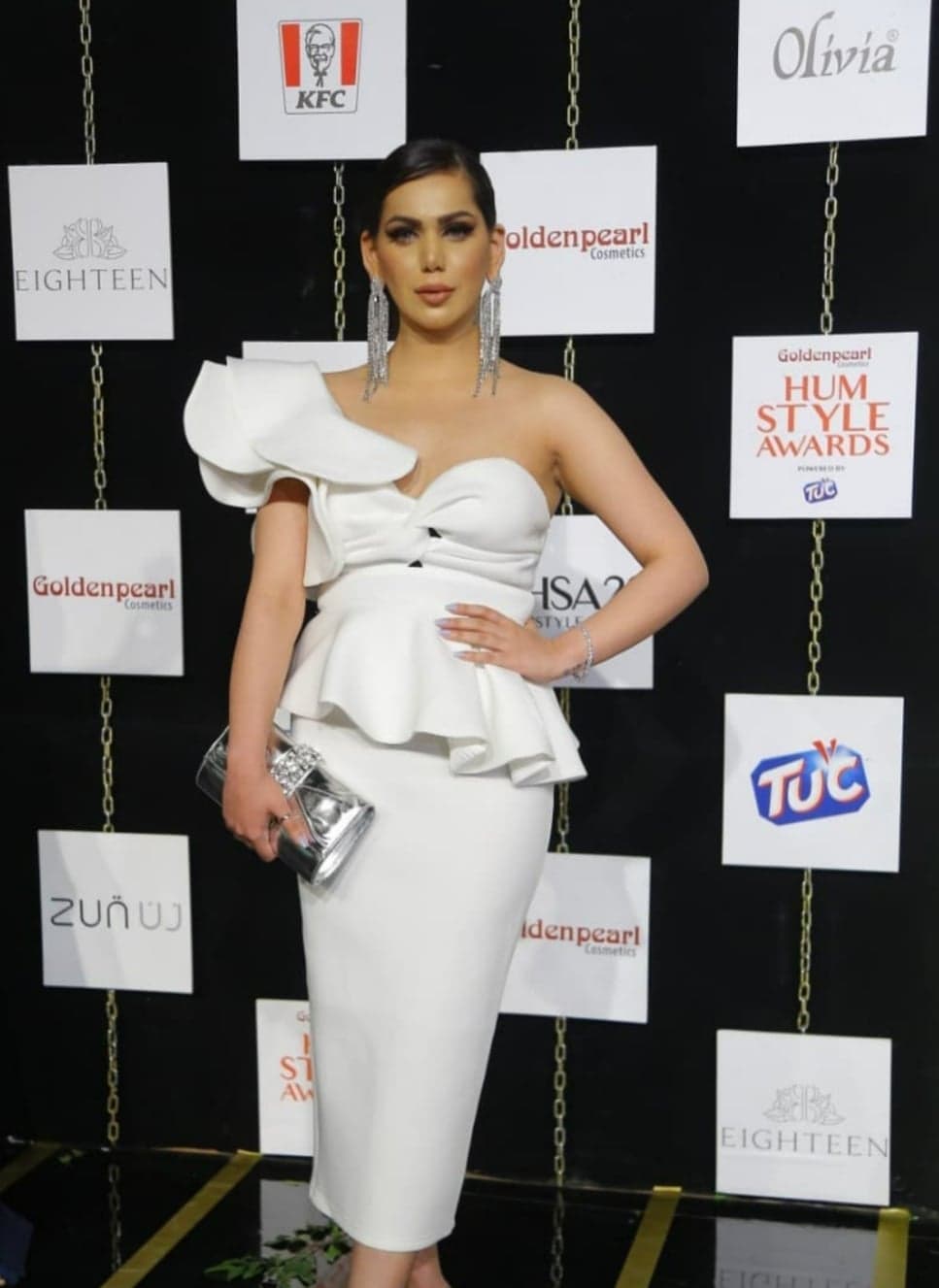 Ayesha Omar
It's cold in Karachi, hence the gloves
Ayesha Omar has made it a ritual to be all out on the award functions, whether her dresses look good or not. This dress of Ayesha Omar was no different and left us confused about what was happening around Ayesha Omar's petite frame. So many layers, a belt, pleated skirt, a slit on the inner skirt, satin, nets, a ribbon on her waist, underwired bustier, a ribbon wrapped around her shoulder – can someone please explain how many ribbons were stitched together to form this dress? We are ready to put everything aside, only to understand the concept of leather gloves and how are they complimenting her dress? Yes, we are aware of the fact that the city of lights Karachi has witnessed one of the coldest winters in history, therefore Ayesha must've been trying to protect her hands but what about her shoulders? *shivers*. Better luck next time Ayesha!
Sonya Hussyn
Curtain raiser
Sonya Hussyn definitely is a stylish celebrity of Pakistani drama industry. She is not only pretty but knows how to carry herself in different attires, however we are not sure what goes wrong when she shows up on award functions. Sonya wore a classic white silk saree with embellished sleeveless blouse. Saree itself is a timeless classic dress which needs no alteration. The ruffled veil that she decided to wrap around her arms made it look like Sonya was trying to protect herself from Karachi's cold weather but because she had to look glamorous, this was the only way to make things work. It looks like she snatched a curtain from the railing of her home and draped it around. Her hair and makeup is not too impressive as well. There was a time when Sonya would rock full glam looks to perfection but lately it looks like she is trying to explore the minimal makeup look route, which makes her look tired and sleepy. When she can most certainly carry the heavier looks, she should. She had a margin especially now when she wore a white saree and a curtain. Better luck next time Sonya!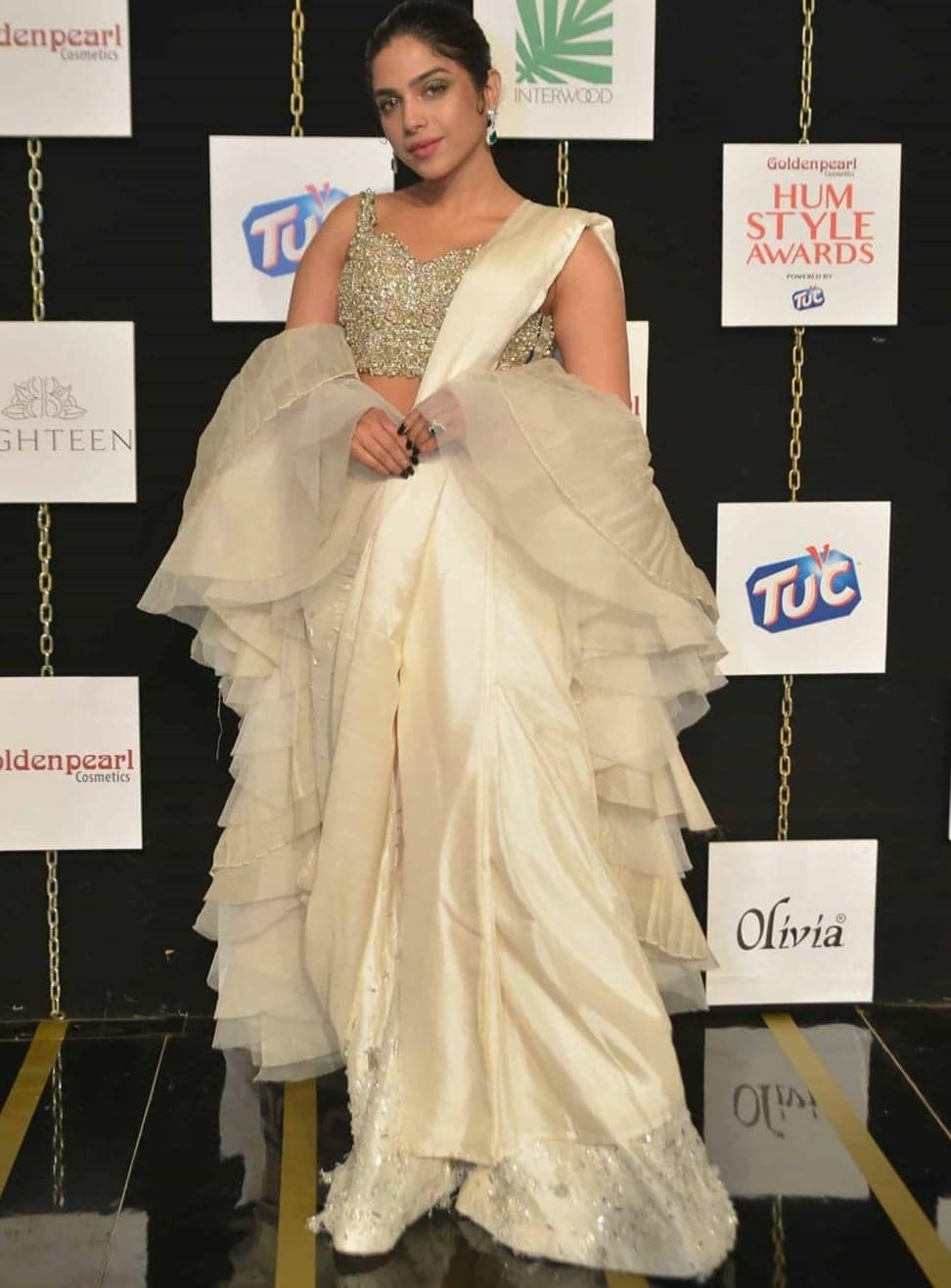 Iffat Omar
Feeling stuffed
Iffat Omar is a timeless beauty of showbiz industry. She has been an icon and has always made everything look good on her but we are afraid to say, this look wasn't one of them. It looks like Iffat Omar has been stuffed inside this ruffled blouse without her consent. Her hair and makeup is elaborate which is perfect for the occasion but her outfit is not working at all. It seems too casual and just not the right look for the night. She has paired this blouse with a flared palazzo. Too black, too basic and probably too boring. Better luck next time Iffat!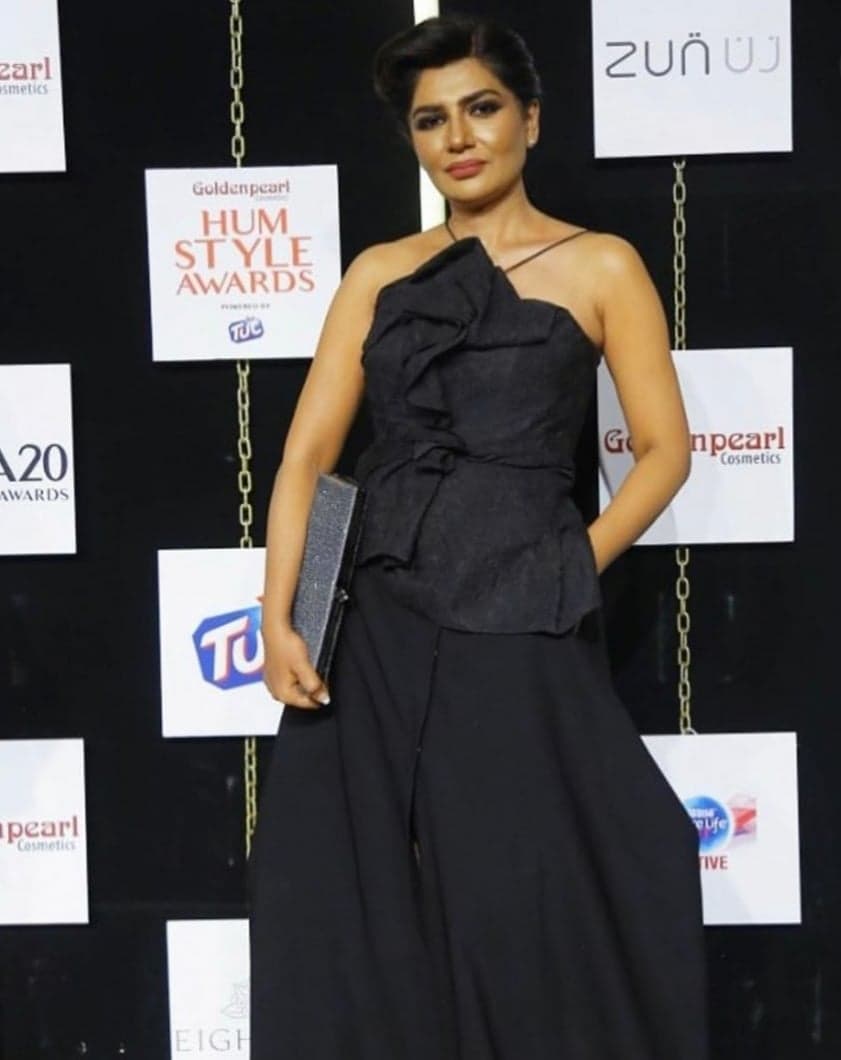 Kubra Khan
Car Wash Brush
Kubra Khan is one of the most beautiful faces of Pakistani drama industry. She is a find of the industry and she always makes everything work. However, when it comes to award functions, not sure why she picks up such outfits which bring attention to her for the wrong reasons. Black seems to be Kubra's favorite and go to color for most of the events, which is a perfect choice but that's where it ends.. This time around too she wore a black frock. A frock is fine but we are not sure about the patchwork detail at the bottom of her dress. Orange heels are definitely eye catching but that's where it stops. She looks beautiful in simple makeup and basic hairstyle as well but the dress is definitely a wrong choice. It looks like she fitted herself into a car wash spinning brush and tried to make it look like an outfit. Better luck next time Kubra!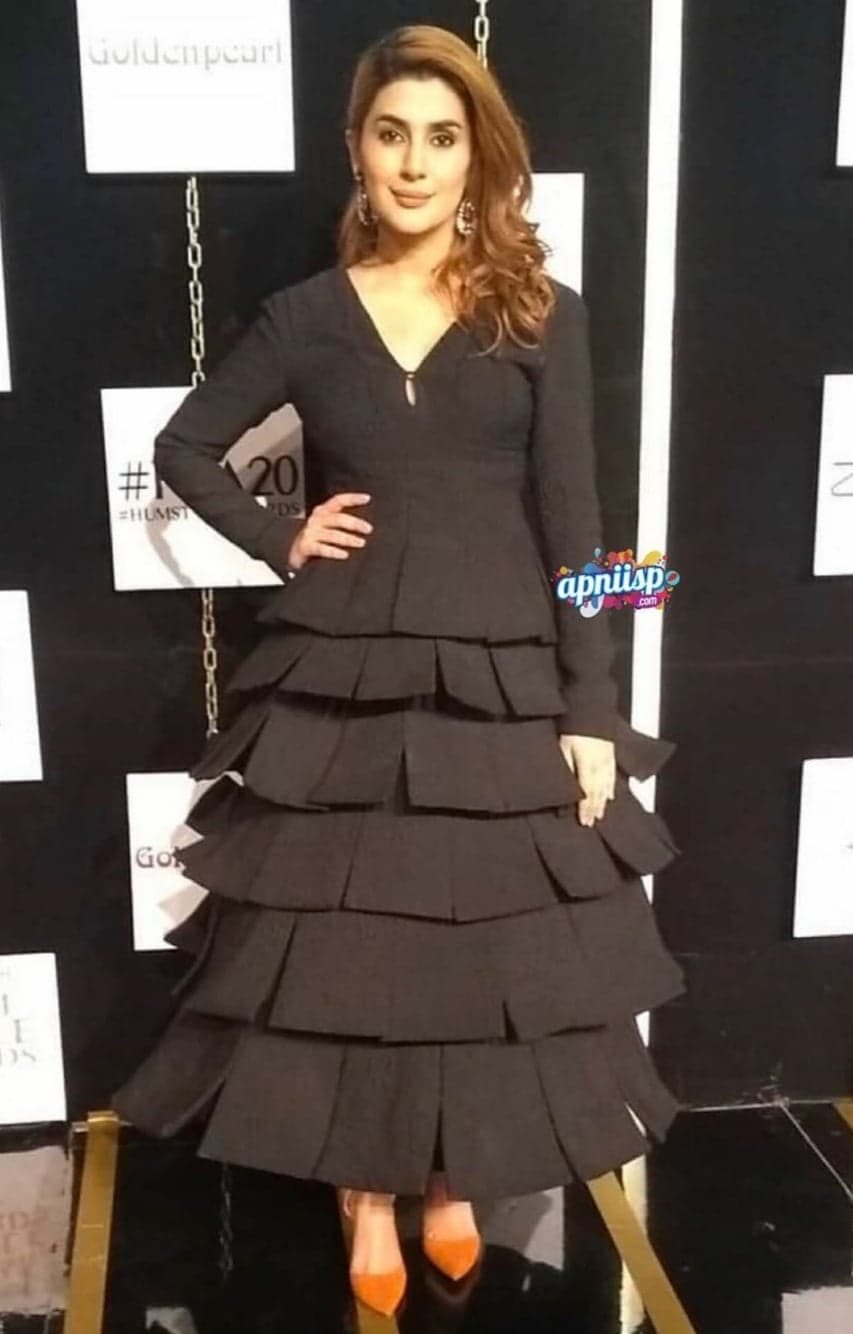 Mahnoor Baloch
Call for attention
Mahnoor Baloch is a timeless beauty. It is a fact that she refuses to age, which is commendable. However, this was definitely not the night for her. Mahnoor Baloch chose to wear a saree, she could have looked elegant if her blouse was not that skimpy. The sarree was a basic silk material with gradient shades of blues and greens, nothing new there as well. The blouse was blue velvet which was pretty much not helping the overall look of the saree. Mahnoor Baloch already gets a lot of attention for her beauty, but this one seemed like a serious attempt of grabbing more attention that she usually gets. Hair was basic and makeup not too impressive either. Better luck next time Mahnoor!
Asim Azhar
Taking wildlife on a ride
We love Asim Azhar for all his fun and unique choices but unfortunately, this one was unimpressive and did not work at all. Wearing a tiger faced coat was a wrong choice and left us wondering what was the point that he was trying to prove. It's obviously just clothes & there's always a change awaiting by the end of an event but pictures are always going to stay forever. We can not unsee and undo bitter memories. Asim paired this coat with light colored shirt and trousers which was again a wrong choice. We have heard that animal prints in clothing never go out of fashion but to take it to another level and wear tiger face all around must've been uncomfortable. He is definitely a very stylish singer but this look was definitely unimpressive. Better luck next time Asim.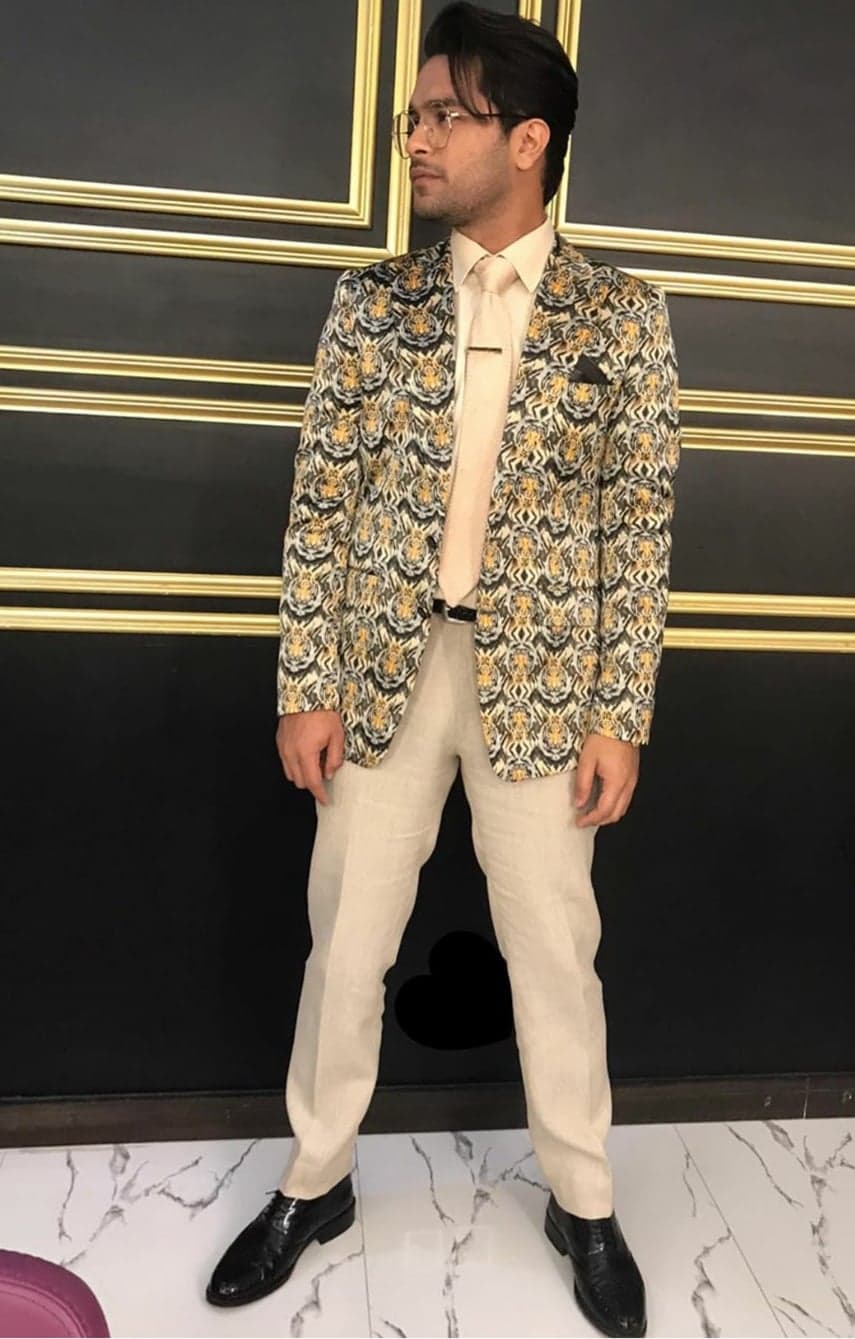 Amina Sheikh
Cheongsam should remain untouched
Amina Sheikh always goes out of the way to create her event looks. Sometimes they work, sometimes they don't. Amina Sheikh is a model and someone who has worked with so many leading designers and stylists, therefore it is hard to believe that she chose to wear a gown with unflattering fitting. The gown seemed to have been inspired by Chinese Cheongsam but was more of a modern version of it. The color was beautiful and looked good on Amina but the overall dress as well as the styling didn't do Amina any favors. Her hairstyle also did not suit her at all and seemed as if she was running out of time so decided to tie them whatever way she could. Her makeup wasn't too glamorous and nicely done either. Amina Sheikh did change into another outfit while hosting the show, which was definitely a far better look than the one she graced the red carpet with. Better luck next time Amina!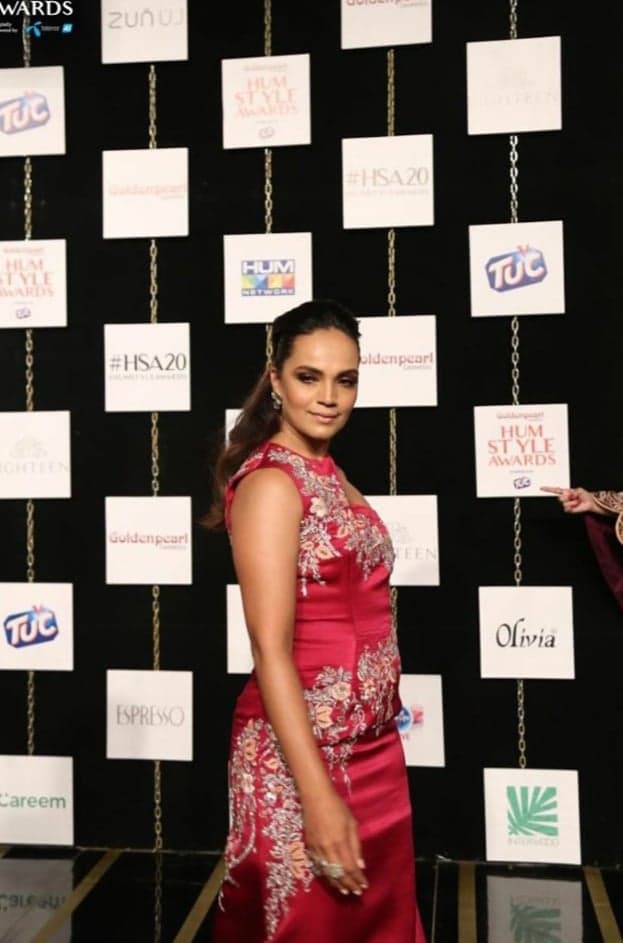 Meera Jee
Too Kaftan, too Kasual
Meera Jee looked like she was gone to Middle East on a vacation, therefore she purchased a lot of Kaftans and when she couldn't find a decent outfit, she chose to wear a Kaftan and be at her utmost comfort. The silk Kaftan dress was not a right choice for the night. It was too plain, too basic and didn't do much for Meera Jee's exuberant personality. Meera Jee is very much capable of rocking bold and glamorous outfits as well as looks, this one was too plain to make a statement. Better luck next time Meera Jee.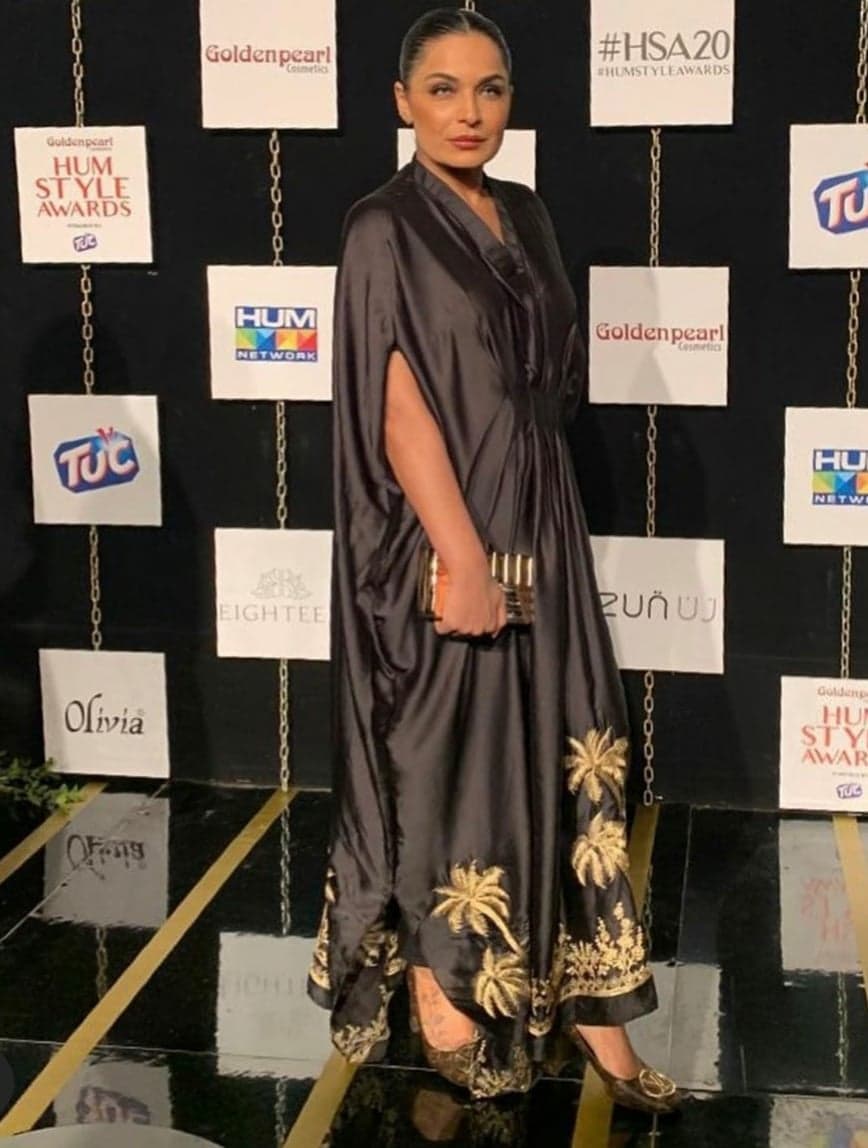 Hina Ashfaq
Bun is not so fun!
Hina Ashfaq is a gorgeous model. She has groomed herself a lot and has definitely come a long way. Her photoshoots and overall personal styling is always on fleek and she actually knows what looks good on her. However, not sure what went wrong last night because the choices she made were anything but flattering. The bun and heavy fringe which covered half of her face, loud red lipstick which looked OTT. When you look at her, the first thing you notice is the weave she is wearing, which makes it look like that's the actual outfit that she is wearing. The glittery dress which flowed around her was not a decent look either and seemed cheaply made. Better luck next time Hina!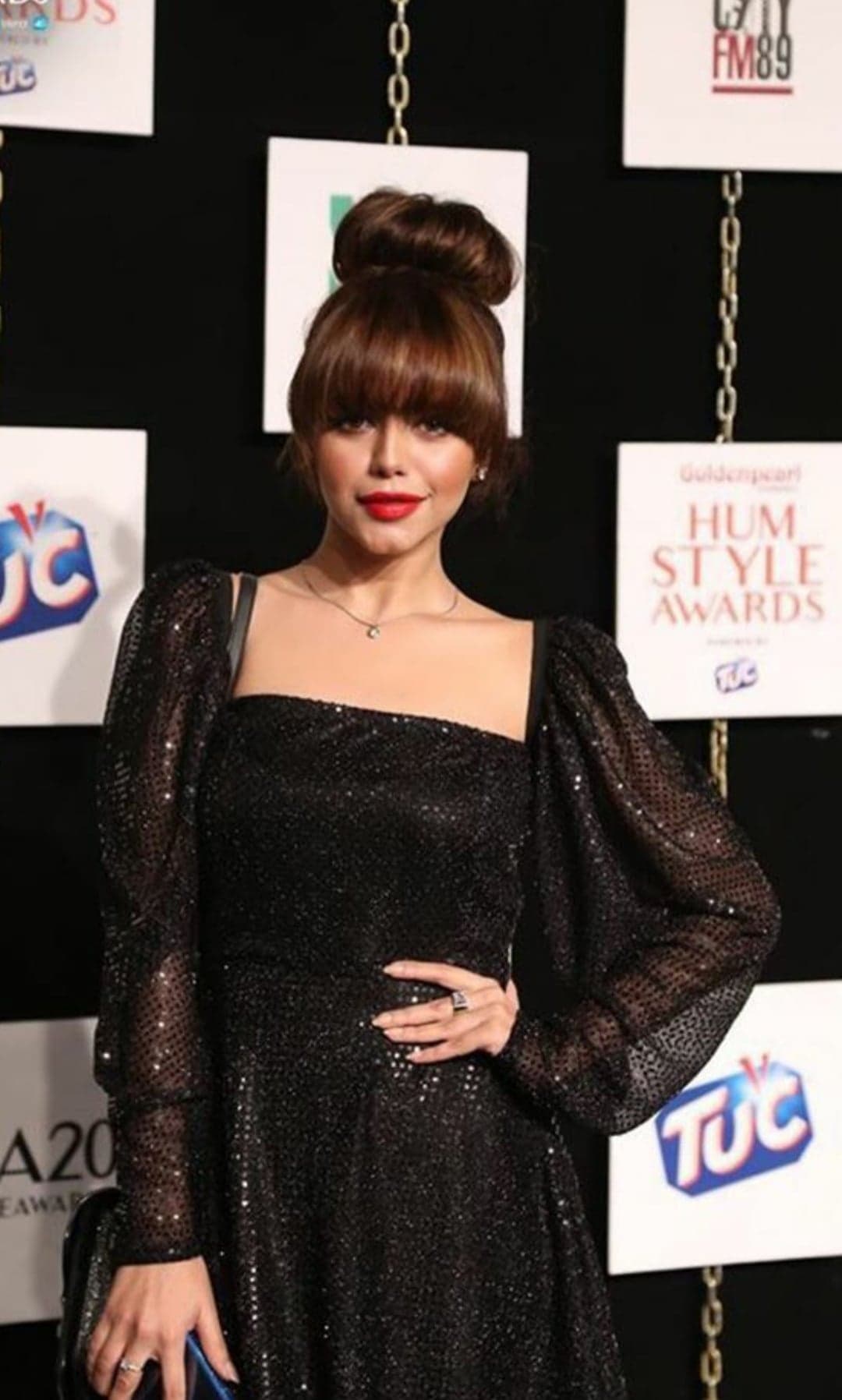 Zarmeena Ikram
Hangout with friends at an award function?
Looking at a frock that Zarmeena Ikram chose to wear on a glamorous night of Hum Style Awards make us wonder whether she got the right brief about it being an award function and not her best friend's baby shower? She wore such a casual floral dress and probably thought she was making it work but no, it was a poor choice and way too casual for an award function. These kinds of dresses are suited for a luncheon with friends or just a casual get together but this attire is a no no at a formal event. She also wore leather boots, may be keeping the cold weather of Karachi in her mind but oh well!!!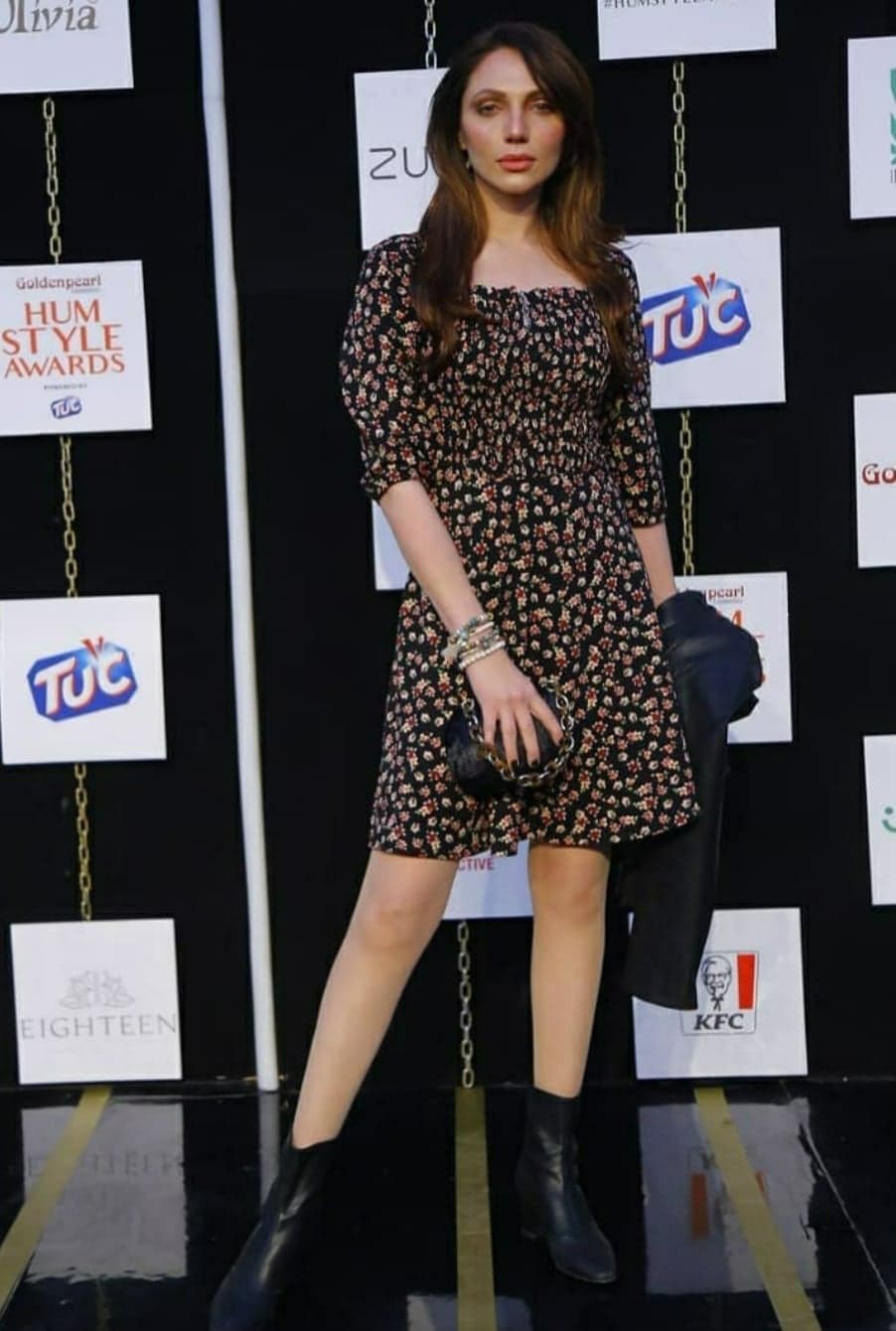 This concludes the list of worst dressed celebrities seen at Hum Style Awards 2020. Some celebrities made a wrong outfit choice, other could not do justice to their overall look because of the kind of styling, hair and makeup they chose. What are your thoughts? Which of these looks did not work for you? Feel free to share in the comment section below.