Eid is always a joyous occasion for all Muslims. This is the reason, Pakistani celebrities make a special effort in connecting with their fans on Eid. This helps their fans in seeing their favorite celebrities and become a part of their celebrations. A major part of Eid revolves around the clothing, accessories, hair, and makeup of female celebrities, this is the reason over the years it has now become a ritual that all the female actors go for special photoshoots to make a memory as well as share it on their social media handles. This way the general public also gets to see the fashion trends of the Pakistani fashion industry and helps them get inspired.
This year most of the Pakistani celebrities went out of their way to get the perfect look for Eid. The focus was on traditional outfits and soft make-up looks. They also had the best photographers from the industry at their disposal which is why the Eid pictures this year are absolutely stunning. It is definitely refreshing watching our favorite Pakistani celebrities in these looks considering how grim things are generally due to the COVID situation around the world. It was interesting to note that no celebrity was seen following a particular style or trend this year. All the pictures that surfaced showed that the celebrities decided to wear what they felt like and this is why all kinds of silhouettes and designs were highlighted which also brought in the element of variety this Eid.
Here is a list of the beautiful dresses worn by Pakistani celebrities on Eid 2021:
[lwptoc]
Ayeza Khan
When it comes to putting the best looks for any occasion at all Ayeza Khan never falls short. Her dressing and fashion sense is always on point therefore it does not come as a surprise that on Eid day 1 and 2 both Ayeza Khan looked absolutely gorgeous. On the first day of Eid, Ayeza Khan wore a stunning traditional chunri design with a stylish spin to it. It was designed by leading designer Ansab Jahangir. She complimented this outfit with exquisite jewelry designed by Hamna Aamir. Anila Murtaza did her styling and make-up and that is how Ayeza achieved this overall look which was flawless and attractive.
On the second day of Eid, she decided to wear a white traditional kalidaar with the perfect gold combination. This dress was also designed by Ansab Jahangir and Anila Murataza gave her the dewy makeover which always suits Ayeza. The statement earrings she wore made her look more festive and regal.
Sana Javed
Like many of the other female celebrities this year, Sana Javed also wore a beautifully designed lilac dress which was classic and traditional. This was Sana Javed's first Eid after she got married therefore it was even more special for her. Sana always carried such traditional dresses with the utmost elegance and grace. traditional jewelry definitely continues to be in fashion since Sana was one of the many celebrities who were seen sporting them this Eid. She kept her styling simple and it went so well with her entire look.
Maya Ali
Maya Ali has upped her style game over the years and every time she makes sure that her Eid looks impress her fans.  This year on Eid day 1 and 2 she was seen in two completely different but equally attractive looks. She wore a traditional lehnga which was not too heavily embroidered. Her outfit was inspired by old-school fashion and it was designed by the very talented Faiza Saqlain. Ace Make-up artist Shoaib Khan gave her a soft make-up look and those waves looked great in her luscious hair.
On the second day of Eid Maya Ali chose to wear a beautiful pastel pink and her overall look was completely different from the first day of Eid. She tied her hair in a neat bun which was decorated artistically with flowers. This look was also created by the same designer and her make-up artist who was behind her gorgeous look for the first day. We also love the way the photographer Bilal Saeed took the pictures.
Yumna Zaidi
Yumna Zaidi has recently started experimenting with different looks but she never goes off-board. Her looks are always subtle and pretty. Since Yumna is naturally pretty as well she does not even need a lot of make-up. On the first day of Eid, Yumna wore a pretty and classic olive green outfit which did not have a lot of detailing but its beauty lied in its simplicity. Since Yumna's personality is such as well, the simple yet elegant cuts of this outfit which she paired with a relatively more festive duppata. All the girls out there who want inspiration for festive dresses should definitely be able to copy this look effortlessly. Yumna's traditional jhumkas so well with the look and we love her sleek eyeliner as well.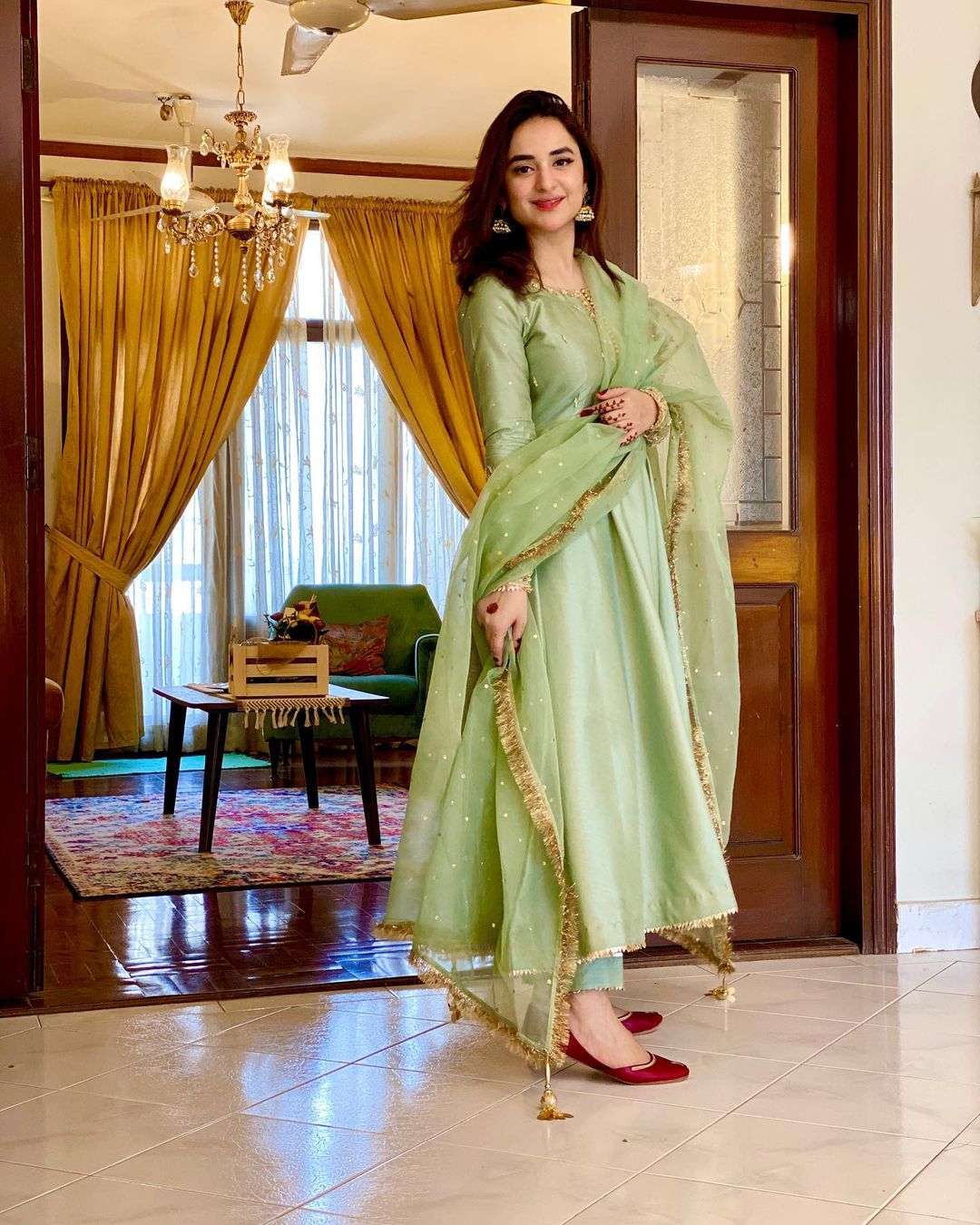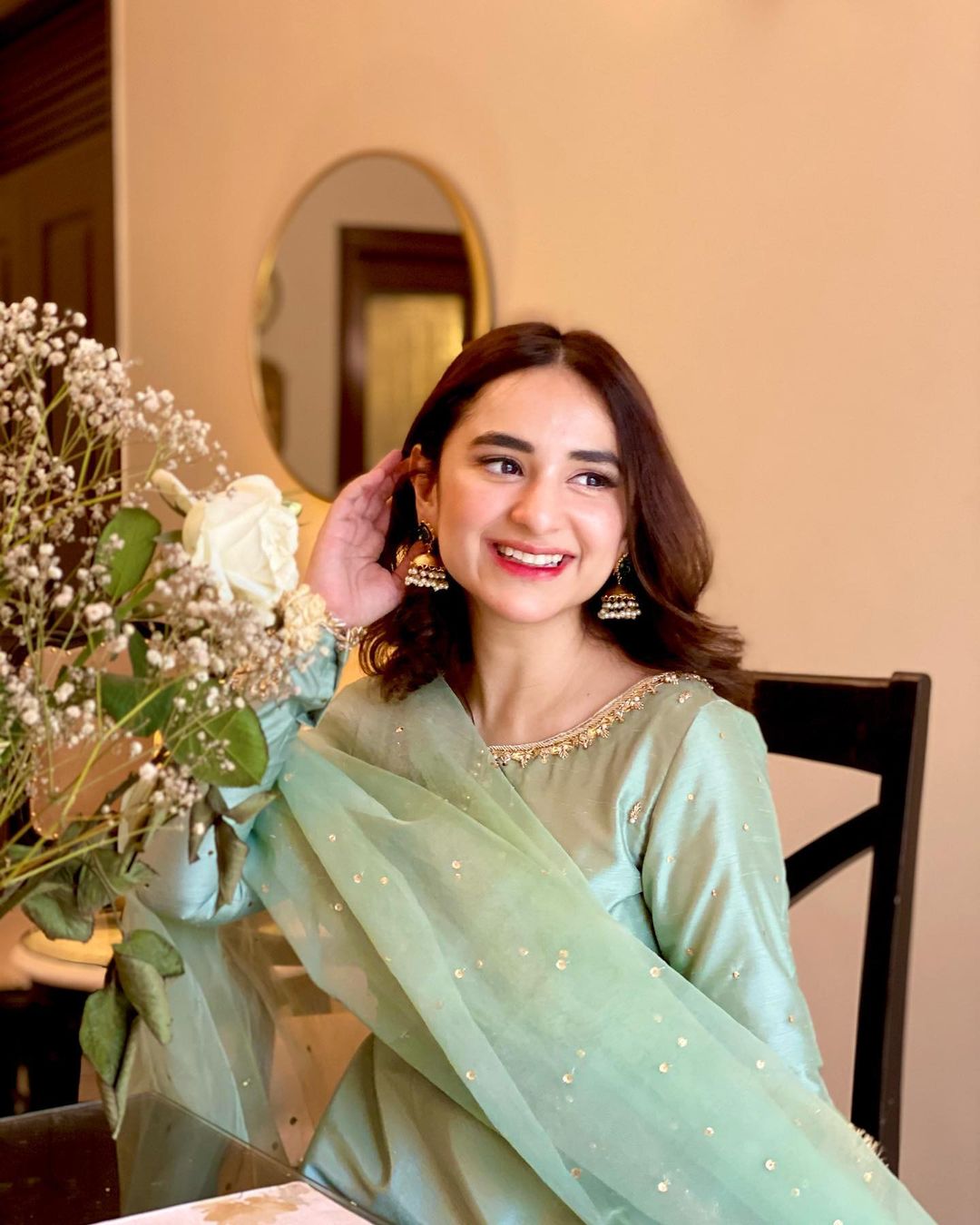 Kubra Khan
Kubra Khan has her own unique style and it is rare that she gets dressed up and posts pictures on social media. For the second day of Eid Kubra wore an outfit that was both conventional and stylish. Kubra paired her beautiful outfit with equally pretty traditional jewelry and her make-up looked really good on her too. Although Kubra posted that the second day of Eid was for catching up on your sleep but it didn't look like that at all! The statement earrings looked stunning with this look.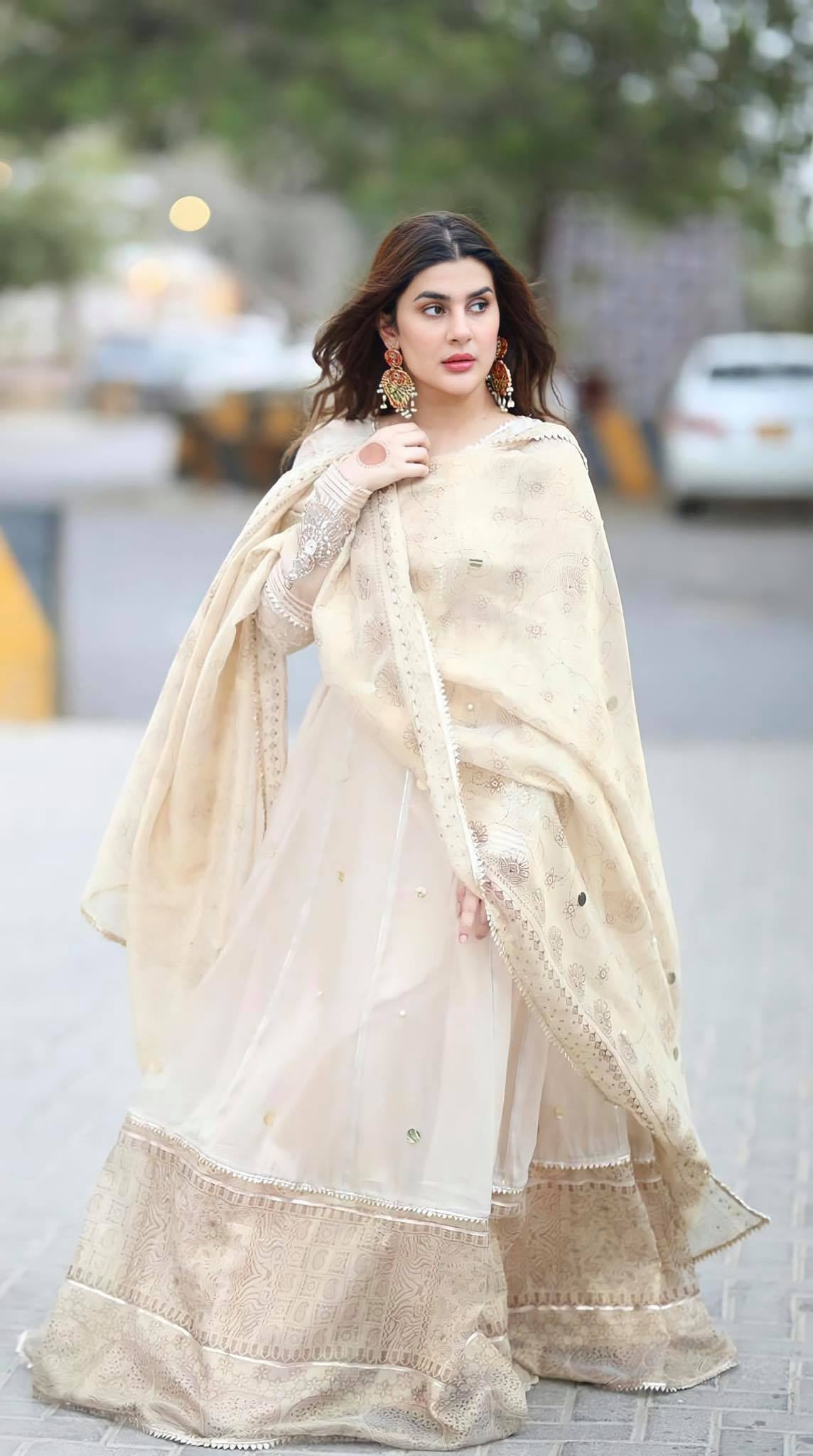 Saba Qamar
It was an absolute delight to see superstar Saba Qamar in a full festive and formal look this Eid. She also followed the heavy jhumka trend and wore an outfit that was equally in tune with the festivities of Eid.  The delicate embroideries in beautiful pastel colors matched Saba's lip color which made her overall look even more appealing.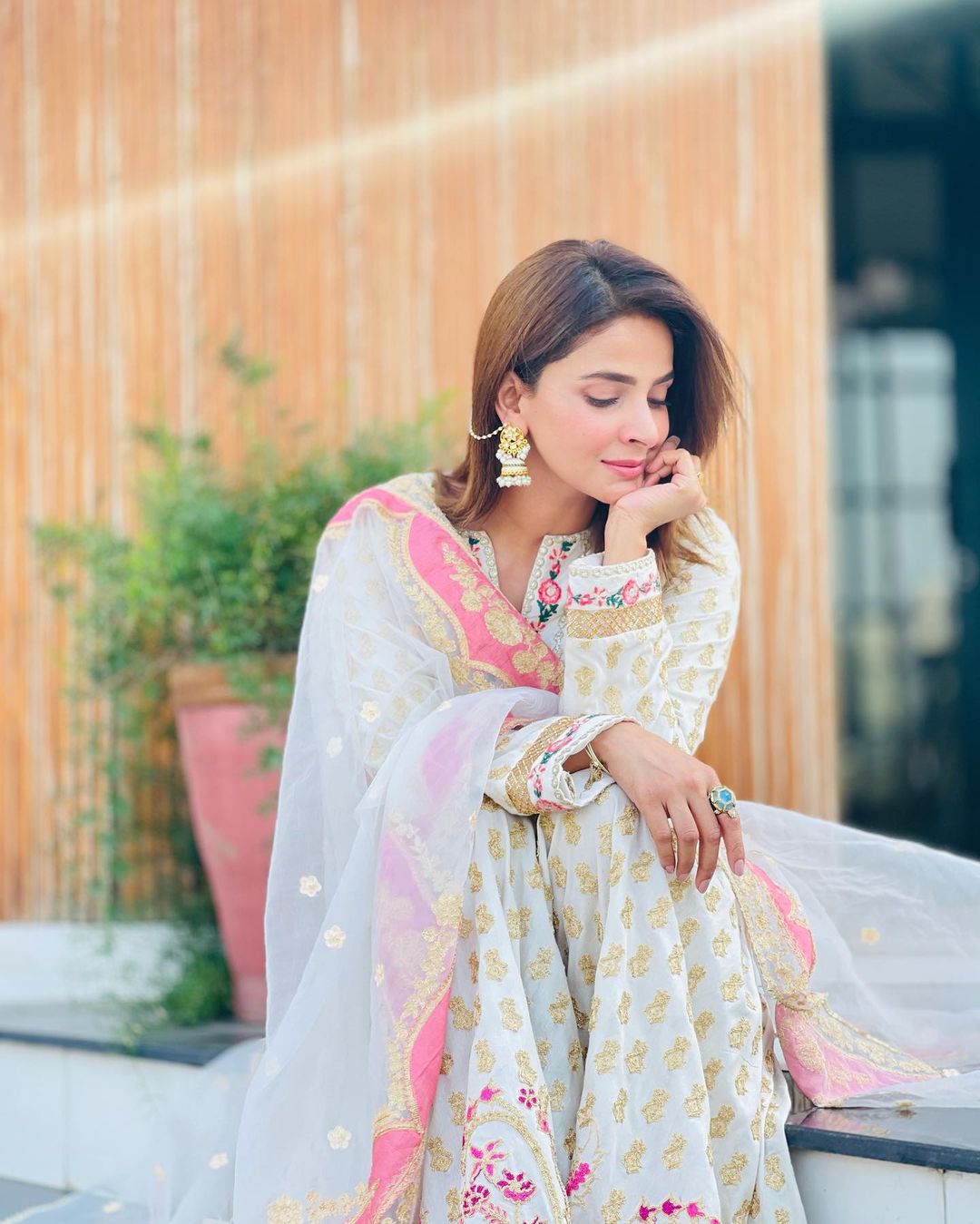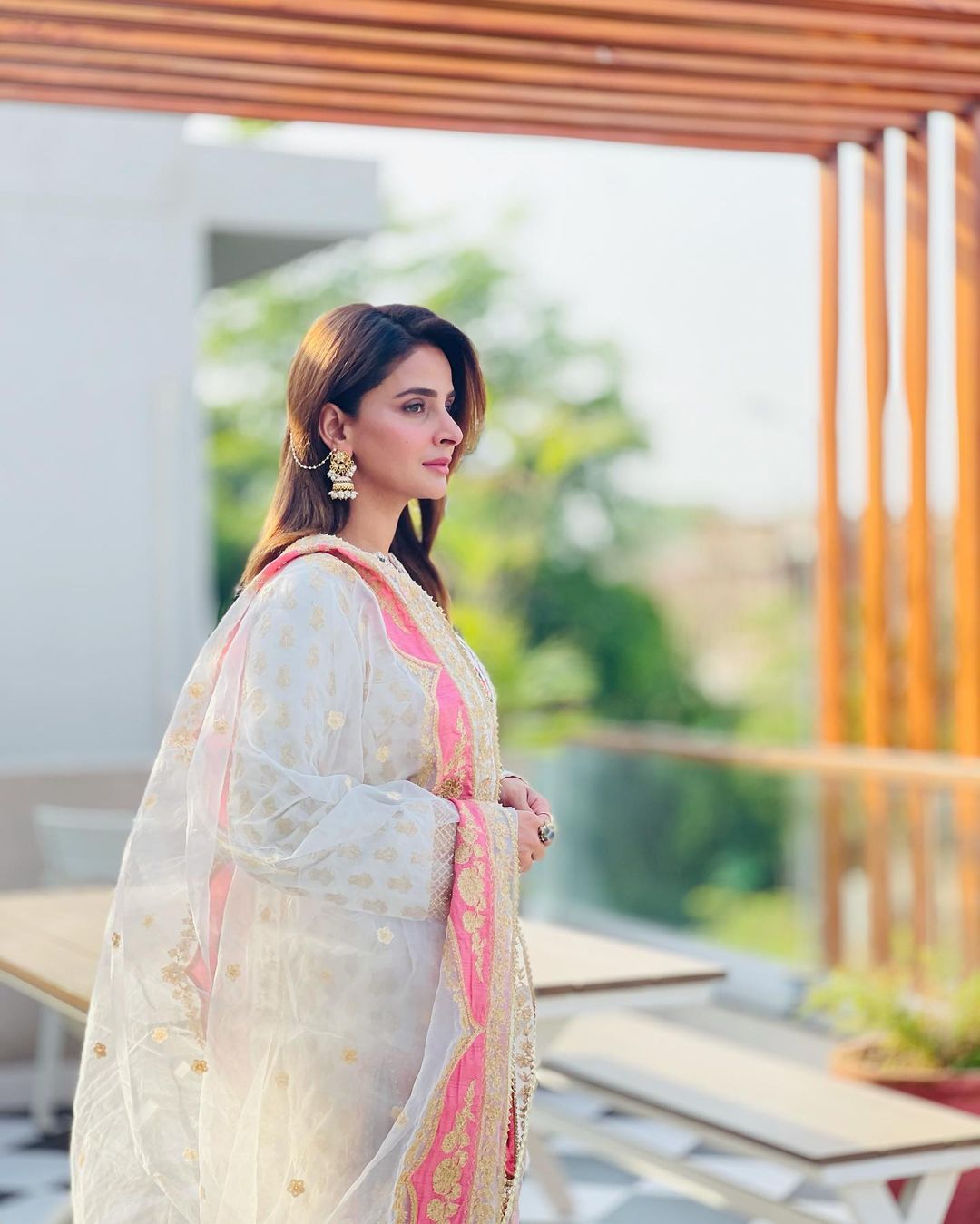 Ramsha Khan
Ramsha Khan's all-white Eid look for the first day of Eid was a complete winner. Her dress was beautifully designed and she carried the gharara elegantly. She kept her make-up and styling pretty basic but not too plain. While Yumna Zaidi paired her pastel dress with bright-colored khussa, Ramsha Khan paired her with colorful traditional earrings.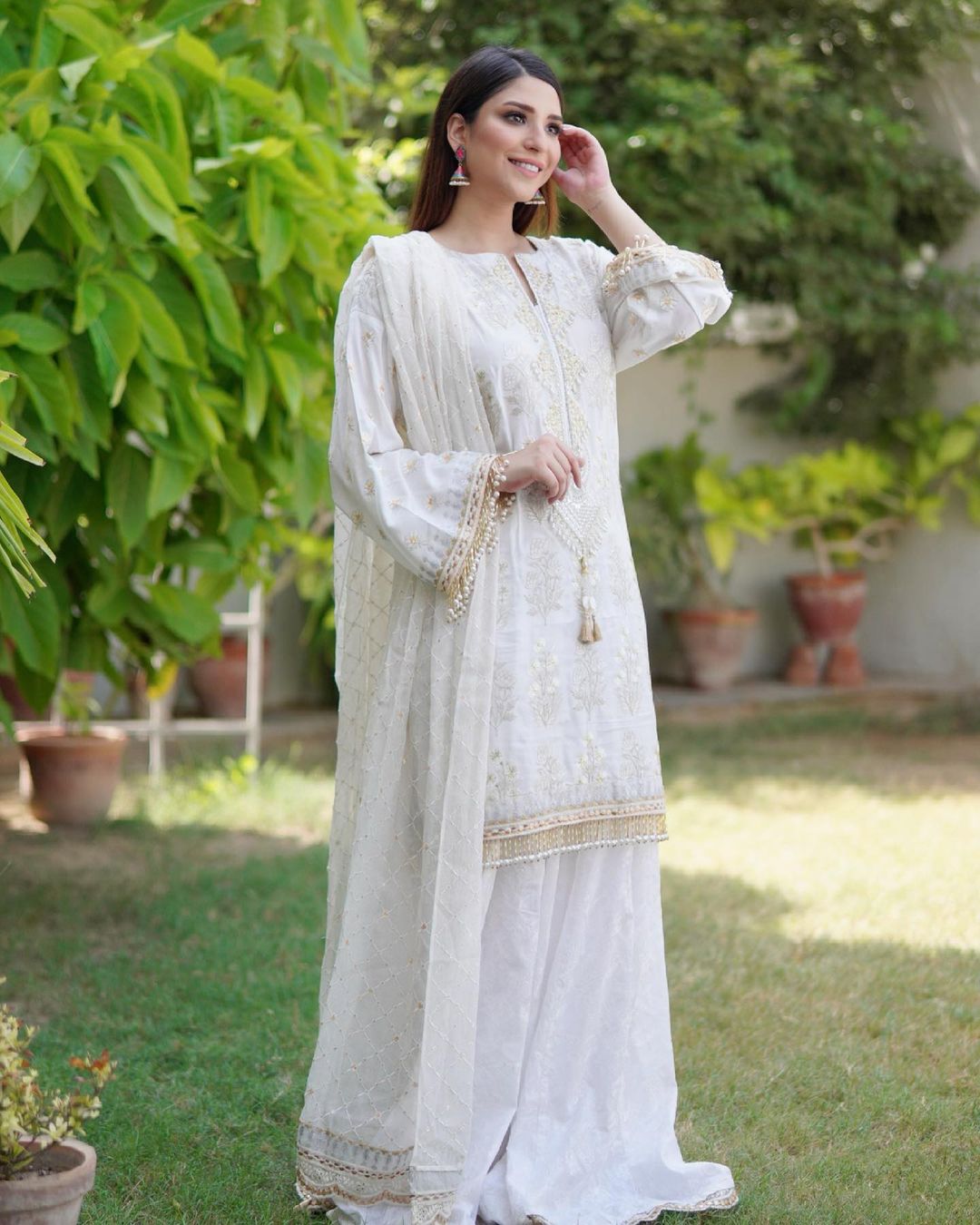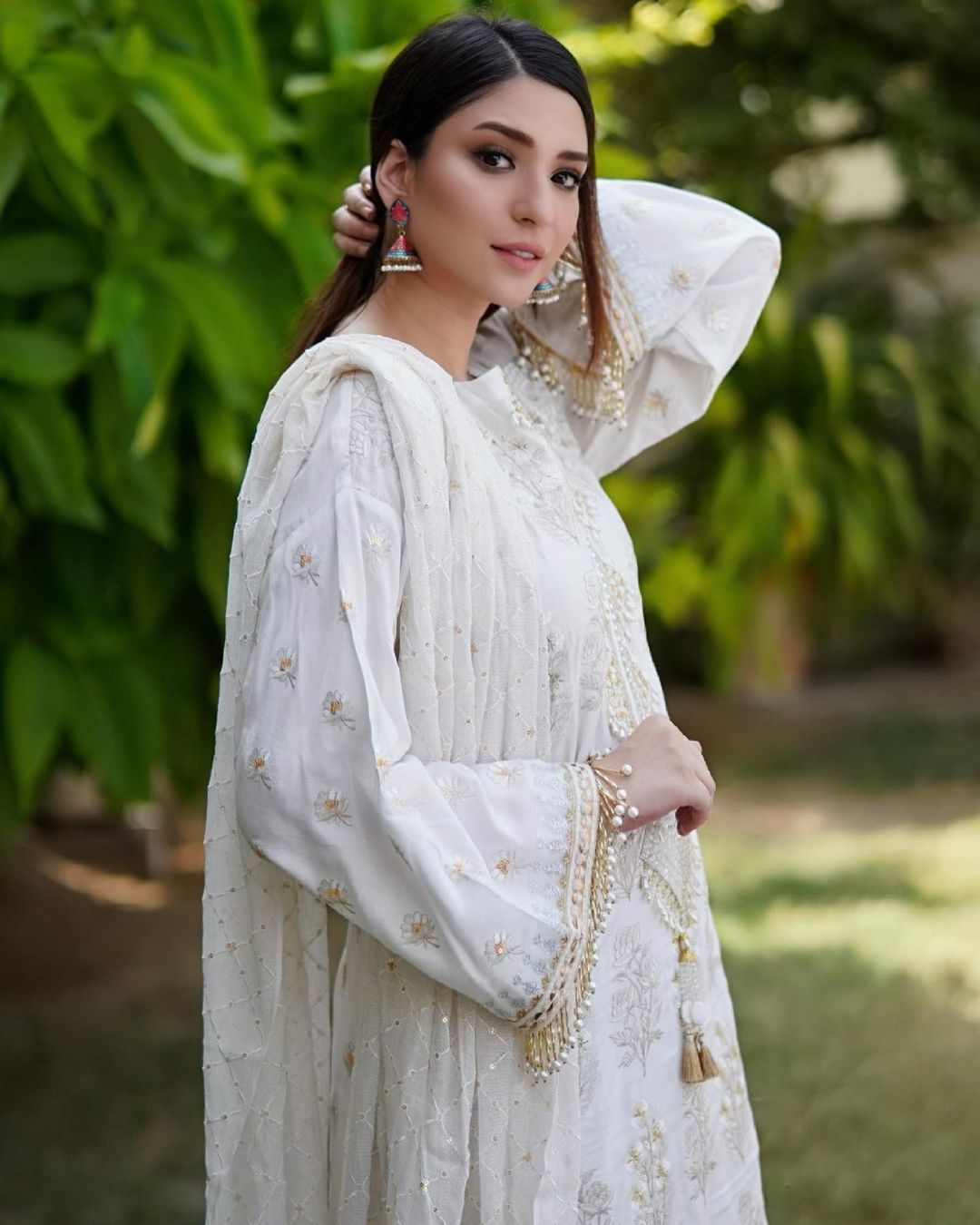 Sadia Khan
Sadia Khan is one of the most stylish models of the Pakistani showbiz industry who always looks strikingly beautiful in traditional looks. This year for Eid Sadia decided to wear a hot pink shalwar kameez designed by the ace designer Hussain Rehar. The pink make-up went perfectly well with the look and the kundun design earrings were perfect for the occasion. The butterfly motif detailing on the shirt was a very unique design element but this is what set this outfit apart. Sadia Khan wore her signature hair and makeup look and looked effortlessly Eid ready.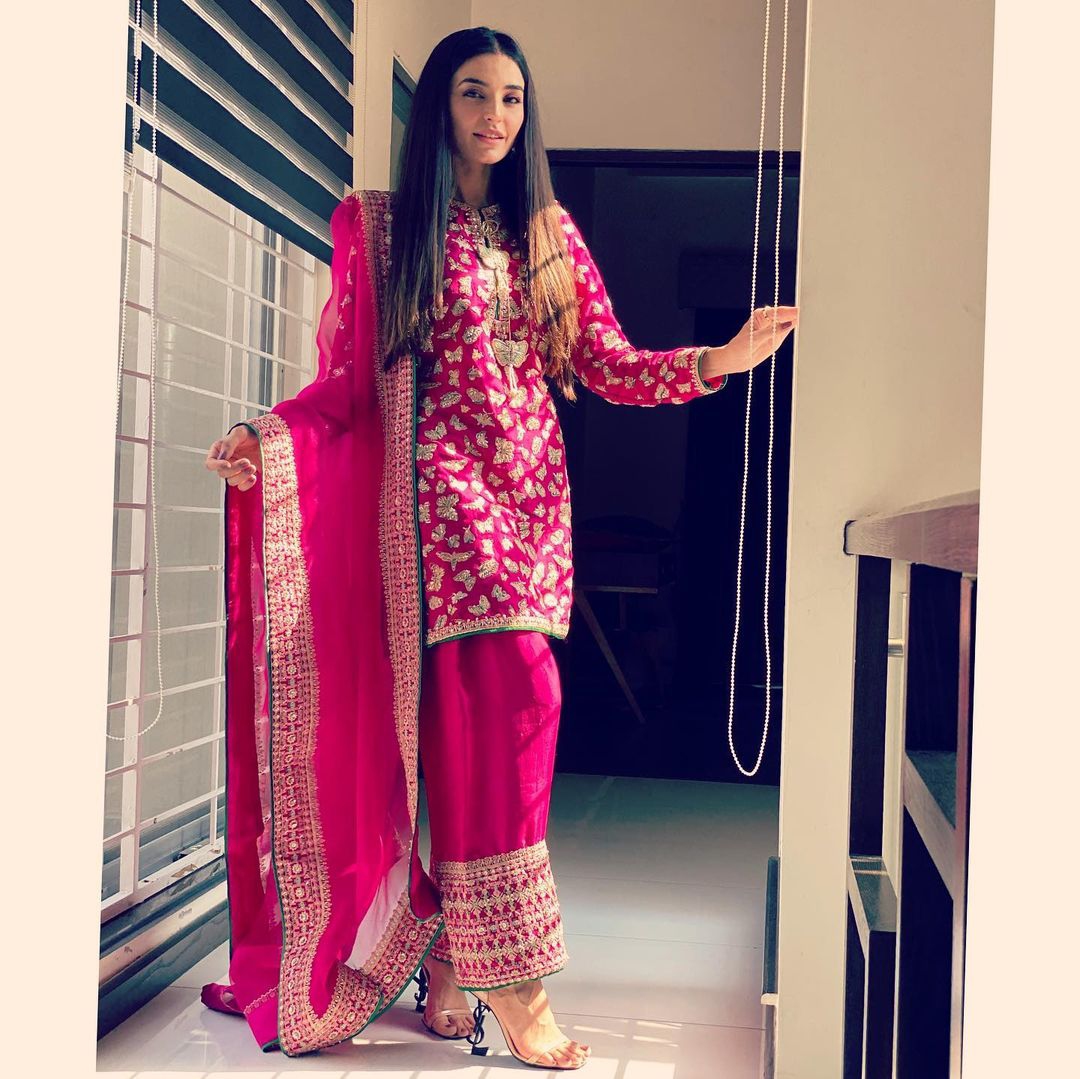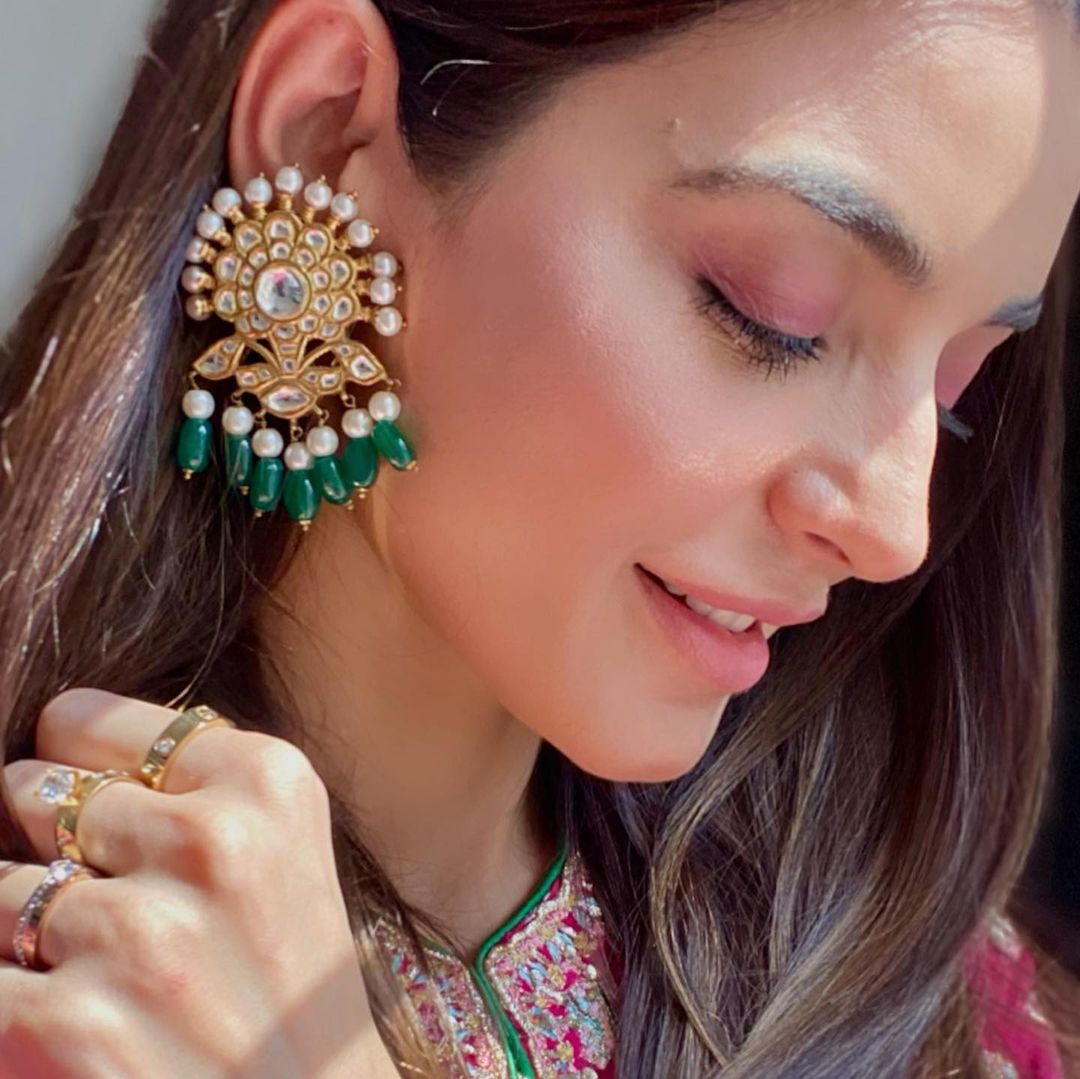 Rabab Hashim
Rabab Hashim is a stylish and elegant actress who celebrated her first Eid after getting married last year in November. Rabab wore an elegantly designed blue and gold outfit designed by Pehrwaas. Like many other celebrities, while her outfit was formal, it was not too heavy. Rabab kept her hair neatly straightened and her make-up minimal but attractive. This is another design that can be easily be copied by girls who want a traditional look for festive occasions.
Aymen Saleem
The phrase 'she came, she saw, she conquered' is so true for this newcomer who is also a style diva. Aymen Saleem wore beautifully designed outfits on Day 1 and 2 of Eid. On both these days, she decided to wear two completely different colors and she looked stunning in both of them. The black-suited her just as much as the pastel peachy outfit she wore on the second day. Her second dress however suited her more therefore that is our pick for this list.
Hira Mani
Hira Mani is always known for her unconventional and quirky sense of styling which she also showcases in her Eid looks but this time around, she decided to go the conventional way and wowed everyone. Hira Mani picked up this gorgeous lilac dress by Zainab Chottani and looked like she just walked out a fairy tale. It was all in the intricate embroidered details in this stunning monotone dress. It definitely looks like Hira Mani wanted to look her best this Eid and she effortlessly achieved the look. She has never been seen in this kind of pastel shade and it definitely turned out to be her color. Hira Mani wore her hair in twists and loose curls and decided to go for a soft yet glamorous look. She chose heavy statement Kundan earrings and also wore a delicate gold chain. This has definitely been one of Hira Mani's best Eid looks.
Sarah Khan
Sarah Khan wore this stunning outfit designed by Kanwal Malik. It was a unique pastel shade of lime and the most stunning part of this outfit was the self embroidered heavily embellished shirt. It was a flared long shirt with churidar and gorgeous dupatta. Sarah Khan went for a glowy makeup look and wore her hair in a semi-loose bun with a few strands at loose that gave her a very classy look. She also decided to wear a heavy pearl and emerald set which caught the eye. This overall Eid look of Sarah Khan was just perfect.
Iqra Aziz
Iqra Aziz went for this gorgeous solid blue outfit this Eid designed by Faiza Saqlain. There is no denying the fact that Faiza Saqlain always brings unique and gorgeous shades to the forefront. Iqra Aziz looked stunning in this this flared dress which was all about volume and perfect loose fit for the beautiful mother-to-be. The dainty and delicate motifs on the dupatta along with the beautiful delicate border brought in the design element to the dress. Iqra Aziz wore her hair in a sleek bun and wore heavy statement earrings. This overall look of Iqra Aziz was perfect for a summery Eid because it showed how comfort and style is rolled into one.
Mawra Hocane
Mawra Hocane wore this beautiful piece designed by the fashion label Jazmin Online. It is a gorgeous heavily embroidered formal chiffon outfit which is simply perfect and convenient for the hot summer Eid. The most stunning aspect of this dress is the color combination along with the design pattern embroidered all over the shirt. This silhouette accentuated Mawra Hocane's physique even more and made her look quite stylish and elegant. Mawra wore a natural makeup look but added a lot of volume in her hairstyle which looked perfect on her. She only wore a heavy pair of golden red earrings which complimented the color of her dress perfectly.
Maryam Noor
Maryam Noor's look can be termed as clean and fresh. She wore this stunning mint green outfit which is more on a casual side of the spectrum but looks stunning and refreshing because of the way she carried it. This overall look of Maryam Noor simply shows that she wanted to be comfortable but still look Eid ready and this is exactly what she achieved. She went for a glamorous yet fresh makeup look and wore her hair in curls. For her accessories, she wore a pair of earrings and green bangles. This kind of look is just perfect for the Eid lunch.
Mehwish Hayat
Mehwish Hayat posted beautiful pictures on the second day of Eid looking her best in a traditional Beats Pakistan traditional outfit. Everything from the color combination to the stunning embroideries was on point about this outfit. Mehwish Hayat kept her styling and make-up minimal which looked great for a daytime look.
Hareem Farooq
Hareem Farooq definitely knows how to style herself during hot summer Eids, this is why she always picks colors that are easy on the eyes and silhouettes that not only are comfortable but look graceful. This time around, the color of her choice was peach with an embroidered short shirt and Patiala shalwar. She wore an organza dupatta and the gold accents to the dress brought in the formal charm to this simple dress. Hareem Farooq's overall styling was simple and effortless with hair styled in loose curls and makeup minimal and fresh.
Ushna Shah
Ushna Shah decided to go for a saree this Eid and she carried it beautifully. The saree designed by Asim Jofa was a beautiful shade of powder blue with gorgeous embroidery all over it. The motifs as well as the border in the shades of pinks, purples and blues made this saree absolutely stunning. It is always refreshing when the divas do not stick to a conventional style and wear what makes them happy, Ushna Shah definitely seemed to have enjoyed herself this Eid because she got to wear such a beautifully designed saree. Ushna went for a heavier makeup look and kept her hair straight. She also wore traditional pair of earrings and a blue stone ring to complete her look.
Yashma Gill
Yashma Gill wore a beautiful creation of Asim Jofa on the first day of Eid. It was a stunning ivory dress with heavy embellished motifs and patterns all over the shirt and dupatta. She paired it with flared culottes that accentuated her figure a lot more and just sat perfectly on her. The pearled tassels also added a beautiful design element to the shirt. The silver embellishment all over the dress broke the monotony of the ivory shade and made it a gorgeous Eid outfit. Yashma Gill wore her hair in loose curls and went for a matte brown makeup look. Just simple and stunning Eid look served by Yashma Gill this time.
Arisha Razi Khan
Arisha Razi Khan wore a gorgeous dress designed by Harish Shakeel. A simple long straight shirt with churidar and gorgeous dupatta. This was another case of the solid-colored dress looking absolutely stunning. The unique shade of yellow ochre looked perfect on Arisha. Sher wore her hair in natural straight form and went for a glamorous makeup look. The dress had silver embellishments and a form of self embroidery as well. The dupatta was splattered with sequin work and the burgundy finishing on the dupatta and shirt gave a perfect contrast. This was definitely a very unique choice of dress and looked stunning on Arisha Razi Khan.
This completes the list of beautiful Eid outfits that were worn by Pakistani celebrities this Eid. Which one of these is your favorite? Feel free to share your opinion.