This year Eid festivities were enjoyed on a different level by everyone including celebrities. Due to the COVID restrictions last year, things did not go as usual therefore many people held back while celebrating Eid to its fullest. Now that that situation is under control, it can safely be stated that people have a completely different perspective towards life generally and specifically towards enjoying special occasions such as Eid. Pakistani celebrities went all out to dress up in a way that suited the occasion. Eid-ul-Fitr celebrations are always the most exciting since it is the first Eid and a celebration to reward yourself for being steadfast during the holy month of Ramazan.
Due to social media, people have easier access to the pictures shared by celebrities. They also do not hold back and make the most of this platform to share their lives with their fans. This year, we especially enjoyed the most delightful family pictures of Pakistani celebrities.
Ayeza Khan and Danish Taimoor
It does not come as a surprise at all that Ayeza Khan is a part of the best-dressed celebrities list every year on Eid. This year, the celebrity couple looks exquisite as usual in beautiful outfits designed by leading designers. Ayeza Khan wore Farah Talib Aziz and Danish Taimoor's outfit was designed by Emraan Rajput. Everything from their looks to their candid poses was on point. Like every other year, they included their kids in their special Eid photo shoot. Hoorain wore a dress like her mother's and Rayyan twinned with his father, both of them looked equally handsome.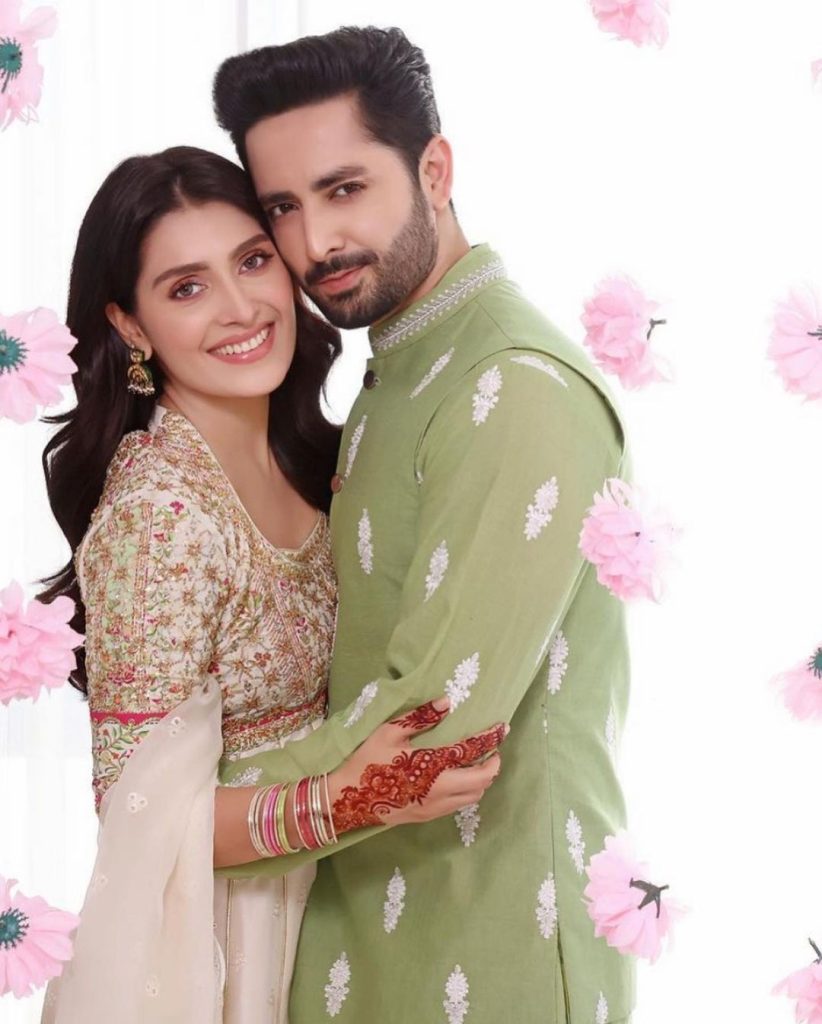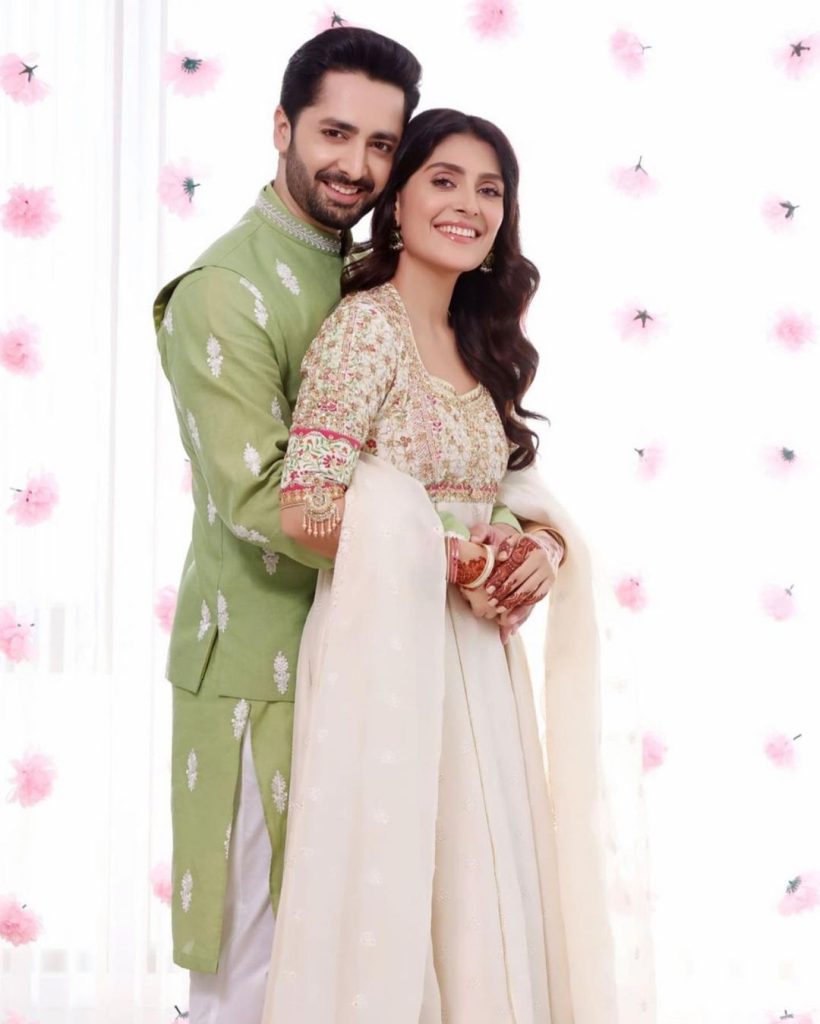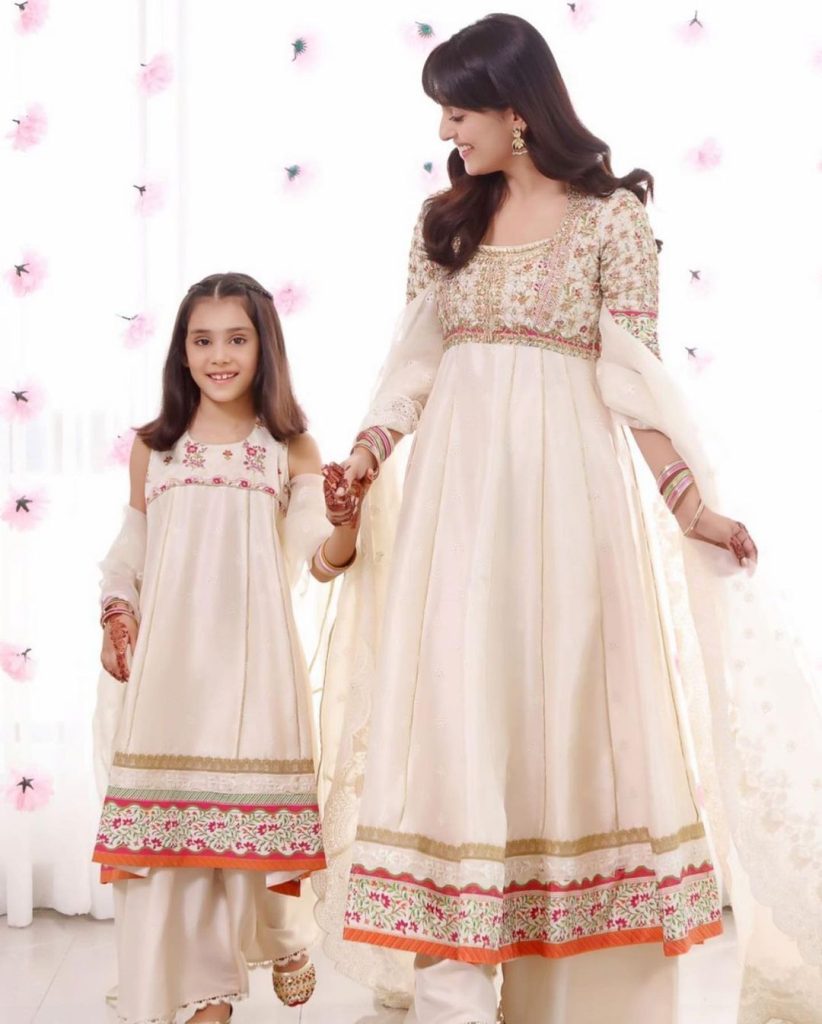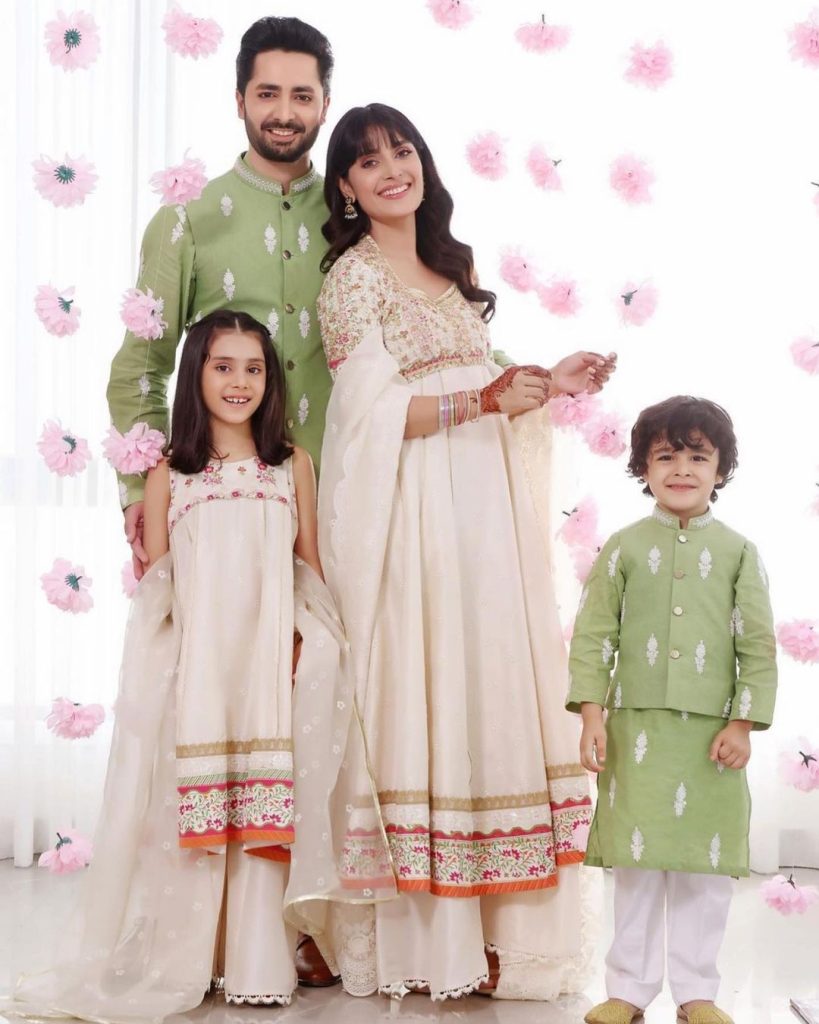 Aiman Khan and Muneeb Butt
Aiman and Muneed are another celebrity couple who never disappoint their fans on a special occasions. This year they were seen wearing beautifully designed outfits by Annus Abrar. Aiman Khan kept her styling natural which looked great on her. Her make-up was also minimal and this whole look went well with her outfit which was formal enough and extremely pretty. Muneeb and Aiman wore the same colors and their daughter also twinned with them. Their family pictures were adorable.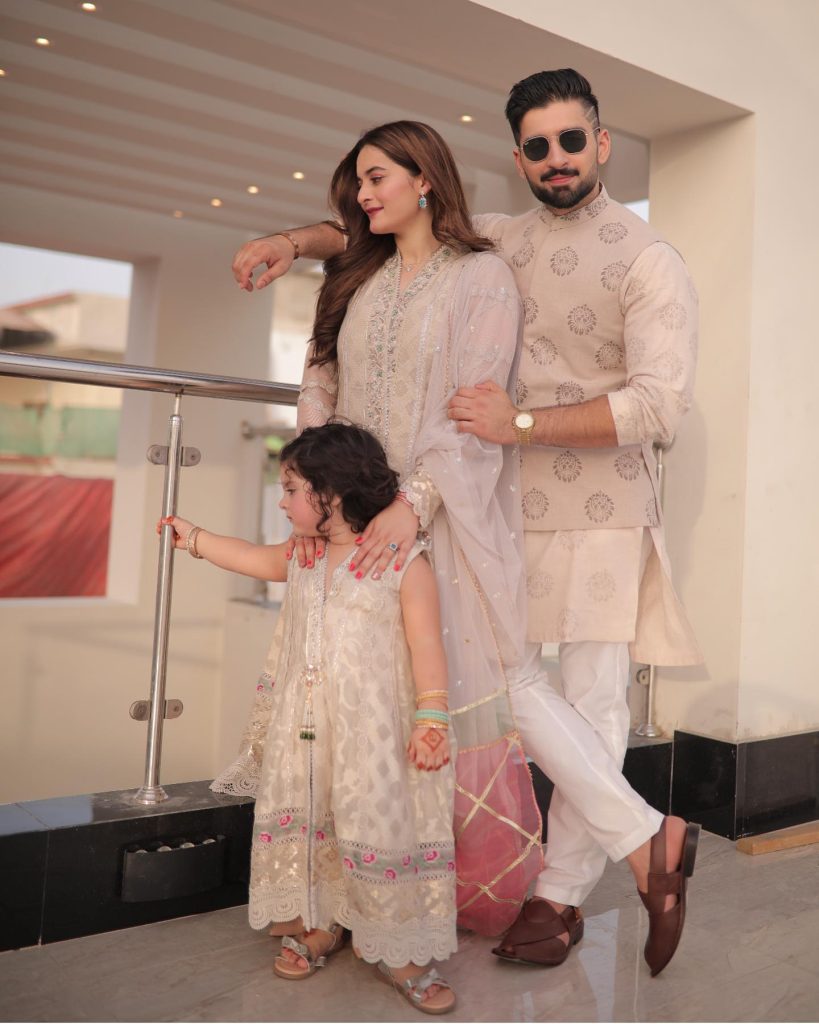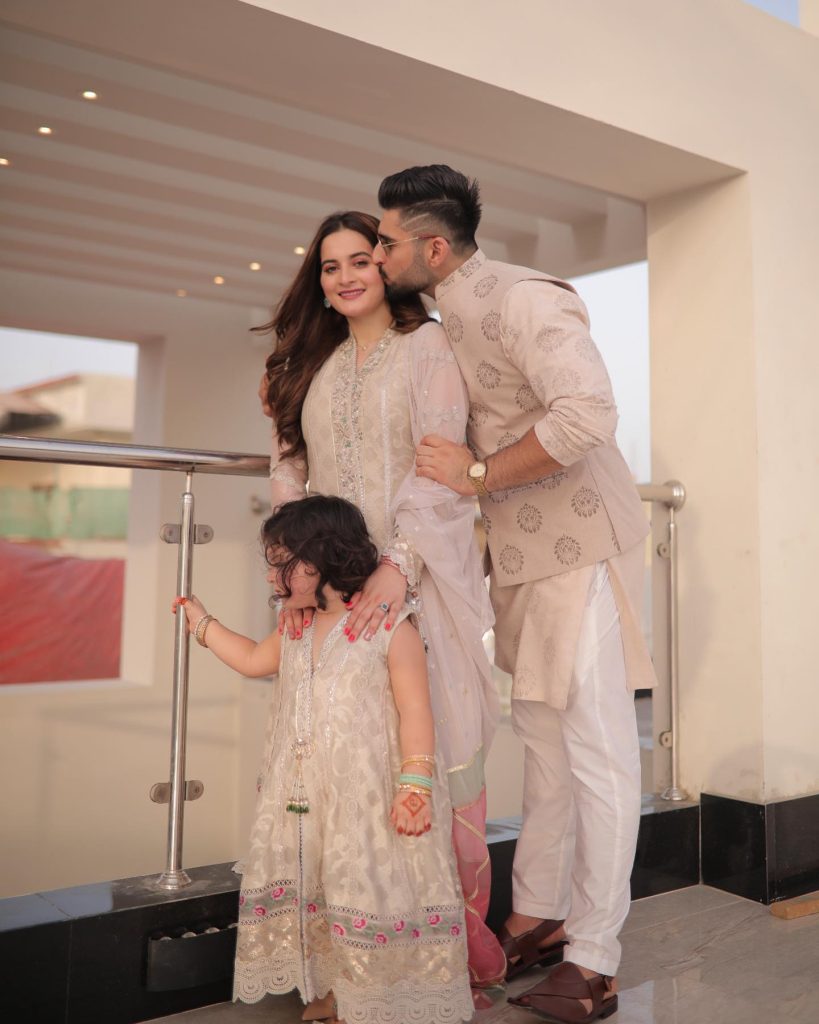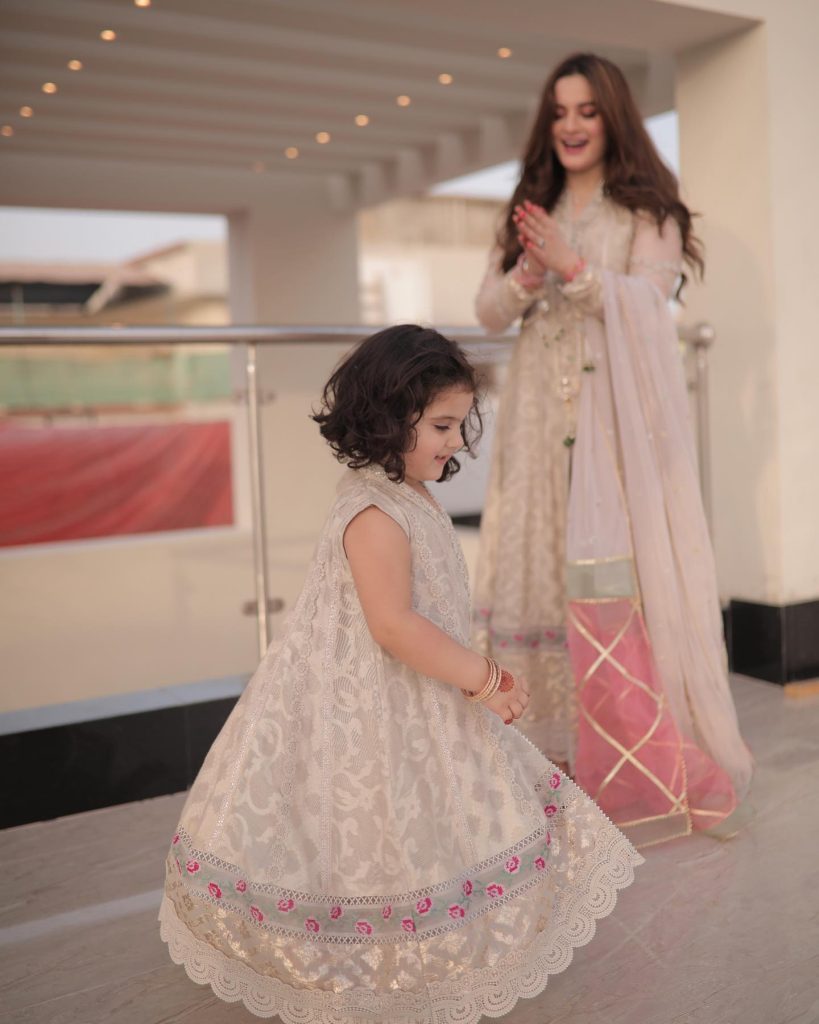 Iqra Aziz and Yasir Hussain
Iqra Aziz and Yasir Hussain's couple has grown on people over the years. They became parents recently and this was their first Eid with their little one. Iqra Aziz is emerging as one of the most stylish Pakistani actresses who carried Eastern wear perfectly. Every year, her festive looks are the best because of her perfectly put-together looks. This year on Eid, Iqra Aziz wore a stunning outfit and the prettiest color. Her outfit was designed by Faiza Saqlain who needs absolutely no introduction. Yasir Hussain chose to wear an all-white intricately embroidered kurta which went so well with Iqra's refreshing blue outfit. Their son Kabir twinned with his dad and their pictures together were a treat for the fans.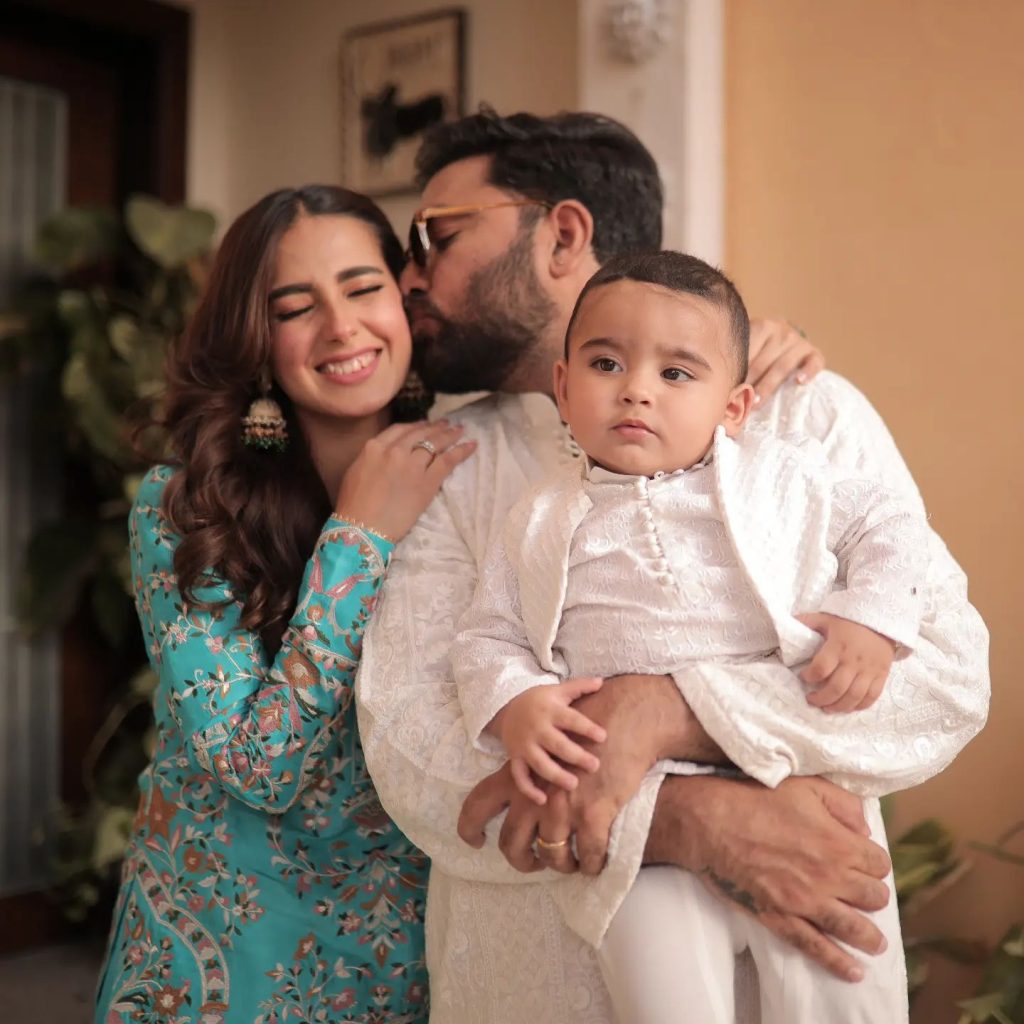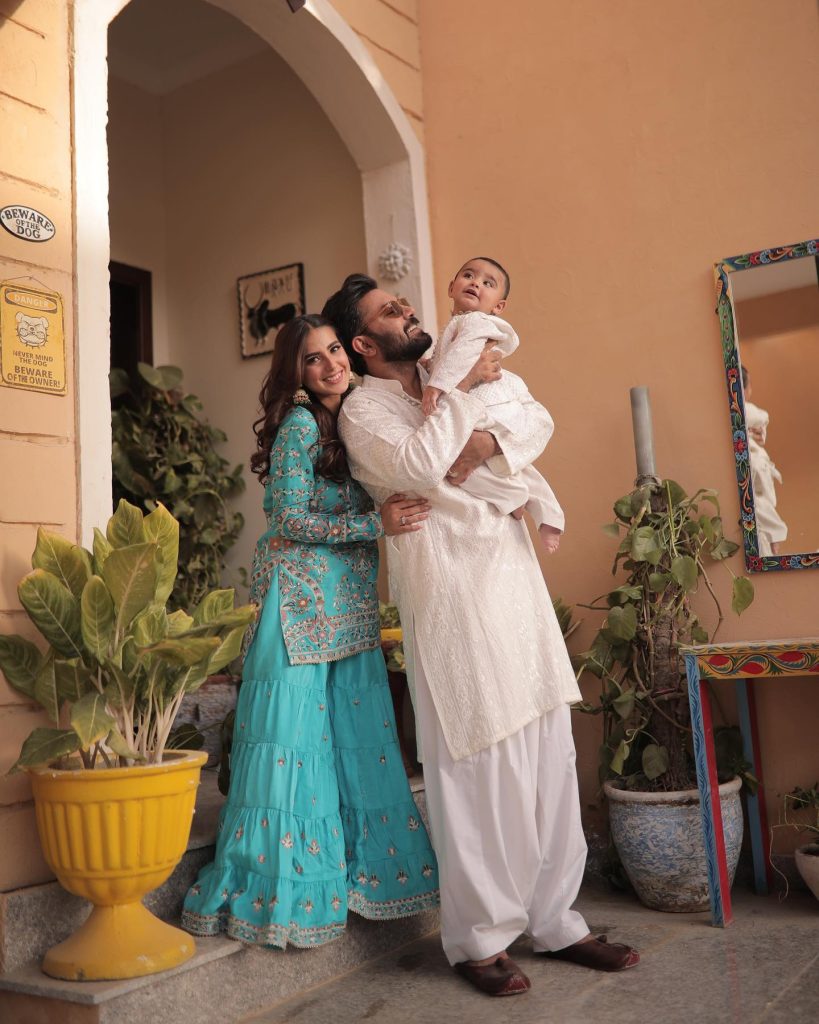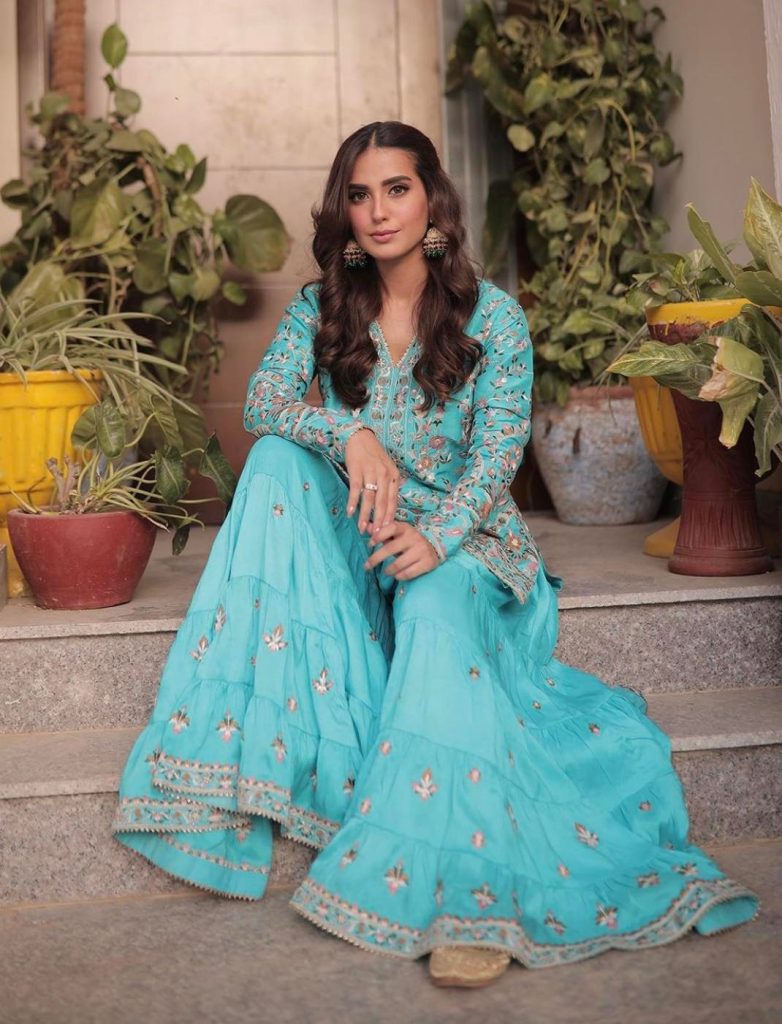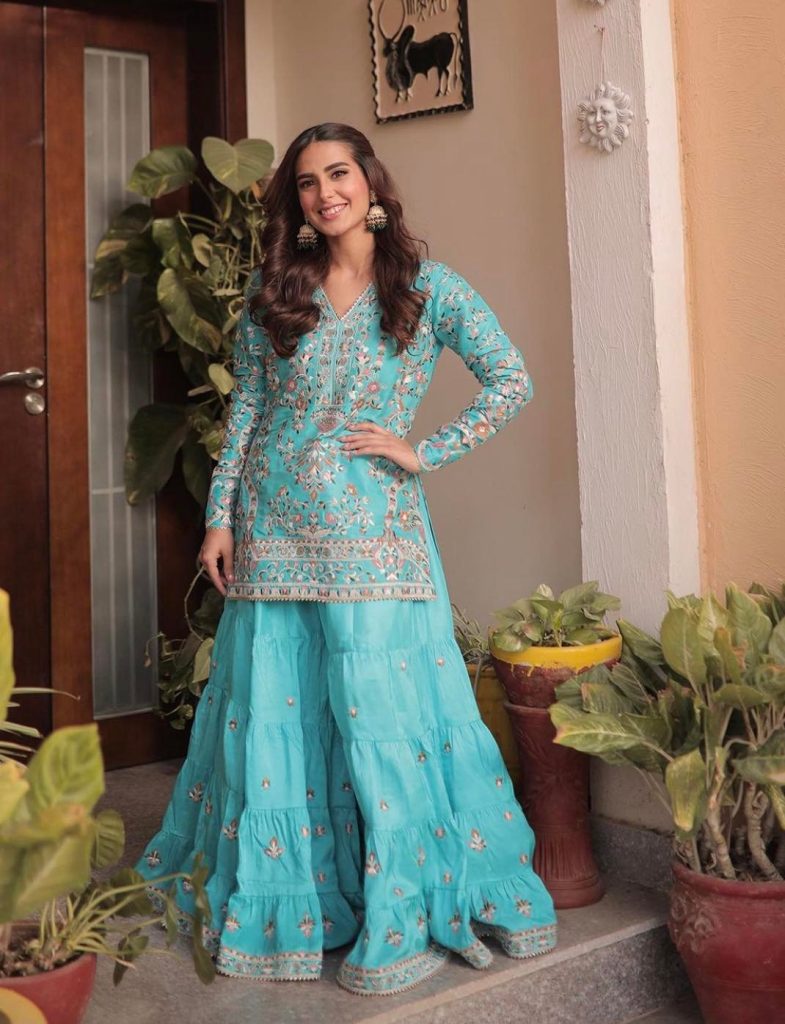 Sarah Khan and Falak Shabbir
Sarah Khan and Falak Shabbir have won their fans more than once with their loved-up pictures. This year on Eid this celebrity couple celebrated Eid with their adorable daughter. All 3 of them twinned on the occasion. Sarah Khan wore a formal dress with festive jewelry pieces but kept the make-up and hair rather simple. Falak Shabbir wore a sherwani which he carried so well.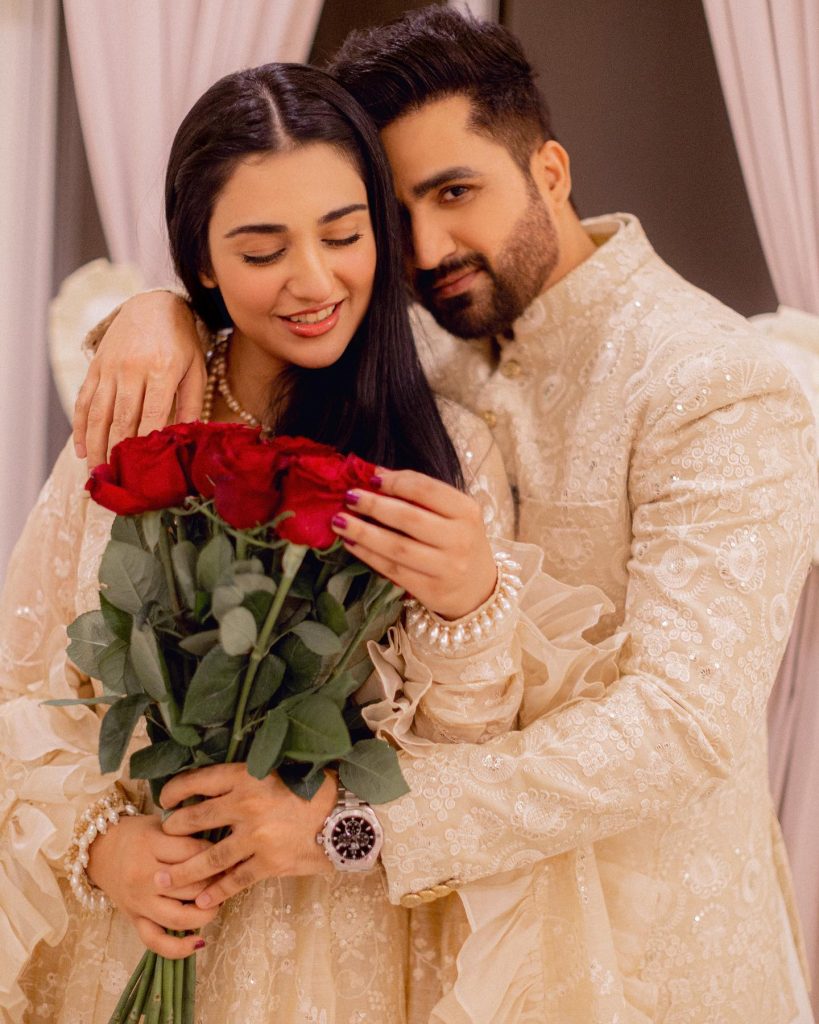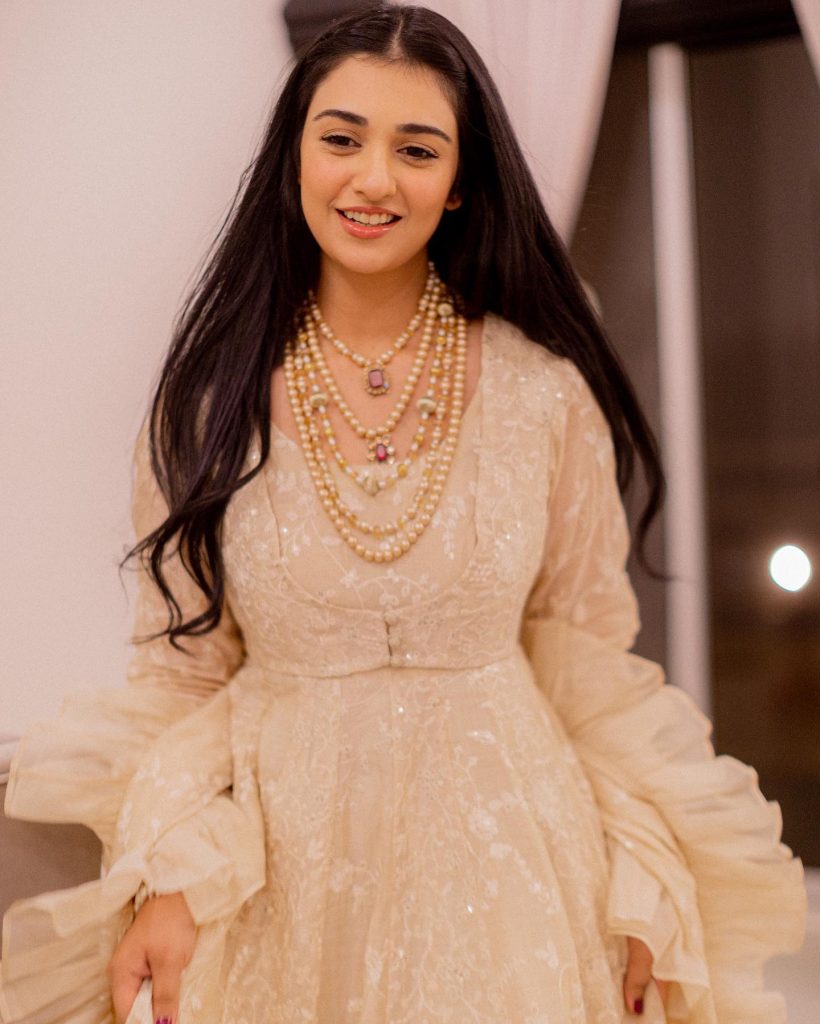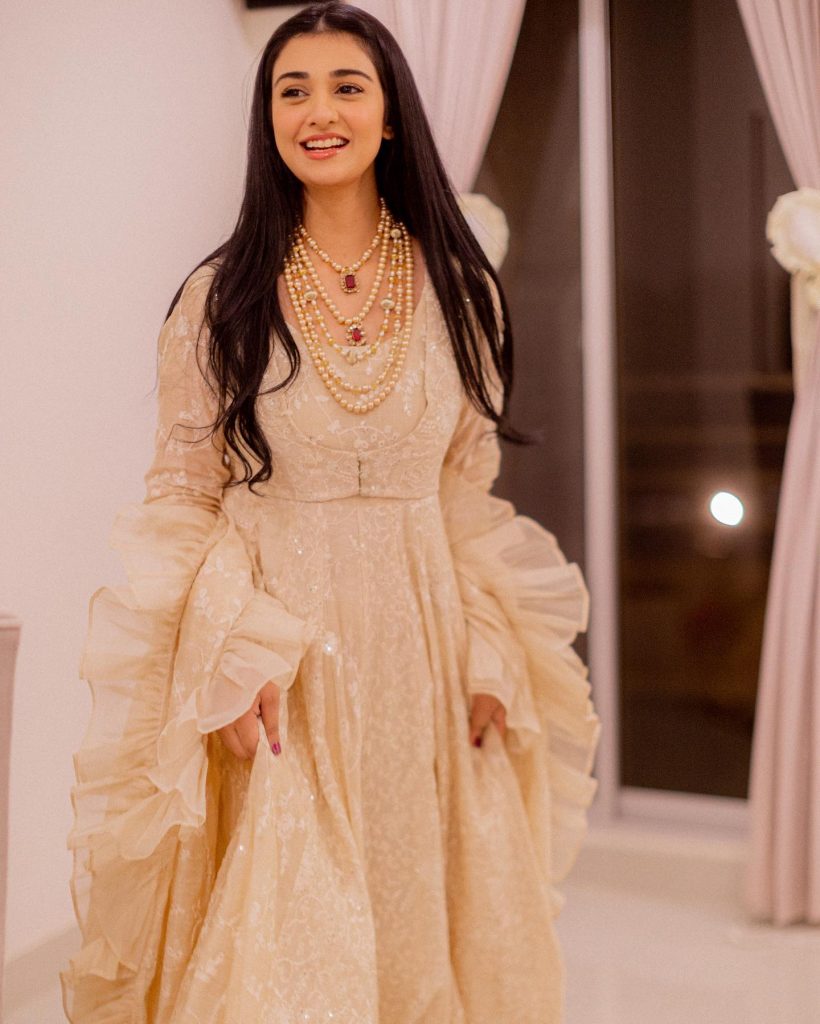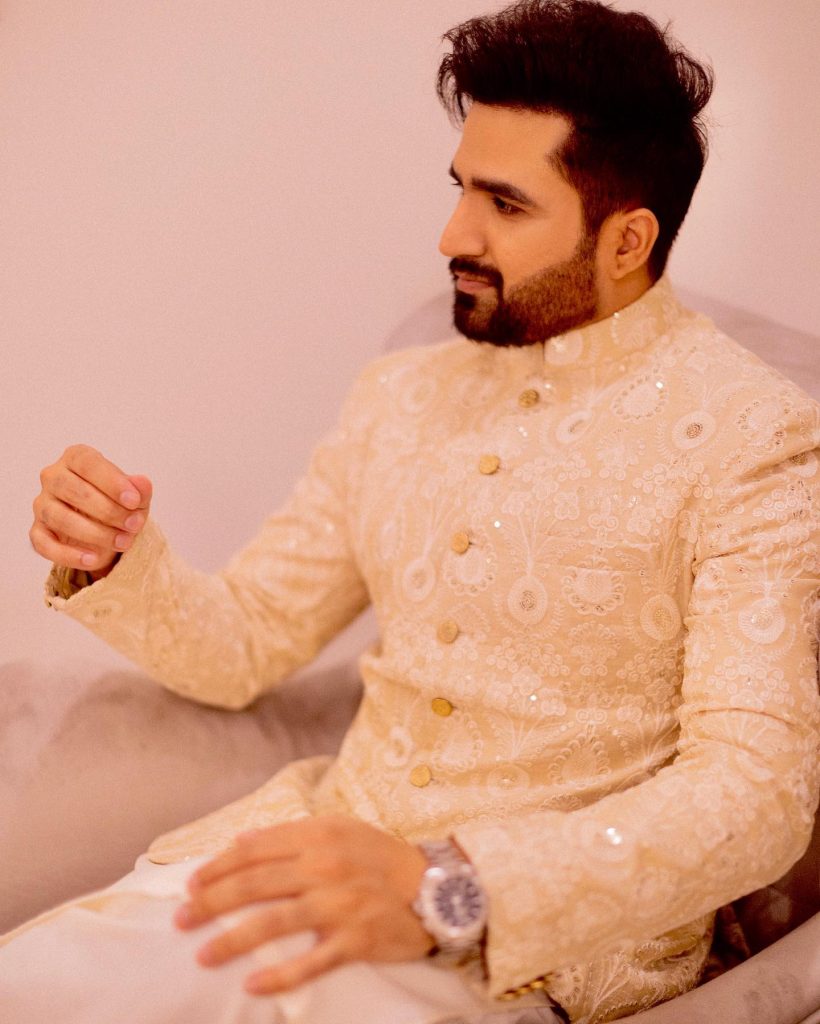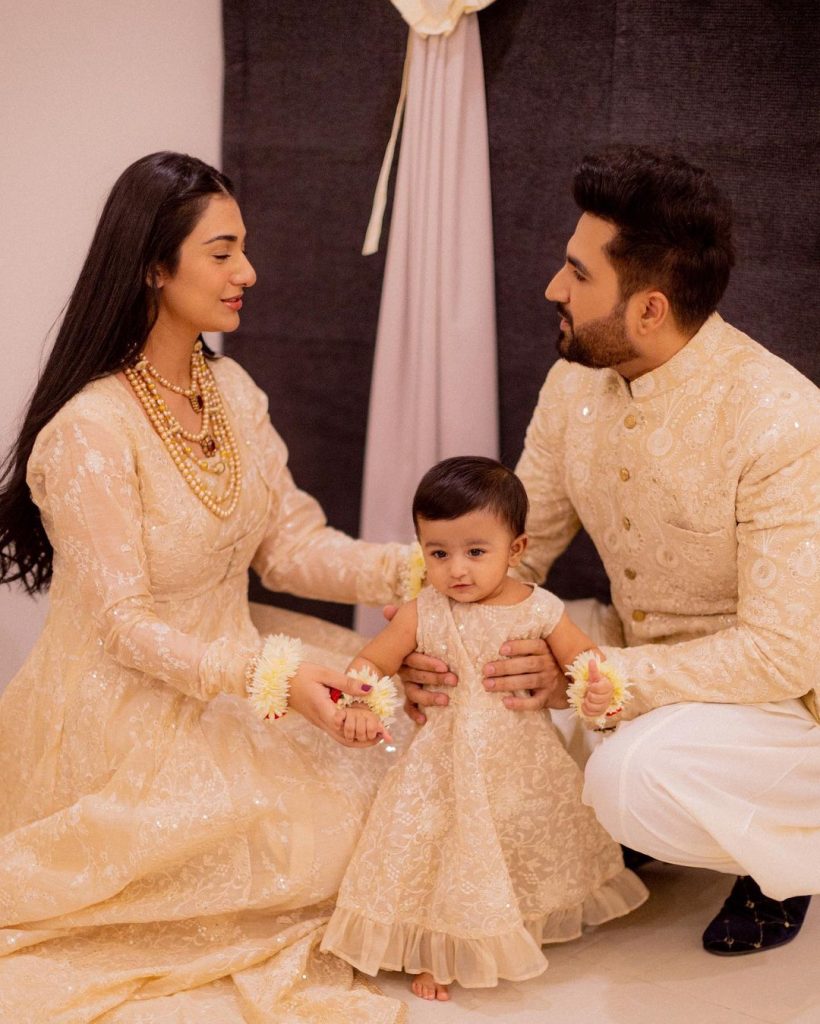 Hira Mani
Hira Mani is the most sought-after Pakistani actress right now who mostly prefers keeping her outfits simple but this year she went all out and posted the most festive Eid photos. She was seen wearing a stunning outfit designed by Asim Jofa who is known for his formal wear in particular. Her glowy peach make-up and peach background made her photoshoot even more appealing. The color looked perfect on her and she carried the outfit stylishly.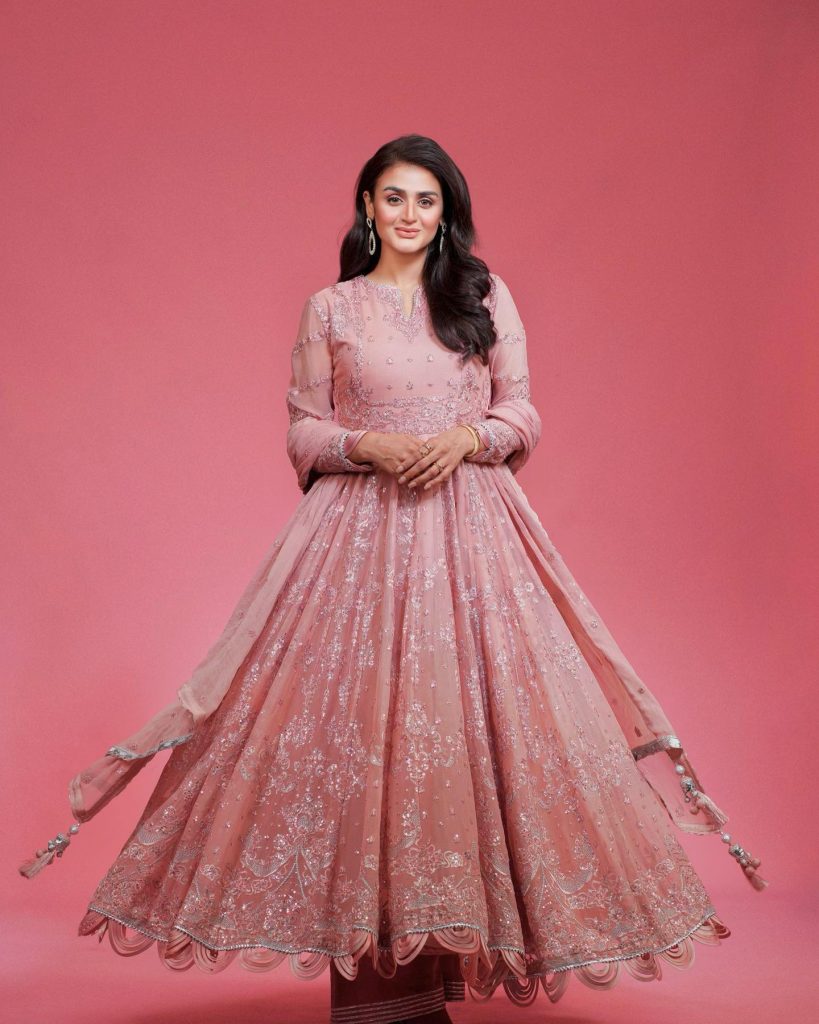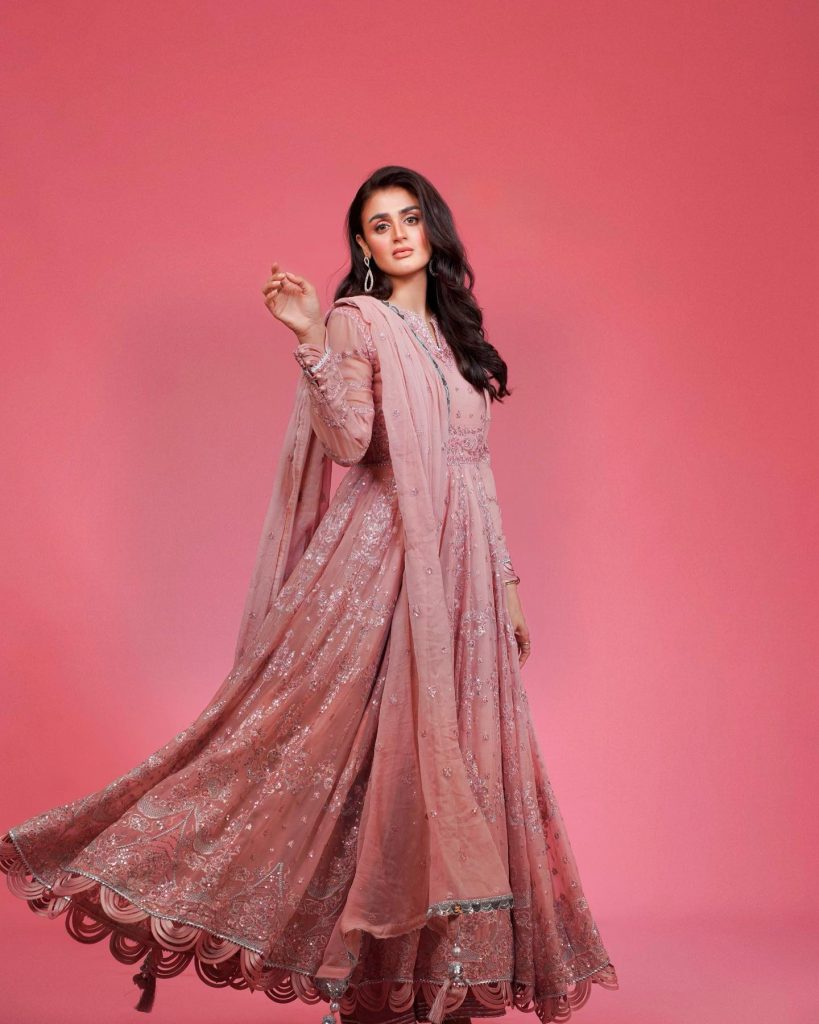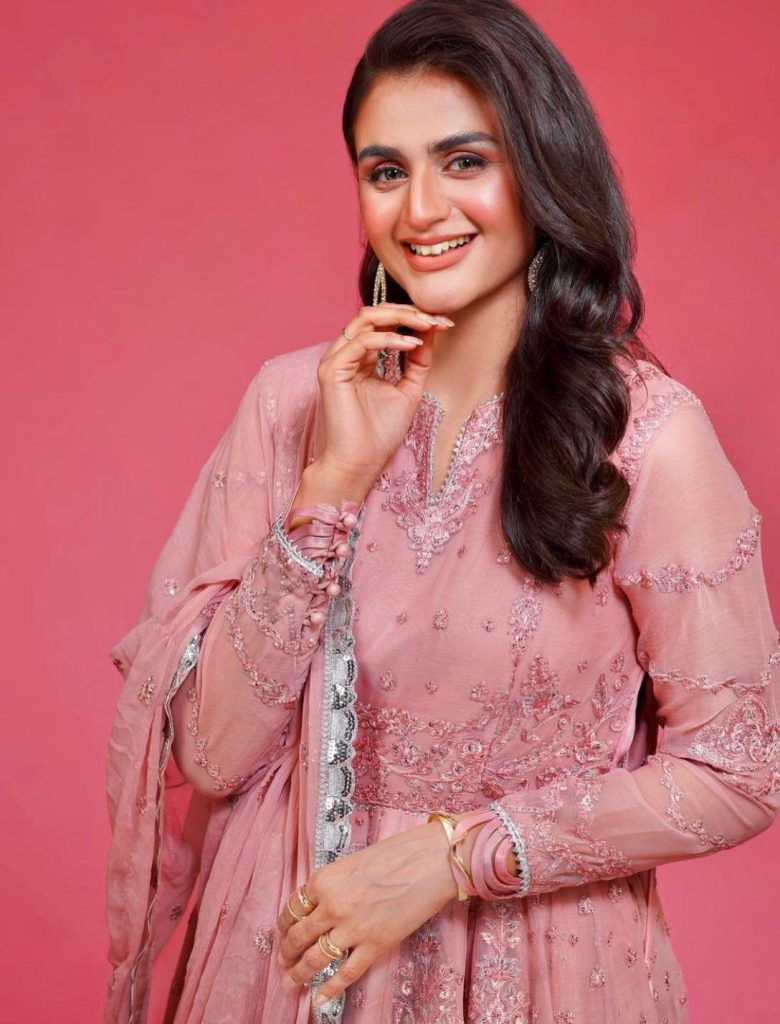 Minal Khan
Like many other Pakistani celebrities this year, Minal Khan also chose to wear white this Eid which seems to be the latest trend. She looked elegant and stylish in this dress designed by Annus Abrar. It was a beautifully designed custom-made ensemble. Minal Khan also made sure that her accessories stood out. Her pink heels were definitely the center of attention as well.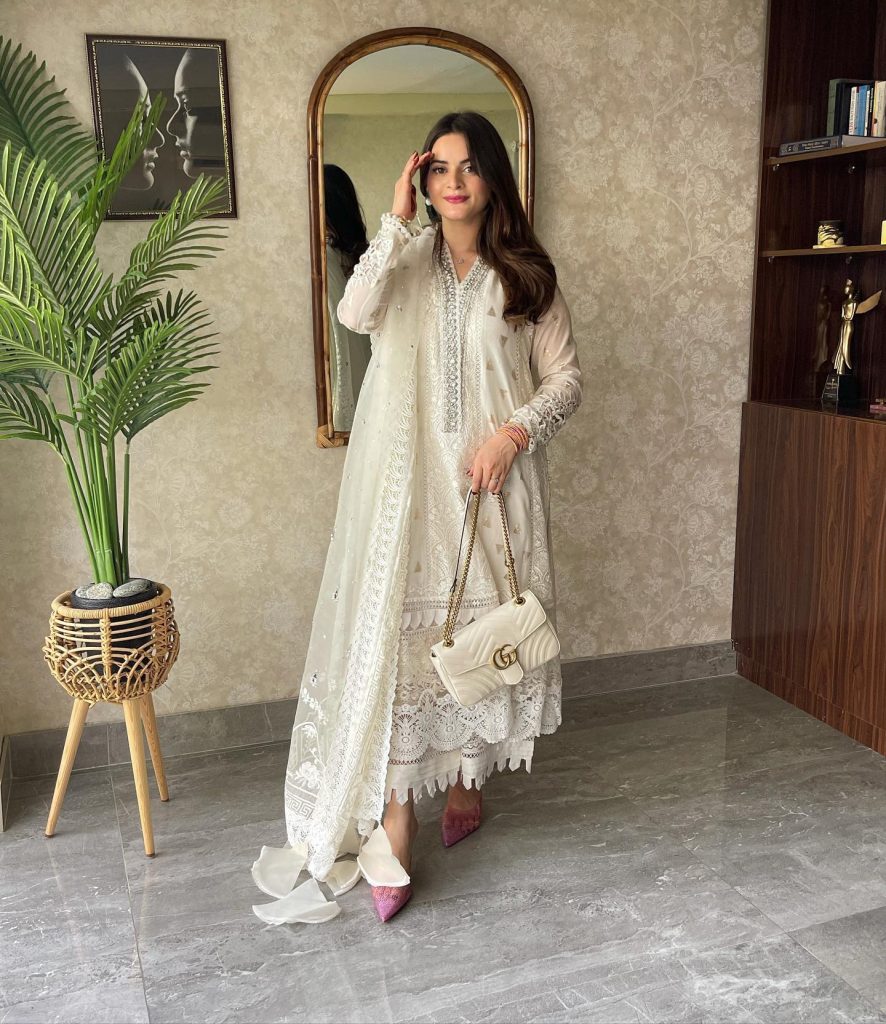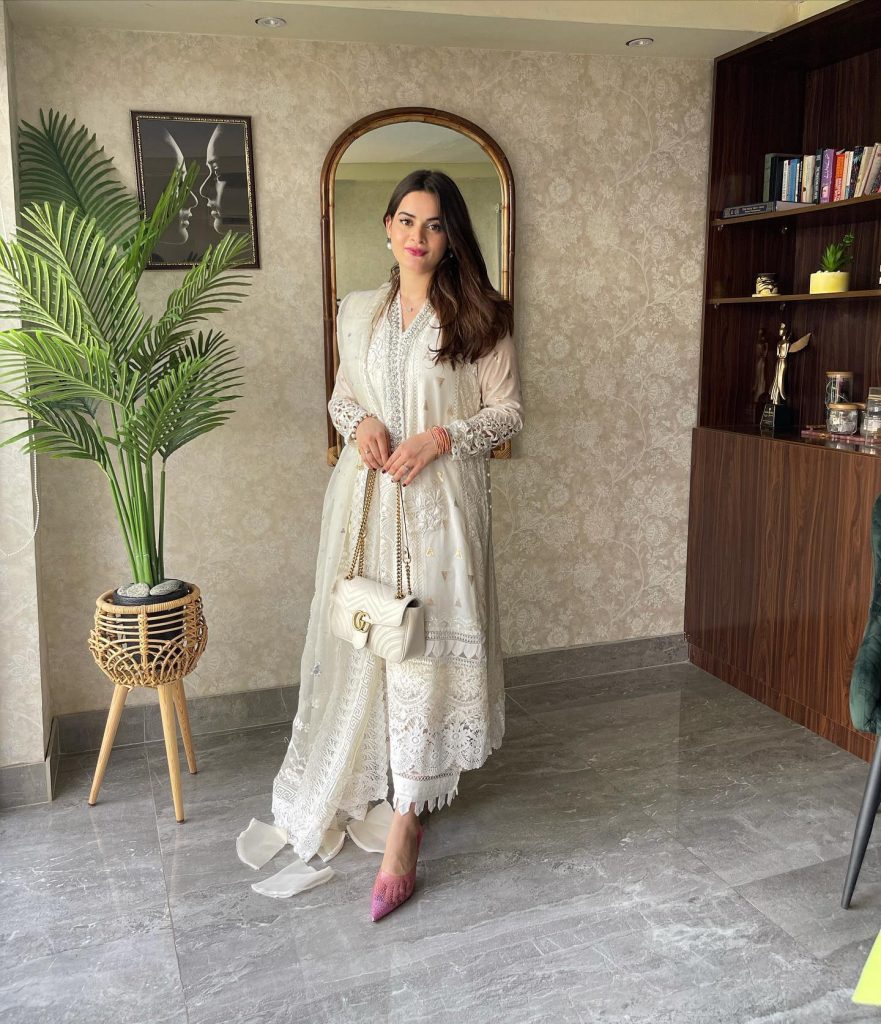 Areeba Habib
This was a special Eid for Areeba Habib because it was her first one after getting married. She made sure she stood out on this special occasion. She chose to wear a bright-colored formal dress designed by Kanwal Malik. Her overall look was traditional. We also loved her poses, the way she flaunted her mehndi and bangles was perfect for Eid. She kept her hairstyle simple but everything else was fit for the occasion.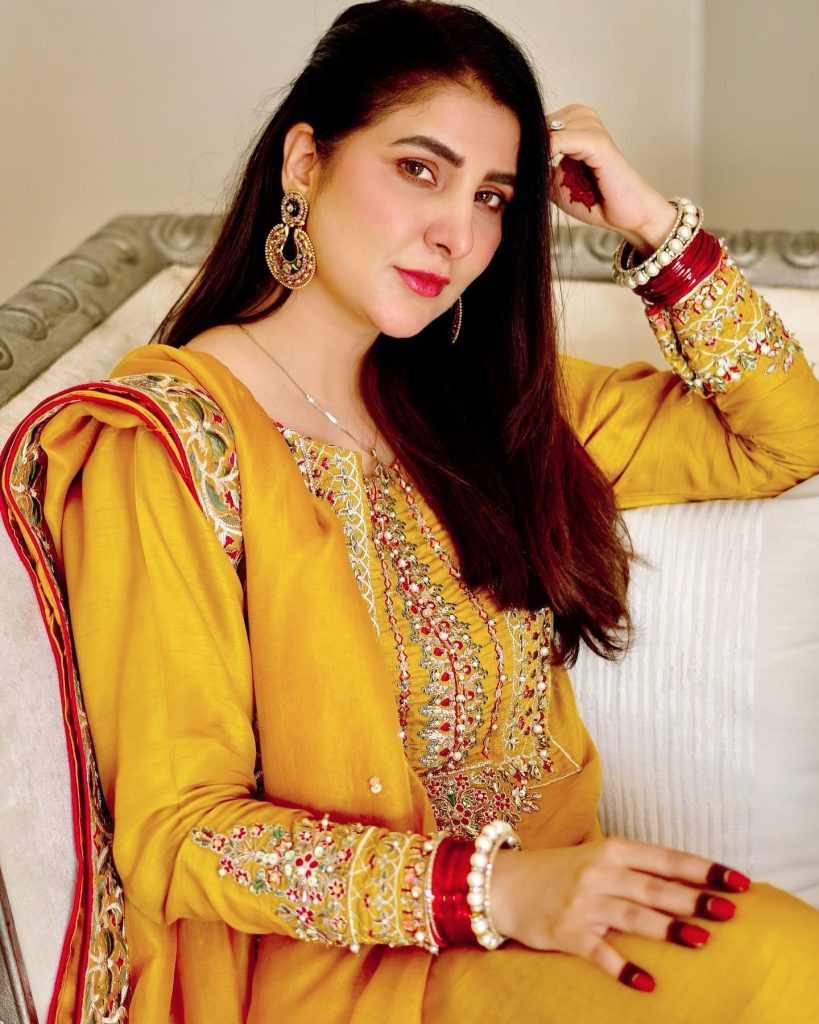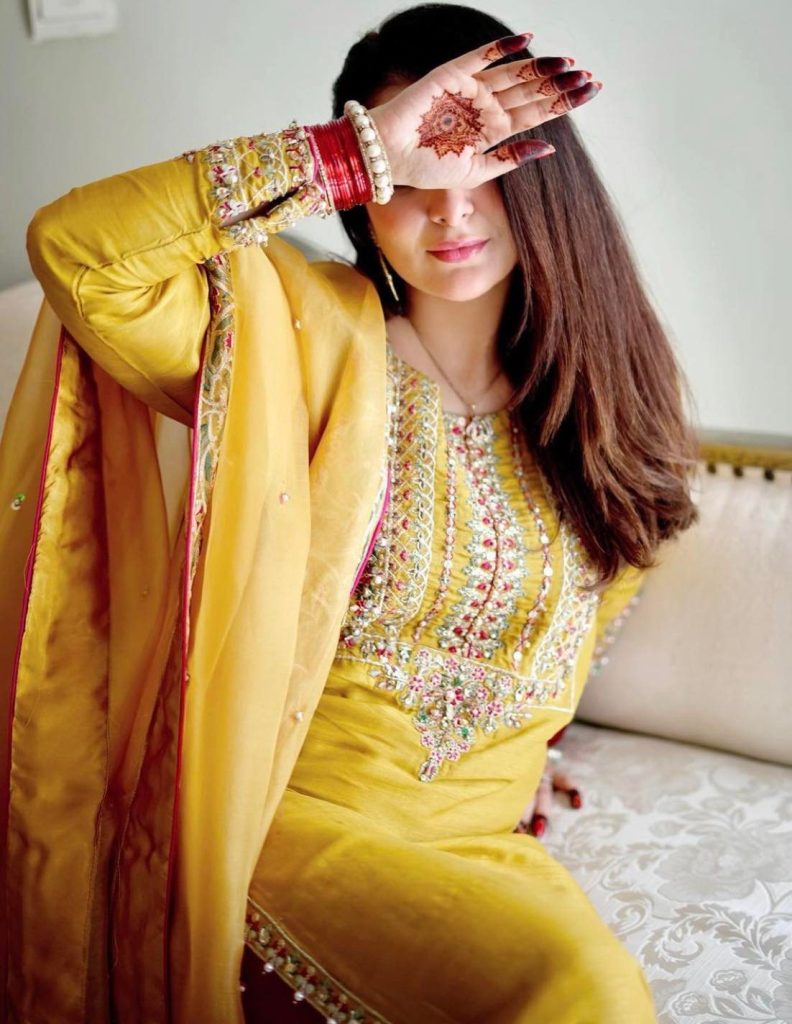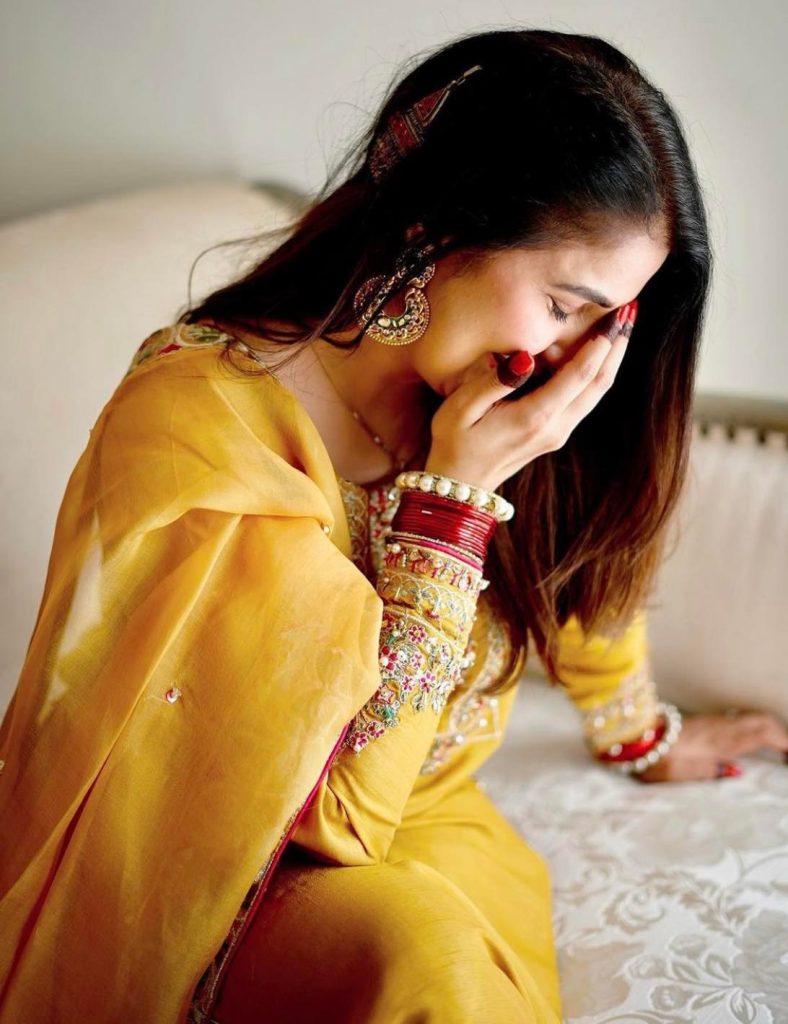 Sumbal Iqbal
Every year, Sumbal Iqbal makes sure that she looks festive and fabulous on Eid. Her ethnic looks over the years have been the best. She also carries relatively difficult to carry outfits effortlessly. This year Sumbal wore a beautiful gharara shirt in pastel colors designed by Aisha Imran. She wore ethnic jewelry and looked pretty in her latest haircut. Sumbal Iqbal is one of those actresses whose looks are always the best.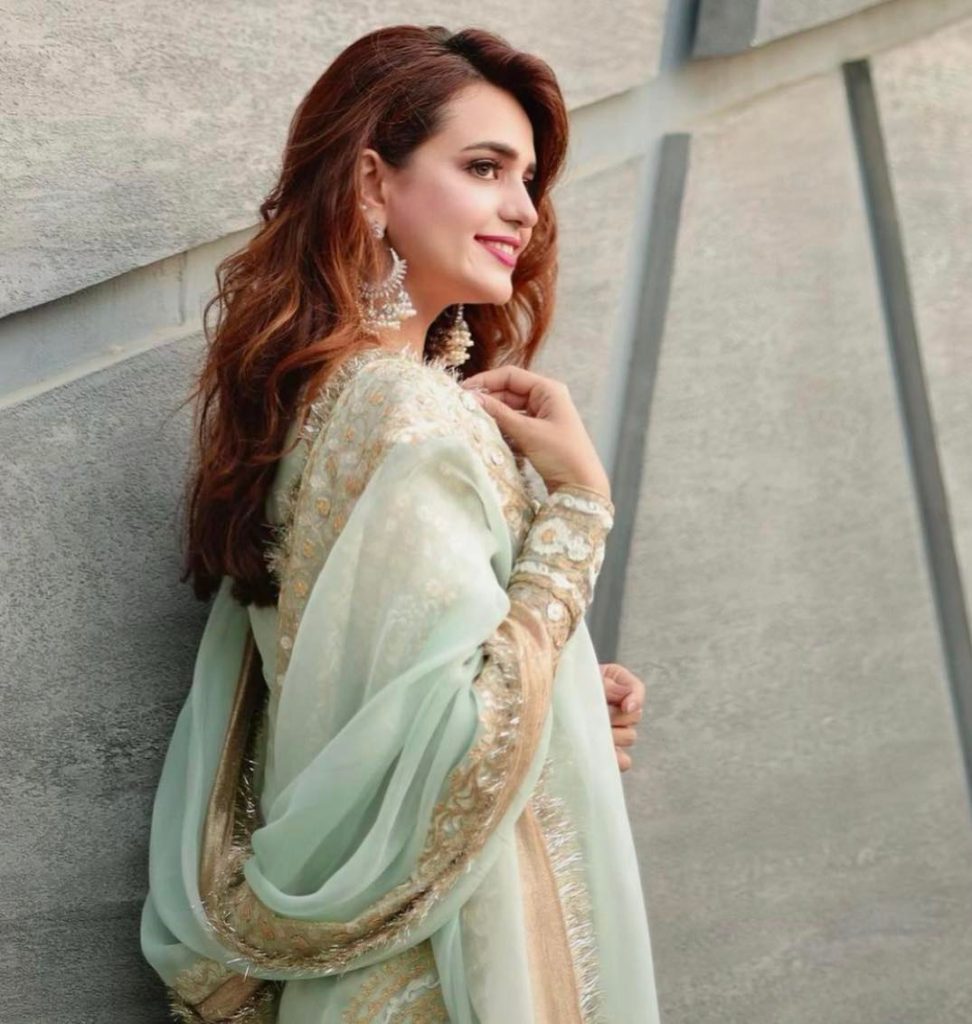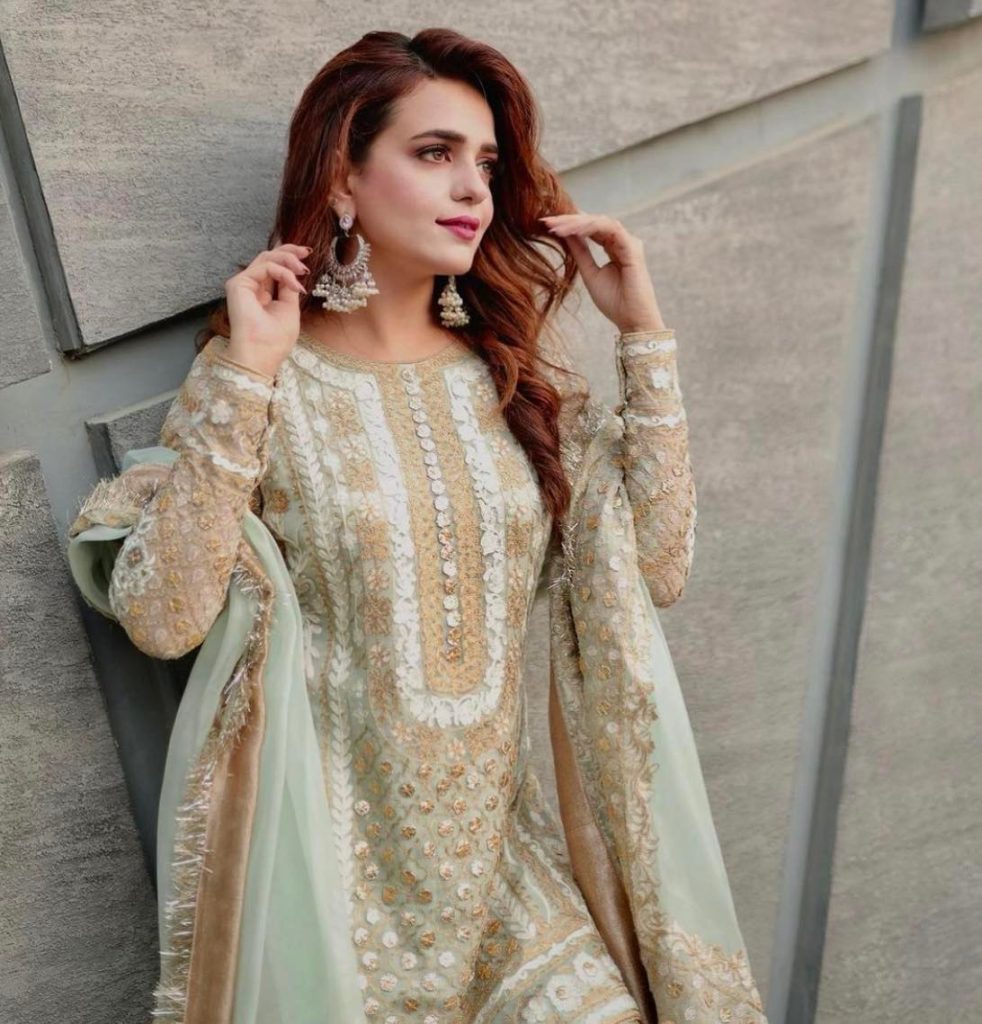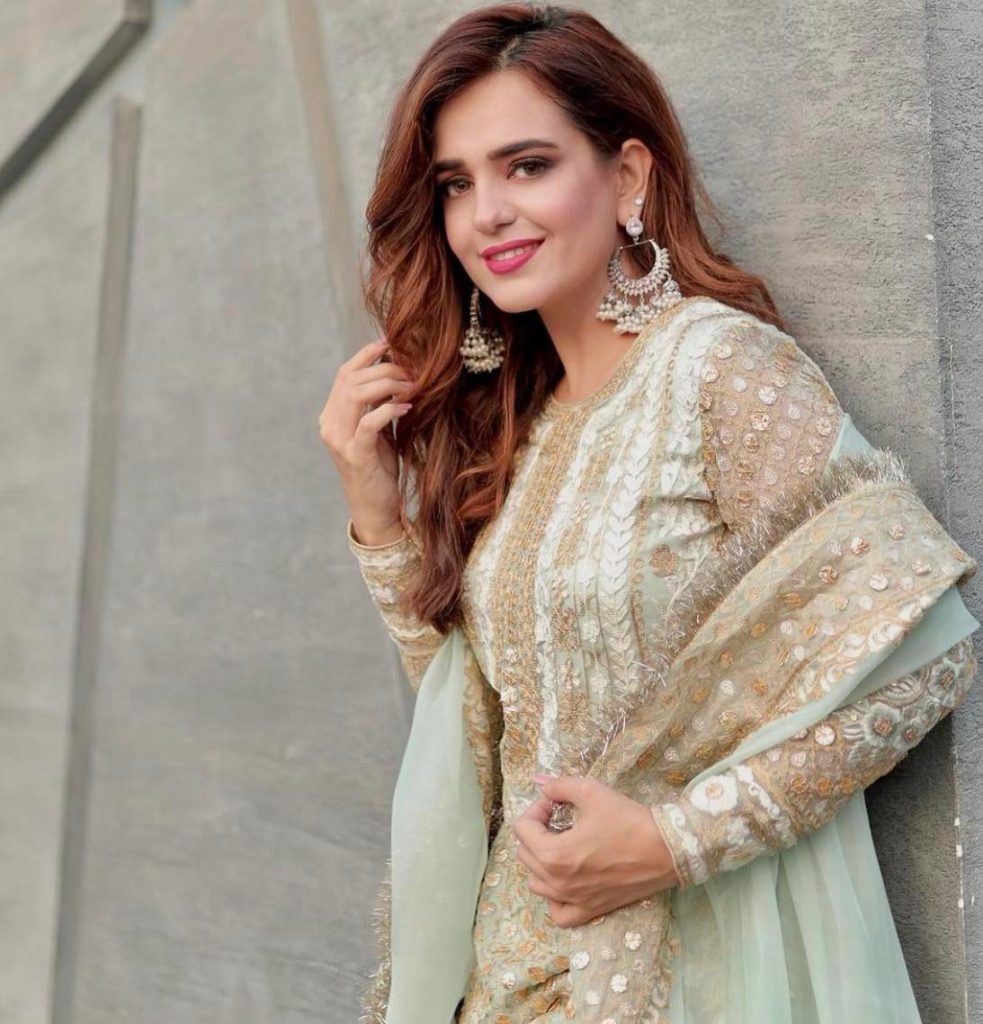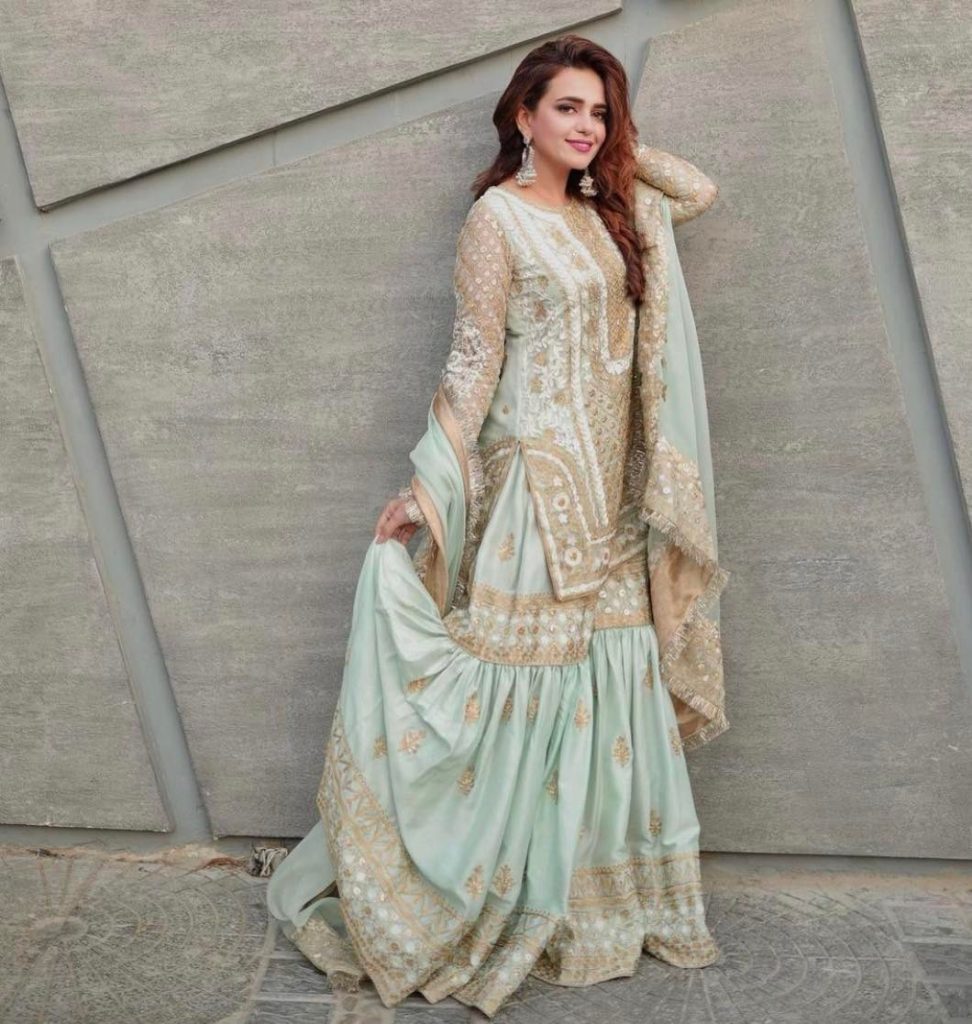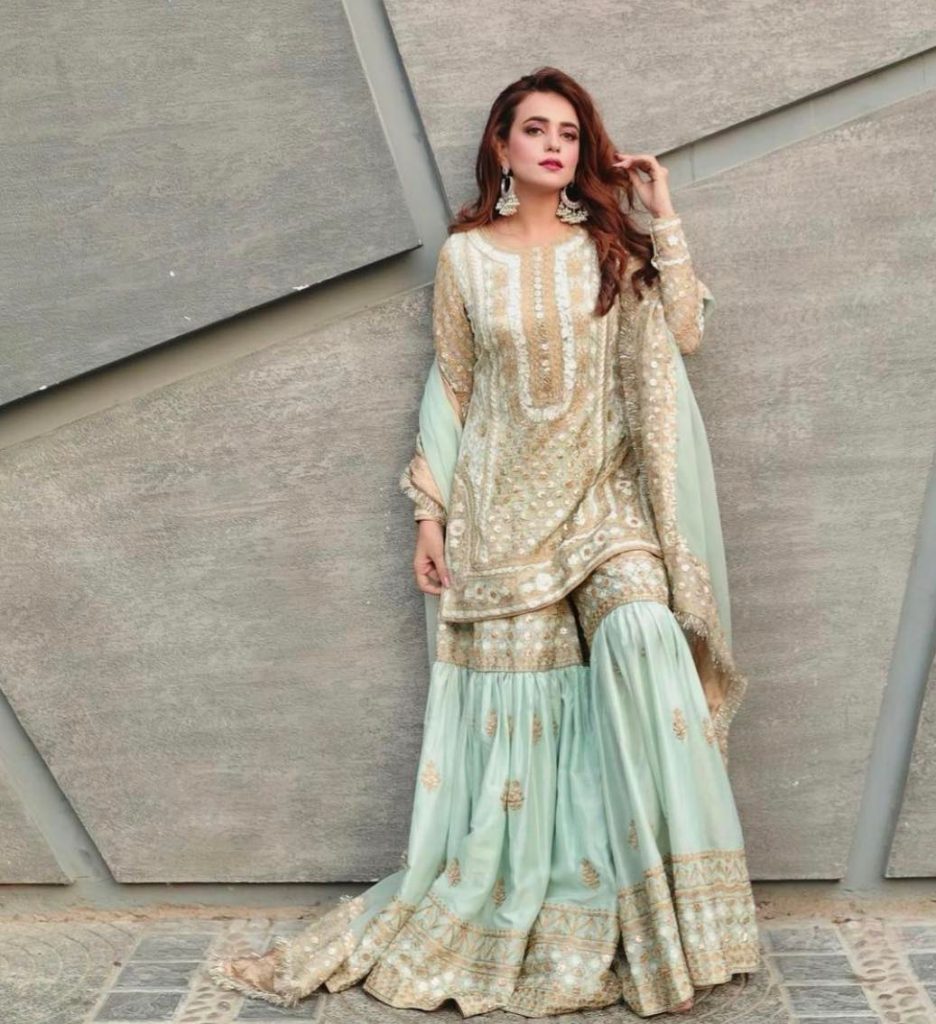 Saboor Aly
Saboor Aly is another one of those actresses who celebrated their first Eid after their marriage, this year. Saboor chose the perfect color for the occasion and her outfit was also designed in the most traditional yet stylish way. Red and gold is always a winner. Saboor paired this stunning outfit with gold jewelry. She also made sure that she posed for the camera in order to capture these memories forever. Her dress was designed by Kanwal Malik who seems to be a favorite among celebrities.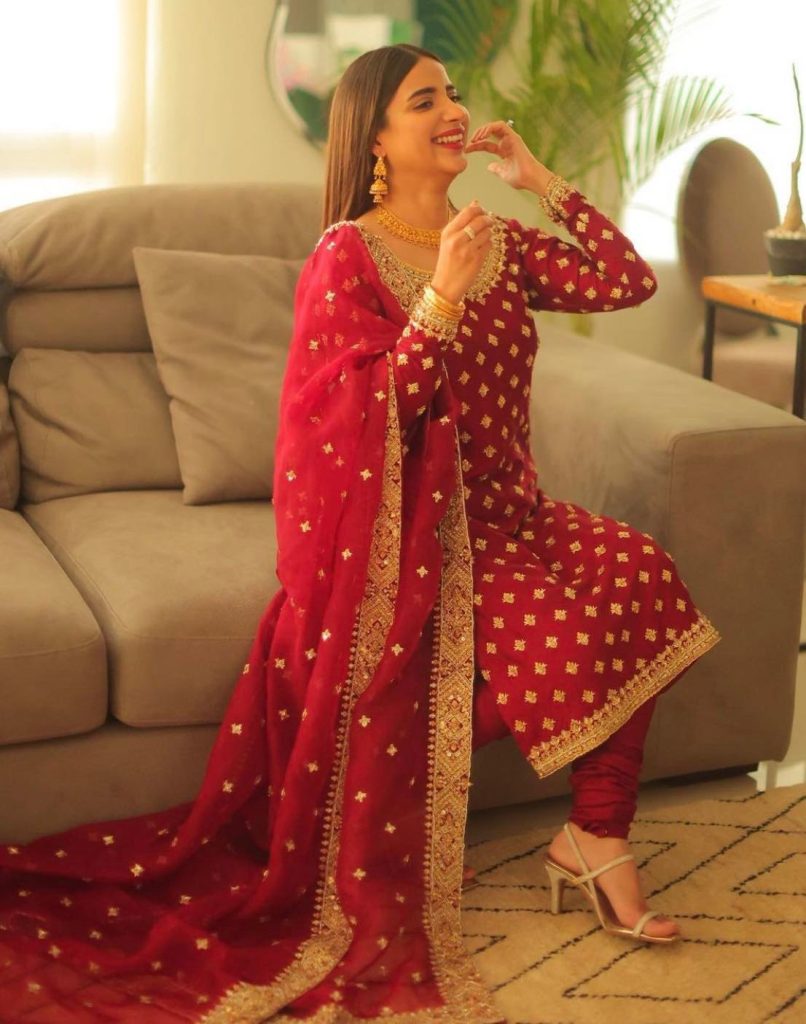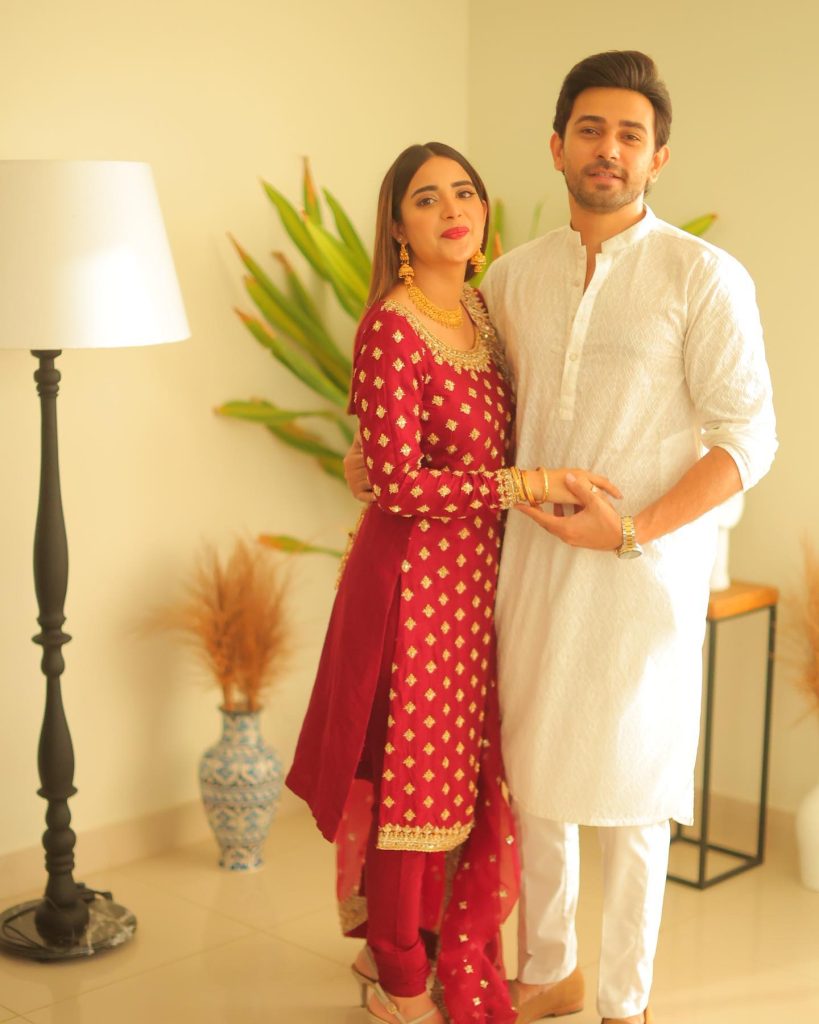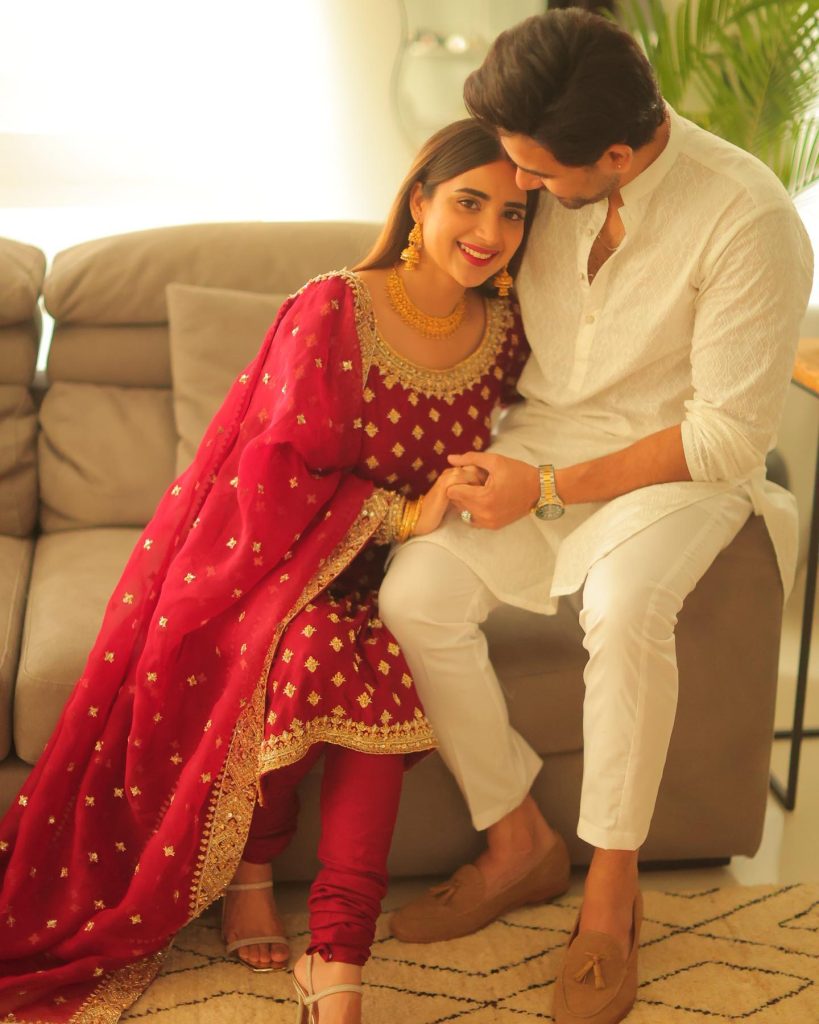 Maya Ali
Maya Ali's style game was strong this Eid. Her outfit and the overall look was the perfect combination of traditional and contemporary designs. She wore a hot pink raw silk shirt embellished with gotta panni. She paired this bright shirt with kathan silk white lehenga. The look was perfect with an organza dupatta. She was seen sporting a contemporary hairstyle, her make-up was flawless and her ethnic jhumkas went well with the look.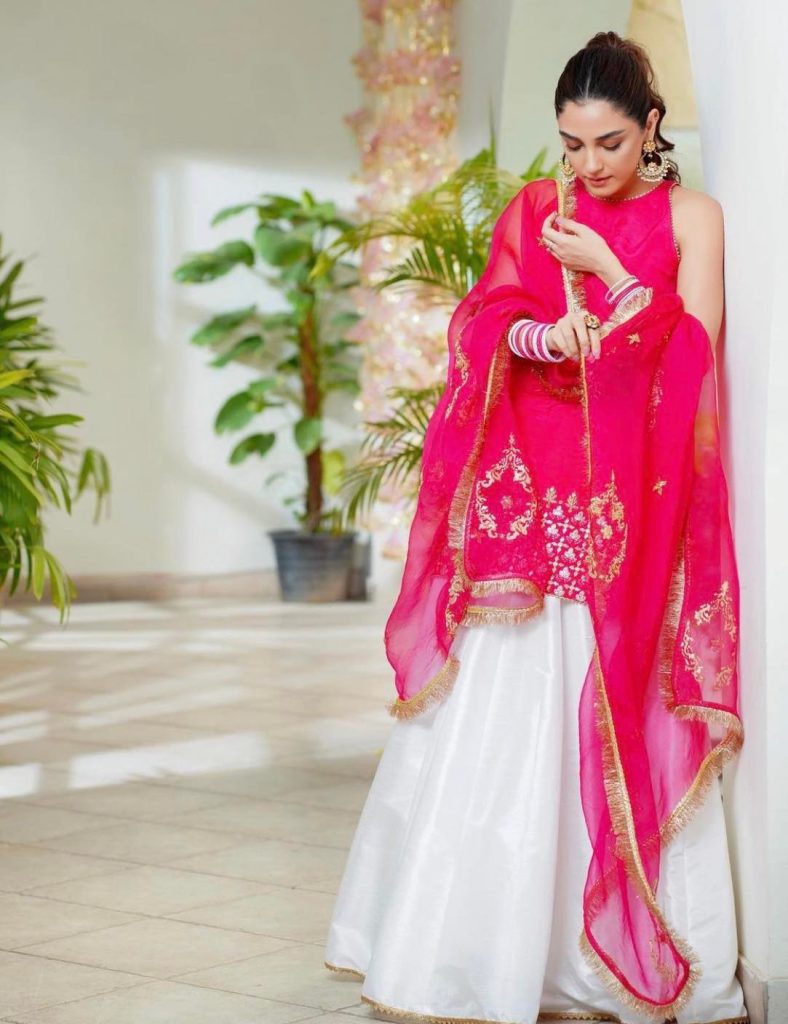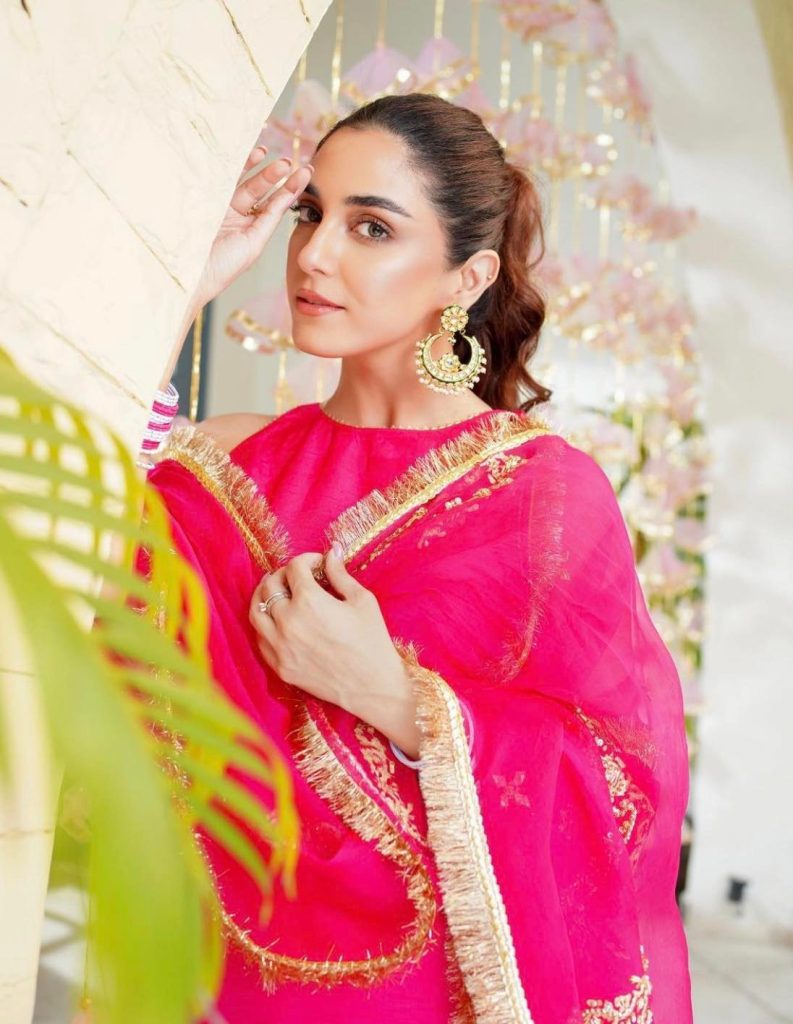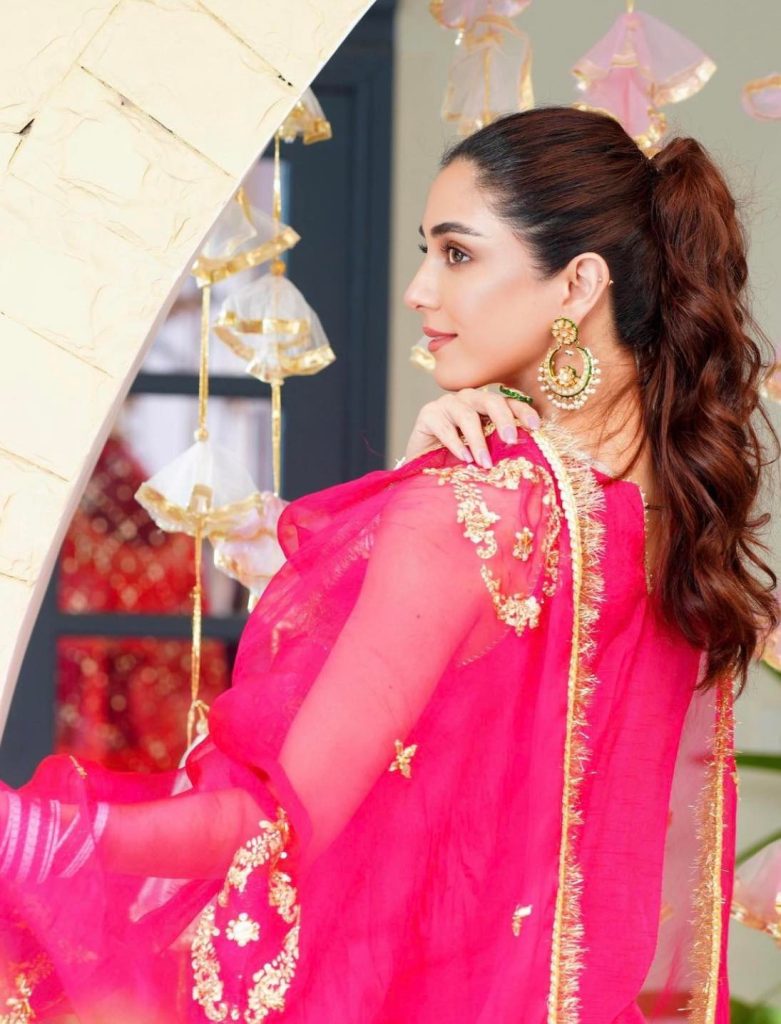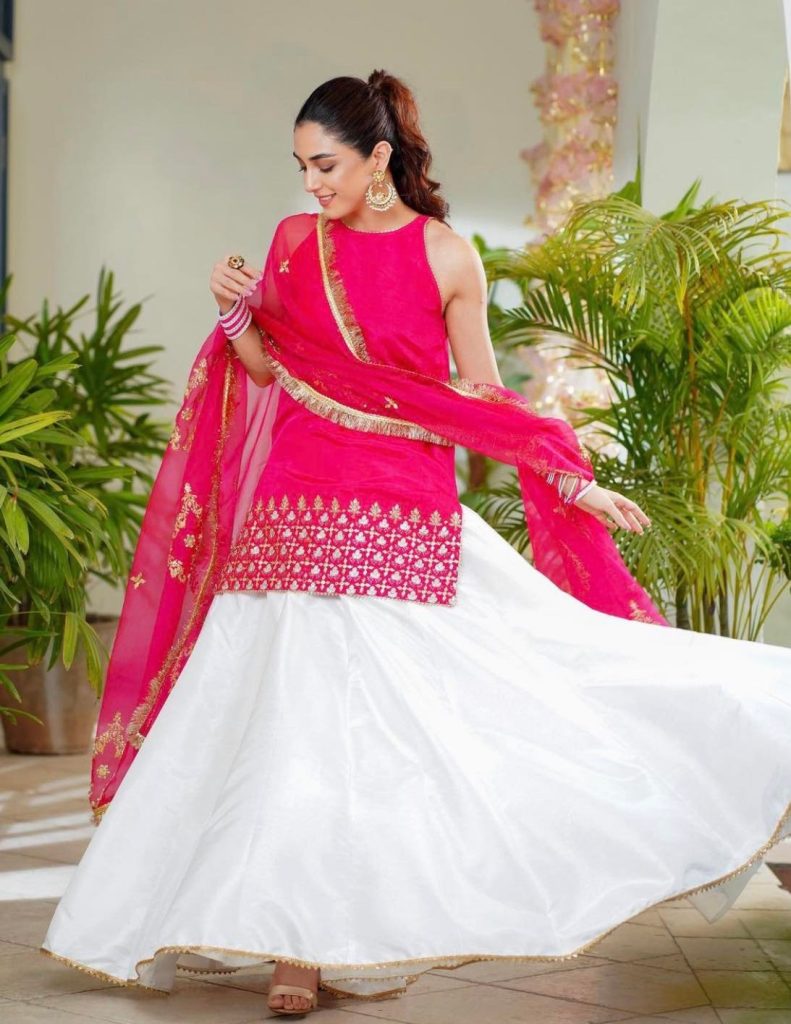 Saba Qamar
Saba Qamar looked stunning this Eid in a dress designed by Maya Ali Pret. It is always good to see celebrities supporting each other by endorsing each other's businesses. Saba Qamar opted for a full festive look. Her glowy make-up and earrings made this look perfect. She also carried this entire look with style and confidence.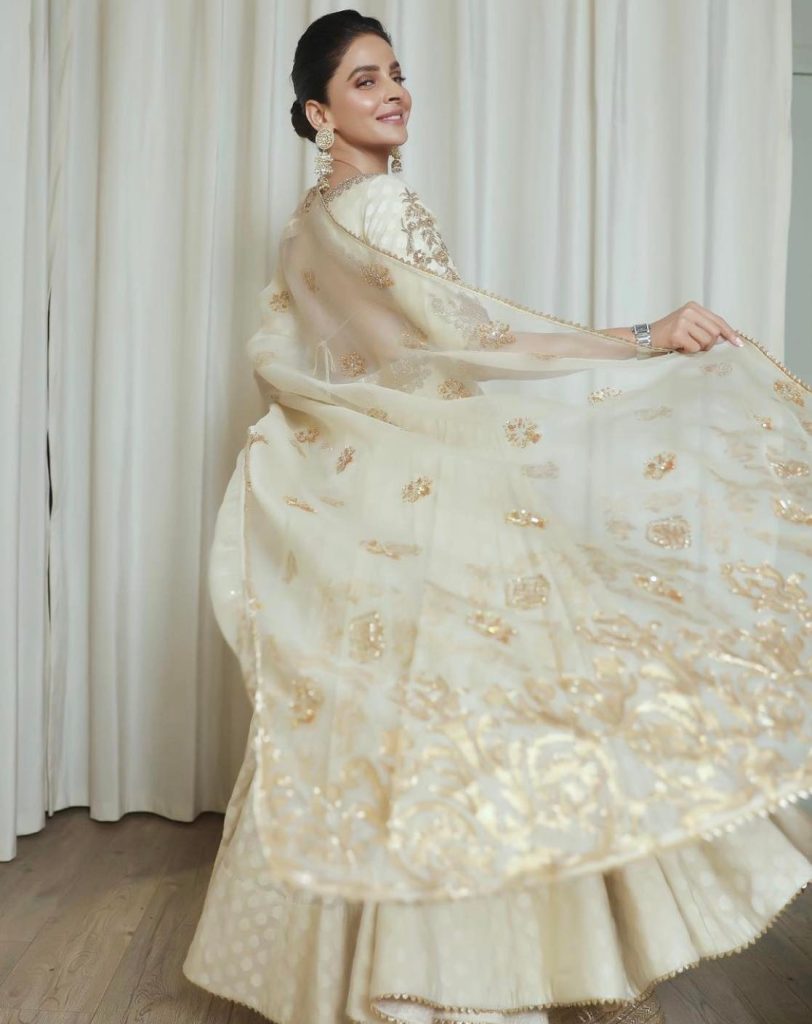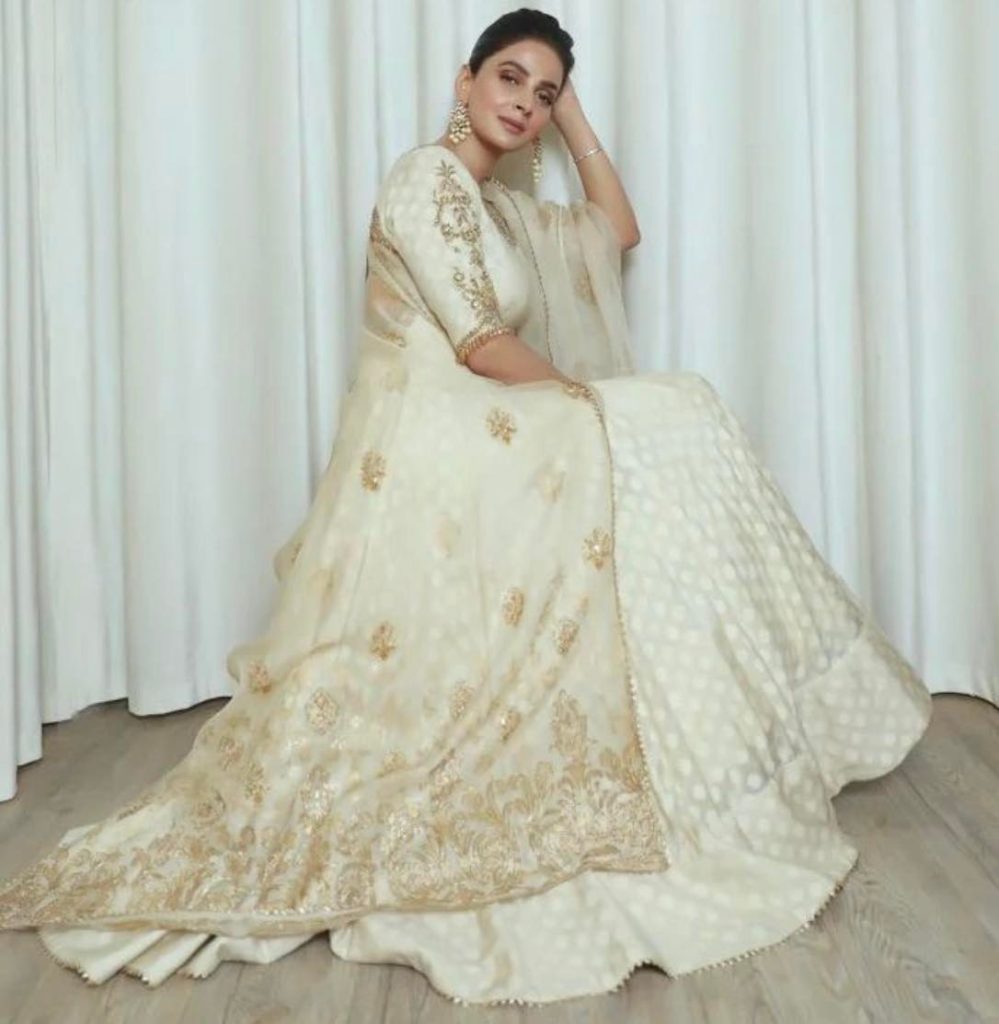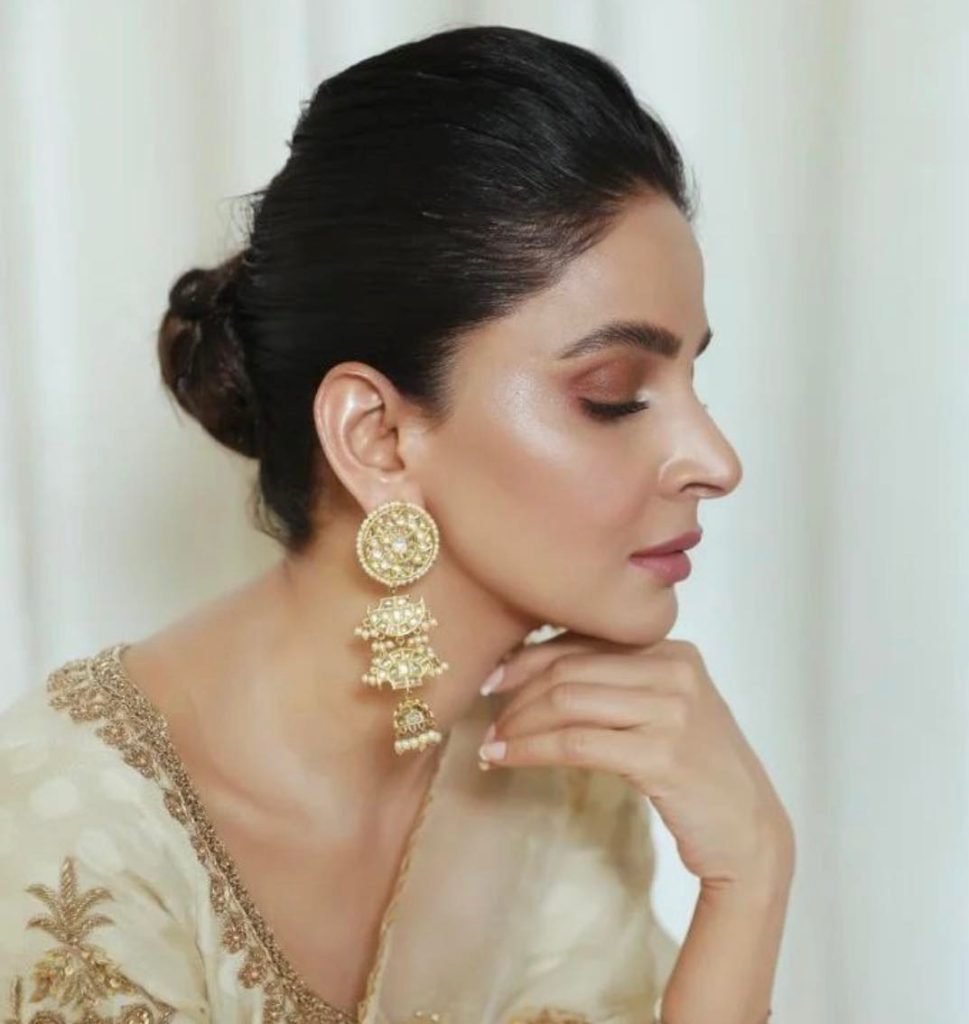 Rabab Hashim
Rabab Hashim always wears the most gorgeous outfits on Eid. This year she chose to wear a lilac dress from Asim Jofa's festive collection. The dress was designed in a simple yet beautiful way. Rabab Hashim kept her make-up and styling simple as well but the overall look definitely stood out. She basically proved that you do not need professionals to do the work for you, you can easily get the perfect festive look on your own!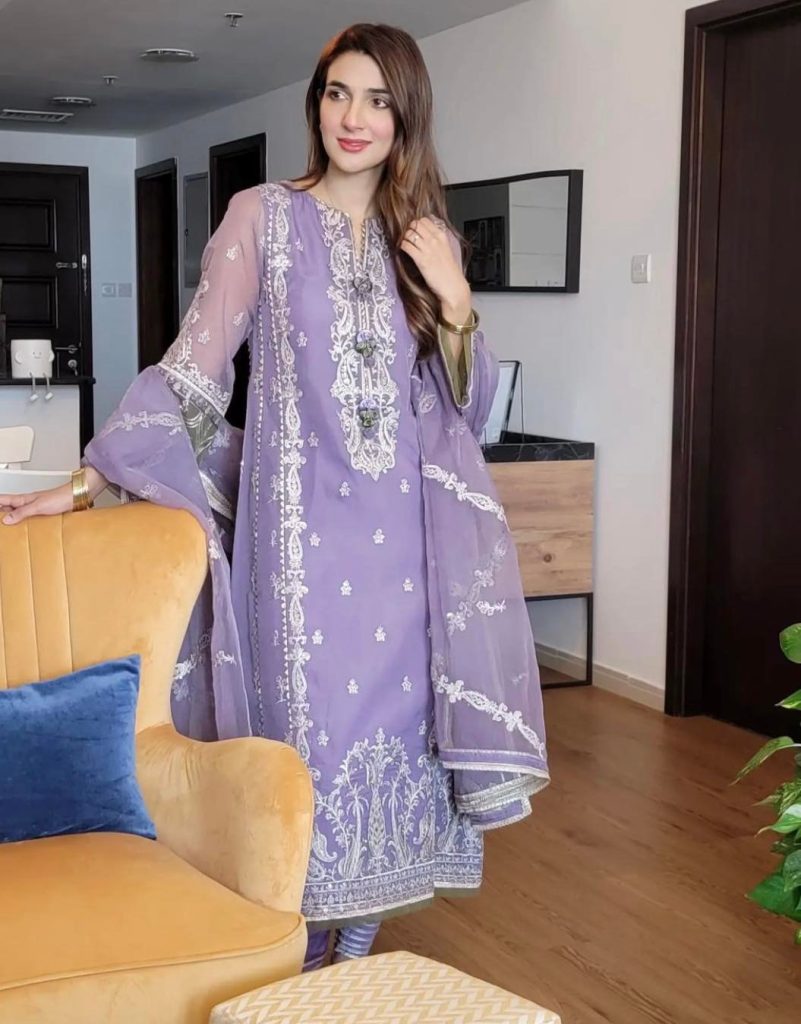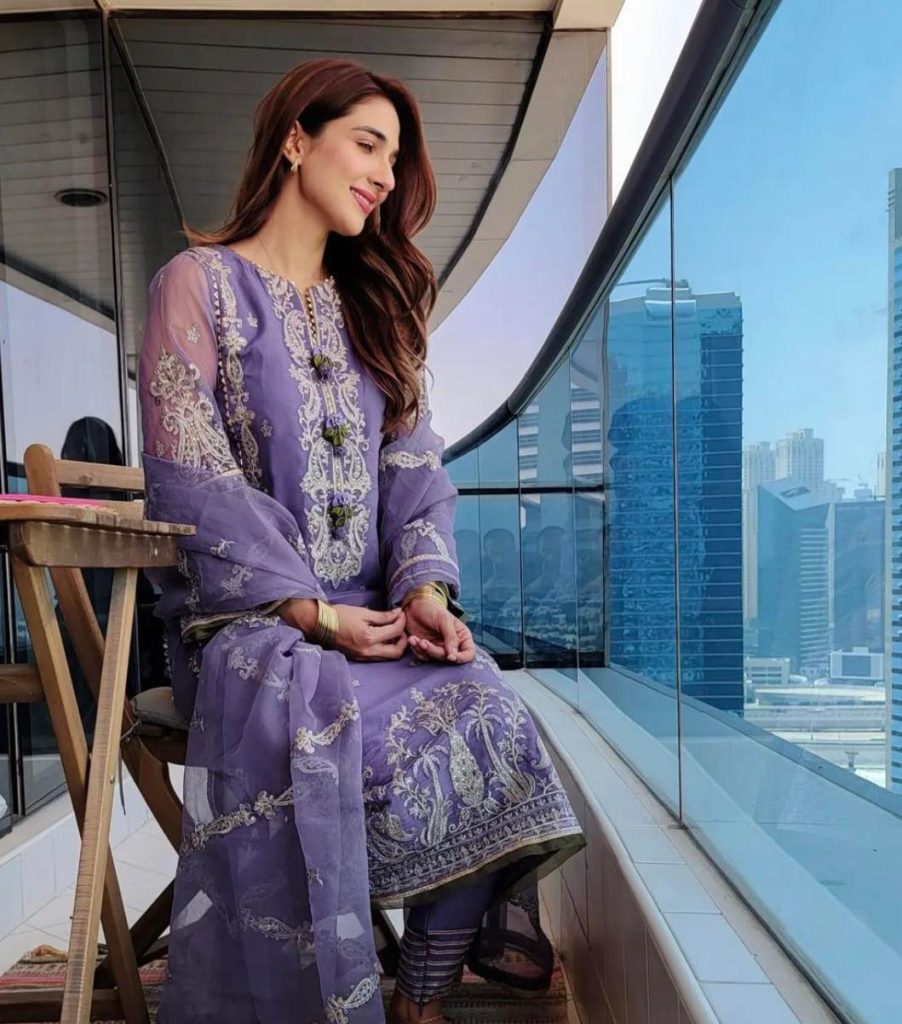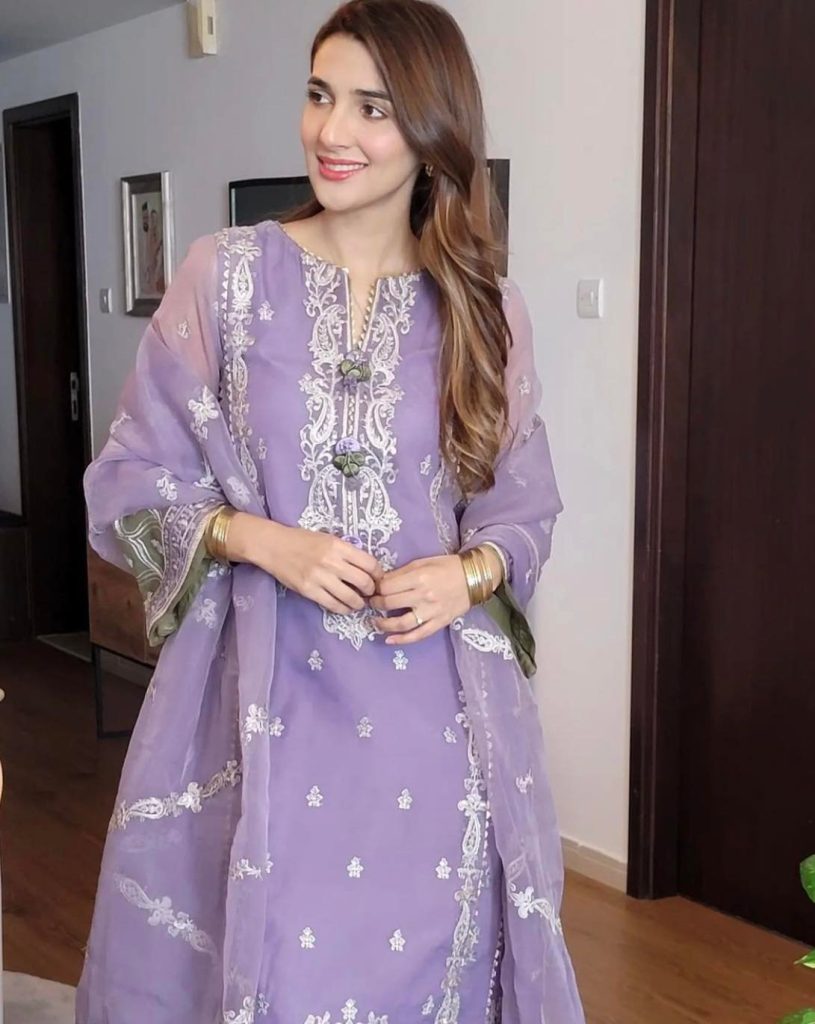 Hadiqa Kiyani
Hadiqa Kiyani was always loved because of her vocals, lately after stepping into acting; she has won over more fans than ever! Hadiqa's performance and styling both in Dobara have been the center of attention. On this Eid, Hadiqa looked elegant and stylish as usual. She wore a beautiful festive outfit designed by Sarwar Subhani. The color combination and the design was perfect for Eid.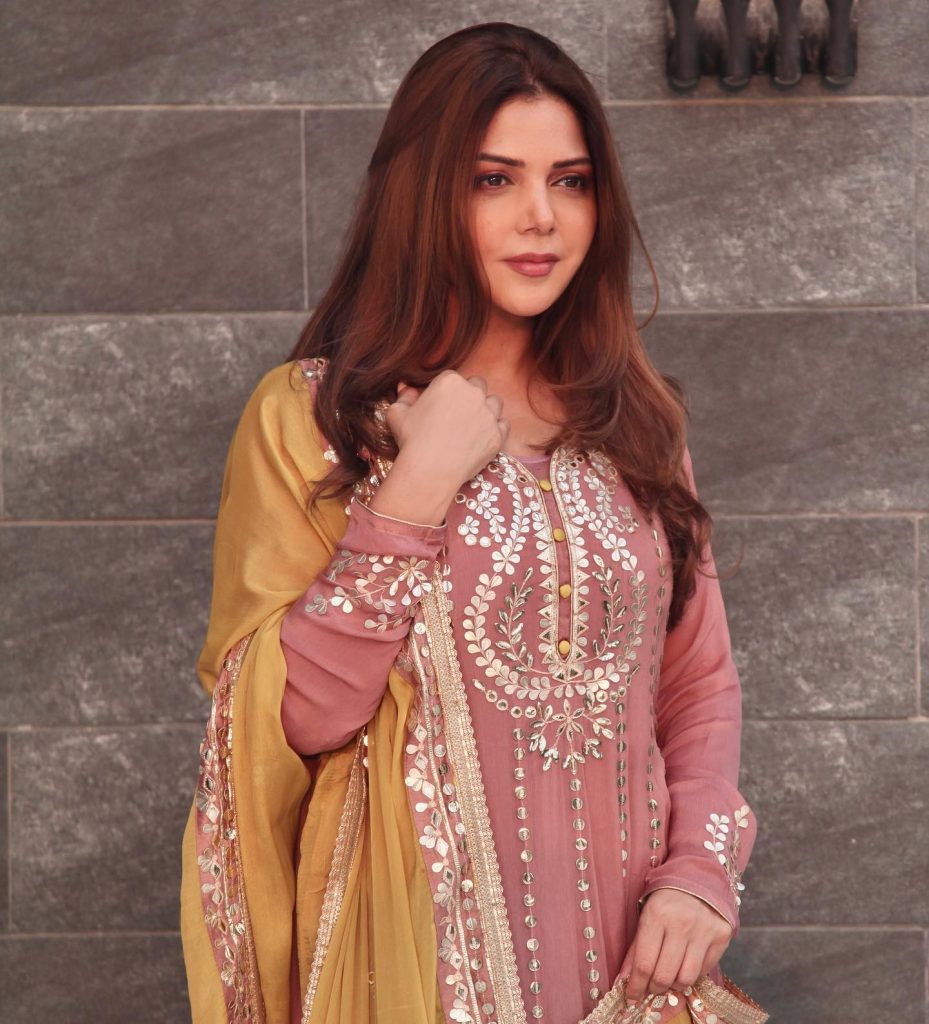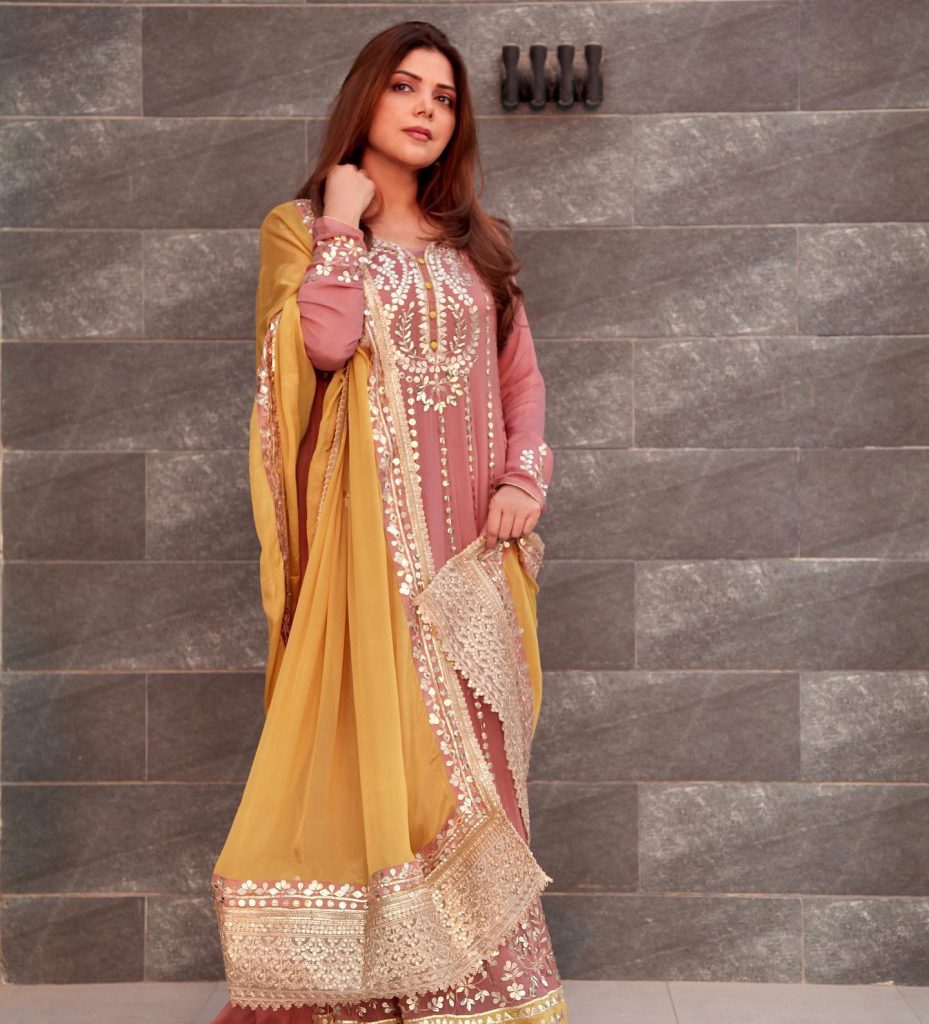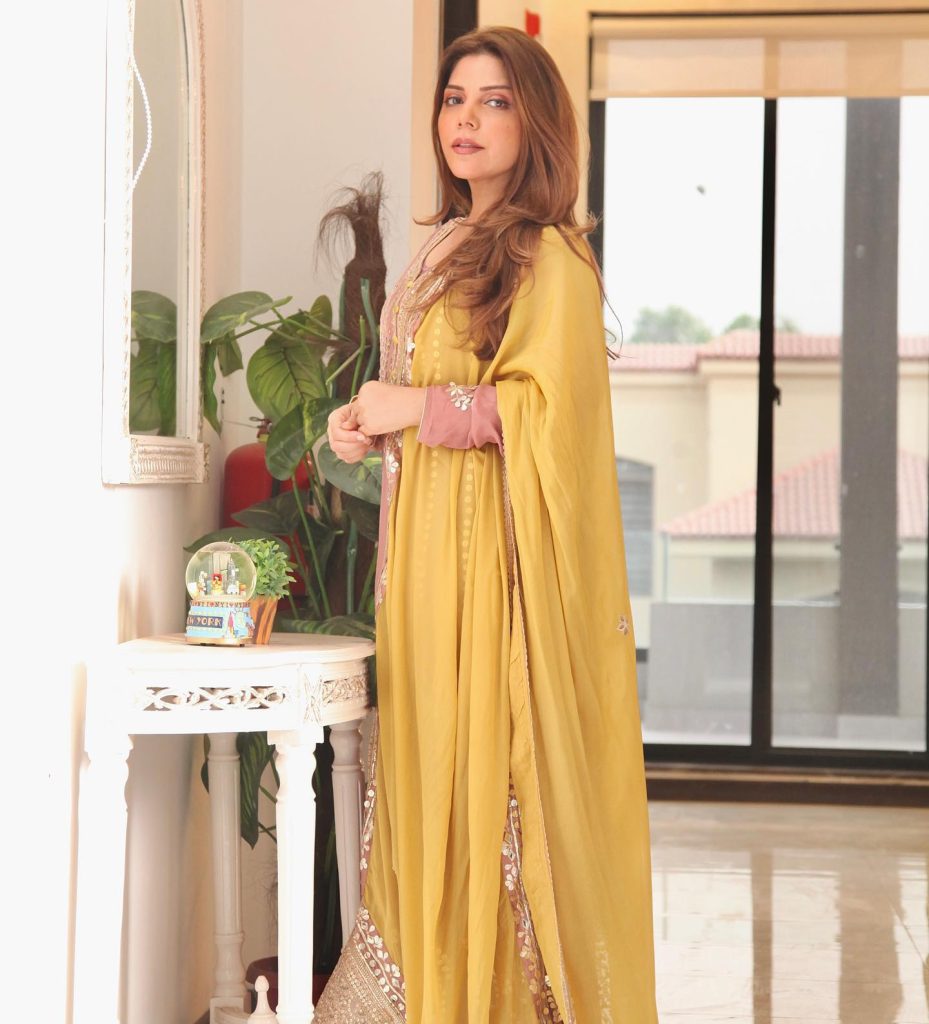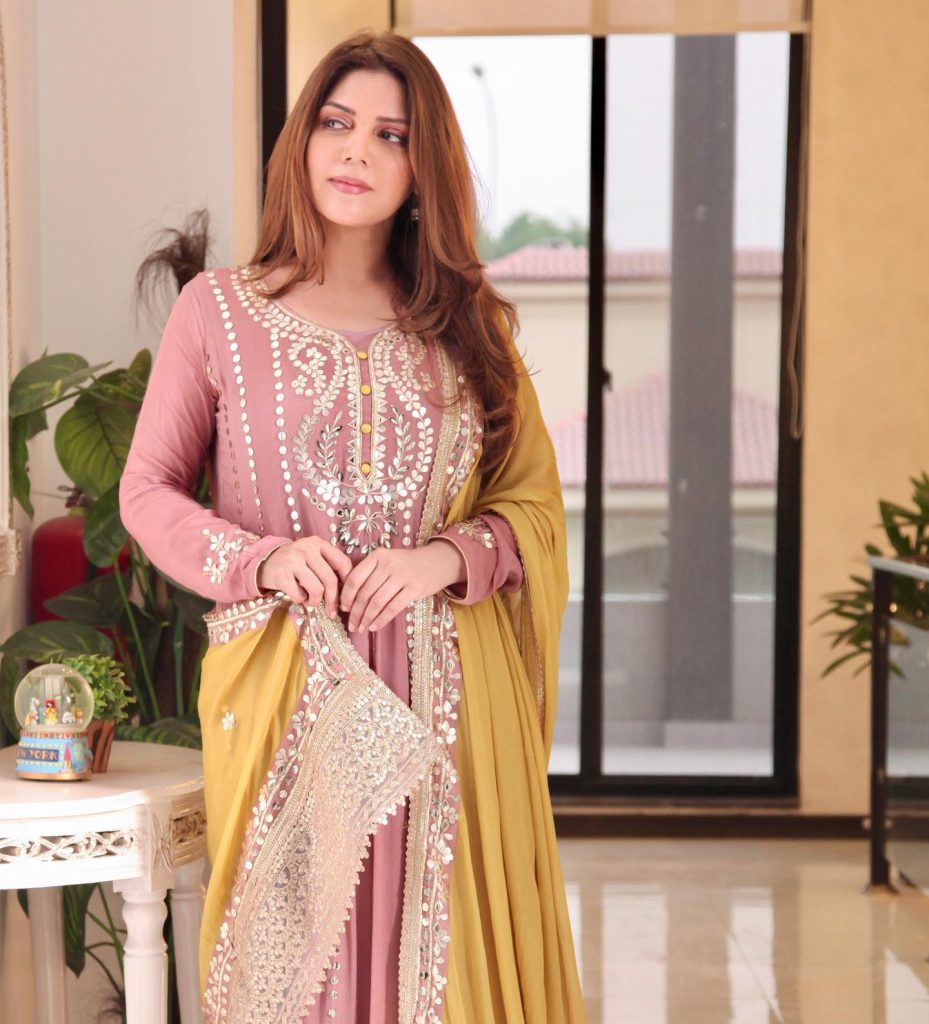 Hania Aamir
Hania Aamir has been busy promoting her film Parde Mein Rehne Du. That did not stop her from celebrating Eid with the same zeal and zest as she always does. Hania wore an emerald green outfit designed by the ace designer Faiza Saqlain. She customized this outfit from her collection, especially for Hania. Hania Aamir looked exceptionally pretty and her smile proved to be the best accessory on this special day.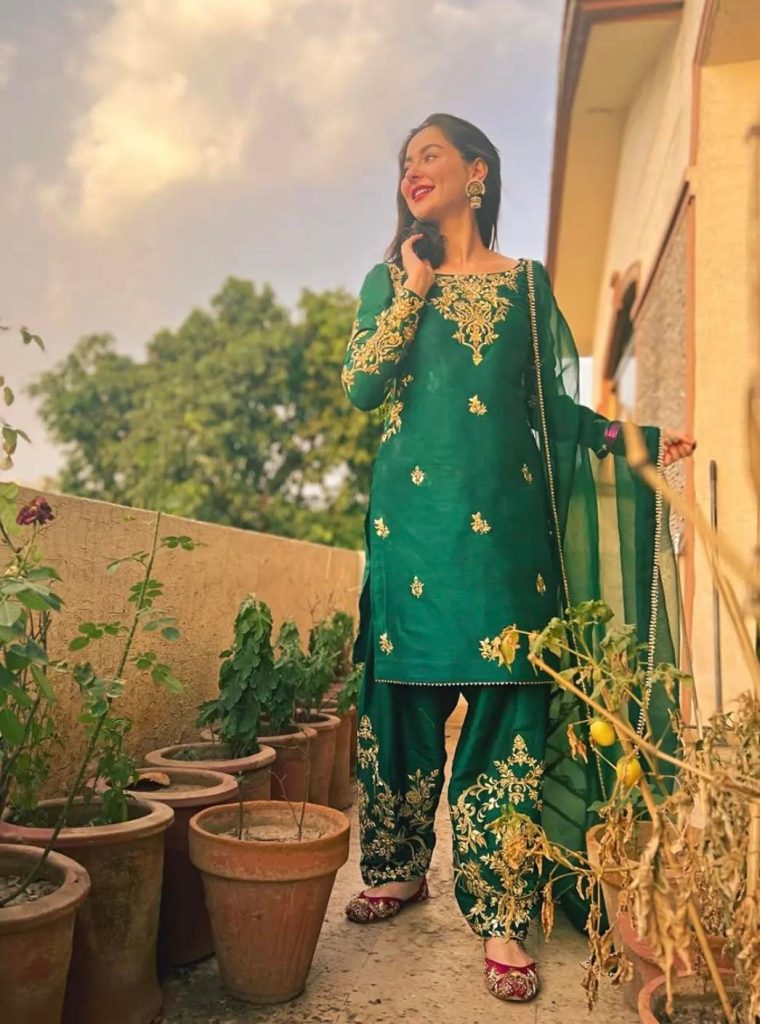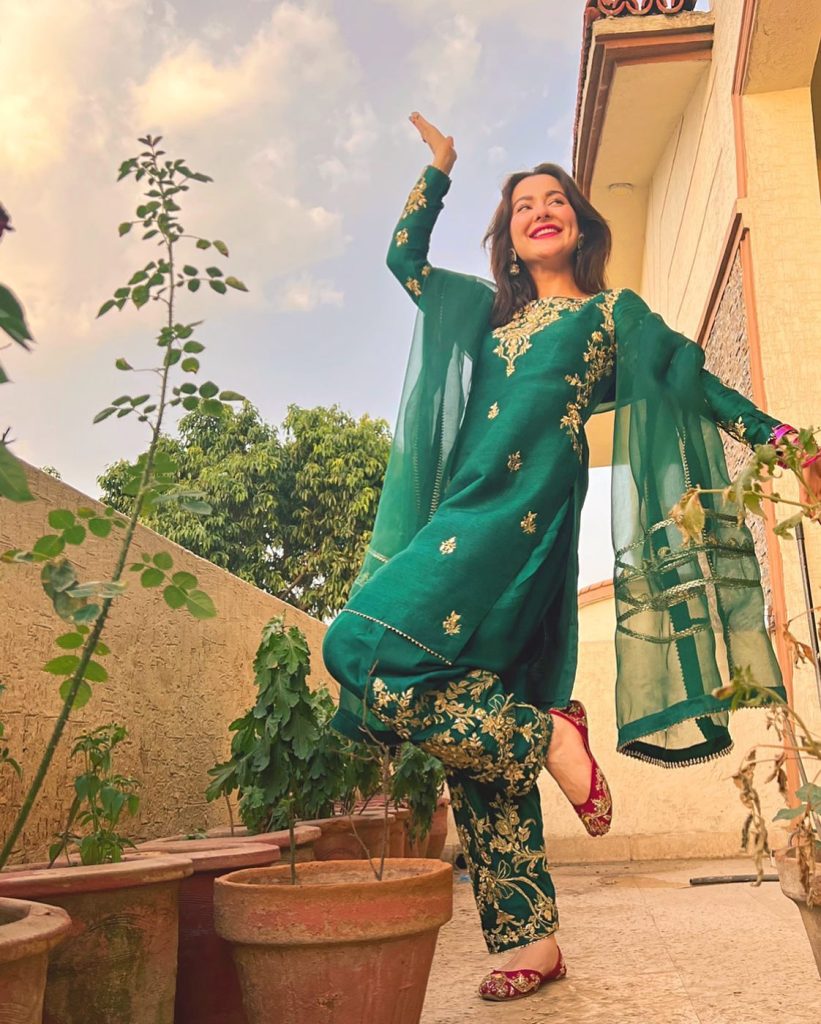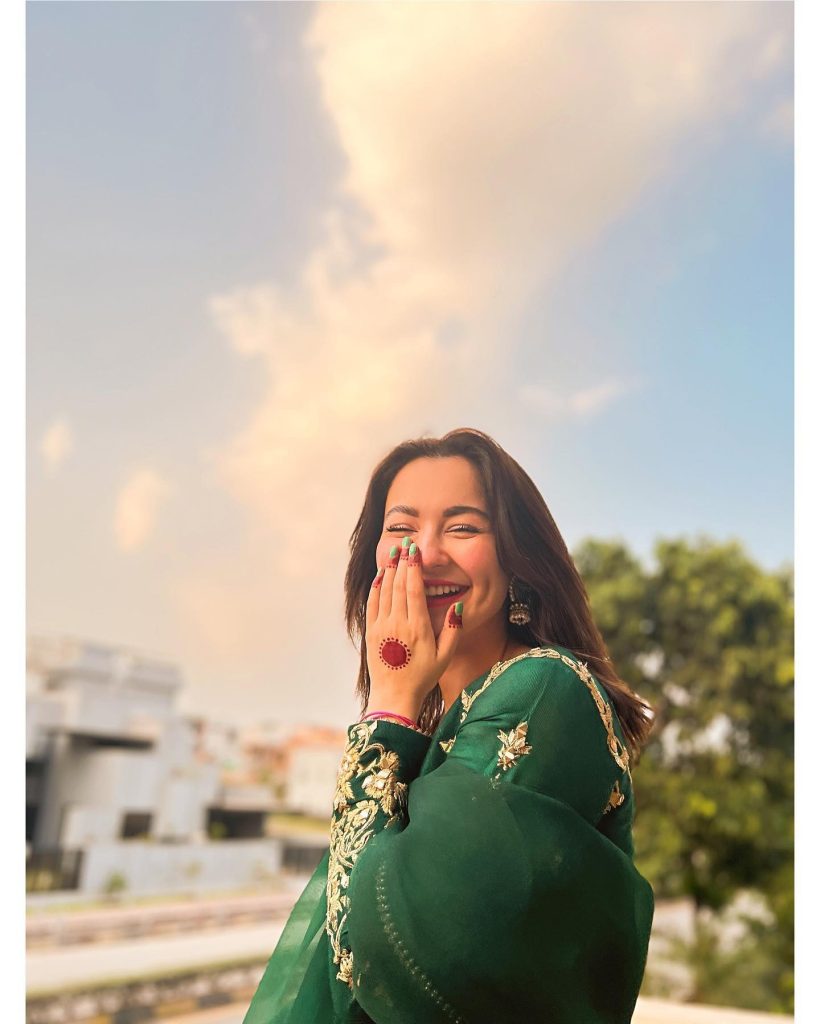 Sadia Khan
Sadia Khan is one of the most stylish models who makes sure that each one of her festive looks every year is different from the others. This year she wore a simple but festive white outfit on Eid. It was the perfect combination of white and silver. The dress was designed by Hussain Rehar who is known for his stylish designs.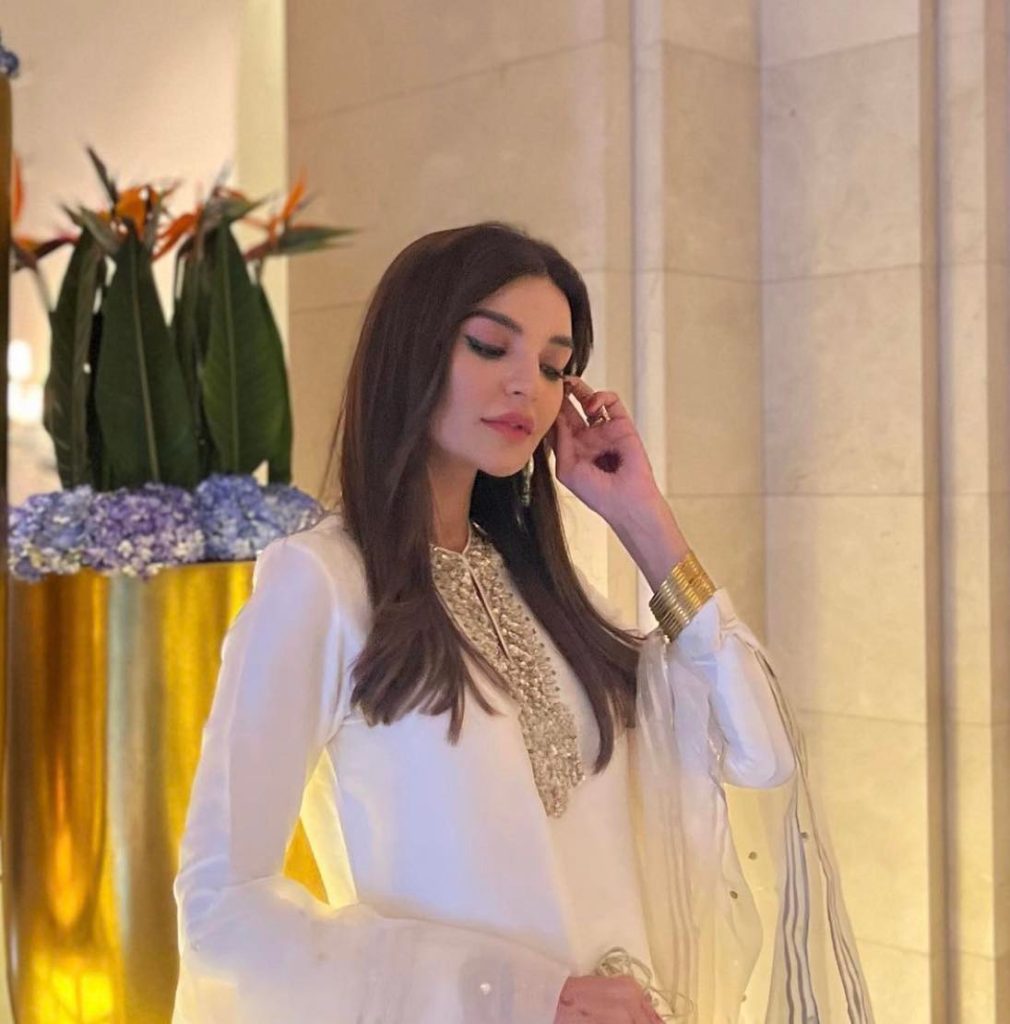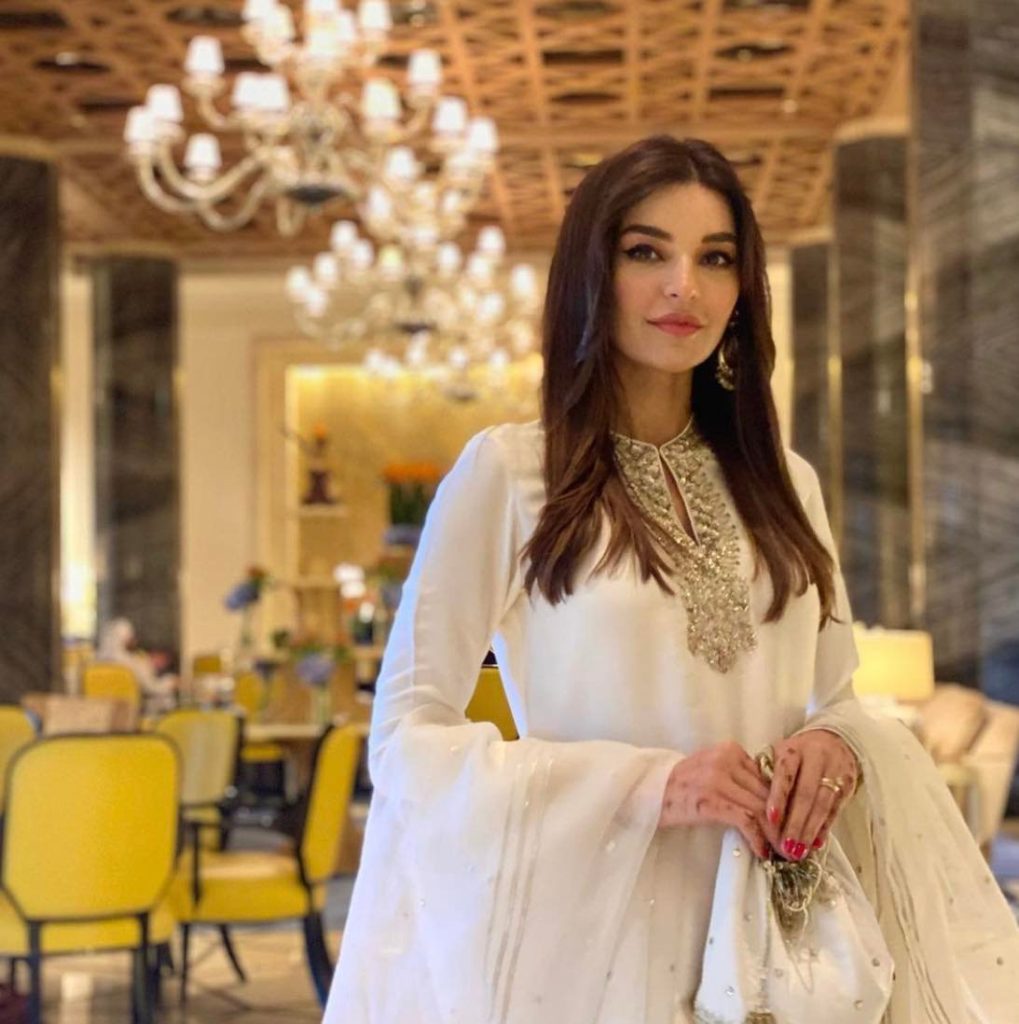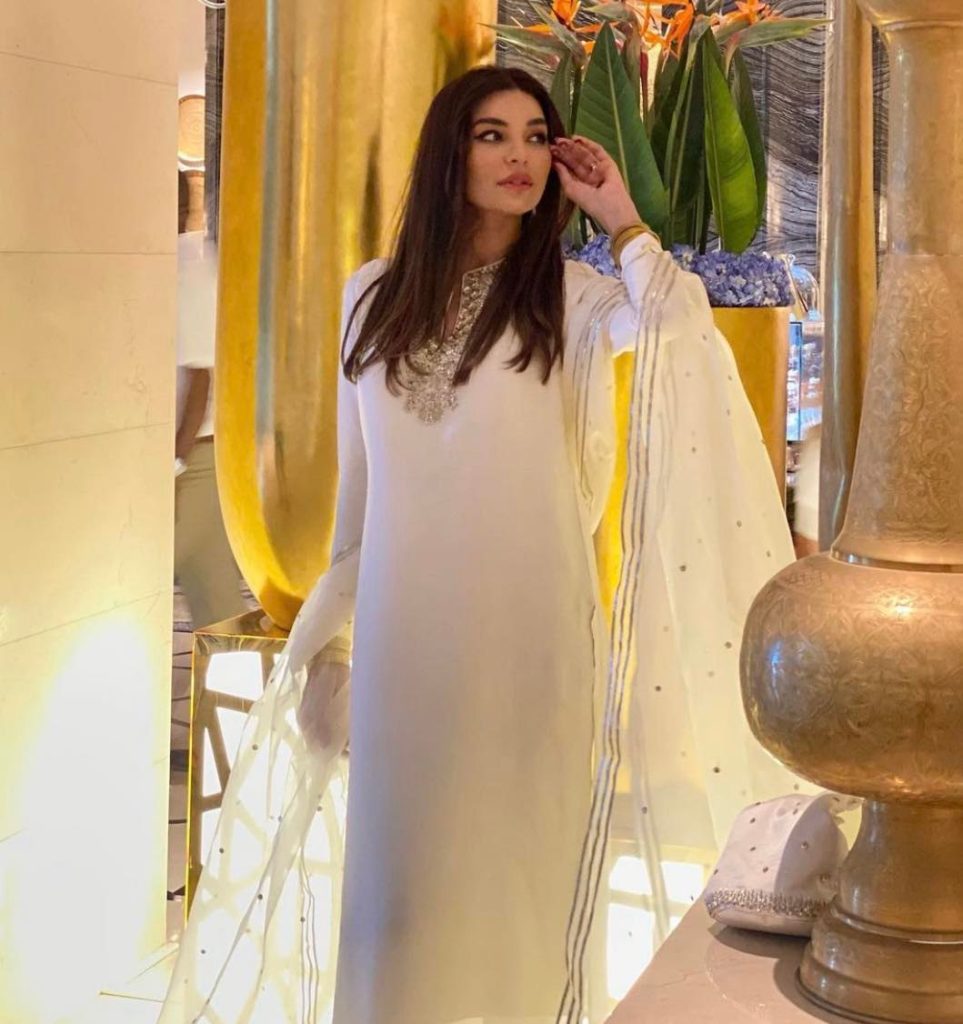 Mariam Ansari
There was a time when black was not considered a festive color. Gone are those days because there are so many celebrities nowadays who are seen wearing black outfits on festive occasions. This year, for Eid, Mariam Ansari chose to wear a black outfit with the most beautiful embellishments. She looked stunning.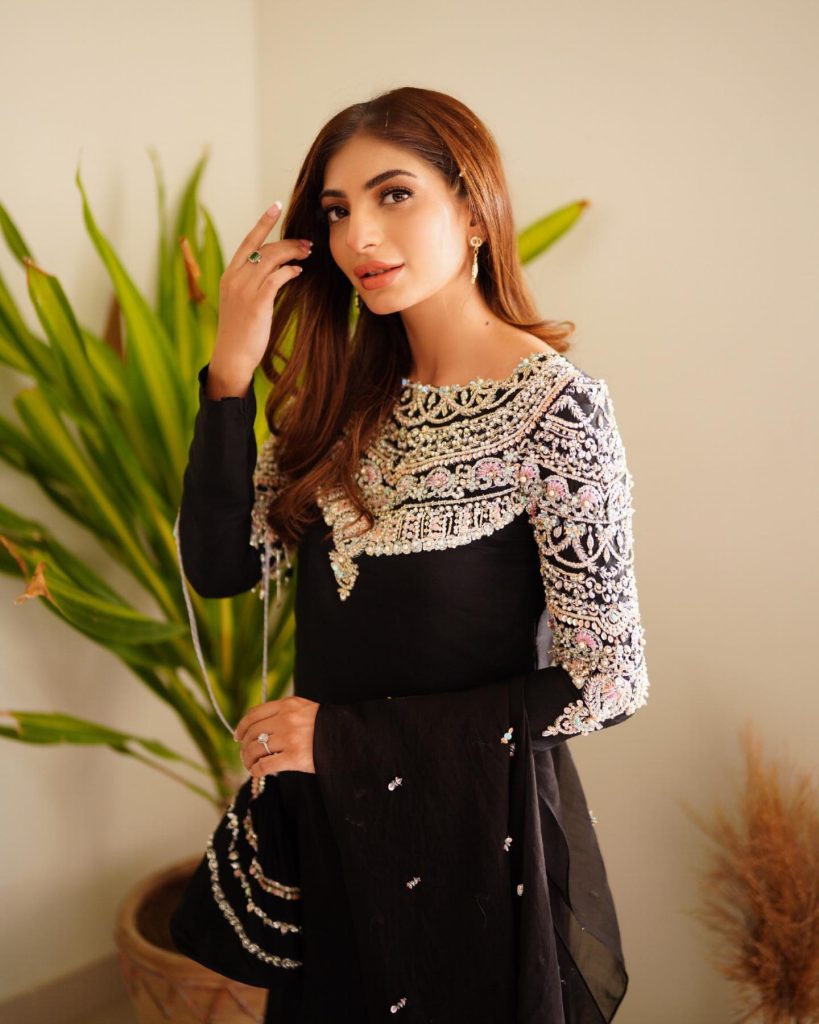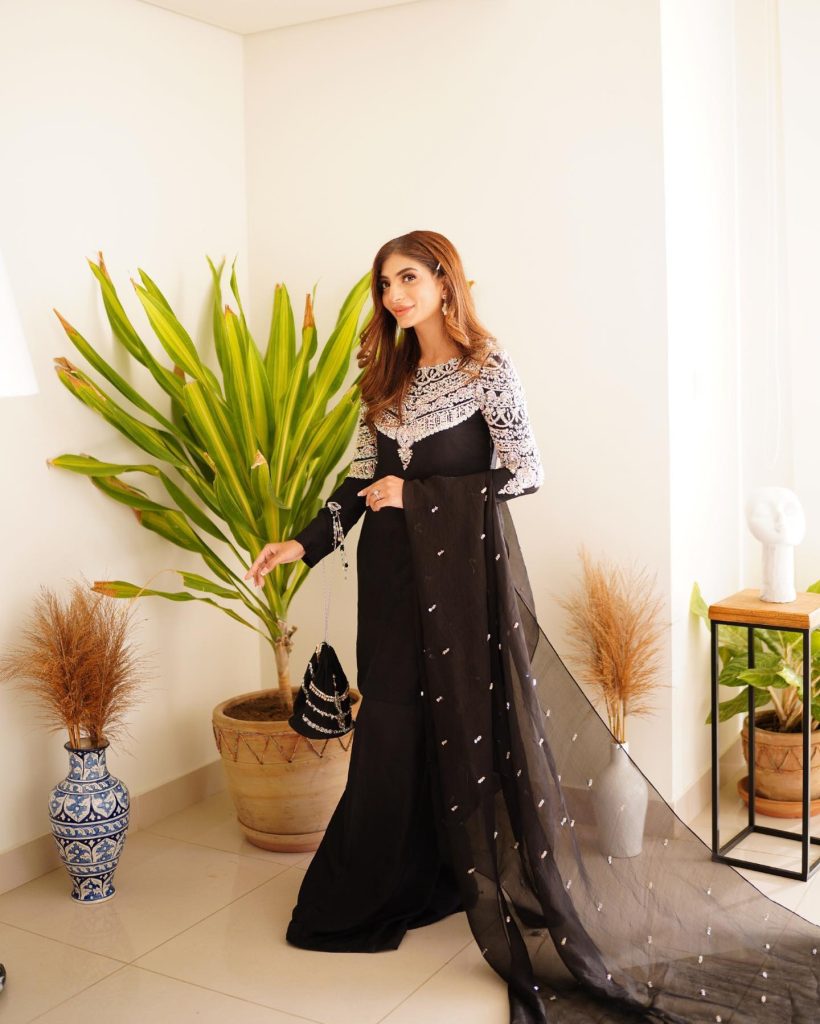 Momal Sheikh
The color and outfit Momal Sheikh decided to wear this Eid was one of our favorites. Yellow is the perfect color for every occasion and apt for this season as well. She decided to wear a dress designed by Farah Talib Aziz and shared beautiful pictures with her family.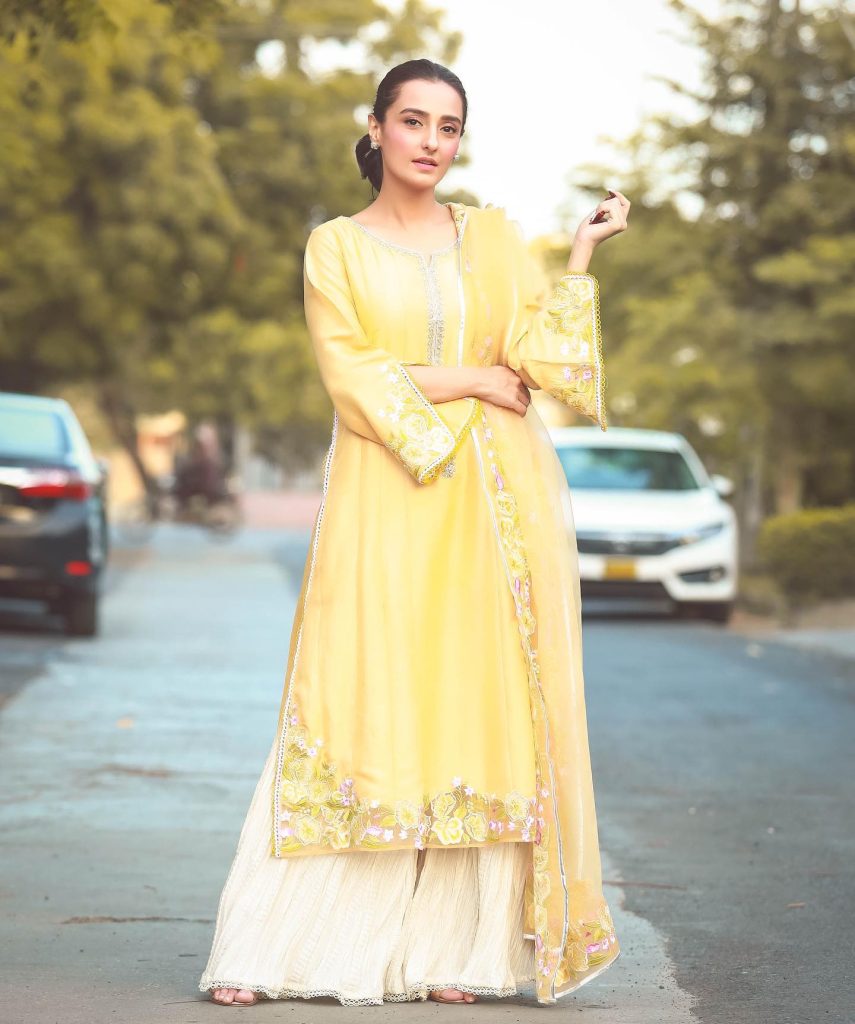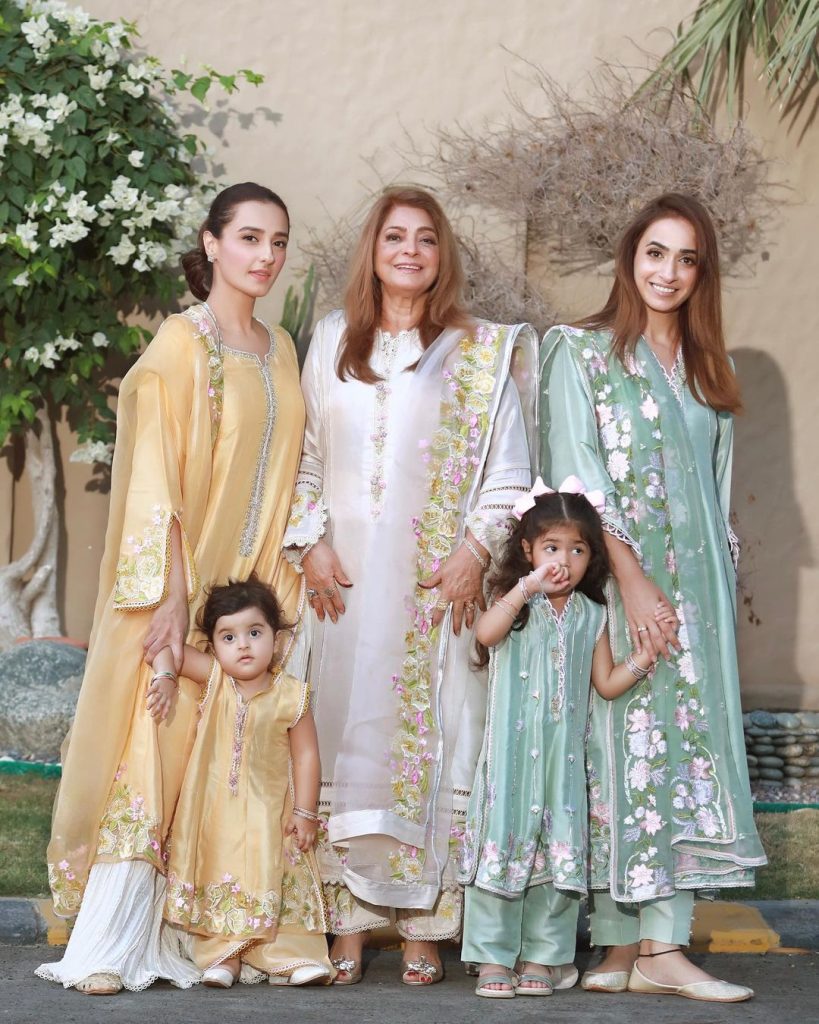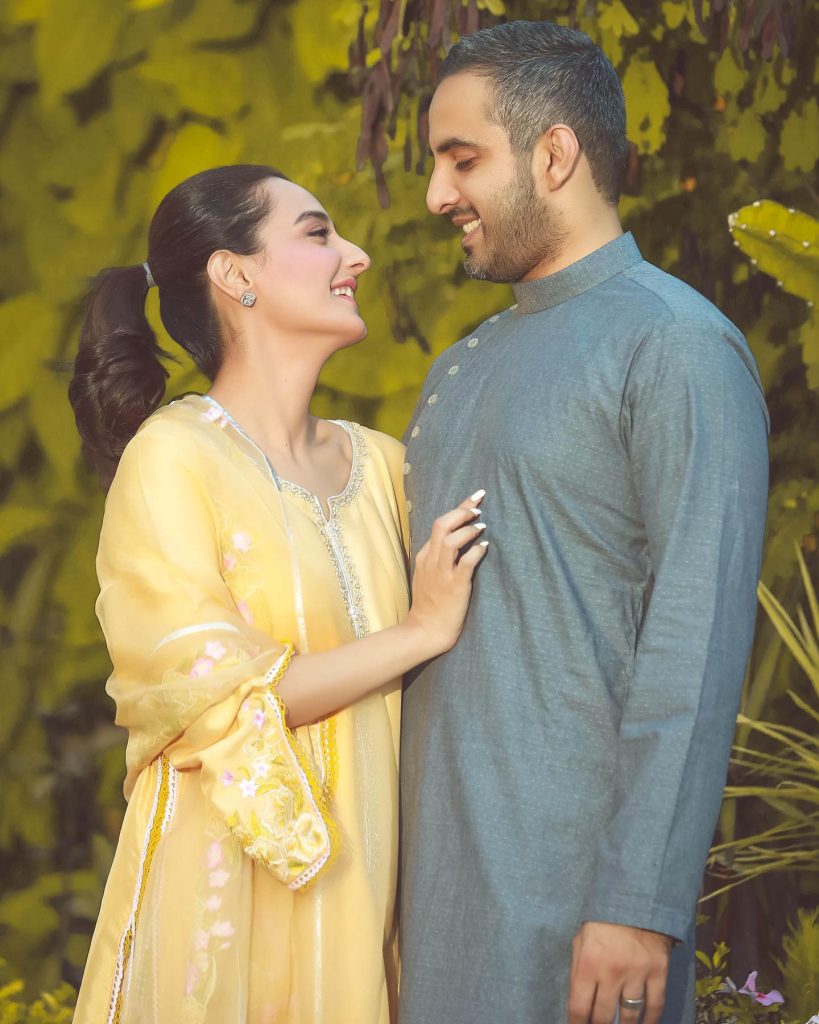 Nimra Khan
Nimra Khan has upped her style game over the years. She lost weight a few years ago and since then she has constantly been experimenting with different looks. This year her Eid look on the first day of Eid was among the most different and appealing ones. She wore a beautifully designed pink saree, tied her hair in a sleek bun, and wore gold jewelry. The pictures also came out perfect. Nimra looked refreshingly stunning in these pictures.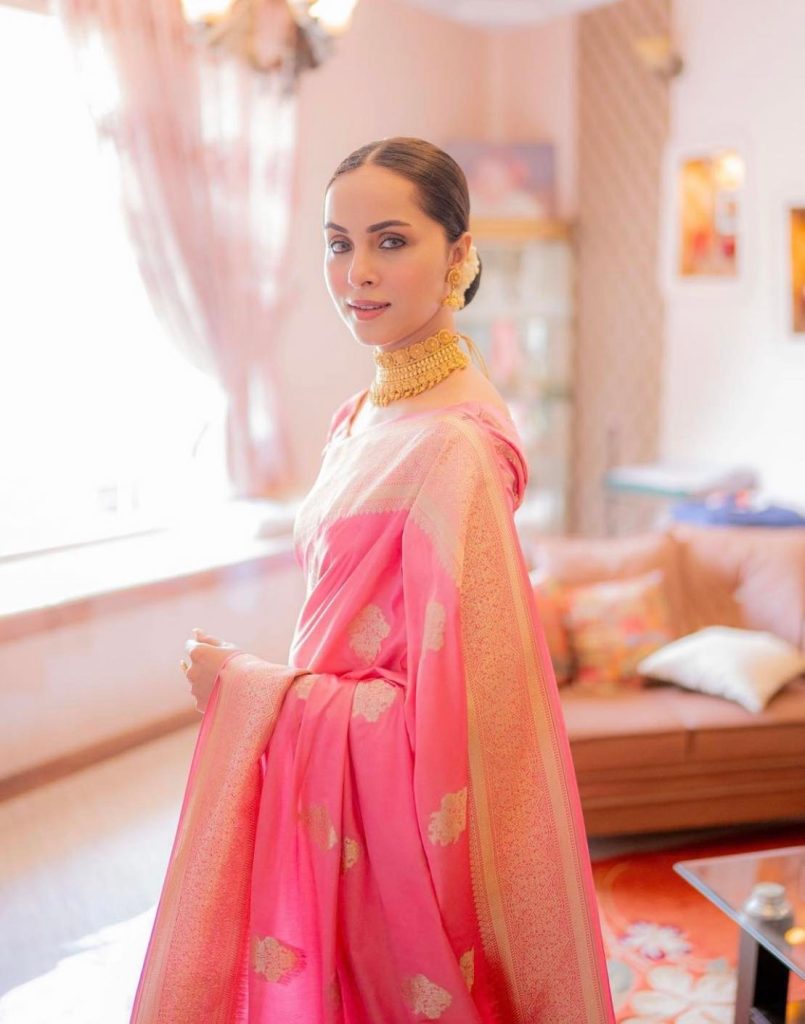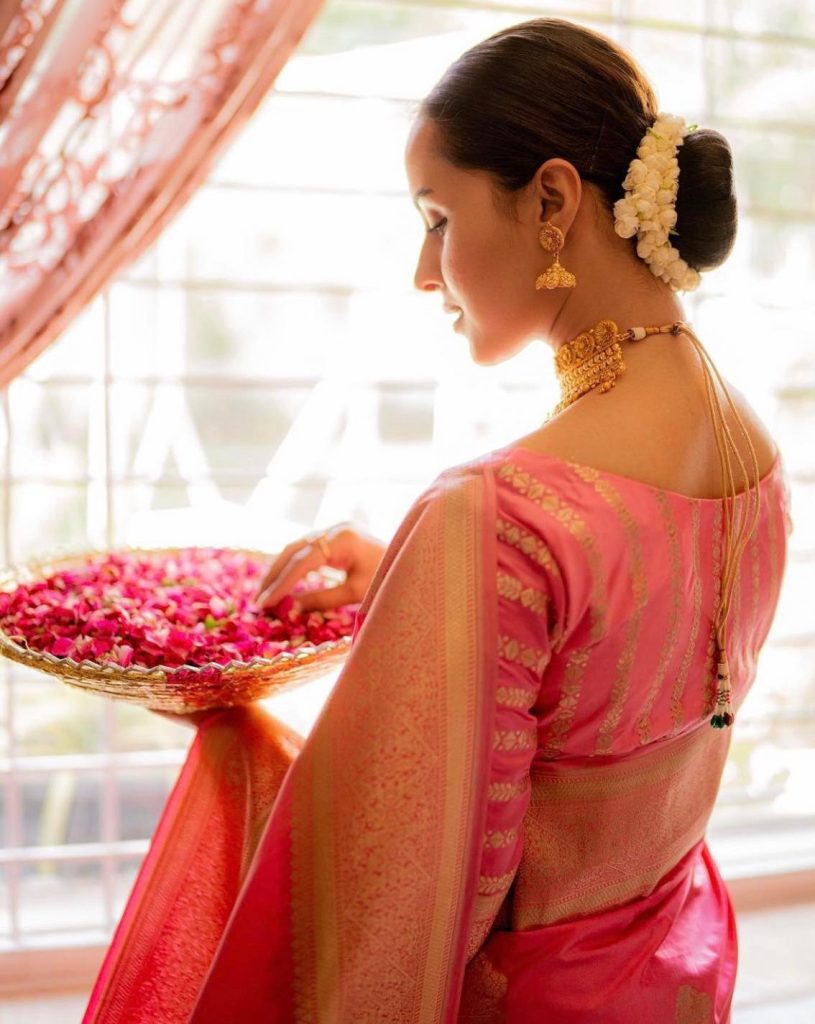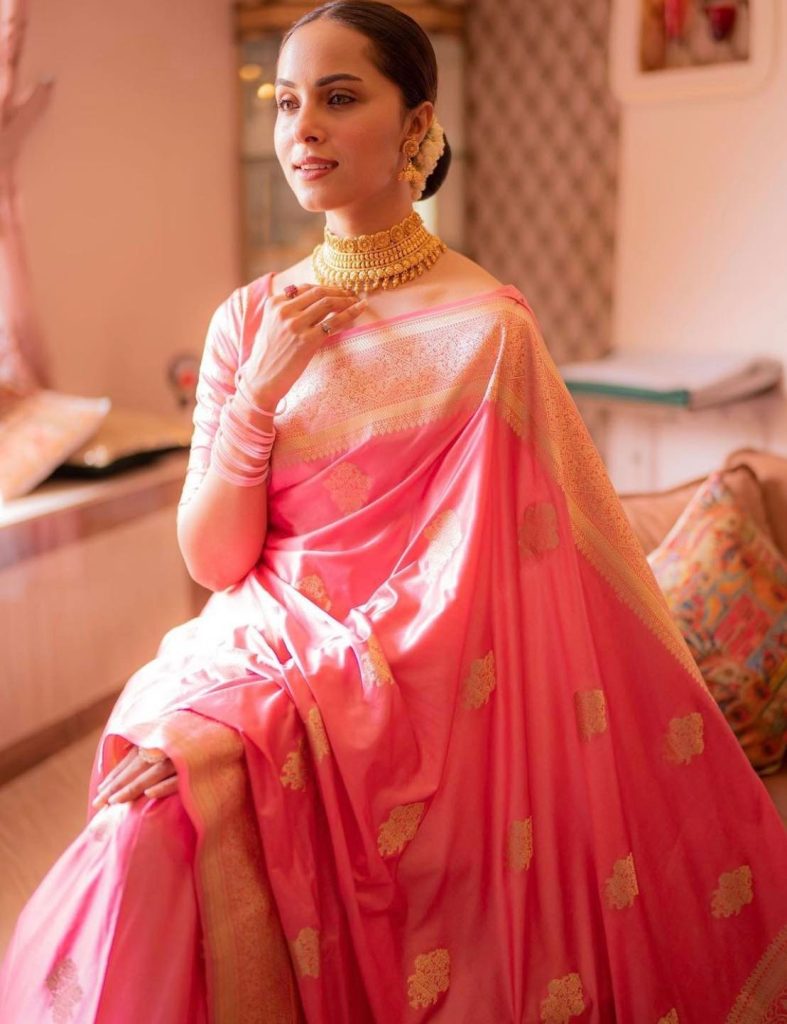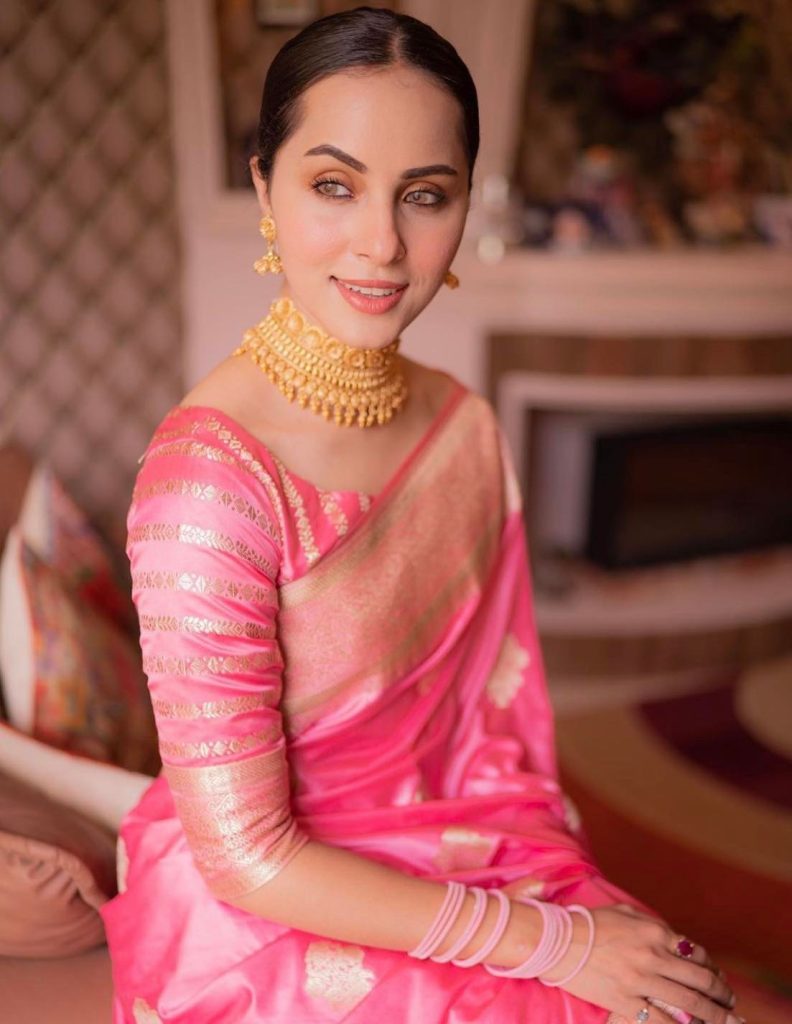 Kubra Khan
Kubra Khan wished her fans a Happy Eid in the sweetest way and treated them with these beautiful pictures on the occasion. She wore the most stunning outfit designed by Sadaf Fawad Khan and completed her look with traditional earrings. She got her make-up done by Danish Bukhari who made sure that Kubra's natural beauty shines through this make-up look.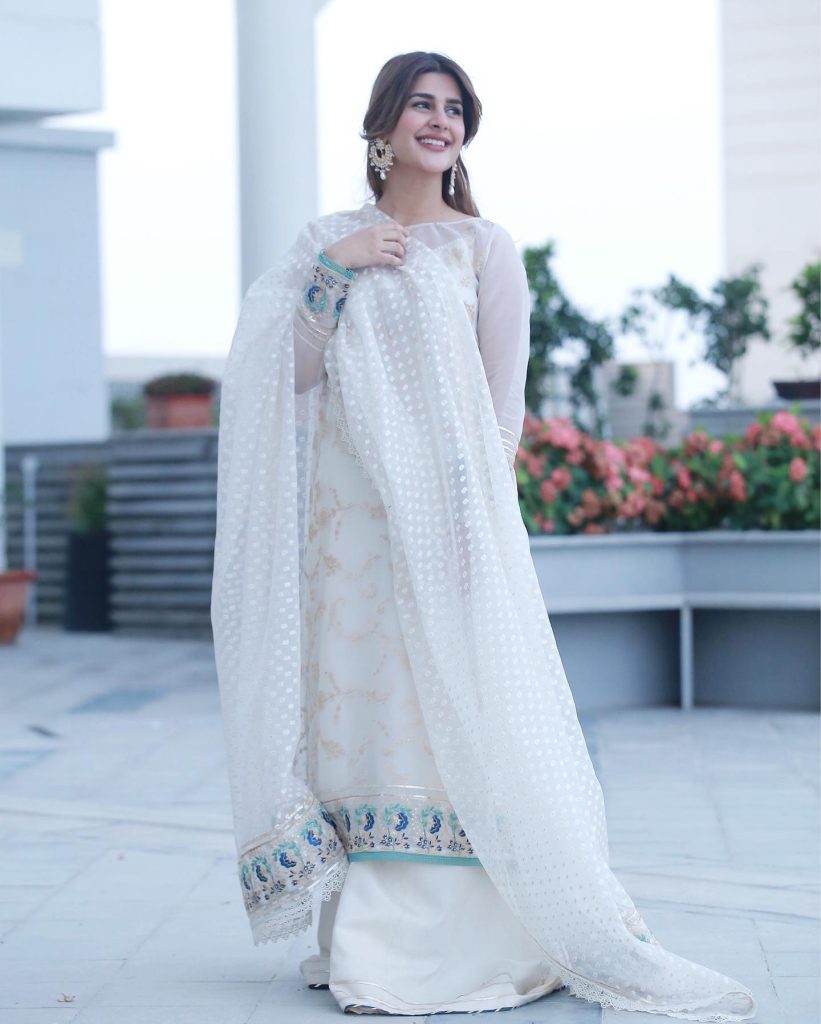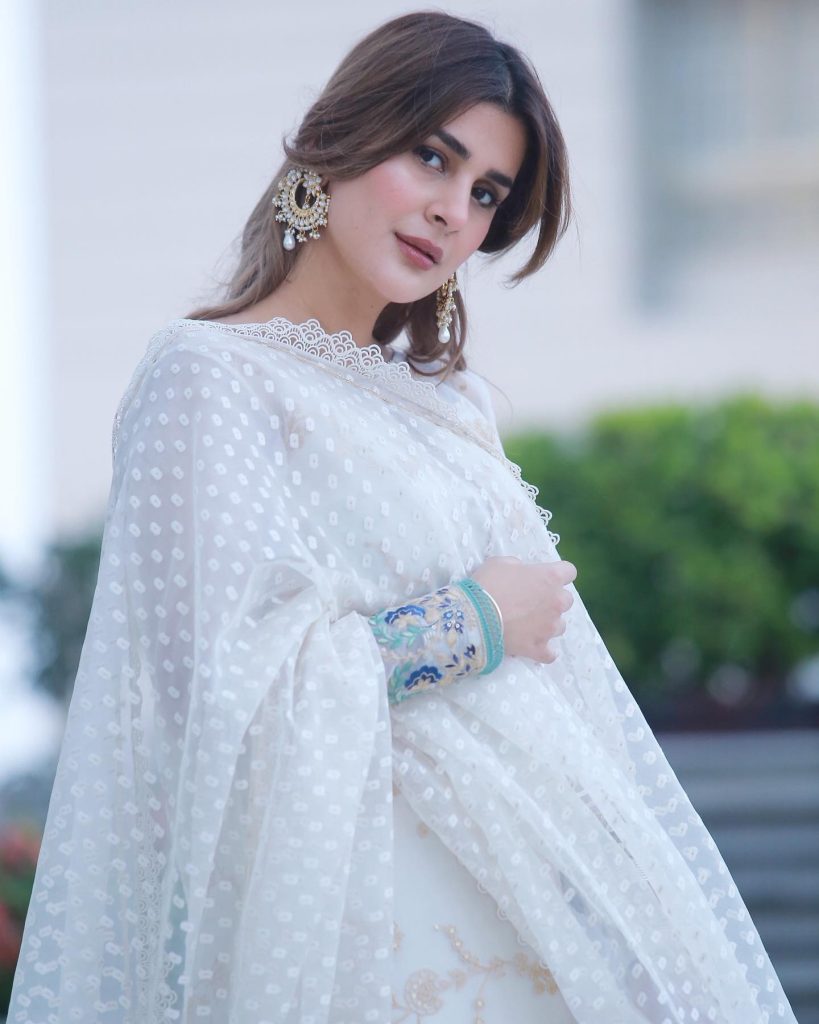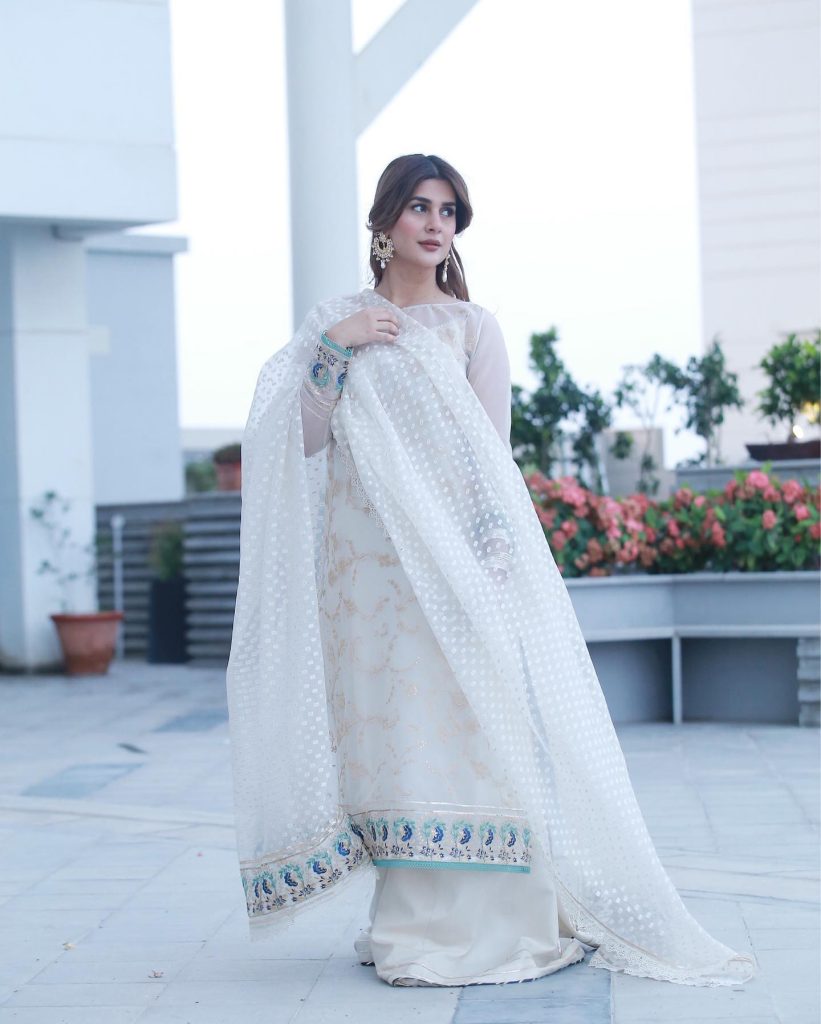 Fatima Effendi
Fatima Effendi is beautiful and talented. She is also loved by fans because of her off-screen personality. She believes in keeping things real on social media as well. This Eid on the first day, she was seen wearing a beautiful ice blue outfit with delicate white embroidery. The color looked great on her and her make-up made her look even more gorgeous.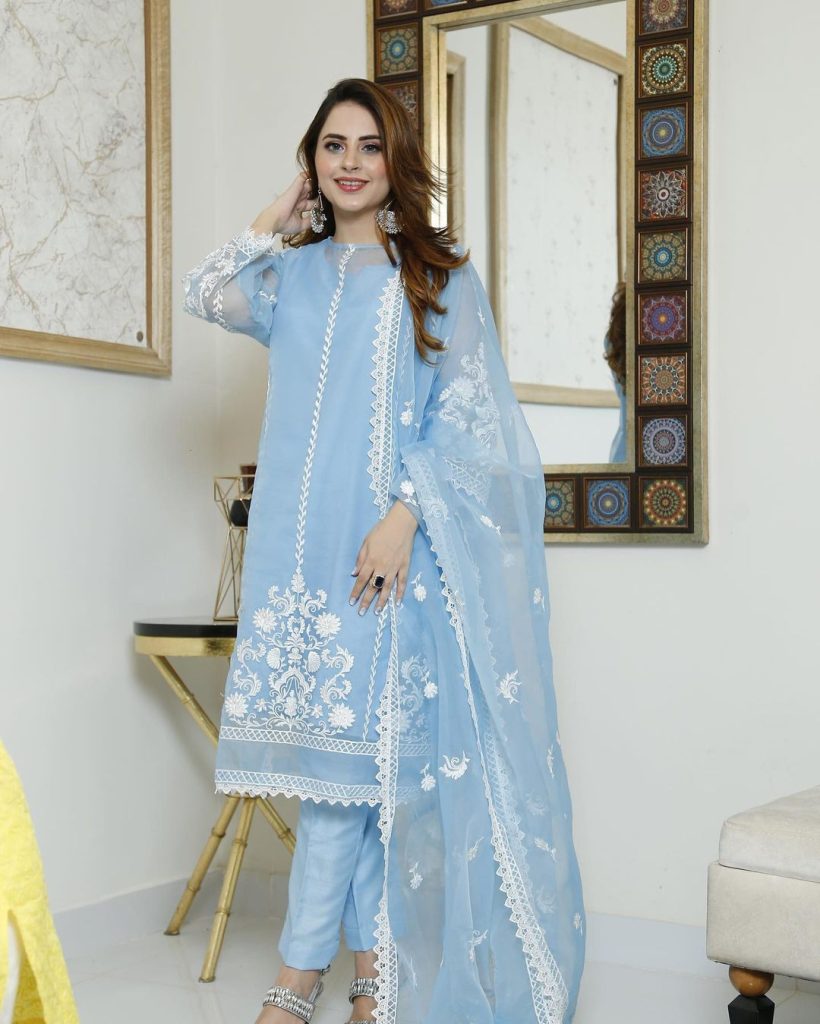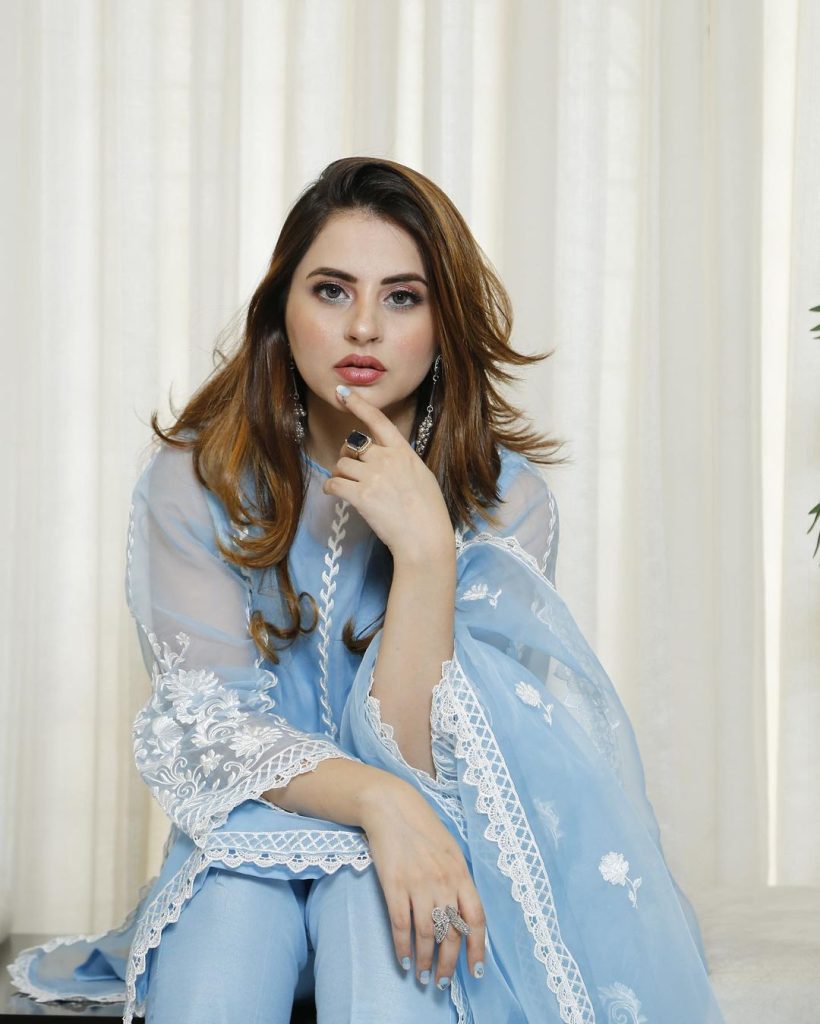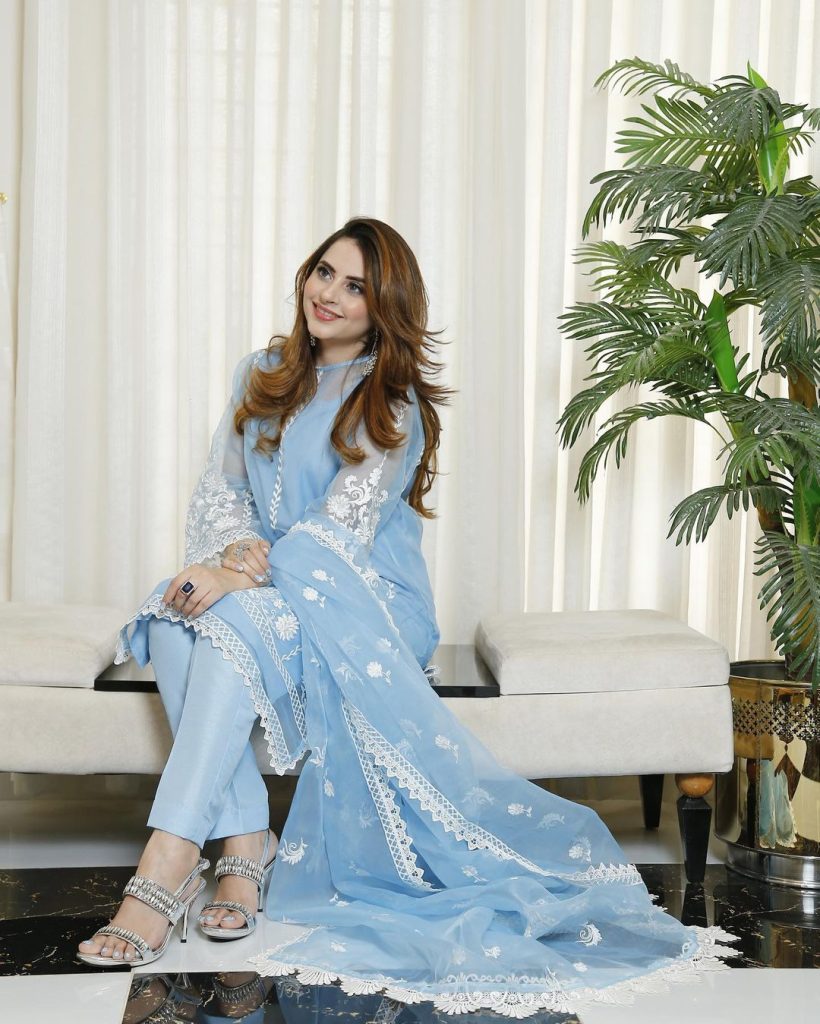 Which celebrity's dressing and look did you like the most on the first day of Eid? Share your views.