Just like every other year, this year too Pakistani celebrities celebrated Eid-ul-Adha with tons of excitement even though some of these celebrities have been constantly busy with their projects and some of them were not even in Pakistan on Eid day. Eid of course isn't all about getting dressed up but looking your best is part of the festivities since it is also a good way to show just how special this occasion is for Muslims. Most of these celebrities wore trendy traditional outfits which were well-suited for this festive and joyous occasion. This year most of the celebrities put in extra effort to not only look their best but also to make sure that they had professional photographers at their disposal to get the perfect pictures taken. Interestingly enough the enthusiasm of these celebrities on this Eid outshone when compared to previous years.
Although all the celebrities looked wonderful on Eid, there were some who stood out more than others. Here is a list of the best-dressed celebrities on Eid-ul-Adha.
[lwptoc]
Ayeza Khan
Ayeza Khan always makes sure that she looks her best no matter what occasion it is. She is someone who slays in both Western and Eastern outfits. On this particular Eid, she was seen wearing two different outfits and carrying two different looks on the first day of Eid. We liked the outfit she wore in the morning more than the one she wore later on. In the morning she wore a beautiful white angrakha designed by Ansab Jahangir. The lace detailed printed dupatta in pastel colors made this outfit look even more appealing. Ayeza Khan was seen wearing sunglasses for the photoshoot which was a perfect look for a daytime look. She also wore ethnic jewelry which was designed to perfection to complete the look. She also twinned with her beautiful daughter in the morning.
Maya Ali
Maya Ali is another celebrity who always makes her fans look forward to her Eid looks. No one carries a traditional look better than her and she always makes an effort to ensure that all the pictures she posts add to the charm of her overall look. Maya Ali recently started her own clothing line and this year she was seen wearing an intricately designed outfit from her own collection. Maya Ali also made sure that her make-up and styling went well with the overall look.
Iqra Aziz
Mommy-to-be Iqra Aziz made sure that she looked elegant and stylish this Eid. She looks attractive nowadays since she aces the perfect make-up look every single time. Iqra Aziz wore a delicately embroidered pishwas with chooridar in subtle shades of pink and green designed by Kanwal Malik. She tired her hair in a neat bun and went for a simple make-up look. Like many other celebrities, she completed her look with jhumkas.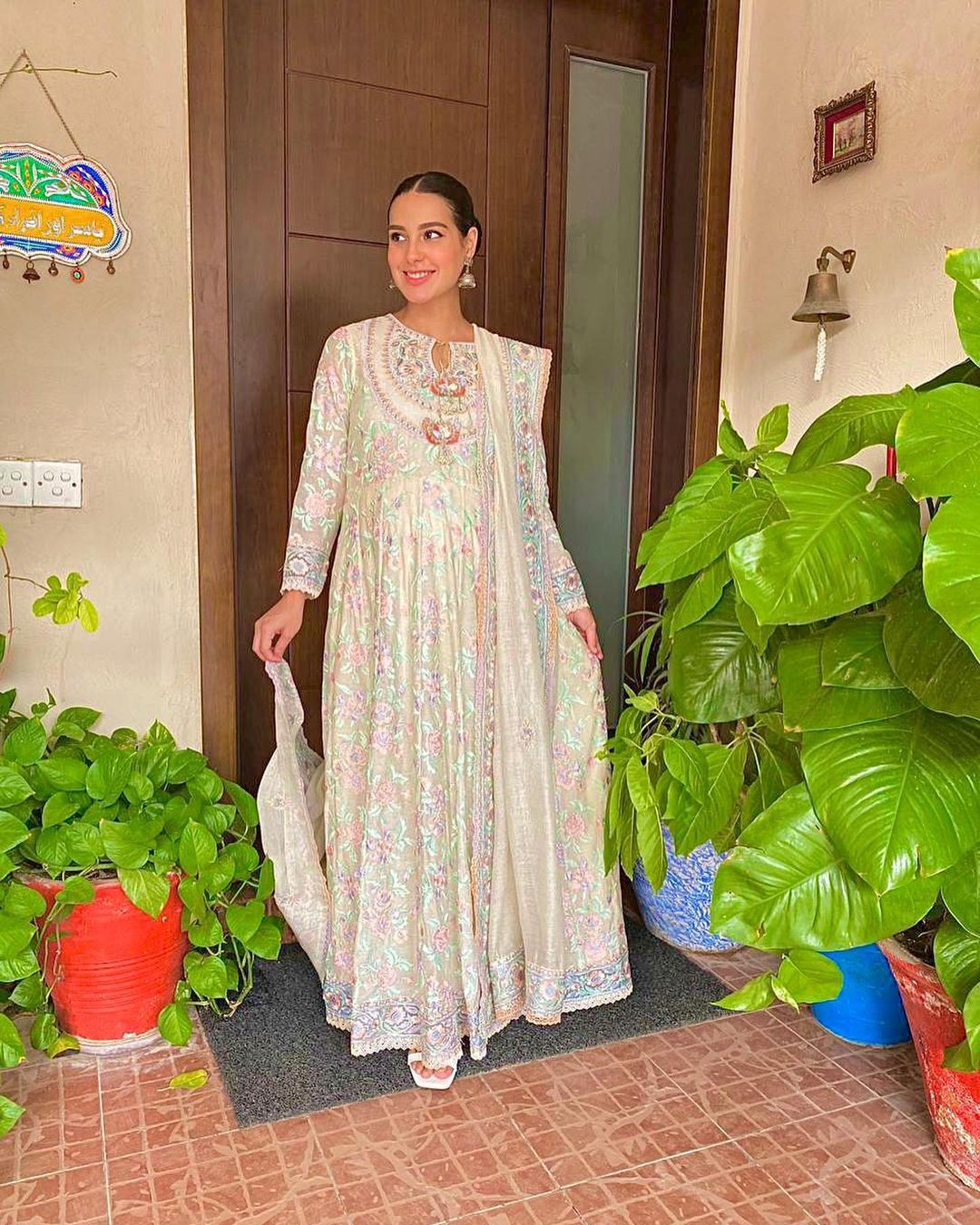 Sarah Khan
Sarah Khan is another celebrity who mostly gets it right whenever she puts together a formal look. Sarah Khan's make-up and the outfit she wore for the first day of Eid was a stunner. It was a beautiful mix of white and intricate embroidery in red and pastel colors. The printed organza dupatta made this outfit even more appealing. Sarah Khan tied her hair in a bun and sported a nude and glowy make-up look that looked great on her.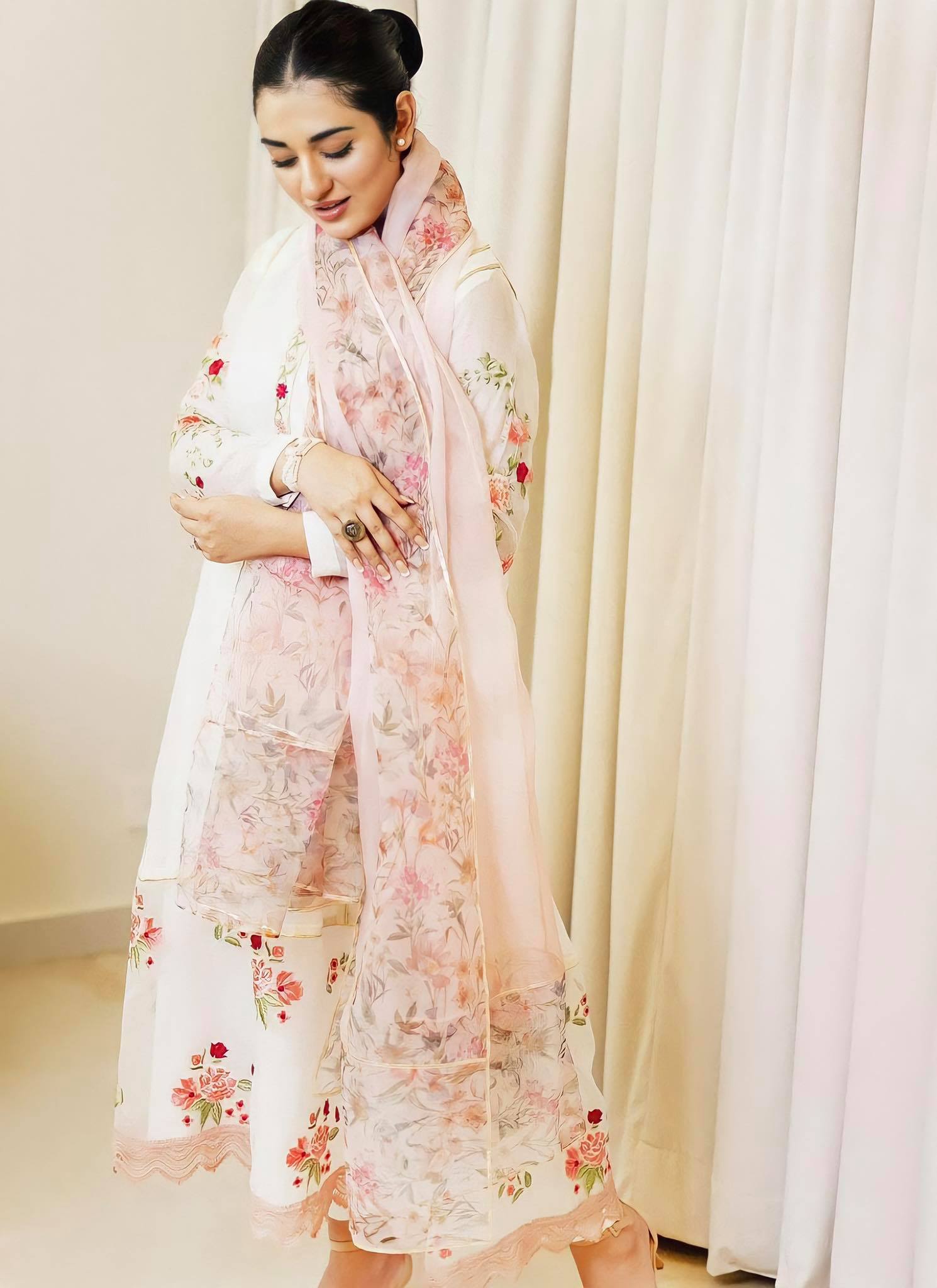 Saba Qamar
Saba Qamar has lately started making an effort to put together some of the best Eid looks. This time around she chose to wear a stunning tangerine yellow churidar and kameez designed by the ace designer Mohsin Ranjha. Like always, Saba kept her styling and make-up simple. She wore traditional earrings which matched her outfit. Saba gave mayo bride vibes in this outfit which was definitely fit for the occasion.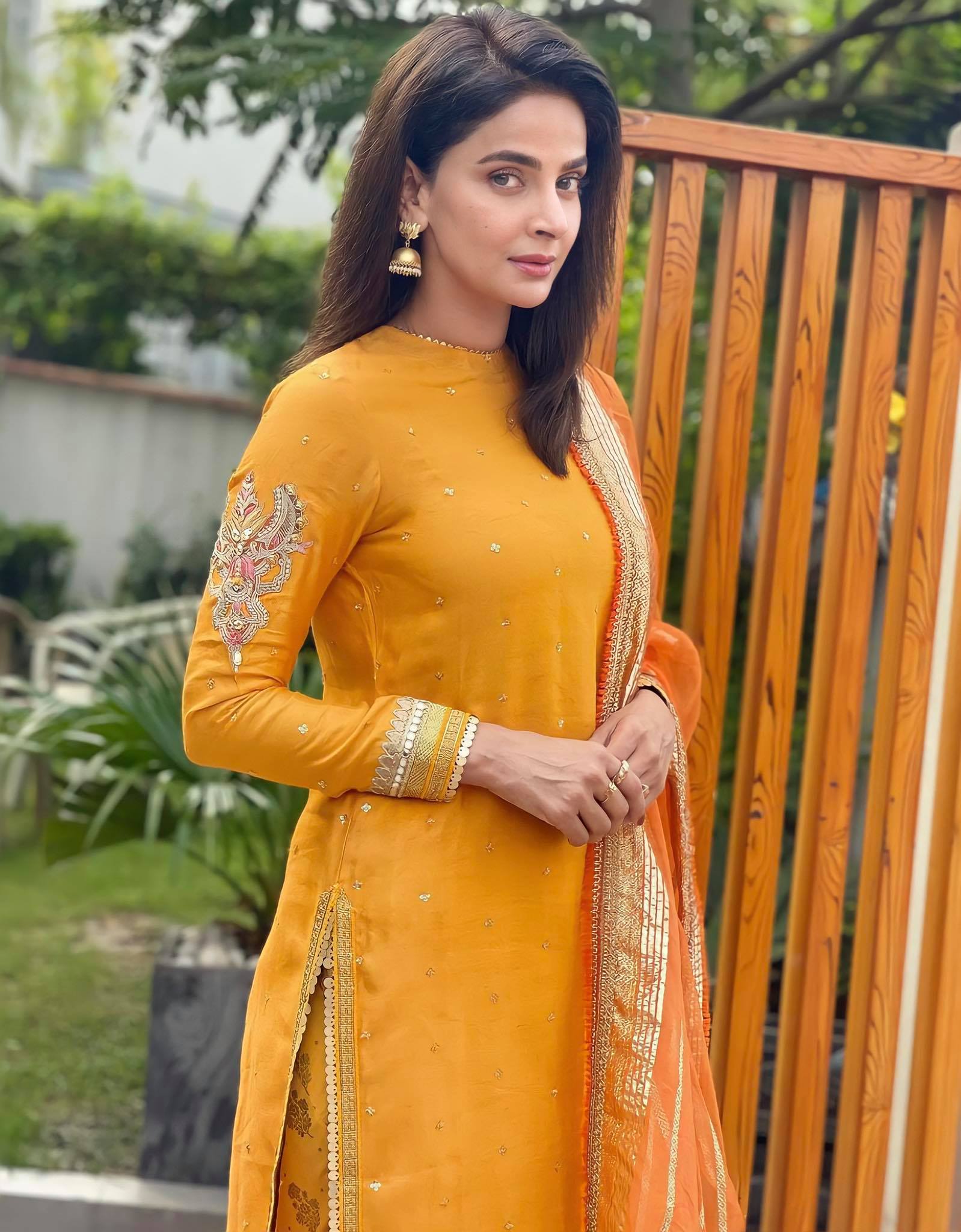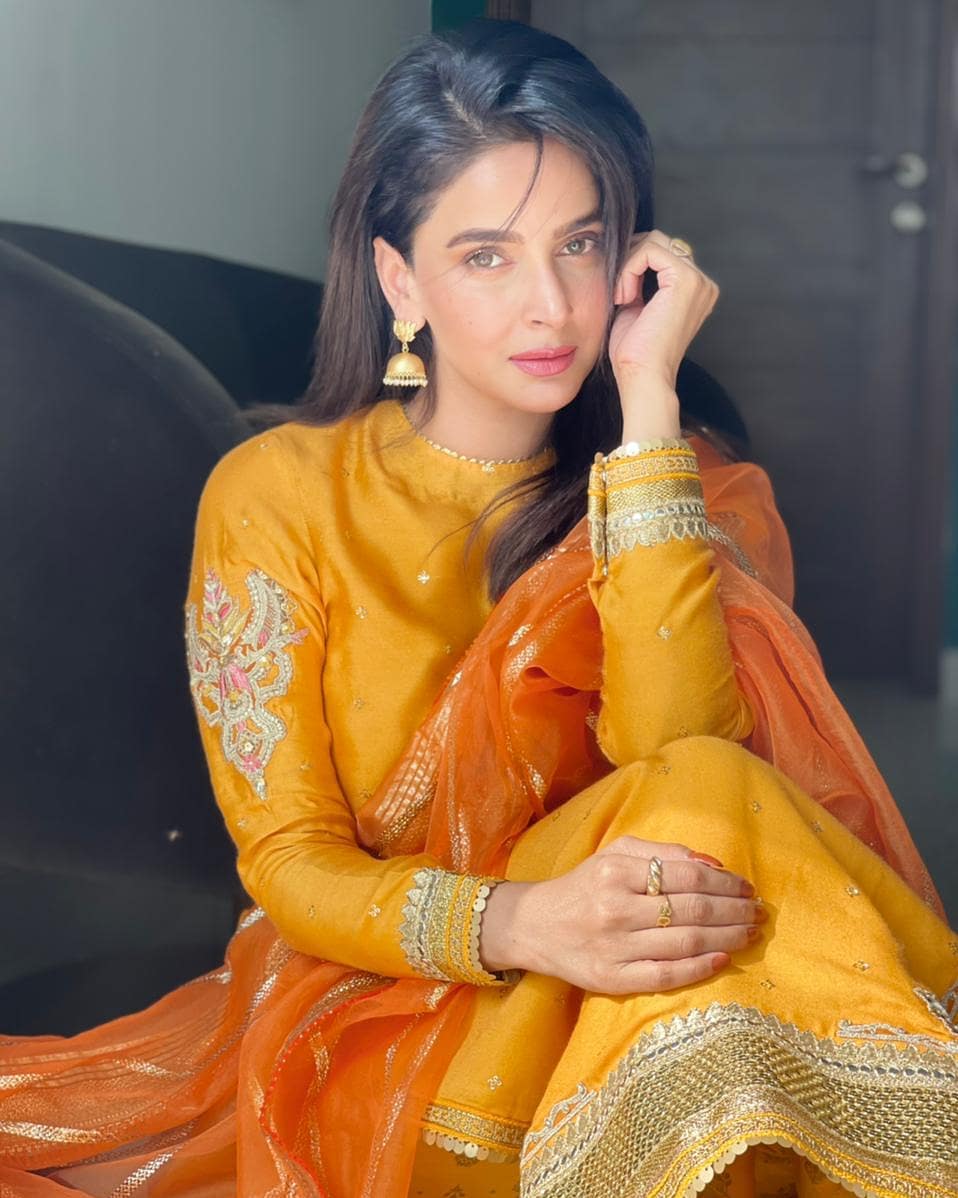 Aymen Saleem
Aymen Saleem has won many fans over in a short span of time. She is liked because of her sense of style just as much as she is for her organic acting. This was Aymen's second Eid after gaining popularity and she made sure that her overall look was nothing short of a treat for her fans. Aymen wore a classic summer luxury prêt ensemble from Mohsin Naveed Ranjha's latest collection. It was a mix of block print and tilla work intricately mixed together along with embroidery with resham thread. This kameez gharara is a perfect example of how a cotton outfit can be just as festive as a chiffon or silk one. The embroidered kotti on top makes it look even more stylish. We also love how Aymen carried and accessorized this outfit.
Mawra Hocane
This year Mawra Hocane wore an elegantly designed outfit by the leading designer Faiza Saqlain who has created the best outfits for the top celebrities in Pakistan. This teal blue outfit encompassed the essence of this joyful occasion. Mawra Hocane completed this traditional look with some basic jewelry which is considered ideal for such occasions. We also love the colorful bangles and flower garlands.
Zhalay Sarhadi
Zhalay Sarhadi made sure that she looked traditionally stylish on this Eid. She wore this beautiful ensemble designed by Anzeela Imtiaz. This dress had a subtle splash of color like no other. She also made a special effort to ensure that her pictures came out just as attractive as her overall look.
Rabab Hashim
Rabab Hashim always looks graceful and stylish on every festive occasion. This Eid she wore a black and gold formal outfit designed by Asim Jofa. She tied her hair in a loose bun and wore gold earrings. Her smokey eye and nude lips went so well with her dress.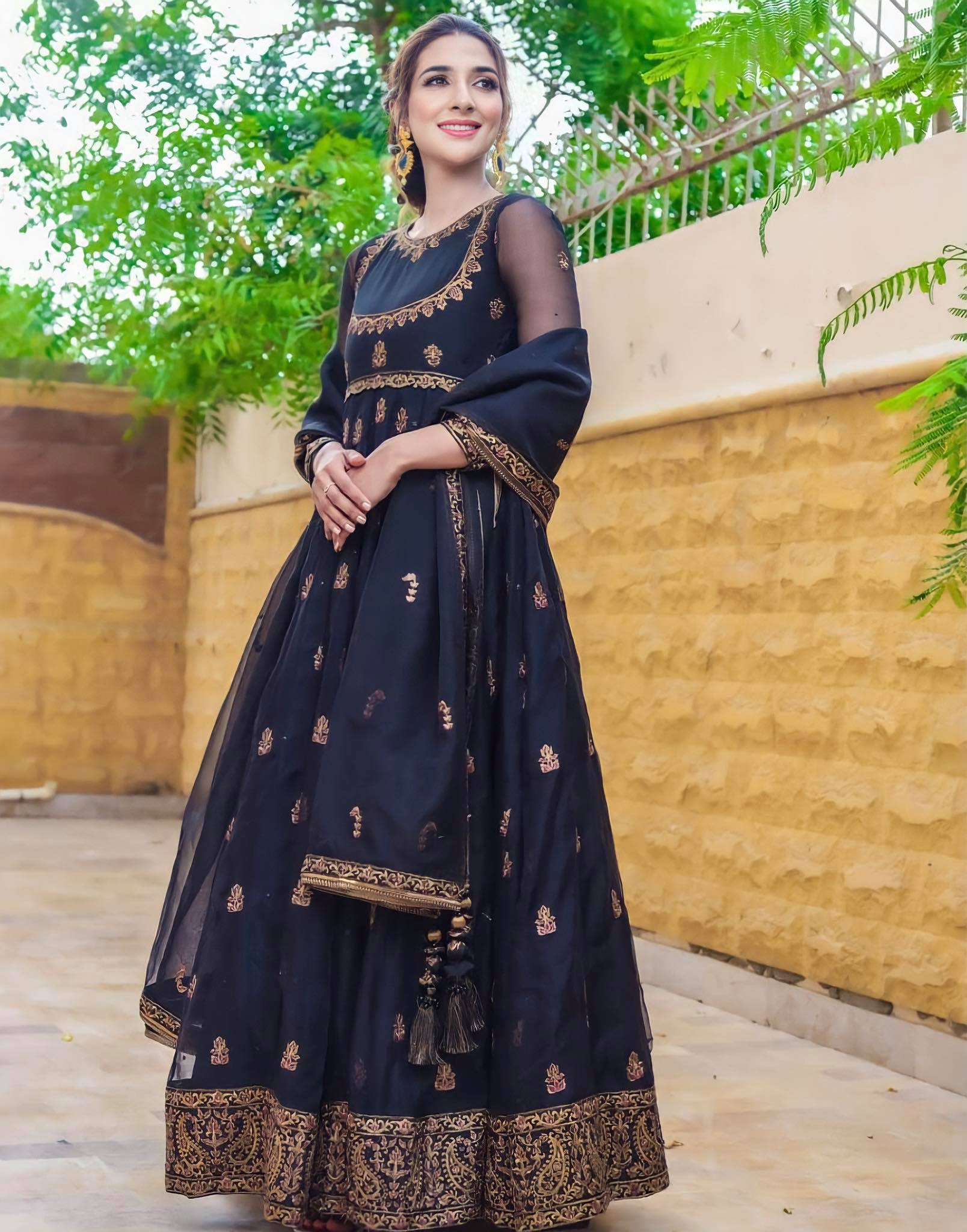 Momal Sheikh
This year Momal Sheikh was also one of those celebrities who looked gorgeous on Eid. Momal Sheikh wore a simple yet elegant outfit and paired it with high heels. She twinned with her cute daughter; both the mother and daughter looked perfect for the occasion. Her outfit was designed by Amna Arshad who is known for her customized outfits. The details at the back had Momal and her daughter's name on them. Momal got her styling and make-up done from Nabila Salon. She also hired a professional photographer to take the perfect shots for the occasion.
Amar Khan
Amar Khan kept it simple and stylish this Eid al Azha with the look that she chose. This entire look suggested that she not only felt pretty but looked absolutely comfortable too. She picked a creation of Farah Talib Aziz, a gorgeous white pishwas with a dainty flower motif design element to the dupatta and the bustier. Amar Khan carried this silhouette beautifully and sleek silky hair with effortless makeup look turned her into a vision to behold. The minimalist jewelry choices also added a touch of elegance to this look.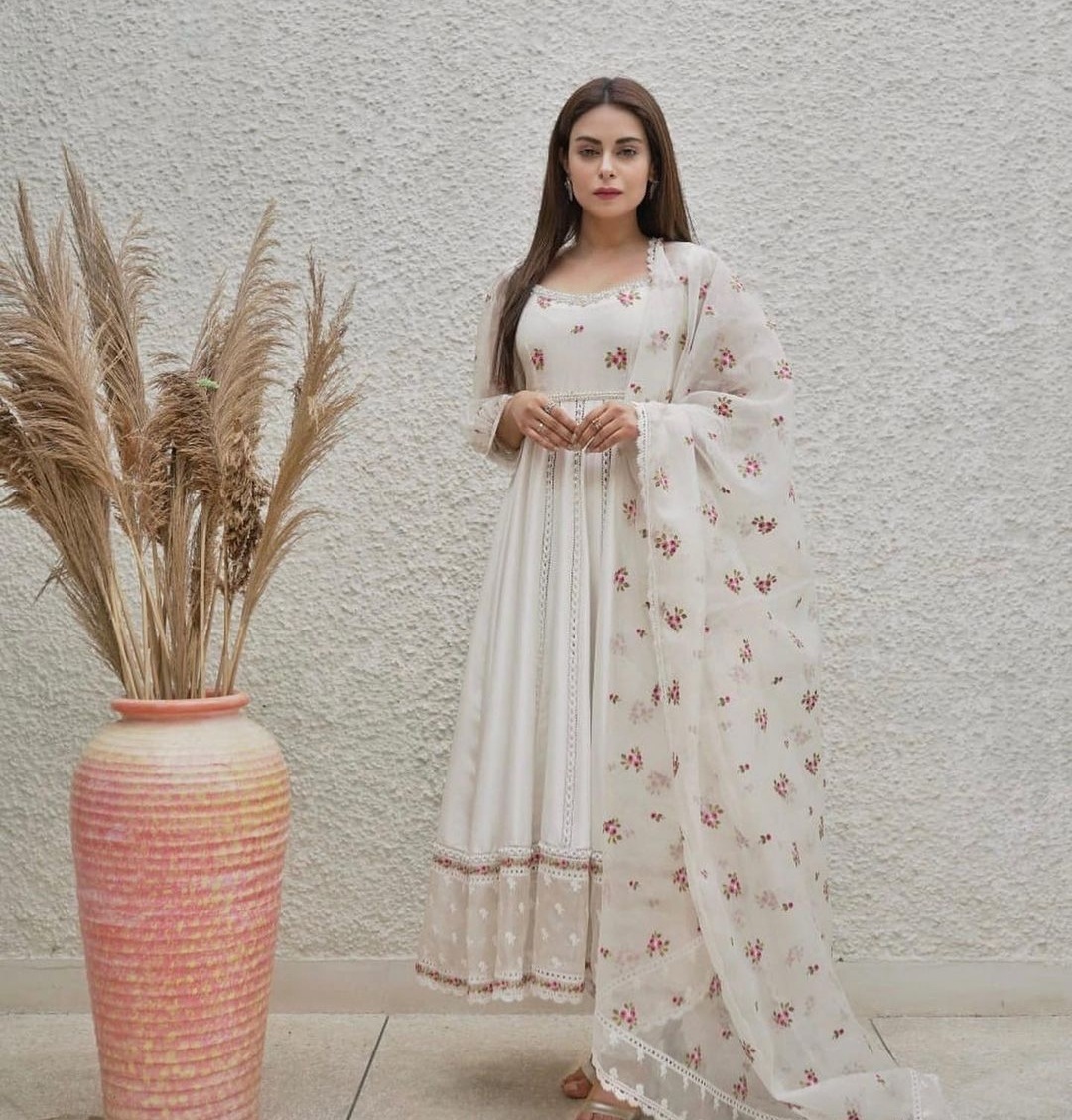 Yumna Zaidi
Yumna Zaidi is always known for bringing in her personal style statement into every look that she carries. This Eid, she decided to go for a bright yellow and turquoise combo salwar kameez, which screamed festivity in its entirety. The gota border on her dupatta brought in the traditional charm to this dress. Yumna went all out with heavy traditional jewelry pieces and colorful bangles and completed the look with golden heels. A very effortlessly put-together look that is stunning and perfect for an Eid festival.
Ayesha Omar
Ayesha Omar is known for making any look work, therefore it was imperative that she had to be one of the best-dressed celebrities this Eid. Ayesha Omar kept it simple and stylish with this beautiful and heavily embroidered blue and white suit. Stilettos, straight hair, stunning pair of earrings, and a fresh makeup look made her Eid look complete and simply stunning. This goes to show that going for a traditional embroidered outfit can never be the wrong choice.
Zara Noor Abbas
Zara Noor Abbas kept it simple, stunning, and effortless. Her look is perfect for the scorching summer Eid but what makes it even better is the outfit picked lovingly by her mother Asma Abbas for her darling daughter. Zara Noor Abbas not only carried this beautiful pink salwar kameez with grace, she also looked radiant, making it obvious that this happens to be her color. A sleek bun, heavy earrings and a simple eyeliner with a bright pink lip is a perfect way to complete this look.
Sanam Chauhdry
Sanam Chauhdry amped it all up by wearing this gorgeous creation of Baroque. It was a solid-colored flared dress but what took it to another level was the dupatta which had so many design elements and intricate details. Sanam Chauhdry had a fun photoshoot with her husband Somee Chauhan and their color-coordinated outfits were absolutely perfect too. Sanam kept her styling effortless with straight hair, a simple makeup look, and a pair of dainty earrings. However, she didn't compromise on the bangles and made sure to wear full sets on both wrists. Her mehndi design was minimalistic yet gorgeous too.
Sumbul Iqbal
Sumbul Iqbal is one of those celebrities who makes sure to serve one Eid look after another. Therefore this time around, yet again her Eid look was a winner. A very stylish yet ethnic outfit that she wore making quite a style statement out of it. Solid-colored deep red trousers and flared shirt with a belt and stunning dupatta. Her own styling was also quite elaborate with her hair perfectly curled and makeup on fleek. Sumbul Iqbal definitely was one of the best-dressed celebrities this Eid.
Rabia Butt
It won't be wrong to say that it will definitely take a while before people will stop seeing Rabia as their beloved Nargis from Pehli Si Mohabbat. This Eid, Rabia looked like she had just walked out from the set of her drama and was still channeling Nargis that we all have come to love and adore. She looked stunning in this beautiful flared white chiffon dress by designer Mahgul. The golden dupatta added that festive charm to the outfit. Rabia Butt's styling was perfect too with wavy braided hair, a thick bold eyeliner, simple mehndi design and overall beautiful makeup look.
Hania Aamir
Vibrant, fresh, and colorful; this is how this Eid look of Hania Amir can be described. Hania Amir wore a beautiful bright red and silver striped shirt with traditional embroidery and embellishment on it. She also carried a colorful dupatta and matched it with her set of bangles. She wore her hair in a natural state and went for a fresh glowy minimal makeup look. She wore a pair of jhumkas and completed her look effortlessly. Hania Amir's look was refreshing and unique.
Zubab Rana
Zubab Rana looked ethereal in this white and pink ensemble. Her thick luscious hair stood out even more against the white shirt, adding more to her beauty. Zubab's makeup look was matte done with brown tones. She wore a traditional necklace with a small pair of jhumkas. She matched it with the silver embellishment that was the design element on her dupatta. This was a very elegant and gorgeous look carried by her this Eid.
Kinza Hashmi
Kinza Hashmi wore this gorgeous blue heavily embroidered outfit this Eid and it is safe to say this is definitely her color. Kinza Hashmi kept her styling absolutely simple with a no-makeup look and straight hair and only a pair of earrings, which goes to show that she wanted this dress to do all the talking. She wore a pair of white heels and completed her look just like that. Kinza's look shows that simple can be super stunning too.
This completes the list of best-dressed celebrities that we came across this Eid. Which of these dresses did you like the most? Feel free to share your opinion in the comment section below.