Ohkay so, Scripted by Farhat Ishtiyaq, Directed by Shehzad Kashmiri & Produced by Momina Duraid, the amazing Pakistani Movie named Bin Roye was released on Eid-ul-Fitr & I must say, I was pleasantly surprised with the quality & the magnitude with which this film was shot, executed & brought in front of us. To be honest, I really can't promise if I'd be able to keep the story to myself because I really know I will have a hard time in keeping things while reviewing Bin Roye because I want to discuss each & everything in detail, therefore, all the readers are being warned about the unintentional spoiler alerts in advance. :)
The story starts off on a note where Saba (Mahira Khan), our happy-go-lucky, full-of-life & hopeless romantic heroine is madly in love with her first cousin Irtiza (Humayun Saeed). Irtiza has lost his parents & lives with his paternal uncle & aunt; Shafiq (Javed Sheikh) & Maliha (Zeba Bakhtiyar), who are also Saba's parents, therefore both Saba & Irtiza share a very strong & candid relationship because they have always been best of friends with each other right from their childhood days. For Saba, her life revolves around Irtiza because he is the only man she has ever been in love with, he is the only man she relies on emotionally, he is the only person she thinks she understands the most, but sadly she has never gotten a hint of that sort from him ever. For Saba, it has always been a done deal that Irtiza belongs to her; therefore she never can foresee that things can also go against her imagination & plans ever.
Irtiza decides to go to the US for 2 years & there comes the character of Saman (Armeena Khan) in the picture. Saman happens to be daughter of Shafiq & Maliha but Maliha herself gives away her daughter to her brother & sister in law right after she is born. Many a times, she often thinks of asking her brother to send Saman back to her, but Shafiq always reminds her of the promise she made & the decision she took herself. Shafiq does understand that his wife misses their daughter, but he doesn't want to put any pressure on Saman's adoptive parents because he knows this will discomfort their whole family especially Saman.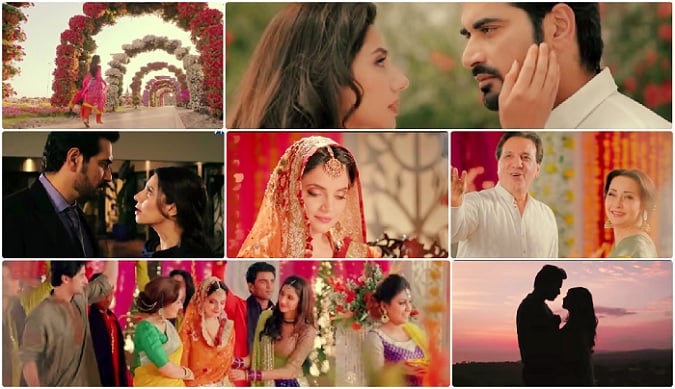 Saba only allows Irtiza to leave for 2 years & that is the time when her love for him grows even stronger because the idea of her marriage with Irtiza keeps her motivated. They stay in contact throughout & that is the time when Saba feels the need to mould herself into someone Irtiza will appreciate even more. Irtiza comes across Saman & that is when he feels attracted to her. Even though Saba & Saman happen to be sisters, they are poles apart in everything, starting from their natures, to their characters, to their personalities, to their styling & even their auras & I must commend the stylist for paying an attention to detail as far as their styling was concerned because the way both the girls dressed up depicted their backgrounds perfectly. Saman is someone who is always very calm & collected; she is intelligent, has high standards & always maintains her dignity in whatever she does. Irtiza eventually falls in love with Saman because he deems her as an ideal partner.
Irtiza returns to Pakistan just to find out that Saman's parents have died in a plane crash. He brings her back to Pakistan & that is when Saman tells her mother that she found out a long time back that she was Maliha's daughter. Saba welcomes Saman wholeheartedly because she feels she has found a new friend in her, but her affection soon turns into hatred when she finds out that Irtiza is in love with Saman & they both are planning to get married. Saba's Daadi (Azra Masoor) requests her to forgive Irtiza because he couldn't fall in love with her & that is when Saba's life changes completely.
Irtiza & Saman get to spend a perfect life, but their happiness ends up being short lived because Saman dies in a tragic road accident leaving her son Maaz behind. Saba's grandmother & parents suggest that Irtiza should get married to Saba but that is when Saba starts misunderstanding him questioning whether Saman's death has even affected him or not. Saba ends up making an irrational decision of getting married to an already married man, but that is when her fiancé (Junaid Khan) tells Irtiza about how Saba is aware of each & everything, which then forces Irtiza to do some thinking as to why Saba wants to fall into a deep pit herself.
All this happens when Saba's hatred for Saman turns into guilt & starts haunting her because this is when it occurs to her that in a moment of oblivion, she prayed & wished for her sister; Saman's death. This is the time when it dawns on Saba that she was so negatively driven that she ended up being the reason why her sister isn't alive anymore. Irtiza gets married to Saba because he wants to save her, but Saba, being guilt stricken misunderstands his intentions too. I am sure all you guys will enjoy the rollercoaster ride of emotions because this movie surely takes you on a journey. How Saba & Irtiza find their happy ending is what you guys have to see this movie for. :)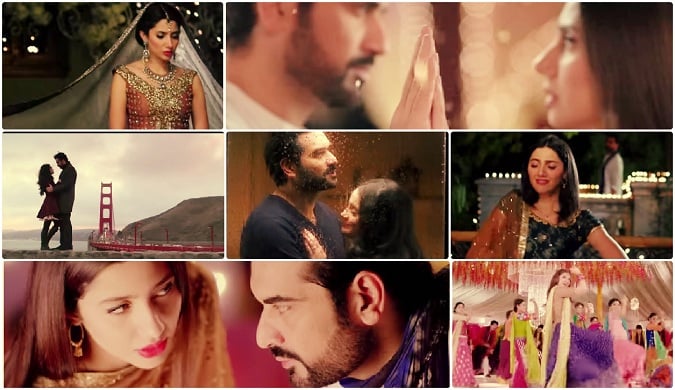 There were just so many positives in this movie that I thoroughly enjoyed watching it. I must say it was a time well spent with a perfect direction, perfect script, perfect acting, perfect locations, perfect sets, perfect songs, perfect costumes, perfect makeup & perfect dresses. You for sure will fall in love with the songs & background scores because they added charm to the whole movie starting from the beginning right till the end. I loved the choreography of Ballay Ballay song; Adeel Hussain paired & danced really well with Mahira Khan & made that song a lot more enjoyable for sure. Mahira Khan looked absolutely stunning & I loved her dress in that song especially. I must say the song titled Mahi has to be my favorite & oh, any project of HUM TV can never be complete if Abida Parveen doesn't grace it with her voice, & that is why the song sung by her was a masterstroke because it complimented all the situations flawlessly.
I am so so so glad that both the actresses Mahira & Armeena chose a no-makeup/natural look because it really enhanced the aspect of reality. Just like how we see in our dramas, they proved it once again that you don't have to be all dolled up even if you're in a movie & that is why I really am proud of both Mahira & Armeena for relying solely on their acting because by the end of the day, that is what matters the most. Humayun Saeed was phenomenal as Irtiza & he really lifted the film with his presence. He really gave a perfect face to Irtiza's character & his acting was actually flawless & when I say flawless, I actually mean, flawless as in on fleek! I must say, all the actors did a brilliant job because the chemistry between the lead pairs was amazing. Humayun Saeed looked graceful with Armeena Khan & his chemistry with Mahira Khan was a treat in its own. Mahira Khan was brilliant as Saba, it really felt like she embraced her character as if it was tailored for her. I really must say that Mahira Khan has evolved so much as an actor that she really doesn't let you take your eyes off her, her playful & expressive eyes really make you fall in love with her acting. Armeena Khan was sweet & I can't emphasize enough on how soothing her voice is. She fitted the role of Saman perfectly too because even if she had a smaller role in comparison to Mahira Khan, she made such an impact within what she had to work with that I actually got overwhelmed at her accident scene; which by the way was an example of a perfect & realistic direction for sure. I must say Shehzad Kashmiri really brought out the best in all the actors but there were quite a few scenes that required top-notch acting & oh boy, Mahira Khan nailed it without overdoing anything. Zeba Bakhtiyar just lights up the whole screen & I am so glad she was chosen to play the role of Saba's mother. Azra Masoor as usual was in her comfort zone for which she nailed the character of Daadi once again & it goes without saying that Javed Sheikh is the favorite father of our industry. ;)
I must say that Shehzad Kashmiri must take a bow for all the hard work he has put into this film because it really paid off. The moment the movie starts, all that you notice is the attention to detail & the perfection with which each & every frame has been put together. The love that the team of Momina Duraid Productions put in this project was so evident because to see all the drama actors who have one way or the other stayed in association with HUM TV Network were somehow made a part of this film. It was so good to see Adeel Hussain, Faiza Hassan, Junaid Khan, Zaheen Tahira along with other actors in guest appearances too. Somehow, this movie really highlighted the love HUM TV Family has for each other & I really appreciate that the producers brought all these actors & also the directors like Haissan Hussain & Surmed Sultan Khoosat under their banner together because it was more like a tribute to them as well for working with HUM TV for so long. I really think this gesture sheds a light on how hard the whole team of Bin Roye has worked because they packed it with a lot of love & gifted it to their viewers on Eid which actually was a perfect treat for HUM TV's loyal fans. :)
I really feel that Momina Duraid Productions have set the bar really high with Bin Roye & I wish them good luck for all of their future endeavors. Once again, I thank the whole team of Bin Roye for making this movie such a visual treat & a complete entertainment package & I thank Humayun Saeed, Mahira Khan & Armeena Khan for giving their 100% to Bin Roye because I am sure, no one else could've pulled it off like this terrific trio did. :)
I highly highly recommend Bin Roye to all the readers & oh, just in case I wasn't clear, this for sure is a big screen movie. :) Those who've watched it, pour in your comments please as I can't wait to hear from you guys too. :)
Keep Supporting,
Cheers,
Zahra Mirza.
PS: Just a random thought, I really think HUM TV should have delayed Alvida's broadcast or should've kept it on hold till Bin Roye's release because I remember when Alvida started airing, quite a few comments suggested that the story is similar to Bin Roye & yes, that is true. As I watched Bin Roye, it actually did remind me of Alvida to an extent where I already knew what was going to happen. Obviously, both the projects are completely different but the similar story line does distract you a bit & oh just on a side note, first 3 – 5 minutes of the movie might make you feel that everything's a bit too forced but just after that, the real magic begins, so just hang in there. ;) Happy Viewing! :)