Sadaf Kanwal recently became a part of news in Pakistani entertainment fraternity after the sneak peak of her item song 'Kaif O Suroor' of Na Maloom Afrad went viral. Not only did she managed to flutter our hearts, but the proud actress has also made it across the border.
After seeing the trailer, an Indian publication 'The Indian Express' couldn't resist and claimed that Kanwal is an "enchantress". It even went on to say that it is about time the nation get over Mahira Khan and Saba Qamar's beauty and talent. Don't believe us? See for yourself: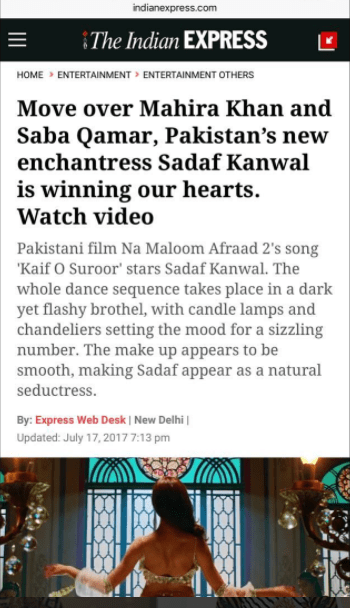 What we were saying since a long time; India has finally realized it too. Claiming that Sadaf is a seductress and has melted everyone's hearts, Indian media is giving a lot of attention and limelight to our beauty.
Seems that Sadaf Kanwal would be the next one to go across the border and work in a movie. Till then, let her enjoy the fame and desire that she has been getting from the neighbours.