Indian film industry is referred to as Bollywood and the Pakistani film industry is called Lollywood. The stars at both sides of the border are both stylish and extremely talented. Both these stars sometimes are seen doing photo shoots for international magazines and that is when they are seen wearing the same outfits. At other times, they get their dresses designed from international designers. There have also been times when Pakistani stars have worn outfits designed by Indian designers which have either been seen on the ramp or some other Indian celebrity has also been seen wearing the same outfit. There are also times when certain celebrities it seems take inspiration from each other. At other times, there are some international designers who probably want the stars at both sides to wear their designs. When celebrities from both sides of the border are seen wearing the same outfits, the fans and followers often compare the looks. Some of the Pakistani celebrities who were seen wearing the same outfits as the Bollywood stars have also worked in Bollywood which is why they are often styled by the same designers. The fashion face-off between these celebrities is always amusing for the fans. It shows that sometimes the Bollywood and Lollywood celebrities have the same fashion preferences.
Here are some Bollywood and Lollywood stars who were seen wearing the same outfits.
Mahira Khan and Aishwarya Rai
Mahira Khan and Aishwarya Rai both are superstars. Mahira Khan has also worked in India and she has represented Pakistan on international forums more than once. This makes Mahira Khan a Pakistani celebrity with enough international exposure. Mahira Khan and Aishwarya Rai both were seen wearing this red and black striped outfit. While Aishwarya Rai wore this outfit for a shoot, Mahira Khan wore it when she out and about. Although the outfit is the same but both these actresses styled themselves in two completely different ways. They also gave their on lookers two completely different ideas of wearing the same outfit. While Aishwarya accessorized this outfit with a broad black belt, Mahira Khan took a stylish black jacket with it. Aishwarya on the other hand was seen wearing striped jacket with it. Which look do you like better? These two celebrities show that there is definitely more than one way to wear the same outfit.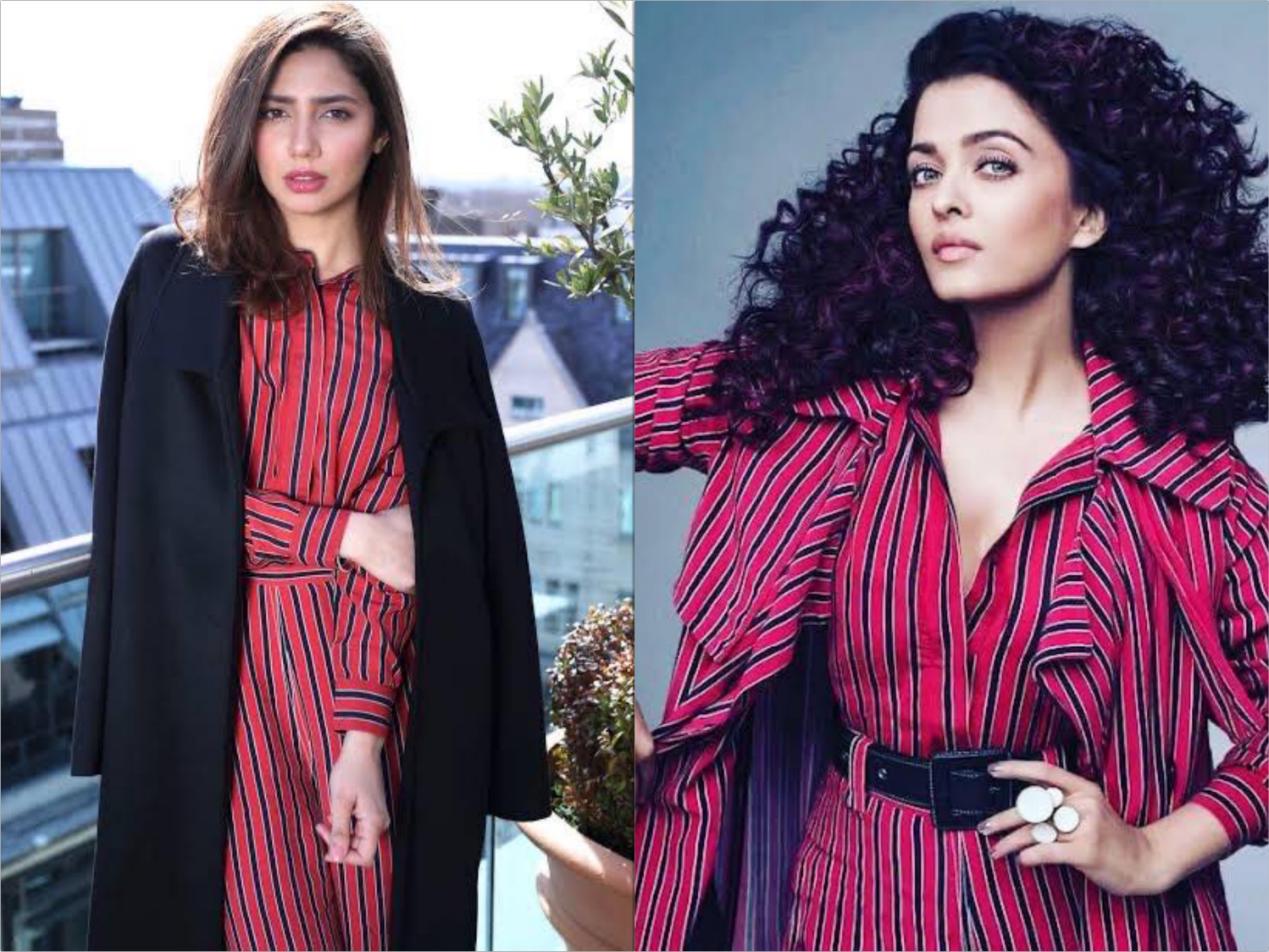 The Popular Yellow Dress
This yellow dress which has been designed by one of the leading international designers was worn by 4 different celebrities from different parts of the world. Momina Mustehsan was recently in the news when she wore this dress to the PISA 2020. Her look was criticized by many but most people probably don't know that this is actually a popular dress which was worn also by Deepika Padukone from across the border. While Momina Mustehsan and Mahira Khan both did not show their legs when they wore the dress. Deepika's style in the dress is more bold.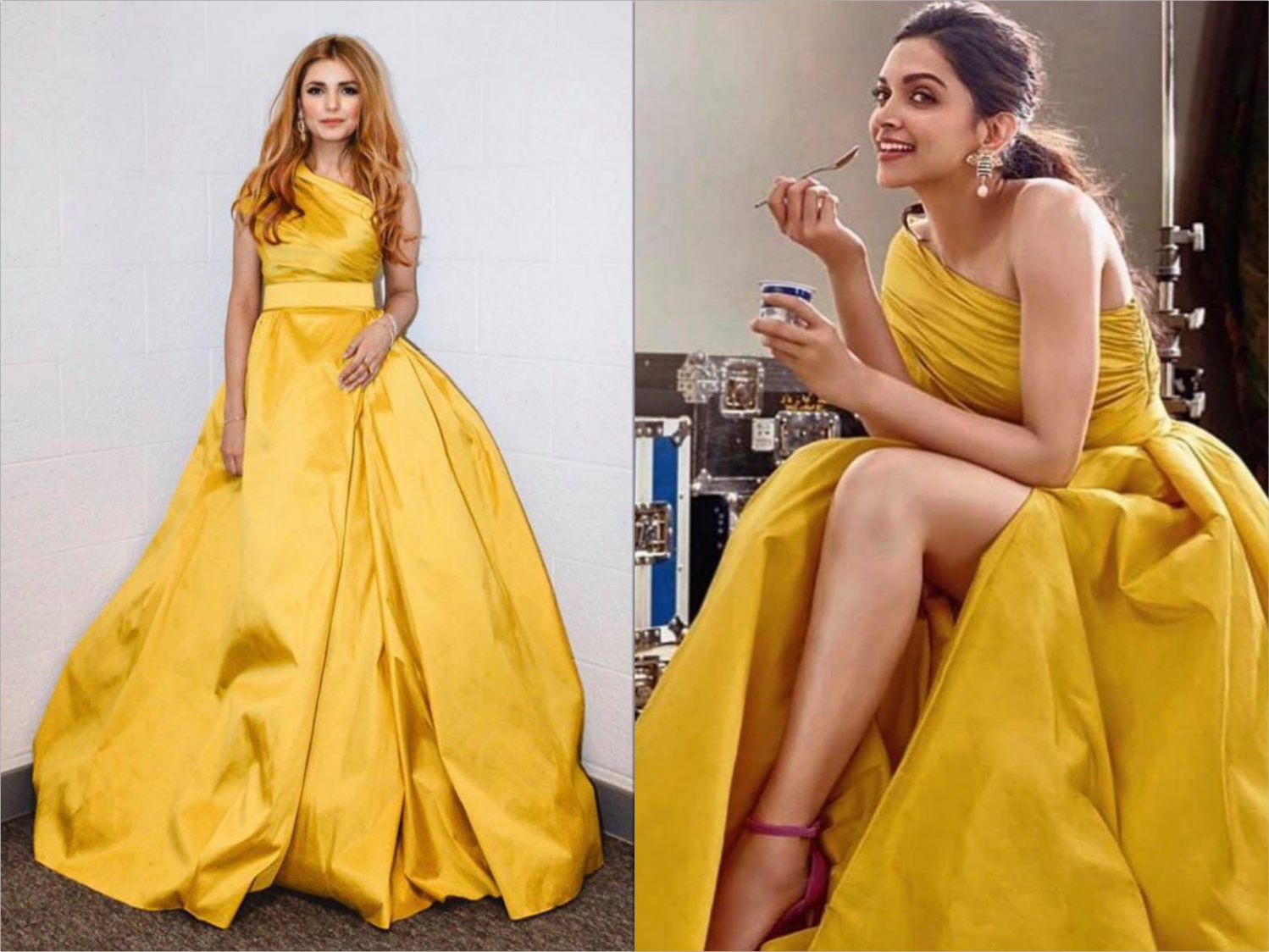 Momina Mustehsan and Mahira Khan both wore earrings with the dress and so did Deepika. Mahira Khan's style in the picture is more casual and fun just like that of Deepika.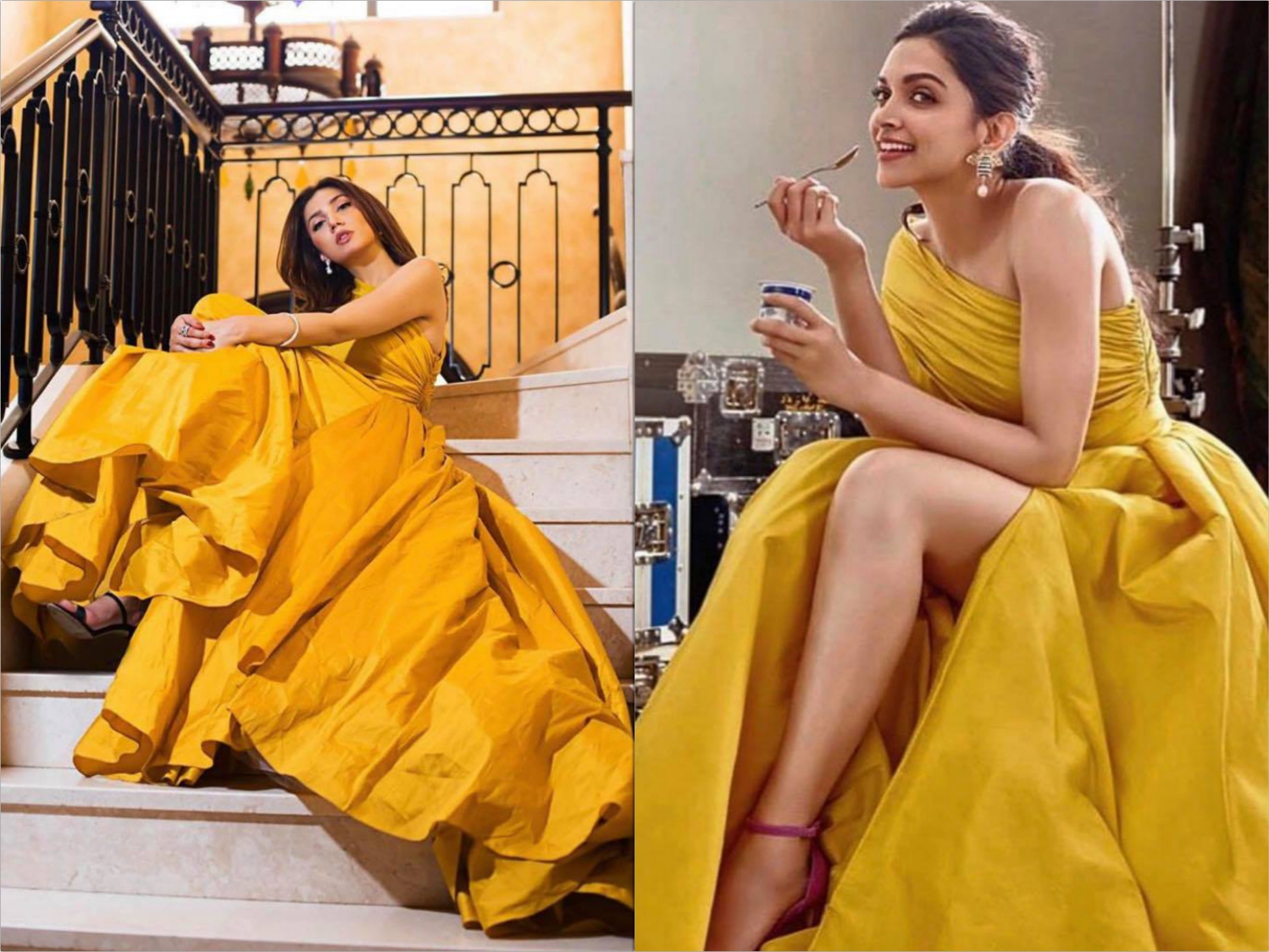 Popular Australian actress Emilie de Ravin also wore this dress at the Oscars viewing party.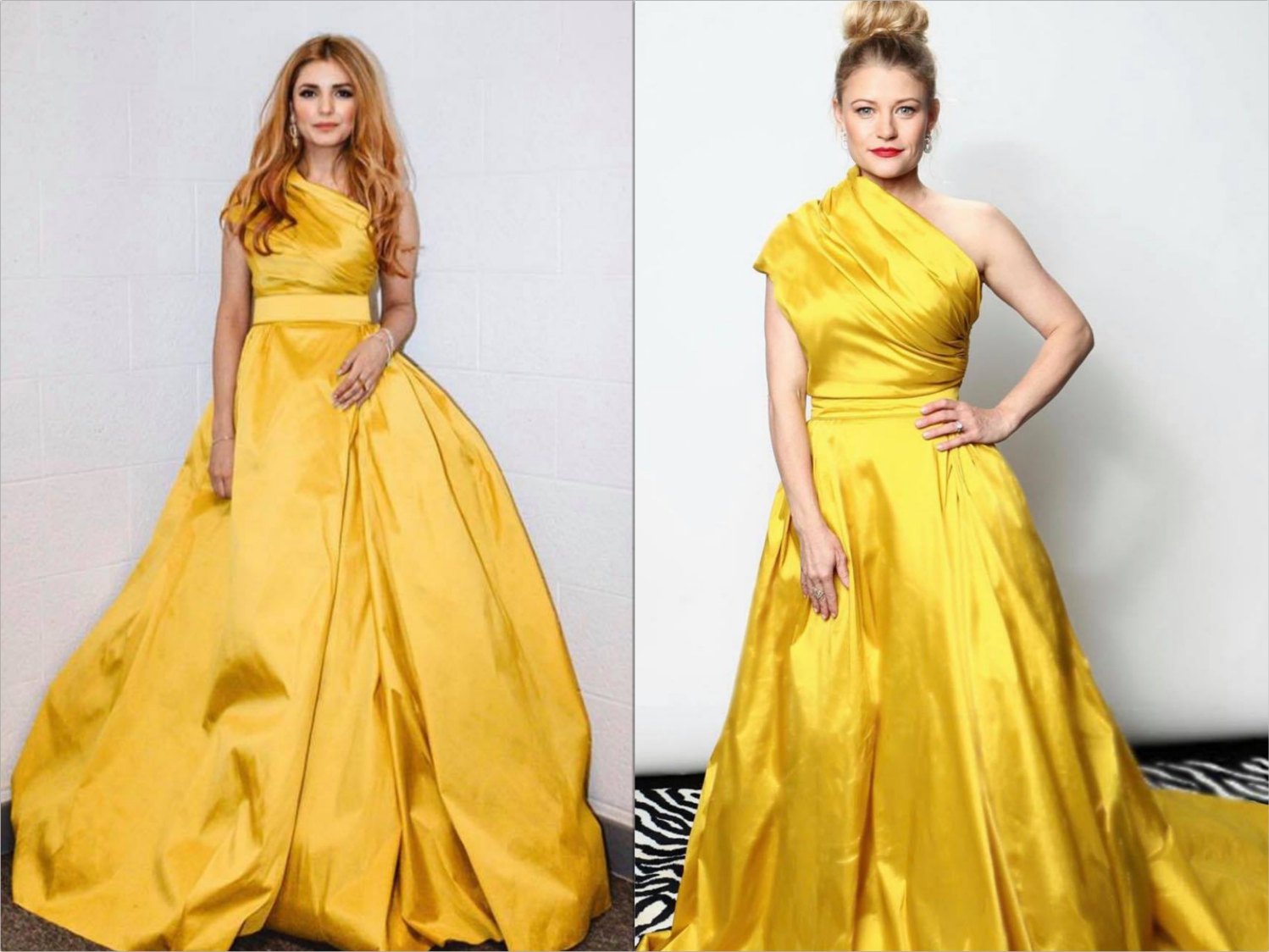 Who do you think looked the best in this popular yellow dress? Do you like the dress just as much as all these celebrities do? It can easily be termed as celebrities' favorite!
Mahira Khan and Deepika Padukone
Seems like Deepika Padukone has been seen more than once wearing the same outfit as the Pakistani stars. This beautiful dress was worn by Mahira Khan and Deepika Padukone in two different ways. While Mahira Khan did not wear tights or trousers with the dress, Deepika wore loose trousers with it which were more casual than formal and did not go well with the overall look. Mahira Khan went for a contrast color of high heels whereas Deepika's heels matched the outfit although it was a different shade. Who looks better in this gorgeous outfit?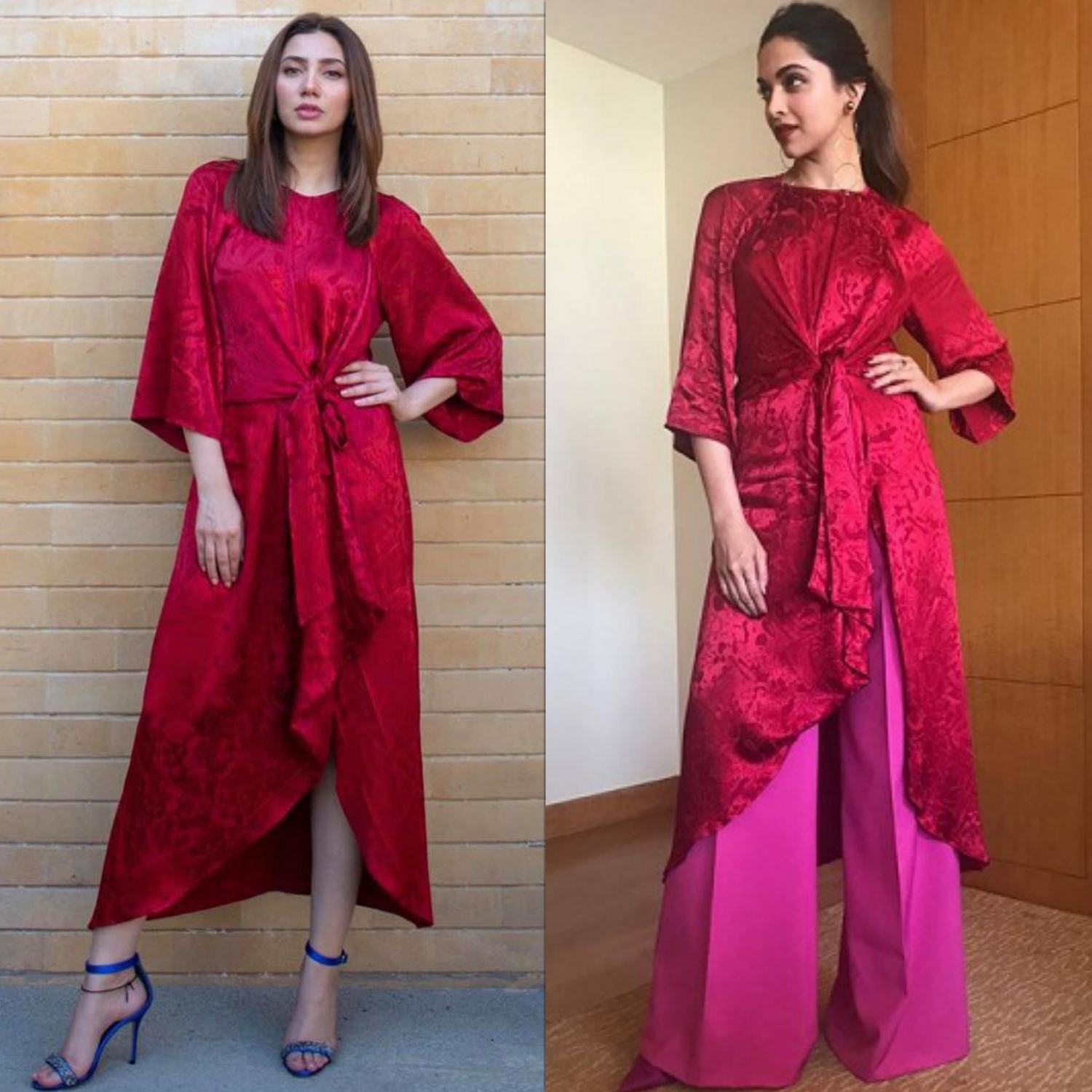 From Ramp to The Red Carpet
Mawra Hocane has also worked in India. She was obviously quite impressed by one of the designers there which is why she asked him to design this outfit for her when she was going to attend one of the Pakistani award functions. This can easily be termed as one of the prettiest white outfits we have seen on the red carpet. One of the looks is that of a top Indian model wearing the outfit on the ramp for the designer. In the ramp photo, the outfit looks more off white while Mawra is seen wearing a more white version of it.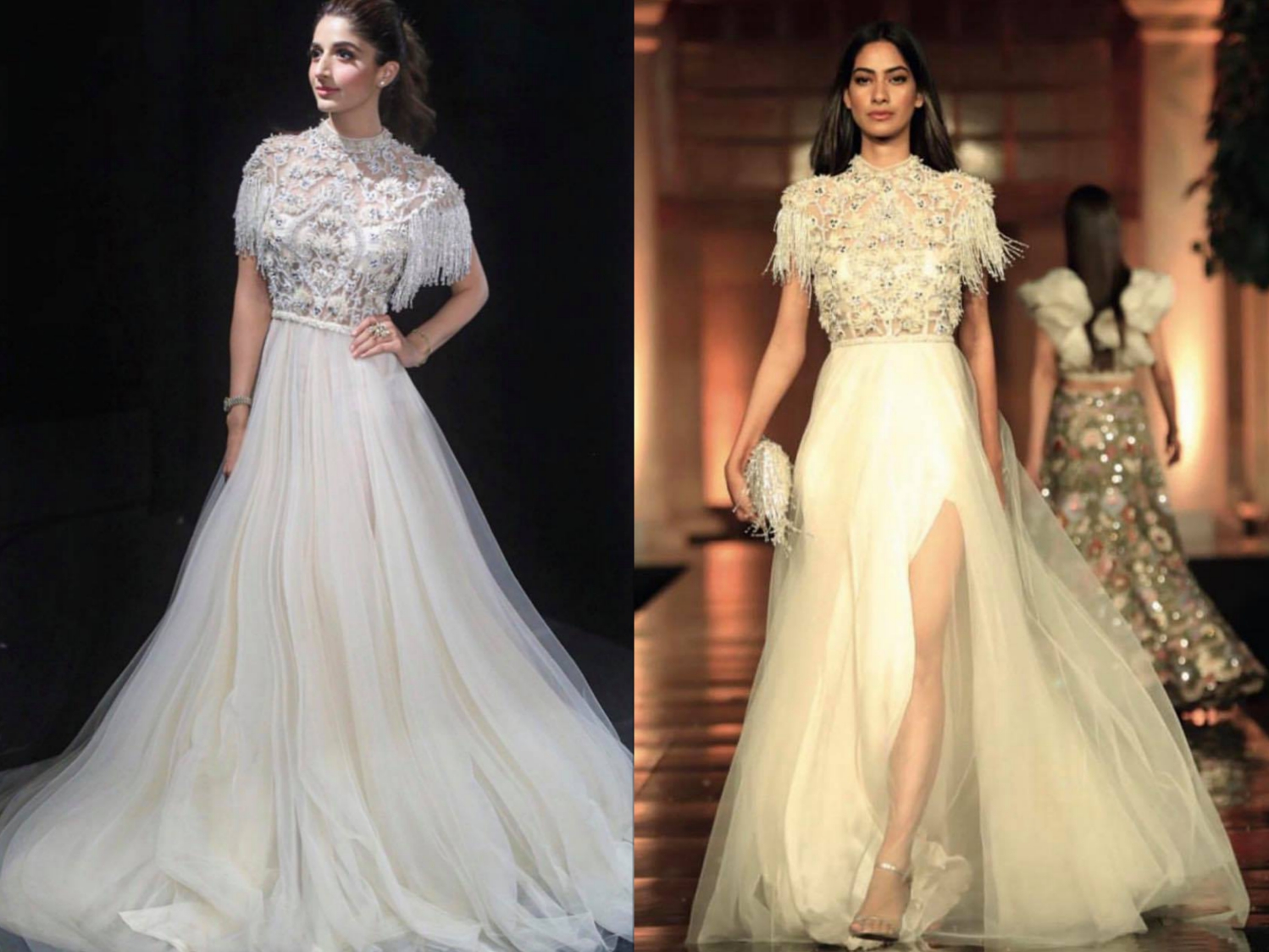 Mahira Khan and Alia Bhatt
Mahira Khan and Alia Bhatt were also seen wearing this off-shoulder trendy white outfit. Their look is almost identical with the exception of the styling. Who do you think looks more stylish in this outfit? Fashion face-off doesn't get better than this! Both of them look perfect.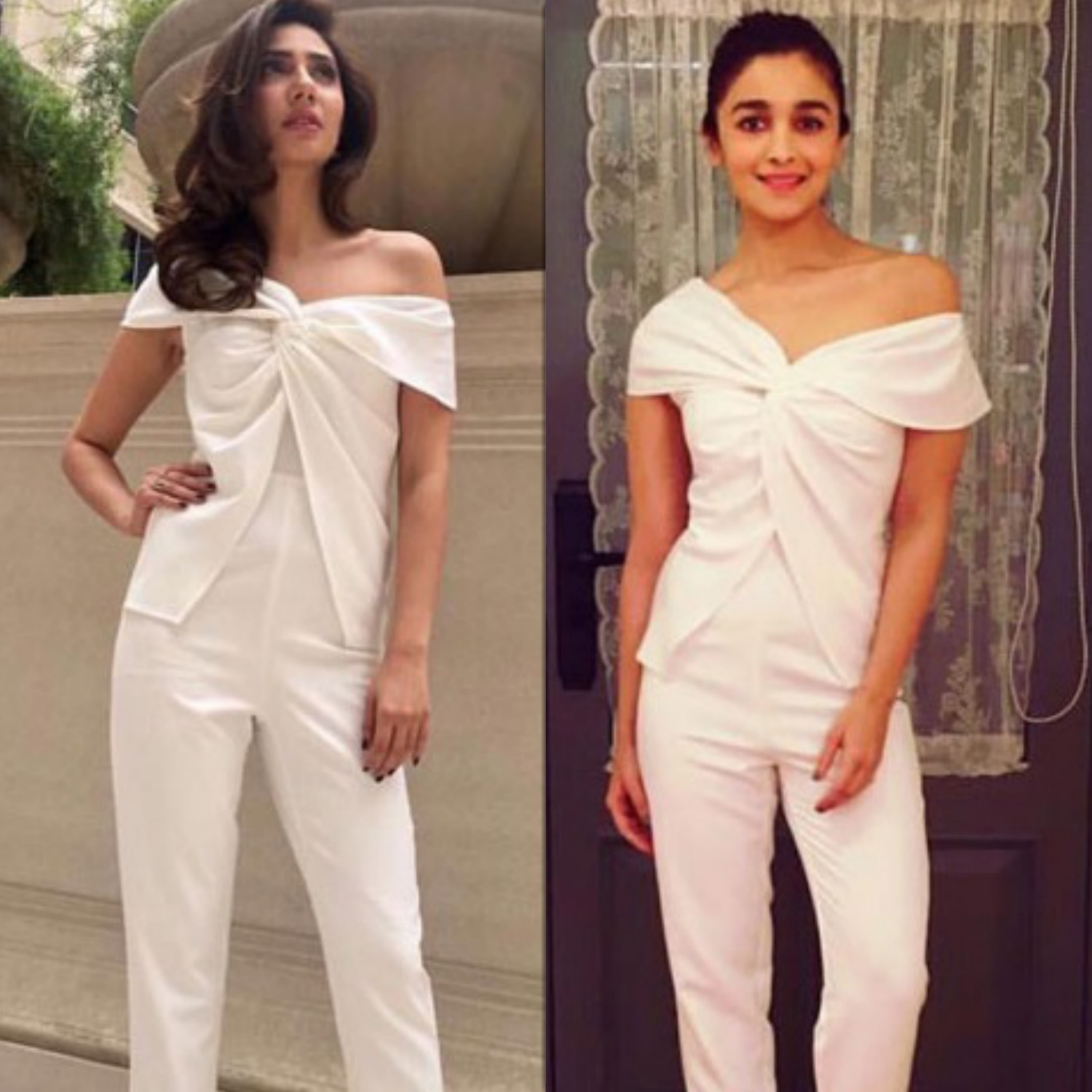 Sajal Aly and Deepika Padukone
Sajal Aly and Deepika Padukone wore the same polka dotted outfit designed by a well-known international designer who enjoyed designing for both these celebrities. Sajal Aly's dress was in yellow and blue while Deepika's color contrast was completely different. Also Sajal's dress doesn't have pleats but a belt. Both the actresses look stunning but we love Sajal's overall look more. Who do you like more in this outfit?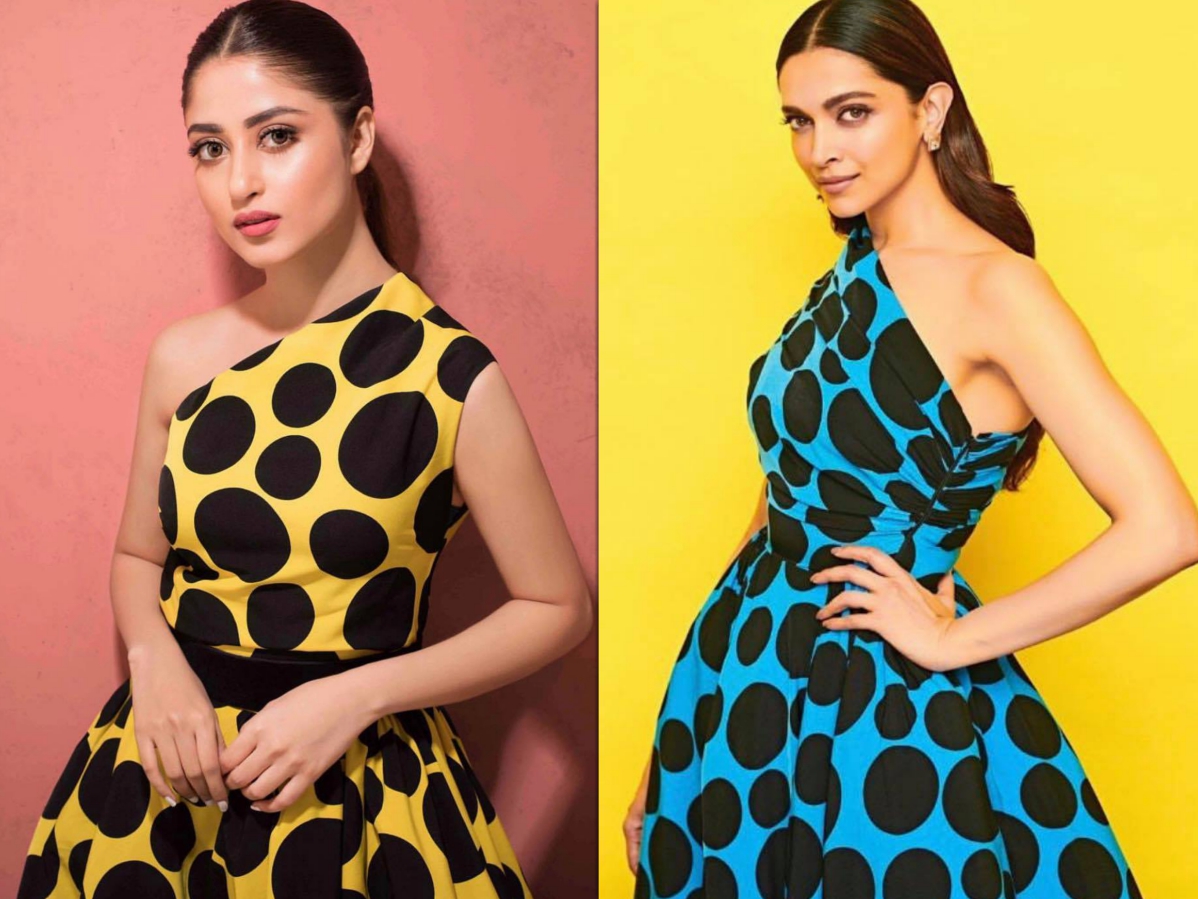 Mawra Hocane and Parineeti Chopra
Mawra Hocane and Parineeti Chopra wore this trendy black and white outfit on two different occasions. There is a slight difference in the designing otherwise both the outfits are more or less the same. Which one of these looks do you find more fashionable?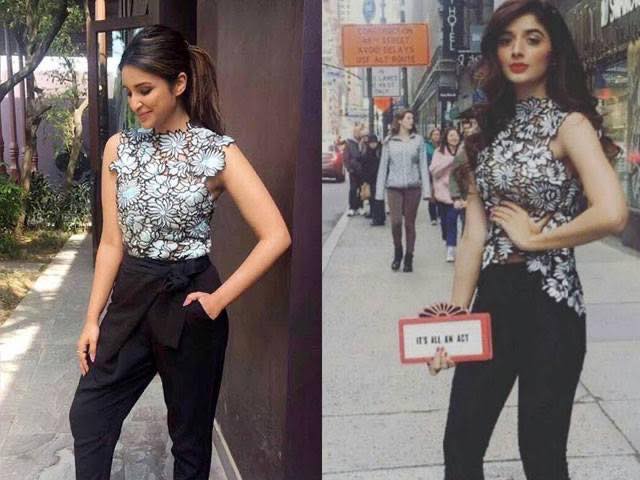 It is interesting watching the take of different celebrities on the same outfit. All of them styled and accessorized these outfits in their own way. We love the personal preferences of all the celebrities but some of them are definitely better than others. Which look is your favorite and which fashion face-off in your opinion is your favorite? Share your thoughts in the comments section.