Shahid Afridi (aka Boom Boom) is a star cricketer of our country very famous among public. A fact also evident from the amount of endorsement he receives every year. Since his debut in 1996, Afridi has been the center of attention, and is perhaps the reason many turn to watch the game.
The popularity of Shahid is not limited to Pakistan, but he is also popular in countries where cricket is followed including South Asian countries like Afghanistan, Bangladesh, India. Perhaps for the same reason an Indian television channel offered Shahid to participate in their dance show named Nach Baliye, which Shahid accepted.
However as per the format of the show, the participant must be accompanied by their spouse which Shahid was not aware of. Upon knowing this Shahid declined the offer to participate in the show, as his spouse has never appeared in the public even in the home country Pakistan. Though Shahid was willing to participate in the show alone for a solo performance, but the organizers are looking for someone willing to participate with his/her spouse. After the refusal of Shahid now the organizers are considering other options. Last year Pakistani cricketer Shoaib Malik also participated with his spouse Sania Mirza in the same show.
The same news got prominent place in almost every paper.
English Daily The News reported it as follows
Pakistan's favourite all-rounder, Shahid Afridi, has reportedly refused to feature in the upcoming, seventh season of the acclaimed Indian dance/reality based show, Nach Baliye.
According to reports, Boom Boom was willing
to perform on the show as a 'solo act' but just as he was about to sign a lucrative contract he was informed that he would be required to shake his feet on the dance floor with his wife, according to show's format. That's when he called it off!
 The 35-year old cricketer gave personal reasons for his decision, explaining to the makers of show that he did not want to see his wife dance on public television. "Biwi ko nahin nachana hai," were his exact words.
Last year, former Pakistani captain Shoaib Malik was roped in to perform with his wife Sania Mirza on the show and they accepted the offer for entertainment purposes. Nach Baliye is a popular Indian dance-reality based show, which features dance performances, usually by celebrity couples. We wonder what Afridi was thinking when he agreed in the first place. There's conflicting opinion on the appearance of cricketers on entertainment shows; most times they end up with a foot in the mouth and more often they end up looking like jesters. Case in point: Shoaib Akhtar's recent appearance on Comedy Nights with Kapil. That said, if Shahid Afridi's cricket career wanes off after the World Cup then he will have to look into alternate options to stay in the limelight, which we know he loves!
– See more at: http://magazine.thenews.com.pk/mag/arc_detail_article.asp?id=10379#sthash.79lF0qpa.dpuf
Urdu Daily Dunya also reported it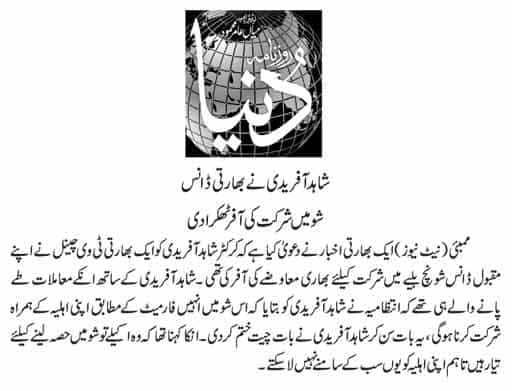 Rashid Nazir Ali