Eid holidays are over now and reports of film business from various sources are publishing in papers. In Pakistan traditionally there is no concrete mechanism to know the exact earning of a film. In traditional single screen cinemas, tickets are issued manually so it is near impossible to estimate the total business generated form a film in such cinema. However with the arrival of multiplexes which maintain the records of tickets sold, now a near estimate of the film total business is easily established. Usually the owner of these multiplexes issue the business generated by a film in their chain of multiplexes, which sums up the total business of the film. This method is not fool proof. Surprisingly for some unknown reason film producers in Pakistan seldom release any statement about the total revenue their film.
This Eid many films were released including Hollywood, Bollywood, Urdu, Punjabi and Pashto.
Hollywood: Minion and Antman
Bollywood: Bajrangi Bhaijan
Urdu: Bin Roye, Wrong Number, Bazaar (Only released in Punjab)
Punjabi: Razia Ghundon Mein Phans Gayi, Gunahgaar (All punjabi films released only in Punjab)
Pashto: Ma Cherra Ghareeb Sara, Daagh, I love you too, Pakhtun Pah Dubai Ke, Khanadaani Badmaah, Maien Kho Lewanai Vee and Sar Tair Badmaash (Released in Karachi, Quetta and KPK)
Various papers (English and Urdu) have published the reports on films business. As per these reports three main films Bajrangi Bhaijaan, Wrong Number and Bin Roye are running full house in all major cities during the Eid Holidays as well on this weekend.
Like always leading the way is the Bollywood film Bajrangi Bhaijaan. Bollywood films have always been the preferred choice of majority of the Pakistani cine goers in any circumstances, a fact proven once again on this Eid. Bollywood films always receive overwhelming reception in Multiplexes (located in posh areas) as well as traditional single screen cinemas (located in old/inner city areas), making them the unanimous choice of all sections of the society. As per press/net reports Bajrangi Bhaijaan is released on a total of 171 (approx.) screens nationwide. In many areas (mostly single screen cinemas) the demand was so high that cinema owners have cancelled the shows of Urdu films Bin Roye and Wrong Number and allotted the same time slot to Bajrangi Bhaijaan. In some multiplexes, Bajrangi Bhaijaan is allocated more shows in the upcoming week replacing the shows of Hollywood's Antman. The trend is expected to continue on coming weekends until a new Bollywood film is screened to fill the appetite of Bollywood films. Like any other Bollywood film released in Pakistan, Bajrangi Bhaijaan is ahead in the race by a wide margin.
Following Bajrangi Bhaijaan after a big gap, are the two Urdu films Wrong Number and Bin Roye which are on second and third place respectively. Wrong Number is slightly ahead of Bin Roye in terms of number of screens and business. Wrong Number was released on 87 (approx.) screens while Bin Roye is released on 81 (approx.) screens nationwide. In comparison Bajrangi Bhaijaan is released on more screens (171) alone than the combined total (87 + 81 = 168) of the two Urdu films Wrong No. and Bin Roye indicating the massive appeal of the Bollywood films among Pakistani audience.
As per the English Daily The News, Bin Roye is leading in Islamabad, while in Karachi Wrong No. is ahead. An interesting general analysis is that men are loving Wrong Number and hating Bin Roye, women are loving Bin Roye and hating Wrong Number.
The healthy trend on this Eid is that the audience have also endorsed Pakistani Urdu films while supporting Bollywood film. Both the Urdu films Bin Roye and Wrong No, are running full house during the Eid holidays in whatever space and time is allotted to them. As per Nadeem Mandwiwala, the head of Mandwiwala Entertainment the success of Pakistani films is attributed to the aggressive marketing campaign rather than the content of these films.
The Punjabi films have done average business. Four out of the seven Pashto films released are declared hit while rest are doing average business.
Here are the news reports/excerpts which are the basis of this post.
English Daily The News
Box office success for the trilogy of Eid films
Running House Full: Bajrangi Bhaijaan, Bin Roye and Wrong Number have all resonated well with Eid audiences.
Salman Khan has been forgiven his sins. He must have worried how his May conviction and sentencing to 5 years in prison for a 2002 hit-and-run homicide might have dampened the prospects for his movie. But like India's courts, the country's movie going audience gave the megastar a stay of appeal, supporting Bajrangi Bhaijaan with the biggest opening weekend ever for Khan and the 3rd biggest in Indian box office history. According to cinema owners in Pakistan, the film has resonated just as well with the Pakistani public, threatening Ant Man with an early exit. The good thing is, local releases Bin Roye and Wrong Number have been running just as successfully as Bajrangi Bhaijaan.
"An extraordinary audience turns up over Eid and all films are running full house," Film producer, distributor and cinema owner (Atrium in Karachi and Centaurus in Islamabad) Nadim Mandviwalla shared with Instep. "Wrong Number is doing better in Karachi and Islamabad has shown a higher demand for Bin Roye. But this is a result of marketing hype not content. The Eid influence remains 9 days, which we see in advance booking, and we'll see full effect of all films by Monday."
An interesting general analysis is that men are loving Wrong Number and hating Bin Roye, women are loving Bin Roye and hating Wrong Number whereas Bajrangi Bhaijaan has shown universal appeal.
– See more at: http://magazine.thenews.com.pk/mag/detail_article.asp?id=11290&magId=11#sthash.EHQpfNei.dpuf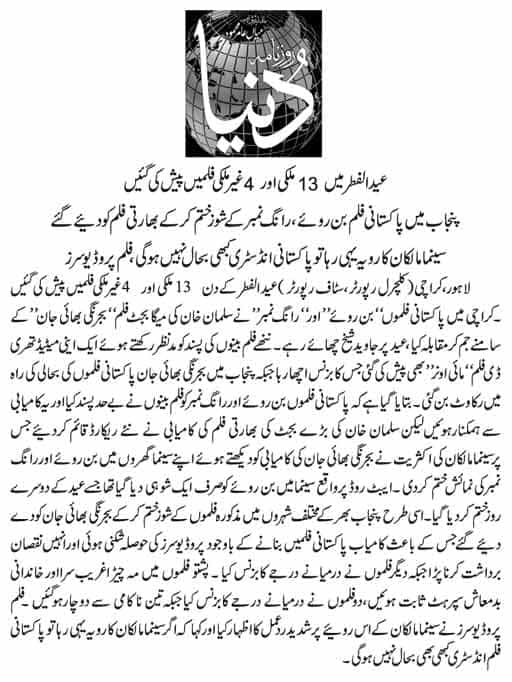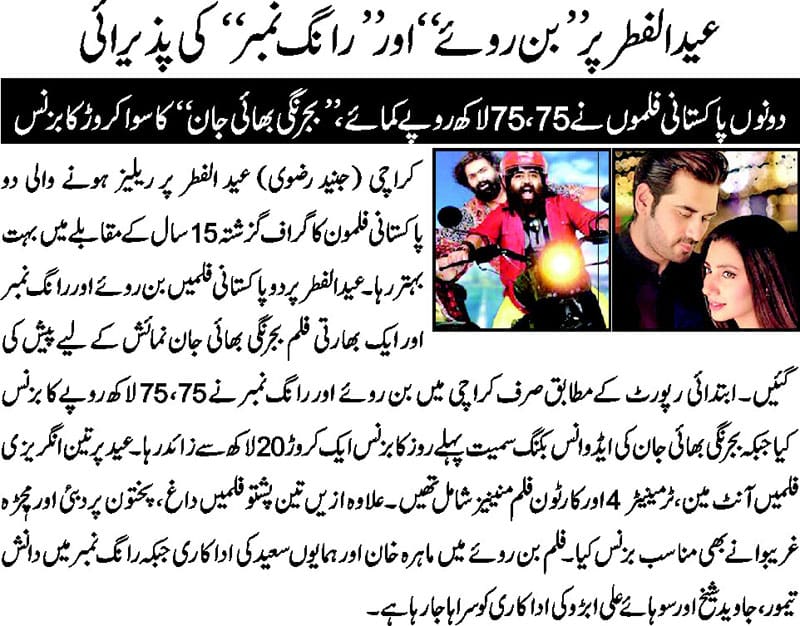 Rashid Nazir Ali