For all "Main Hoon Shahid Afridi" fans in UAE; Here is your chance to meet the cast of the movie.Action-drama sports film,Main Hoon Shahid Afridi turned out to be quite a successful movie,made under banner of Six Sigma Films. Different story with brilliant piece of acting were the elements that were there in the movie.The cast of the movie included Noman Habib, Humayun Saeed, Javed Sheikh,Mahnoor Baloch,Nadeem Baig.Shafqat Cheema, Ismail Taara and Hamza Abbasi.As a treat to the viewers, Shahid Afridi and Ayesha Omer also made guest appearance in the Movie.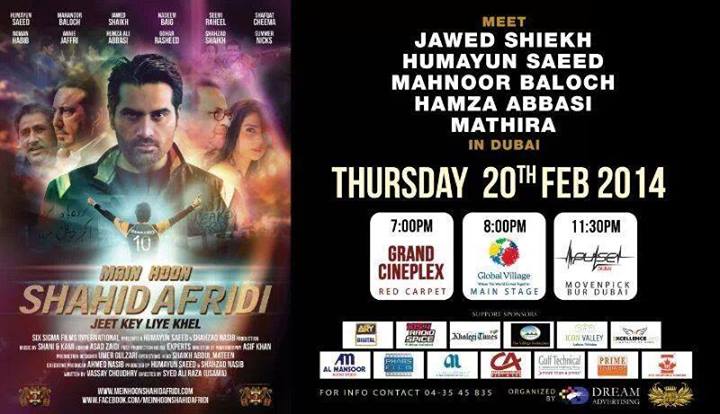 Now that Movie has turned out to be successful in Pakistan. Cast has planned to visit Dubai for its further promotion; Javed Sheikh,Humayun Saeed, Mathira,Hamza Abbasi and Mathira will be seen in Dubai promoting the movie followed by some red carpet event and main stage appearances etc.
So don't miss the chance to meet your favorite actors on Feb 20th,2014 in Dubai.
Rabia Basharat.