Justice for Salahuddin is trending on Twitter.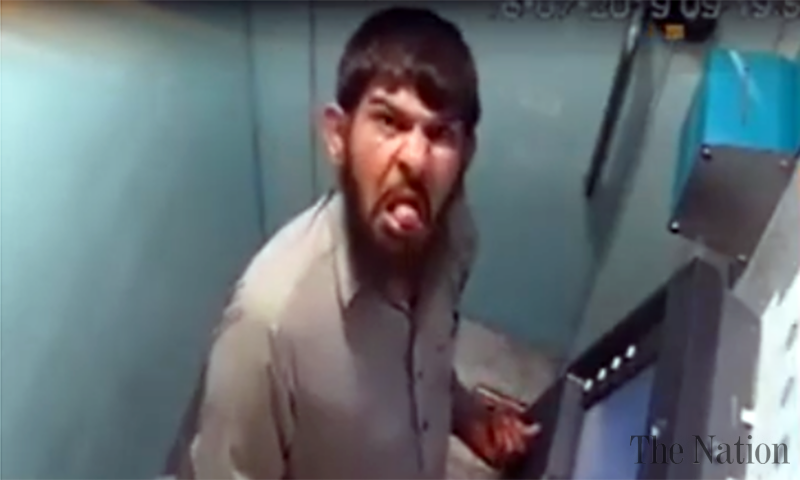 Pakistani celebrities are coming out to seek justice for Salahuddin. He was caught stealing cards from ATM machine and making faces at CCTV camera. Later, he was caught by police and in police custody he was badly tortured due to which he died. This news shocked everyone. People are going crazy over this, they cannot believe that police tortured him to death.
#IamSalahuddin is trending on Twitter. Our celebrities are standing up for him.
Armeena Khan compares Salahuddin with Bhola due to his mental illness.
They basically murdered a real life person like #bhola from #ranjharanjhakerdi, the television play. Salahuddin clearly had mental health issues. #JusticeforSalahuddin 💔

— Armeena Khan (@ArmeenaRK) September 5, 2019
Hamza Ali Abbasi believes a country cannot prosper without justice.
When small time thieves die in jails because they r poor while big time thieves enjoy five star facilities in jails bcz they r rich/powerful, how can u expect our country to prosper? Without justice, no country can prosper no matter what the economic policies… Its Allah's law. pic.twitter.com/Cxz22U6VQ4

— Hamza Ali Abbasi (@iamhamzaabbasi) September 4, 2019
Nadia Hussain is asking about the people who are responsible for this act.
This is CRIMINAL!!! Who's responsible for his death???? Police or ghurbat or mental illness?? https://t.co/3DaiyIpoav

— NADIA HUSSAIN (@NADIAHUSSAIN_NH) September 3, 2019
Waqar Zaka also came forward to support Salahuddin.
As police will never going to stop killing people like #Salahuddin . How about we request Police to use the same method on the Politican, who are involved in stealing money, noone will punish the Police, so let's use their skills, Nominate kis Politican k sath Aesa Hona chahiye

— Waqar Zaka (@ZakaWaqar) September 4, 2019
Here is a clip of Salahuddin's mother from an interview:
'Only God knows my pain. Everyone knew that #Salahudin was not mentally fit. I want justice for him.'

– #Salahuddin's Mother 💔

This is very painful for parents to bury their child at young age.
Let's raise our voice for #JusticeforSalahuddin pic.twitter.com/OY9gGV04QN

— ßushra Nasir Ahmed (@bushra_2010) September 5, 2019
Twitteratis are posting photos in the same pose which Salahuddin did in CCTV camera. They are calling out Punjab government to take strict action against it.
Lets have a look at some tweets:
In Support of Salahuddin, People share pictures with tongues stuck out.#IamSalahuddin pic.twitter.com/NdYpoCcwVH

— DramaticGurl✨ (@LambimtKren) September 5, 2019
The POLICE TORTURE MUST END. Imran Khan must end his talk talk strategy and action must start. Do Nahi Aik Pakistan is still a dream. #IamSalahuddin pic.twitter.com/fVjEYmjQbd

— Dr. SRG (@sarimrashid) September 5, 2019
Will not rest until Salahuddins killers are brought to justice. Show your support #IamSalahuddin #JusticeforSalahuddin pic.twitter.com/kvc2xnCE9t

— khadija siddiqi (@khadeeeej751) September 5, 2019
The real face of Panjab police #IamSalahuddin pic.twitter.com/hSa4tbilPc

— Jehanzeb sohail (@JehanzebSohail) September 5, 2019
Raise your voice because it's not about salahuddin it's about us
Retweet if agree #IamSalahuddin pic.twitter.com/WYZyO4hdcs

— Tasawer Hussain (@Tasawer245jb) September 5, 2019
To whom it may concerns
From Makkah Mukarimah#IamSalahuddin pic.twitter.com/nI1g8oCZos

— Waheed Rabani (@WaheedRabani2) September 5, 2019
Asked around today if Punjab police showed restraint after recent deaths by torture. Same maltreatment There is no fear of our burger govt or officials. If @ImranKhanPTI & @GOPunjabPK are unable to fix them. Get an ordinance out for purge on them by general public #IamSalahuddin pic.twitter.com/kXeRaJmzeq

— Ehsan ullah (@ehsan_ch_tweets) September 5, 2019
Time to protest against the silence of Chief Minister and the Lies of IG PUNJAB Bcz we all are Salahuddin- chief minister @UsmanAKBuzdar can u hear us? #IamSalahuddin pic.twitter.com/6v2MAcmpdD

— Hassaan Niazi (@HniaziISF) September 5, 2019
Due to outrage on social media, FIR has been lodged against police officials.
Update on #Salahuddin Case:

Govt of Punjab has requested for #Judicialinquiry of the case

FIR has been registered against police officials. Murder case registered against 3 officials including SHO.
DSP and all 3 policemen have also been suspended.
Post-mortem report awaited.

— Dr. Shahbaz GiLL (@SHABAZGIL) September 4, 2019