From Khuda Ki Basti, Tanhaiyaan to Dhoop Kinaray, Qazi Sahab has been a part of projects which will always remain in our hearts. He was born in 1930 in Lahore and after giving about five decades of his life to the media industry, Qazi Wajid left this mortal world at the age of 87 years after having the complaint of heart palpitations during the night.
Showbiz fraternity came together to mourn the loss of a legendary TV actor. Syed Noor, Mahira Khan, Armeena Khan, Javed Sheikh, Faysal Qureshi and many others remembered Wajid as a powerhouse of an actor and a talent institute on his own.
Talking to APP, veteran actor-director, Noor called Wajid an educational institute for new artists. He went on to add that the actor's death deprived artists of a great teacher. Sheikh, on the other hand, called Wajid an artist who was true to his characters.
Many actors took to social media to express their feelings.
Mahira Khan
Sad sad day for Pakistan.. we say goodbye to a great great artist and a fearless activist. They shall live on through their work, always. #QaziWajid #AsmaJahangir pic.twitter.com/RLWZzR7aK2

— Mahira Khan (@TheMahiraKhan) February 11, 2018
Humayun Saeed
It's a sad day today. We have lost two icons. May their souls rest in peace pic.twitter.com/CQcl6evQSe

— Humayun Saeed (@iamhumayunsaeed) February 11, 2018
Faysal Quraishi
سینئر ترین اداکار قاضی واجد خالق حقیقی سے جا ملے….
26 مئی 1930 کو لاہور میں پیدا ہونے والے 87 سالہ پاکستان کے… https://t.co/RZaM9jcVev

— Faysal Quraishi (@faysalquraishi) February 11, 2018
Fahad Mustafa
اِنَّا لِلّٰہِ وَاِنَّآ اِلَیْہِ رَاجِعُوْنَ#QaziWajid pic.twitter.com/gLQ6SreQqR

— Fahad Mustafa (@fahadmustafa26) February 11, 2018
Veena Malik
A very Sad Day for Pakistan. #QaziWajid and #AsmaJahangir is no more with us. May Allah rest their souls in peace. Ameen…. Sad Sunday 😢 pic.twitter.com/lrTIQopdrk

— VEENA MALIK (@iVeenaKhan) February 11, 2018
Muniba Mazari
What a sad day! Qazi Uncle you'll be missed! #RIP #QaziWajid 🖤 pic.twitter.com/gAVChecETw

— Muniba Mazari (@muniba_mazari) February 11, 2018
Mawra Hocane
A huge loss to art & to all of us !!! #QaziWajid May you rest in peace Qazi sahab & smile at us from above the skies as you always did in your life!!! #RIPQaziWajid

— MAWRA HOCANE (@MawraHocane) February 11, 2018
Urwa Hocane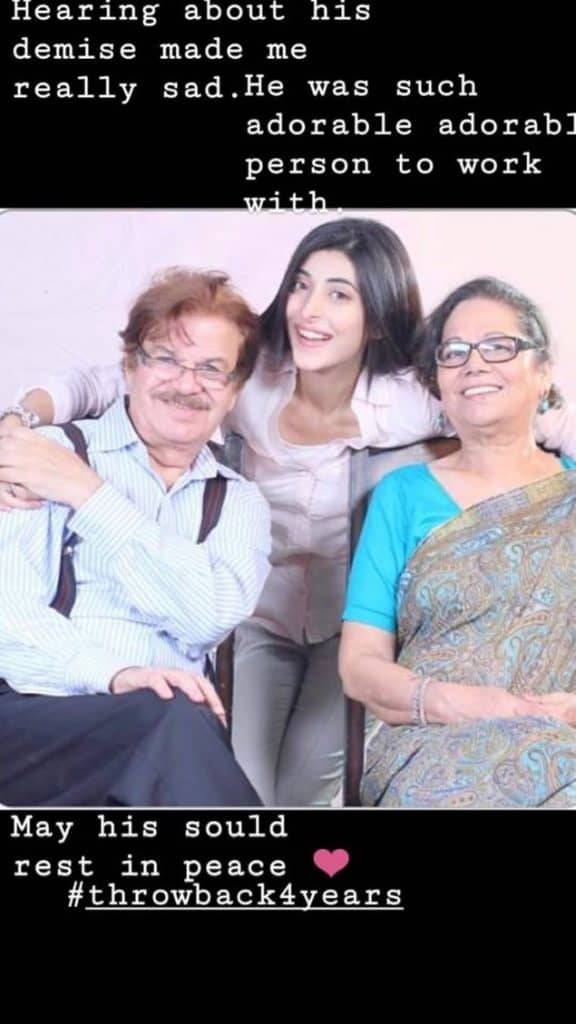 Armeena Khan
https://www.instagram.com/p/BfD9h6ynEJk/?utm_source=ig_embed
Yasir Hussain
The void he left can never be filled, may he rest in peace and power.