Pakistani celebrities have come in the support of Indian failed attempt to reach the moon. They have said that being happy with others failure is not going to make us big but being practically working would help us.
Armeena Rana Khan and Shamoon Abbasi both have tweeted in this regard
Armeena says that,
"Last Tweet of the Day: Trolling others over their failures does not make us successful. We have much work to do on ourselves before we can raise a finger on anyone else guys. In the meanwhile, respect, manners and humanity must reign supreme. Peaceout ✌️"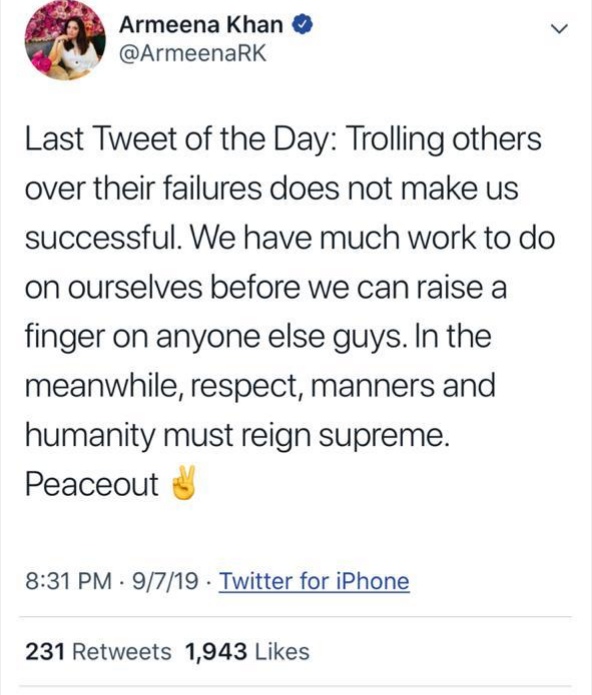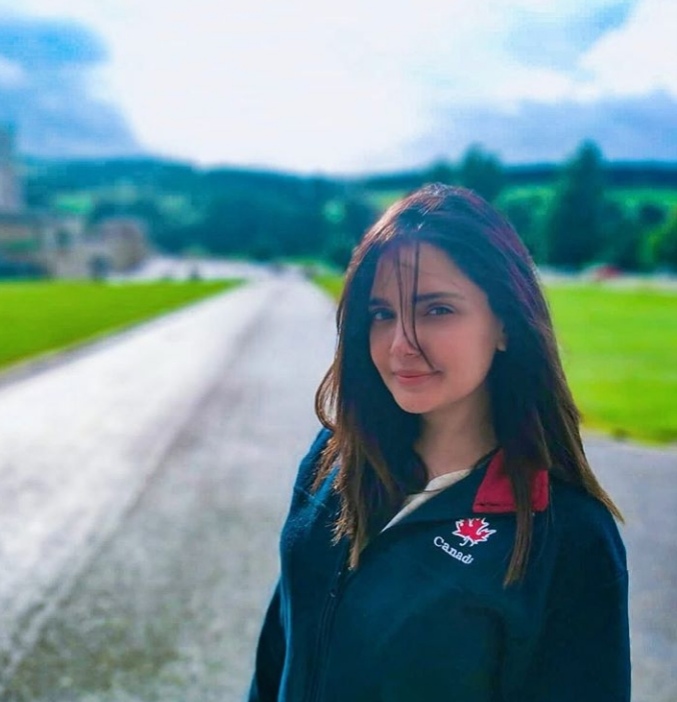 Shamoon Abbasi says,
"We as a nation have 8 holidays in a week :/
So more than laughing on Indians for not being able land their shuttle on the moon we should focus on the point that they are atleast trying
I am sure the patriotic sarcasm has its own value for some but its time to to face the facts! "
These are our celebrities who are urging Pakistanis to stop shaming and trolling India on this as at least they have tried to reach the moon which is commendable. Our celebrities are somehow right that we shouldn't troll India and should rather work on us which we agree and we believe that our scientists and people have commendable achievements. Pakistanis are not fond of trolling.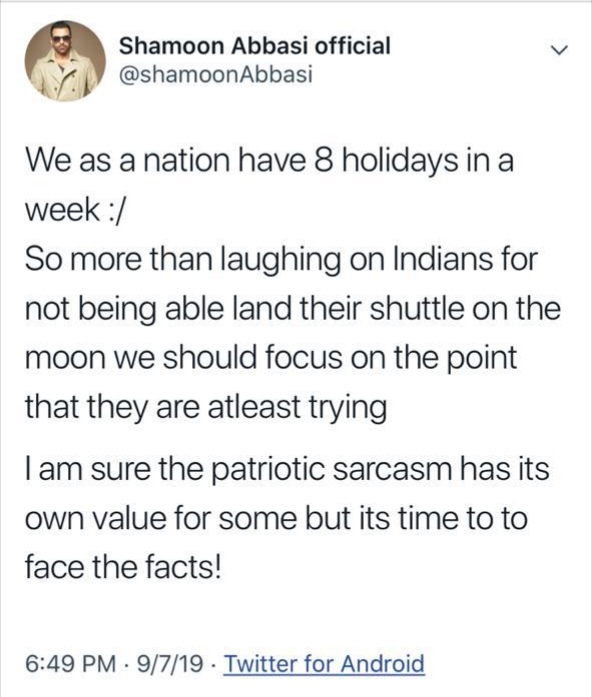 The whole episode is because of Indian trolling that they did to Pakistan right before sending their shuttle into the moon, the trollers said the only way Pakistan steps on the moon is, by stepping up on their flag. Is this kind of trolling and bullying allowed.  The communication they are cutting off for Kashmiris , the destruction they are doing in Kashmir would save them from being trolled.
It is sane to preach about praising failures of such big missions but no mission is bigger than humanity , once India has to be good at it , all it's missions will be successful.
It is just a point to ponder for all of us.