Marriage is the most sacred bond between two individuals. No one can be as close to a person as their spouse. A supportive spouse helps build up a person's personality and helps him/her excel in every field. Pakistani celebrities, no matter how famous and busy they get, they always feel that marriage is an important step in life which must be taken. Everyone tries their best to choose the best person as their life partner but sometimes people only find out after they get married that they are not compatible and that is when they decide to part ways. The good thing is that there were a lot more marriages in 2015 than there were divorces. All these celebrities who got married chose their own partners and most of them are enjoying their live together while they work hard on their careers too. Some of them had known each other for many years and others got married soon after they met. Their interviews in talk shows gave the fans an insight into how they met, which is always interesting to hear.
Here is the list of celebrities who got married and those who got divorced in 2015:
Sharmila Farooqui and Hasham Riaz Sheikh
Sharmila Farooqui's wedding was a grand affair. The functions covered a time frame of 15 days. The wedding was held in Karachi in which Sharmila Farooqui tied the knot with Hasham Riaz Sheikh who is a former banker and currently he owns Capital TV. The couple is enjoying their life together.
Bilal Qureshi and Uroosa Qureshi
Bilal and Uroosa both are celebrities. They got married on Valentine's Day. They have been seen together on talk shows a lot after the wedding.
Sanam Saeed and Farhan Hassan
Sanam Saeed and Farhan Hassan were childhood friends who decided that they wanted to spend the rest of their life together. Sanam Saeed's wedding functions continued for days too. Friends and family also attended post wedding parties and dinners in Phuket, Thailand.
Babar Khan and Bisma Khan
Babar and Bisma's wedding was a low key affair when compared to other weddings on the list because Babar lost his first wife in a tragic accident so Babar did not want a big wedding.
Shaista Lodhi and Adnan Lodhi
Shaista Lodhi's marriage to Adnan Lodhi was a start of a new phase of life for her in more ways than one. Shaista returned to television immediately after her marriage. The marriage was a family affair.
Ali Gul Pir
Ali Gul Pir also got married this year. He did not reveal much about his wife and only shared some pictures of the wedding.
Madiha Iftikhar and Shazeel Mirza
Madiha Iftikhar looked elegant on her wedding. The wedding function was held gracefully with close family and friends attending it.
Annie Khalid and Saad Ahmed
Annie Khalid looked gorgeous in an orange dress on her baraat and she opted for yellow dress for her mehndi which looked different and attractive. Annie Khalid was very happy with her make up artist for giving her the perfect look. She posted on instagram, "You made me feel like a regal princess." The wedding function was a family affair.
Mukarram Kaleem
Mukarram Kaleem also tied the know this year. He is better known as a host and an actor. Mukarram Kaleem's wedding was attended by many celebrities.
Maha Kanwal and Erfan Khan
Maha Kanwal is a famous model. She got married to Erfan Kanwal this year. The couple is very happy together.
Pari Hashmi and Saqib Zafar Khan
Saqib Zafar Khan saw Pari Hashmi on the set of one of her plays and that is when he knew that this was the girl he wanted to marry. They got married soon afterwards.
Sarfraz Ahmed and Syeda Khushbakht Shah
Sarfraz Ahmed has been part of the Pakistani cricket team for a few years. He got married in a Karachi in the presence of family and friends.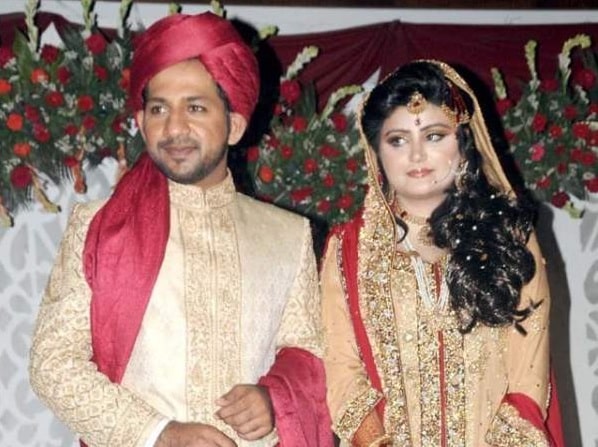 Ahmed Shehzad and Sana Murad
When Ahmed Shehzad got married he did not like the presence of too many media persons on his wedding. This wedding was mostly a family affair.
Uroosa Siddiqui and Saqib Khan
Uroosa Siddiqui is well known for her comic roles. She tied the know with Saqib Khan.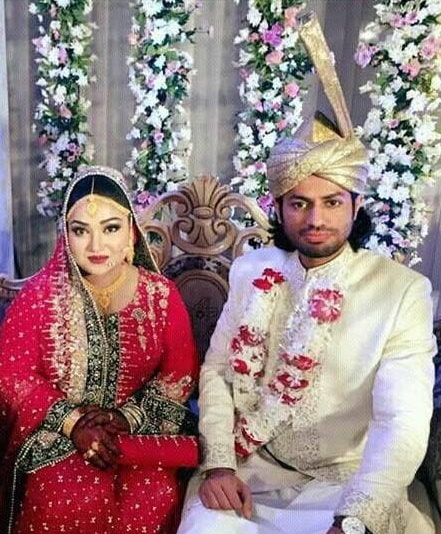 Imran Khan and Reham Khan
Imran Khan and Reham Khan got married and the couple parted ways in the year 2015 too. They got married in January 2015 and the news of their divorce came in October.
Azfar Ali and Naveen Waqar
Azfar Ali announced at the end of the year that he and Naveen Waqar were no longer a couple. He did not share details about their divorce but made the announcement after getting a lot of requests for interviews together.