A lot many celebrities tied the knot in this year; it can be labelled as year of weddings. We are on verge of bidding farewell to the year but that too with celebrity weddings. A quick recap follows below.
Atif Aslam
Atif Aslam the heartthrob of Pakistan got married to Sara Bharwana earlier this year to the dismay of many girls. Atif Aslam changed more outfits then the number of functions on his wedding.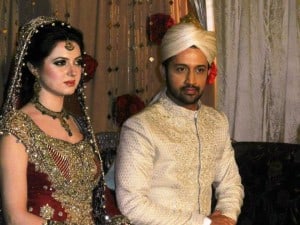 Bindiya
Bindiya who made her comeback in the industry after absence of more than a decade decided to tie the knot for the third time.
Kiran Khan
Kiran Khan the famous morning show host like most of the celebs in this list got married in a small ceremony attended by close relatives and friends only. She later appeared on Good Morning Pakistan along with her husband.
Wasim Akram
Wasim Akram who remained in news after judging an Indian reality show, he was allegedly involved with his co-host Shushmita Sen. however Wasim Akram took everyone by surprise by marring an Australian national Shaniera Thompson instead.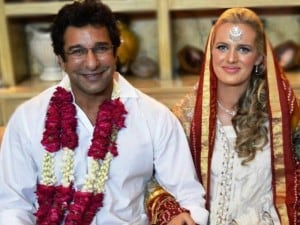 Wahab Riaz
Another cricketer to tie the knot this year is Wahab Riaz who unfortunately got lodged with an FIR on the grounds of violating the law (exceeding the time limit i.e. 10 pm and serving more than a dish). This might not be a good start for him but his fans wish him good luck in achieving his happily-ever-after.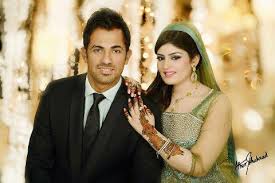 Sanam Baloch
Sanam Baloch and Abdullah FarhatUllah are amongst the few couples who got married with customary celebrations and bangs this year. Their mayoon, mehndi, nikah, barat and walima pictures created hype for long over social media.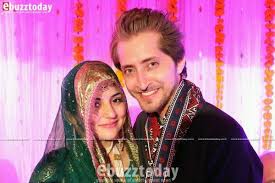 Babar Khan and Sana Khan
Babar Khan and Sana Khan; both a part of the showbiz, recently tied their fates together after a short engagement.
Hira Tareen and Ali Safina
And last but not the least we finally bid adieu to 2013 with the wedding of Hira Tareen and Ali Safina who said their nuptials the preceding weekend after an engagement of few months.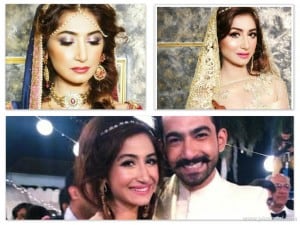 Apart from these Mehreen Syed, Jugan Kazim, Mansha Pasha and Feeha Jamshed are also among the married ones now and Sarwat Gillani and Annie Jaffery got engaged. We wish all the best to all the happy couples.
Faiza Cheema