After the two successful add-ons (Chambaili and the reluctant fundamentalist) in the Pakistan's film industry back-2-back, It is supposed that the upcoming movie "Tamanna" would entertain the audience to fullest. Been directed by a British director  Steven Moore, the movie is produced by the young producer Sarah Tareen. The cast of the movie consists of Salman Shahid, Feryal Gauhar, Hameed Sheikh, Umair Rana, Mehreen Raheal and Irfan Khan who would be seen in major roles.
Steven has been living in Lahore for the past 5 years, serving the South Asian Media school and the Film and Television Institute in Lahore. He believes that the industry has a lot of potential yet left neglected. The movie has been shot in Pakistan only and featured in Urdu only. The songs that have already attracted viewers are done by Rahat Fateh Ali Khan and the movie is said to be on its final stages.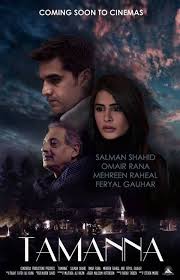 The story revolves around a character that is been played by Salman Shahid of a film director who loves to play real life games and it is Hameed Sheikh who falls in as his prey. Here is its trailer which would leave you with a better idea of what actually this movie is all about.
Have a look!
Keep your fingers crossed for the movie and do watch it once it is released,
Wishes
Nida Zaidi