The holy day of Eid-ul-Fitr is now a few hours away from us and has been shared with you all, there were 4 major Pakistani movies releasing this year on Eid, out of them the most powerful release was expected by Humayun Saeed's 'Main Hoon Shahid Afridi'. Like all other movie lovers, even was looking for some tickets for my family for the movie Josh (and not 'MHSA') and figured out that ''Main hoon Shahid Afridi' will not be releasing on Eid in the country. The movie's release has been delayed probably to provide a clear gateway to the previously banned Bollywood movie 'Chennai Express'.
Still confused? Making it easier to understand, Indian Movie Chennai Express which was previously banned in Pakistan to give the local content a better exposure within the country has already made its way to the cinemas and is a part of the ShowTime been offered by Pakistani popular cinemas.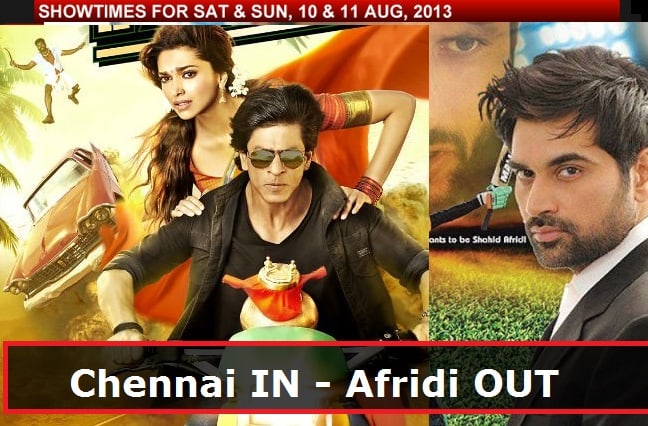 Atrium Cinema in Karachi, which offers an online booking service has already set its schedule for the movies that are been released this eid and it is interesting to see that despite of the hype been created about the four upcoming Pakistani movies, Josh, Ishq Khuda, Main Shahid Afridi hoon and Waar, we can see Josh only that is been schedule where even Ishq Khuda is also kept on hold.


Announcing the delay in the release, Vasay Chaudhry, the writer of the movie told the Express Tribune that the movie editor Azam Khan has passed away and the movie is still not done with the final touches. He also admitted that if the movie would have been released this Eid, the Bollywood movie which will now release on Eid would have taken up the market completely and so play it safe, it is better to release the movie some days later.
Let us see which movie takes up the market this Eid,
Share your views,
Nida Zaidi