Danish Taimoor's fans are definitely very excited for his upcoming film, "Wujood".
The film is directed and produced by Javed Sheikh and is a thriller film, something our Pakistani film industry will welcome with open arms. The lead cast consists of Danish Taimoor, Saeeda Imtiaz, Aditi Singh (Indian actress), Shahid Ali Saleem, Nadeem Baig and the experienced Javed Sheikh himself.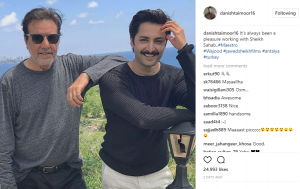 The shooting of the film is to take place in three countries ; Pakistan, Thailand and Turkey. From the photos that the talented Danish Taimoor has shared on his social media account, it seems like the Turkey part is being covered these days.