Doobara Phir Se (دوبارہ پھر سے) is an upcoming Urdu film. The film is shot in USA and directed by the New York based director Mehreen Jabbar. The film was expected to release on the Eidul Fitr 2016 but then delayed without stating any reason.
It is the second film directed by Mehreen Jabbar after Ramchand Pakistani (2005). While Ramchand Pakistani was a parallel cinema film, Doobara Phir Se is a mainstream commercial flick. Mehreen Jabbar is an acclaimed name as a director for quality dramas and expectations are high from this film too.
Doobara Phir Se, is also a comeback of Atiqa Odho on the silver screen, though she is playing a supporting role. Her last movie was Mujhe Chand Chahiye in 2000.
The first look of this film was released in March and its teaser was released in April. It is a family drama based in New York , USA.
Starring: Adeel Husain, Hareem Farooq, Tooba Siddiqui, Atiqa Odho, Sanam Saeed,Shaz Khan,Ali Kazmi and Musa Khan
Director: Mehreen Jabbar
Story by Bilal Sami & Mehreen Jabbar
Music: Haniya Aslam
Screenplay: Bilal Sami
Producer: Salman Iqbal, Mohammad Jerjees Seja, Mehreen Jabbar.
Co produced by: Ilana Rossein, Asif Jamal
Associate Producer: Bilal Sami.
Distributed by ARY Films
Studio:ARY Films in association with Namak Films
Releasing on 12th August 2016 (Tentative.)
Here is the theatrical trailer released today
https://www.youtube.com/watch?v=UaJDbU9mwVQ
Here is the teaser of the film launched in April 2016
https://www.youtube.com/watch?v=rkqNJB2NrFc
Here are the two posters of the film launched in March 2016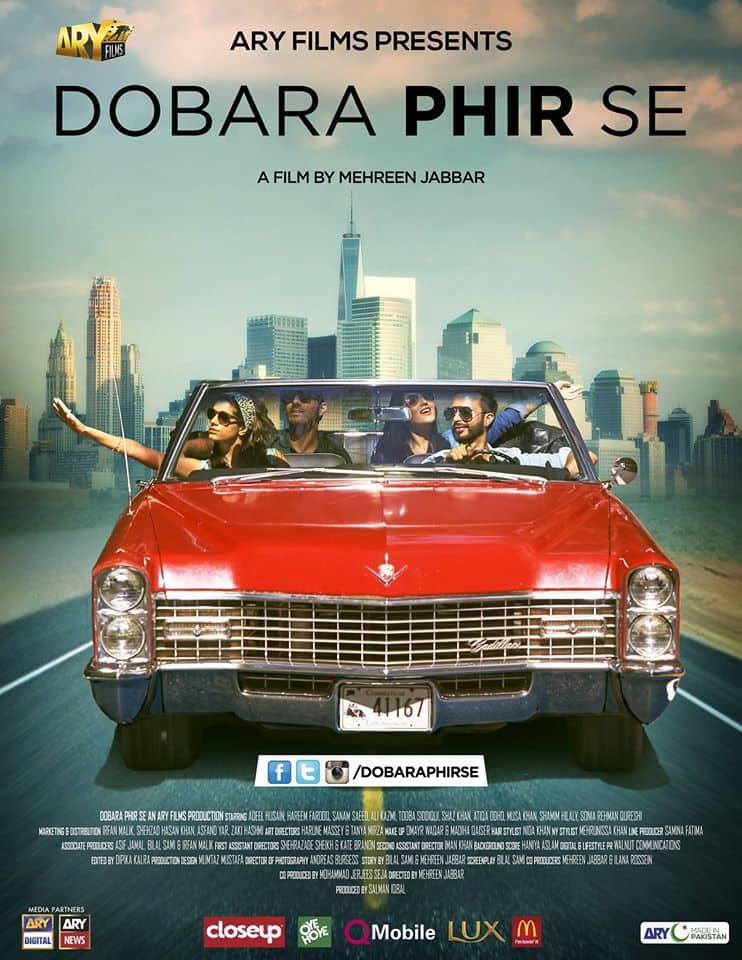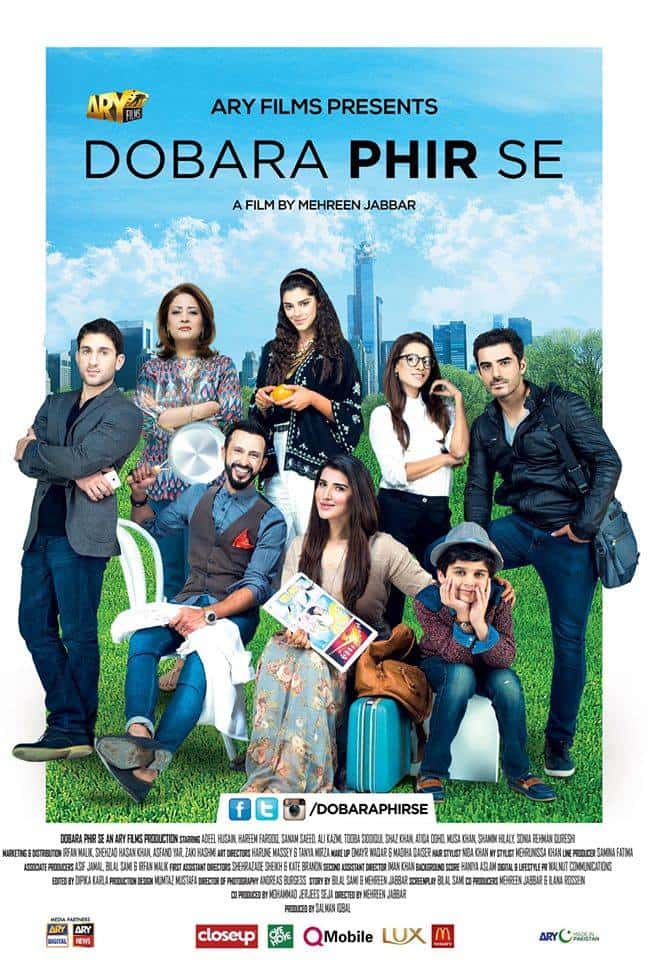 Few clicks from the shooting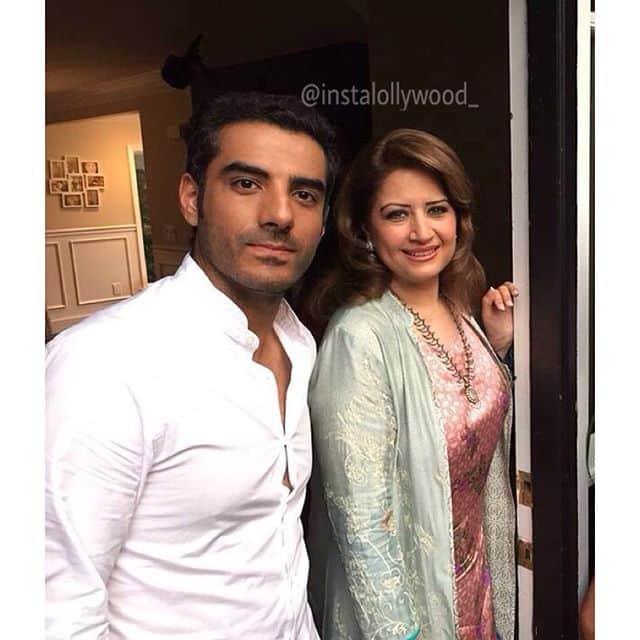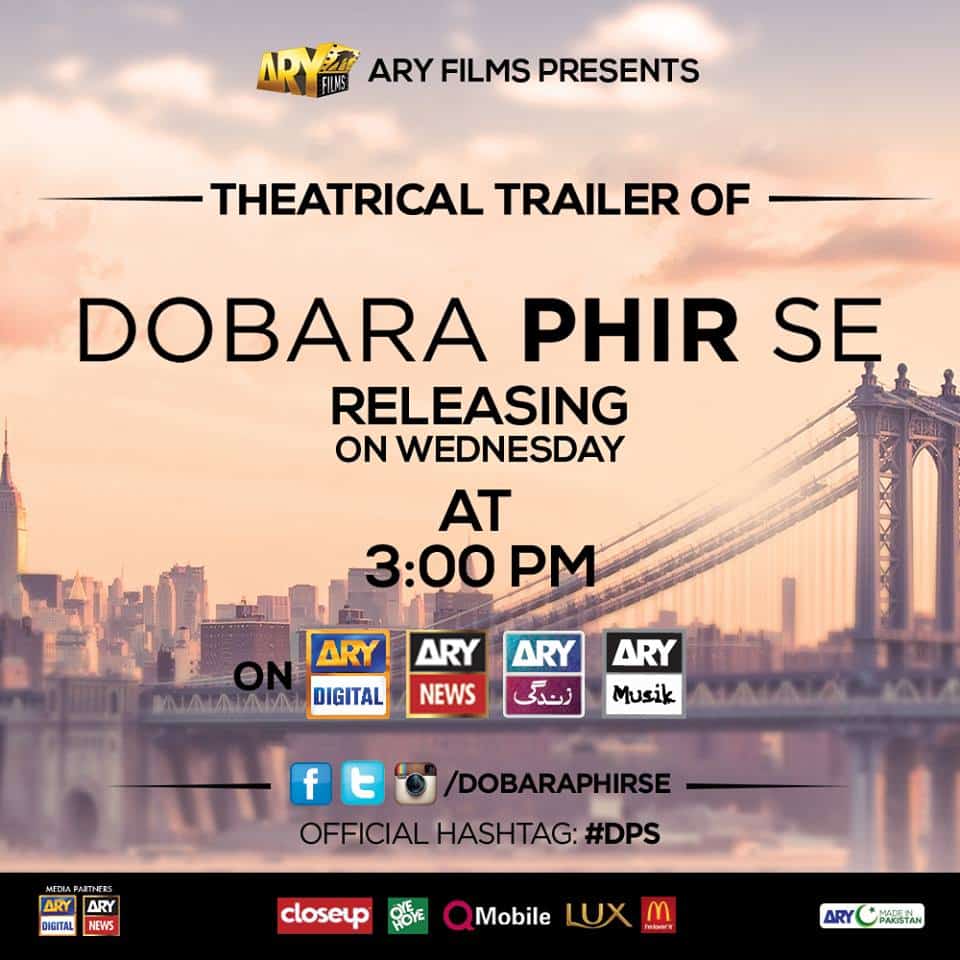 Trailer courtesy of PakistaniCinema Fan page, for all the latest updates on Pakistani Cinema.
https://www.youtube.com/channel/UCAgBFzV3J4hrbRMcBcsehvg
https://www.facebook.com/PakistaniCinema
The Official facebook page of the film is
https://www.facebook.com/dobaraphirse
Rashid Nazir Ali