Nowadays almost every other drama is based on a novel or short story mostly written by a female fiction writer. Adapting novels for films and dramas is a popular trend worldwide, being the first television channel definitely state run Pakistan Television is the pioneer in Pakistan when it comes to adapting novels for dramas. PTV produced many dramas based on Urdu and regional (Punjabi, Sindhi) novels which I had already covered in a series of articles. Following on the trend of PTV, now novel based drama is a routine.
But PTV clearly carries another distinction in this aspect which is adapting foreign language novels for dramas. Adapting a foreign novel requires a lot of effort as it requires localization of main character and situation of novel. The main theme remains the same, but the character and environment of novel is customized as per the local  taste and censor requirements.
Since 1970's PTV produced few dramas based on novels, which received mixed response. Interestingly most of such dramas by PTV have Rahat Kazmi in the cast. Speaking of contemporary drama making, only Hum Tv has adapted few foreign novels as dramas though they never mentioned the name of the novel.
This article is a compilation of drama serials of PTV and Hum Tv which were based on foreign novels.
Qurbatain aur Faaslay
Qurbatain aur Faaslay aired in 1974 was based on Russian novel 'Fathers and sons,' by Ivan Turgenev. Starring Rahat Kazmi and Sahira Kazmi, the play was very popular when aired from PTV Rawalpindi centre. It was a black and white play and perhaps its recording is no more available. The play provided nationwide recognition to both Rahat and Sahira.
Parchayian
Parchayian in late 1970's is another play from PTV Rawalpindi centre based on English novel 'Portrait of a Lady' by Henry James. Haseena Moin dramatized the novel whereas Rahat Kazmi, Sahira Kazmi, Talat Hussain, Shakeel and Javaid Sheikh were in prominent roles. The play was successful and it is available online as well.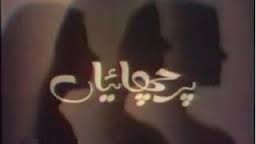 Teesra Kinara
Teesra Kinara in late 1970's is another play from PTV Lahore center based on Russian-American novelist Ayn Rand's novel 'Fountainhead' . Starring Rahat Kazmi, Usman Peerzada, Sahira Kazmi, Badi-uzZaman, Saba Hameed, it was dramatized by Rahat Kazmi himself. Teesra Kinara is also remembered for its theme song Kabhi Hum Khoobsorat Thay in the voice of Nayyara Noor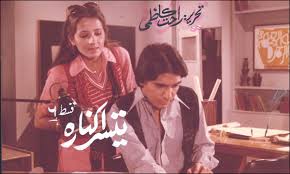 Ehsaas
Ehsaas in mid 1980's is another play from PTV Karachi center. It was a mini serial of six episodes starring Rahat Kazmi, Durr-e-Shehwar Raheem, Marina Khan, Khalid Anum, Sabiha Khanum and Hameed Wyne. Dramatized by Shahid Kazmi it was directed by Shazad Khalil. Ehsaas was based on English novel 'Misunderstood' by Florence Montgomery
After gradual decline of PTV in from mid 90's onwards, Hum TV is definitely a spearhead in drama making which revived the tradition of Pakistani drama. Through its back to back strong productions, Hum TV pulled the audience attention back towards Pakistani dramas which restored the faith of television viewers in Pakistani productions. Few of Hum TV dramas were based on foreign novels though they never mentioned the name of the novel in the credits.
The Ghost
The Ghost in 2008/2009 on Hum TV was an adaptation from a foreign novel. For television it was dramatized by Umera Ahmed and directed by Babar Javed starring Faisal Qureshi, Samina Peerzada, Savera Nadeem, Nadia Jameel, Sania Saeed, Rehan Sheikh and Ismael Bashi. The credits of drama clearly say it is an adaptation, but the name of the novel was not mentioned in the credits. Despite a huge cast, and big names as director and writer Ghost was not much popular.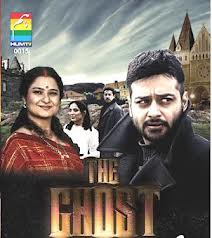 Khamoshiyan
KhamoshiyaaN in 2010 was also an adaptation and it was mentioned in the credits of the drama though the name of adapted novel was missing in the credits. Directed by Babar Javed and written by Samira Fazal the play starred Nauman Ejaz, Sania Saeed, Faisal Rehman, Ayesha Khan, Vaneza Ahmed and Sana Khan in main roles. Khamoshiyan was a successful play.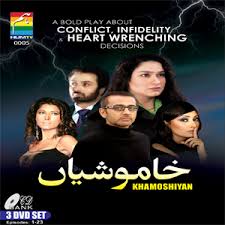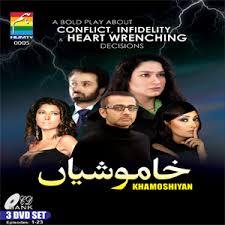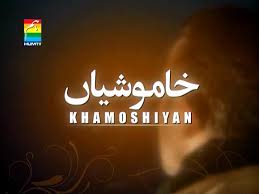 Mera Naseeb
Mera Naseeb in 2011 was a successful play of Hum Tv written by Sameera Fazal. Again the credits say 'A part of the story is an adaptation' but the name of adapted story or novel was missing in the credits. Starring Sanam Saeed, Syra Yousaf, Adeel Hussain, Bushra Ansari, Rubina Ashraf, Samina Peerzada, Imran Abbas, Imran Aslam, Sajid Hassan, Mera Naseeb enjoyed great success with audience as well as critics. It also won the best drama award Lux Style Award. Though the drama makers never mentioned about adapted novel, later on social media it is revealed that novel Sister of My Heart by an Indian author was the original source of the story.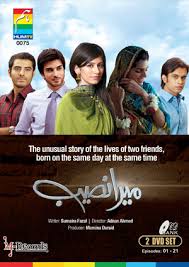 So that is my compilation of dramas adapted on foreign novels. Do share your experiences and views on these dramas, or mention if some drama is missing in the list.
Also comment whether foreign novels be adapted as dramas or not? If yes is there any recommendation from your side?
Thanks for your precious time.
Rashid Nazir Ali