Edhi Sahab, Malala and Bacha have all made Pakistan proud.
Edhi was perhaps the most charitable personality of Pakistan. He also founded the world's largest volunteer ambulance network in Pakistan, the Edhi Foundation. He had dedicated his entire life for those in need, regardless of their gender, caste or religion.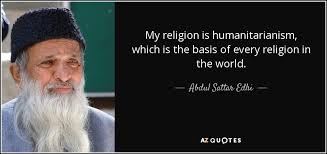 Malala Yousufzai is the brave Pakistani girl who managed to survive a terrorist attempt on her life in her pursuit of education. A bullet could not silence our young hero and today she is doing everything in her power to try to make education available to every individual in Pakistan, especially the girls. This young girl has also earned a Nobel Prize for her efforts.
Khan Abdul Ghaffar Khan, widely known as 'Bacha Khan' – translating to 'King Khan'. He was a Pashtun independence activist. He is also known as the 'Pakistani nonviolent activist and the founder of 'Servants of God' movement.Bacha Khan dedicated the majority of his life teaching his fellow Pukhtuns the value of tolerance. His main exertion often centred on their education, mannerism, self-respect, well-being and self-reliance.
These are the tweets that were posted on twitter in regards to this news:
PMV proudly announces Abdul Sattar Edhi as the latest #PeaceHero. Sattar Edhi was a Pakistani philanthropist, and a humanitarian (1)

— Peace Museum Vienna (@PeaceHeroesPMV) April 6, 2017
Sattar Edhi founded the Edhi Foundation which runs hospitals, homeless shelters, rehabilitation centers, and orphanages across Pakistan. (2)

— Peace Museum Vienna (@PeaceHeroesPMV) April 6, 2017
By the time of his death, Edhi was registered as a parent/guardian of nearly 2.000 children. He is known as 'Angel of Mercy'. (3)

— Peace Museum Vienna (@PeaceHeroesPMV) April 6, 2017
Edhi has been nominated several times for the Nobel Peace Prize, he promoted religious tolerance "No religion is higher than humanity." (4)

— Peace Museum Vienna (@PeaceHeroesPMV) April 6, 2017
Khan Abdul Ghaffar Khan, @malala featured at the Peace Museum, Vienna pic.twitter.com/PIHLqwyG3D

— Mohammad Taqi (@mazdaki) August 8, 2017