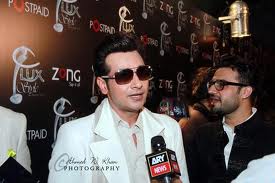 The famous quote says, "YOU COULD LOCK the Gasman in a padded cell with some dental floss and a bowl of Jell-O, and he'd find a way to make something to explode." And Imran Qureshi , a Pakistani artist completely sets here whose talent and art is not valued by Pakistan but talent hits a target no one else can hit and he exactly did so!
Deutsche Bank's art program has declared Pakistani artist Imran Qureshi as its "Artist of the Year" for 2013. The award honours promising artists who tackle social issues in an individual line of attack and who have created an exceptional opus, which ponders on the two focal points of the Deutsche Bank Collection – works on paper and photography. Following the proposal of Deutsche Bank's Global Art Advisory Council, the award was proclaimed in Berlin, where Qureshi's works will be shown in a foremost solo production at the Deutsche Bank Kunst Halle in spring 2013.
"The award means a lot to me," said Imran meekly. "It's about a whole programme, which is not only beneficial for the artist but is also a great opportunity for people all over the world to know about that artist through this exhibition. Apart from this, this is good news from Pakistan for Pakistani people and the artistic community, which will project a positive image of the country to the outer world and that is the most important
thing for me."
Faisal Qureshi, a local comedian and the artist's brother, expresses his bliss for winning this title. "It is a huge achievement for Pakistan — I am not only proud of him as a brother but also as a Pakistani. When Imran was exhibiting his work and won an award in Sharjah, everyone commented on the impact his work had made and the fact that he was able to tie loudness with subtlety, which allowed him to really stand out."
Imran Qureshi is one of the mainly essential figures on the Pakistani art landscape. The artist, who was born in 1972, lives in Lahore where he coaches at the National College of Arts. His award tags on Wangechi Mutu in 2010, Yto Barradain 2011, and Roman Ondák in 2012.
Imran you made our heads go up!
Wishes
Nida Zaidi