"Kiyun mera dil hara, kiya mein karoun yaaraa …." This is an evergreen song and is one of my favorite Pakistani songs. I, still remember how crazy we were after this song during our school days and used to sing it aloud during recess time. This voice is still unforgotten.
Fakhir Mehmood, one of the most amazing voices of Pakistani Youth. He always had this love for music and he was so passionate about it that after the completion of his Engineering Degree, he jumped into the world of singing without wasting a single second. There are only few people who show the courage of actually pursuing the field of their interest. In our society, we are normally forced to do what our families ask us to do. But Fakhir, he never gave up. He knew how much he loves music and therefore he stood up.
He once said:
"To me music is like the stars in the sky, it does to the soul, what the stars do to break the muteness of the stark black sky".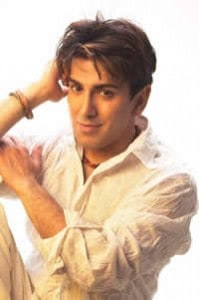 Soon after his graduation, his voice was heard from his the-then very famous musical band called "AWAZ" with musician Haroon. His first album "Aatish" (2002) was a huge hit and broke all musical records in Pakistan. After this huge success, he never turned back. The response from the lovers of Aatish was immense, which drew Fakhir to come-up with more musical albums of his, "Sub Tun Sohniyeh" (2003) and "Mantra" (2005). His work was greatly appreciated by the audience and his songs topped the charts. His achievements include winning LUX Style Awards (two), Sahara Sangeet Awards (two) and many other such laurels came his way. He took a break from his music career after reaching peak of success so that he may give time to his family and business as well. After almost half a decade, Fakhir returned to the limelight with his third album, "Jee Chahay" in 2011. He, also, conducted many musical concerts during his musical career. His acts are filled with energy, charged with unmistakable enthusiasm and a charismatic voice to compliment all the magic that unfolds on stage. He has also served as judge in the famous show "Pakistan Sangeet Icon". He is also the recipient of the most prestigious Pride of Performance award from the former President of Pakistan Pervez Musharraf for his outstanding piece of music. Not only that Faakhir was appointed as the Good Will Ambassador of United Nations, Pakistan for Human Development & health awareness. Also he was appointed as the Good Will Ambassador for the W.H.O for Tobacco control & numerous others. Not too very long ago in May 2011, Faakhir Mehmood was recognized as the 'Influential Asian Promoting Pakistani Culture in USA' which was presented to him by Governor in Long Island as the part of Asian Heritage Week 2011. He is one of the very few versatile artists who are not only admired within Pakistan but internationally, as well. Faakhir's live shows have taken his 'music and magic' from big and small cities across Pakistan to many countries in the world including the United States, Europe, the Middle East and Asia.
Once he was asked to define the term music and his reply was:
"I think music cannot be explained or defined. Even if you write a whole book on it, with so many theories, and it doesn't attract, it goes wasted. Good music can always be felt and listened to. So I would say that "Music cannot be explained or defined. It must be heard and felt".
For someone whose point of view is so soft about music, you can easily imagine how heart-catching would be his compositions. As a singer, composer and a producer he has nailed every area of music.
"Jee Chahay" has a number of excellent and heart-touching songs. One among the rest, which is closest to Fakhir's heart, is "Baliya". It is a-must-listen song. If you have not heard it yet, do give it a go.
Good day & Cheers!
S. Rasool