Firoz Fatima, who considers Malala Yousafzai as her ideal has won one crore (10 million) indian rupee in famous TV show kaun banega crorepati (KBC).
The program will be telecasted on sunday 1st December 2013 on Sony TV.
Firoz Fatima, is also first ever female winner in KBC. She belongs  to Sansaarpur village of Saharanpur district in the indian state of Uttar Pradesh. She has completed BSc. degree this year.
She gave the credit of win to her education. Firoz Fatima said, "My father passed away two years ago and then my family faced lot of hardships after his death. Had I not been educated, I could never have achieved this. Whatever I am today is due to my education"
Firoz's family consists of a sister and mother. Her relatives were against her education.
She said, 'They (relatives) used to say to my parents, why are you educating girls after all in the end they have to look after kitchen and household. But my parents never listened to anyone, and my win is a strong answer to all the critics.
Firoz's mother also attended the show. She considers her mother a very brave woman, as it was due to her she was able to continue her education after death of father
Dressed like a traditional muslim, Fatima said debate of dress is unnecessary all what matters is the thought and ideas of a person. She considers Malala Yousafzai as her ideal.
About show host Firoz said, 'I was quite nervous once on the hot seat. But Amitabh jee encouraged me that I felt confident. I also hugged him and it felt nice.
How will she spend this one crore? Fatima told first she will return the loan amount she borrowed for treatment of the father. Then use the rest of the money for her sister and her own education. What else she never thought of such big amount of money.
Firoz Fatima now also wants to appear in Public Service Commission of India.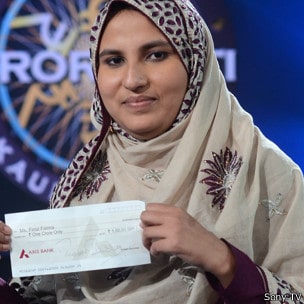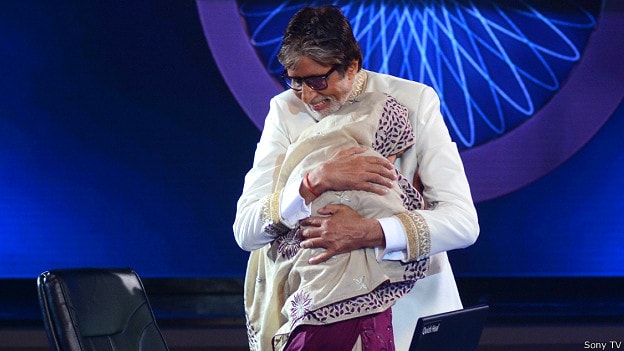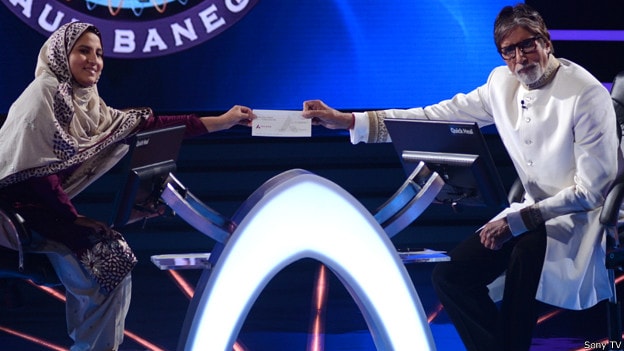 Here is the actual content from BBC Urdu
ملالہ یوسف زئی کو اپنا آئیڈیل ماننے والی 22 سالہ فیروز فاطمہ نے معروف ٹی وی شو کون بنے گا کروڑ پتی میں ایک کروڑ روپے کی انعامی رقم جیت لی ہے۔
ان کا یہ پروگرام آج سونی ٹی پر دیکھا جا سکتا ہے۔
ی بی سی ہندی کی مدھو پال کہتی ہیں 'ان کے چہرے کی خوشی دیدنی ہے۔ وہ بات بات پر ہنس دیتی ہیں لیکن جب میں نے ان سے انٹرویو شروع کیا تو پوری طرح سنجیدہ نظر آئیں۔'
مدھو پال کے مطابق ان کی سنجیدگی اور سائشتگی ایسی چیزیں ہیں جو انہیں گیم شو میں ایک کروڑ روپے کی انعامی رقم جیتنے میں مددگار ثات ہوئیں۔
فیروز فاطمہ اتر پردیش کے سہارنپور ضلع کے سنسارپور نامی گاؤں کی رہنے والی ہیں اور انھوں نے اسی سال اپنی بی ایس سی کی تعلیم مکمل کی ہے۔
اپنی جیت کا کریڈٹ وہ اپنی تعلیم کو دیتی ہیں۔ فیروز فاطمہ نے کہا 'میرے والد دو سال پہلے انتقال کر گئے تھے اس کے بعد ہمارے خاندان پر مصیبتوں کا پہاڑ ٹوٹ پڑا۔ اگر میں تعلیم یافتہ نہ ہوتی تو یہ کامیابی حاصل نہ کر پاتی۔ آج میں جو کچھ ہوں اپنی تعلیم کی وجہ سے ہوں۔'
فیروز کے گھر میں ان کی ایک بہن اور ماں ہیں۔ انھوں نے بتایا کہ بچپن سے ہی ان کے رشتہ دار انہیں تعلیم دینے کے مخالف تھے۔
وہ کہتی ہیں 'میرے والدین سے سب کہتے کہ لڑکیوں کو کیوں پڑھا رہے ہو؟ انھیں آخر روٹی ہی تو بنانی ہے لیکن میرے ماں باپ نے ان کی ایک نہ سنی۔ اب دیکھئے میری جیت سے ان لوگوں کو سخت جواب مل گیا ہوگا۔'
فیروز کا دعویٰ ہے کہ جب سے لوگوں کو پتہ چلا ہے کہ انھوں نے 'كے بي سي' میں ایک کروڑ روپے جیتے تب سے ان کی سوچ بھی بدل رہی ہے اور اب وہ بھی اپنی بچیوں کو تعلیم دینے کے حامی بن گئے ہیں۔
فیروز کے ساتھ ان کی والدہ بھی شو میں آئی تھیں۔ وہ اپنی ماں کو ایک بہادر خاتون بتاتی ہیں کیونکہ ان کے مطابق والد کے انتقال کے بعد ماں کی وجہ سے ہی وہ اپنی تعلیم جاری رکھ سکیں۔
روایتی مسلم لباس میں ملبوس فاطمہ کا کہنا ہے کہ لباس سے کوئی فرق نہیں پڑتا بلکہ انسانی سوچ بہتر ہونی چاہیے۔ وہ ملالہ يوسف زئی کو اپنا آئیڈیل مانتی ہیں۔
شو کے ہوسٹ امیتابھ بچن کے بارے میں فیروز نے کہا 'جب میں ہاٹ سیٹ پر پہنچی تو بے حد نروس تھی لیکن امیتابھ جی نے مجھے حوصلہ دیا اور اتنی اچھی باتیں کیں کہ میری ساری گھبراہٹ دور ہو گئی میں ان سے گلے بھی ملی مجھے بہت اچھا لگا۔'
شادی کے بارے میں انھوں نے کہا 'ابھی اس بارے میں کچھ نہیں سوچا ہے لیکن جب بھی شادی کروں گی ماں کی رضامندی سے کروں گی'۔
وہ اس ایک کروڑ روپے کا کس طرح استعمال کریں گی؟ اس سوال پر فاطمہ نے بتایا'والد کے علاج کے لیے جو قرض لیا تھا اسے چكاؤں گي۔ پھر اپنی اور بہن کی تعلیم کے لیے پیسے کا استعمال کروں گی۔ پھر کیا کروں گی کبھی سوچا نہیں تھا کہ اتنا پیسہ ایک ساتھ مل جائے گا۔'
فیروز فاطمہ اب پبلک سروس کمیشن امتحانات کی تیاری کرنا چاہتی ہیں۔
Source: http://www.bbc.co.uk/urdu/entertainment/2013/12/131201_kbc_winner_firoz_fatima_mb.shtml
Rashid Nazir Ali