Fawad Afzal Khan is one of the most popular names of Pakistani Television Industry. He has gained immense fame in the past few years; especially after Humsafar. Well, it seems the fame has got to his head now as he is demanding to get paid for every scene he enacts in a show. This news was reported in an Urdu newspaper recently. Actors are usually paid per episode, but Fawad Khan has formed a new trend of getting paid for every scene!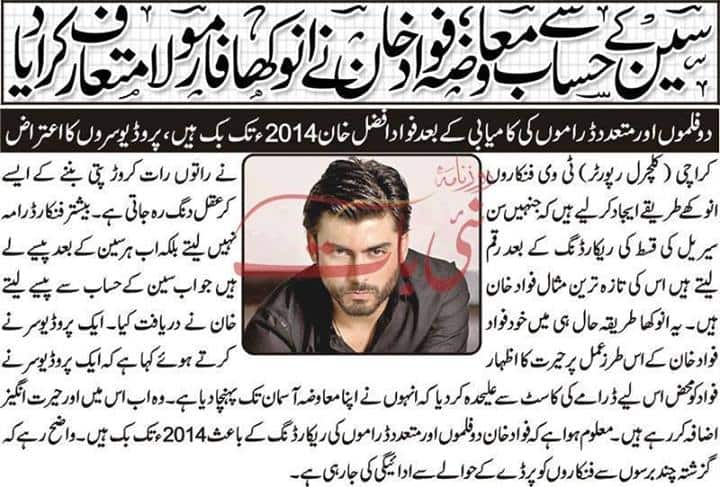 Now other actors are also following this trend set by Fawad Khan and have started charging for every scene. This is bad news for the producers who now have to pay more to actors which interferes with their allocated budget. The actor's high fees means producers now have to compromise on other aspects of the serial to fulfill the demands of the actors. This might even interfere with the quality of the serials produced in the future.
Many producers want to cast the most demanded and renowned actor of Pakistani Industry: Fawad Khan, but his fees has sky rocketed and most of the producers cannot afford to cast him in their serials. Recently, a producer had to drop Fawad Khan from the cast of his show because of the high fees he was demanding! It has been heard that Fawad is completely booked till 2014 because of two movies and a few other dramas.
Well, one should not only be materialistic in their approach. Money is a very important factor, but should not be the only factor that should be considered when an actor is offered a role. A challenging role can also be a motivation for actors to take up a show.
There are so many fans of Fawad Khan who want to see him more of his shows on Television. Due to his high demand for the payment, he is bound to lose a lot of good projects. He will also be seen in a Bollywood movie pretty soon and according to news; he is also doing another movie. We already know that he has given a nod for the movie produced by Sultana Siddiqui's which will be her first venture in Lollywood. This might be the second movie mentioned in the news.
Fawad Khan has a huge fan following and the audiences have a lot of expectations from him to do quality projects. Most of the audiences are not being able to connect with his current show on air, Numm, and the main reason is that they had pretty huge expectations from the serial just because Fawad Khan was playing the lead. Numm is a very well made serial, but the high expectations of the viewers had disappointed them as they consider the show not up to the mark that they had set initially.
We really hope Fawad Khan high charges would not interfere with his rising career!
What are your views about this news?
Mariam Shafiq