After working in the entertainment industry for more than four decades Badar Khalil has decided to bid farewell to acting. She gave her last interview to DAWN Newspaper before leaving for Canada for good. Her disappointment with the drama industry and some people in particular is very evident in this interview. You can read the interview here: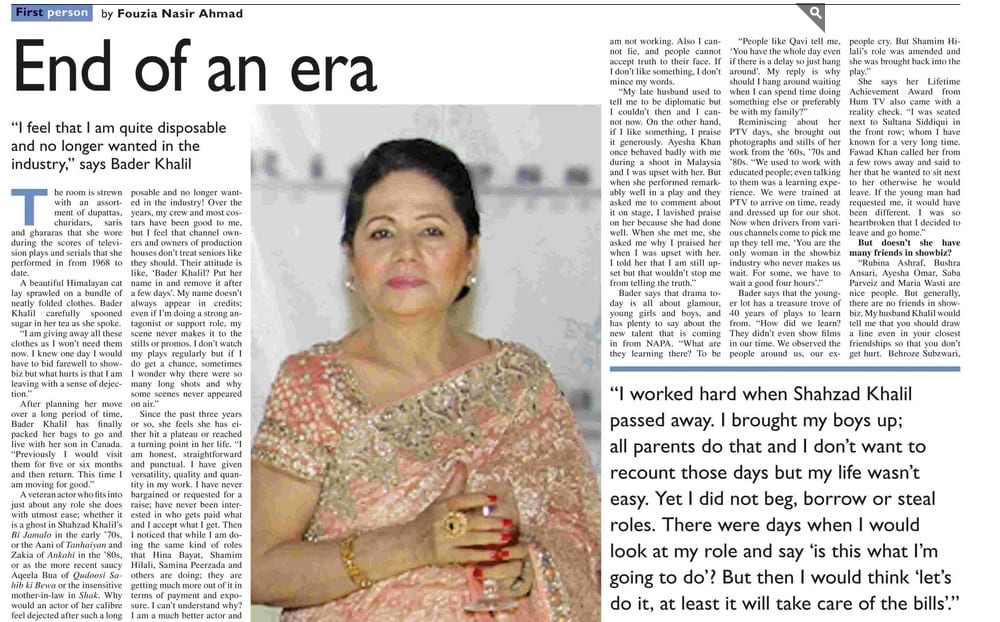 Here are some of the things that Badar Khalil said that might interest the readers more than others:
"Fawad Khan has a make up artists all to himself because Hamsafar was a hit? These people think that since they have learnt acting, they know everything there is to know. Does experience not count at all?"
"Asif Reza Mir practically lived in our house and grew up with our sons. Now that they are established and have their own lives, they don't care about someone like me"
"Samina Peerzada did not have much potential to begin with but got groomed after doing all kind of roles, just like Shabana Azmi's talent was polished after doing all kind of roles. I feel that Smita Patel had more talent than her"
"My name doesn't always appear in credits; even if I am doing a strong antagonist or support role, my scene never makes it to the still or promos". She also says that her long scenes are cut short after editing."
"There are no friends in showbiz. My husband Khalil would tell me that you should draw a line even in your closet friendships so that you don't get hurt."
It feels sad to read all this from someone who has given the industry her whole life.
Ushna Shah who is always very vocal on her facebook page had something to say about this interview too. She said that Badar Khalil was indulging into self pity. Here is what she said about the interview on her facebook page.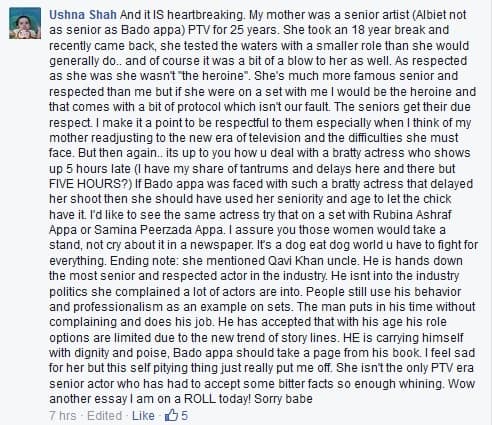 One of the famous facebook pages reported as follows: