The festive occasion of Eidul Azha is coming on the Saturday 2nd September 2016 where four holidays from 1st September 2017 – 4th September 2017 are announced by the federal government. Such long holiday season provides a favorable window for film business.
Any such long holidays like Eidul Fitr, Eidul Azha, Christmas, Independence Day come with the screening of some big banner movies. Among all such long holidays; in recent times Eidul Azha has emerged as the most successful time of the year for the Pakistani cinema.
Since the so-called revival of Urdu cinema from 2013, the most successful Urdu film of the year has been released on Eidul Azha. The main factor for this can be the absence of a big banner Bollywood movie. On Eidul Fitr normally a Khan starer big banner Bollywood film is released which takes the lion share of screen shows and business thus reducing the chances of any local film. So it makes Eidul Azha more lucrative for local film makers and viewers.
From 2013, Eidul Azha holidays have seen massive business by local releases.
2013 > Waar earned a mammoth 23 crore in Pakistan and became the most successful Urdu film ever
2014 > Namaloom Afraad earned 12 – 13 crore to become the highest earning Pakistani film of 2014
2015> Jawani Phir Nahin Aani earned around 35 crore and became the most successful Pakistani film ever.
2016> Actor In Law earned around 24 crore to become the highest earning film of 2016. The second highest earning Urdu film of 2016 Janaan (which earned 17 crore in Pakistan) was also released on Eidul Azha. So collectively the Eidul Azha films earned between 40 – 45 crore in total in the local market. These films also earned well abroad in Europe and North America.
With such favorable response, the leading film makers target Eidul Azha holidays for their high budgeted films. This Eidul Azha two big budgeted Urdu films are releasing while one Urdu film is re-releasing.
Apart from Urdu, regional films in Pashto and Punjabi are also releasing on this Eid. Two Bollywood films are also releasing on this Eidul Azha. Though Eidul Azha is coming on Saturday 2nd September 2017, but all these films are releasing on Friday 1st September 2017 which starts the Eidul Azha holiday weekend.
So lets go through the films coming on this Eidul Azha.
Bollywood Films
Bollywood films are the life line of the Pakistani cinema industry. The consistent performance of Bollywood films in Pakistani cinemas has provided stability to this industry and has also attracted new investment. Bollywood films are very popular among local cine goers and attract viewers from all sections of society.
Two Bollywood Hindi films are releasing on this Eid which are Badshaho (بادشاہو) and Beimaan Love (بے ایمان لو). Normally the Bollywood film released on Eidul Fitr leads the business race against the local Urdu films. However the Bollywood films released on Eidul Azha have not been able to earn more than the local Urdu films. So if Bollwood film is the winner on Eidul Fitr, the winner on Eidul Azha is the local Urdu films.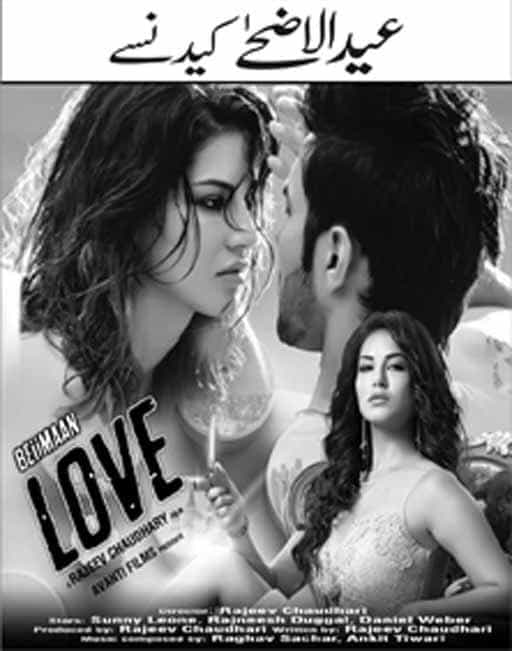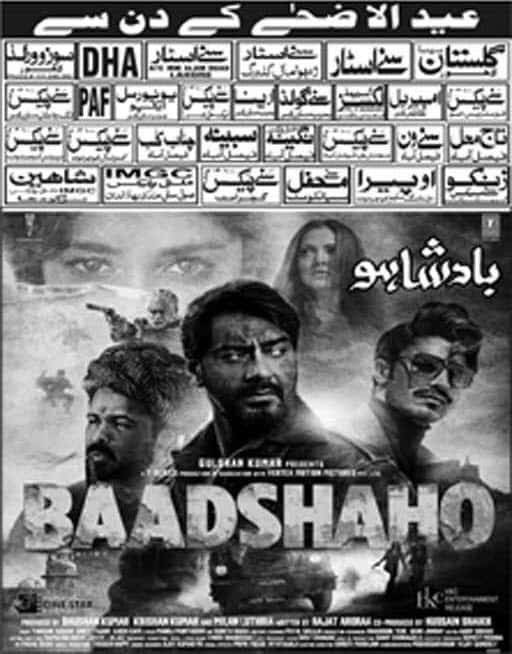 Lets see the performance of Bollywood Eidul Azha releases since 2013.
In 2013, Waar earned 23 crore while Bollywood film Boss earned less than 10 crore
In 2014, Namaloom afraad earned 13 crore while Bollywood film Bang Bang earned less than 10 crore
In 2015, Jawani Phir Nahin Aani earned between 35 crore – 40 crore while Bollwood film Kis Kis ko Pyar karoon only earned around 6 – 7 crore
In 2016, all three Urdu films Actor In Law (24 crore), Janaan (17 crore) and Zindagi Kitni Haseen Hai (7 crore) earned more than the Bollywood film Baar Baar Dekho (3 – 4 crore)
As per the press reports out of the two Bollywood releases i.e. Baadshaho and Beimaan Love, Baadshaho is expected to earn more.
Urdu films
Urdu is the national language of Pakistan which is spoken and understood in all the provinces and regions of Pakistan.
The main business circuit of Urdu films is the Provinces of Sindh, Punjab and the Islamabad Capital Territory. Urdu films see a limited release in the provinces of KPK and Balochistan. In KPK and Balochistan, Urdu films are only screened in few cinemas of Cantonment area.
This Eidul Fitr two new Urdu films are releasing. Both these films are high budgeted big banner movies. One Urdu film is re-releasing on this Eid as well.
Punjab Nahin Jaongi (پنجاب نہیں جاؤں گی)
Punjab Nahin Jaongi (PNJ) is produced by almost the same team of Jawani Phir Nahin Aani (JPNA) released on Eidul Azha 2015. JPNA proved blockbuster and to date is the highest earning film of Pakistan in any language.
Like JNPA, PNJ also stars Humayun Saeed and Mehwish Hayat in the lead while Nadeem Baig is the director. The major highlight of PNJ is the writer Khalilur Rehman Qamar (KRQ). KRQ last wrote the film Koi Tujh Sa Kahan in 2005, so PNJ marks his comeback on the big screen after a long gap of 12 years.KRQ is known for his powerful and insightful dialogs and his fans surely expect a quality script here.
Sohail Ahmed a famous name of Punjabi commercial stage is also making a comeback on the big screen after a long time. Seasoned artist Naveed Shahzad who seldom works in dramas is also making her big screen debut. Saba Hameed is also returning to the big screen after a decade where her debut film Mein Ek Din Laut Ke Aaonga was released in 2007.
Azfar Rehman a well known name of television is also appearing as secondary hero in this film. It is his first prominent appearance on big screen, earlier he done a cameo in the film Manto (2015). Urwa Hocane who last appeared in Namaloom Afraad in 2014 is appearing in a film after a gap of three years from PNJ. Ahmad Butt is also playing a prominent role in PNJ.
PNJ is a film of family drama genre. The film is shot in the cities of Bahawalpur and Karachi and is expected to attract the viewers in the circuit of Punjab as well as Karachi.
In the recent years few films of Family Drama genre have proved successful like Bin Roye (2015), Ho Mann Jahan (2016) and Janaan (2016).
Namaloom Afraad 2 (نامعلوم افراد 2)
Namaloom Afraad 2 (NMA2) is the sequel of superhit Namaloom Afraad released on Eidul Azha 2014. NMA2 features almost the same cast which were in NMA namely Javed Sheikh, Fahad Mustafa, Mohsin Abbas Haider and Urwa Hocane. Nayyer Ejaz is appearing in a prominent role in NMA2, he had a cameo appearance in NMA.
The character of Amber Khan (wife of Javed Sheikh) in NMA has been shown dead and Marina Khan will be paired opposite Javed Sheikh in NMA2. Marina Khan is a well known face of the television dramas and NMA2 is her debut film.
The character of Kubra Khan is also not part of NMA2, instead Hania Aamir will appear in NMA2 paired opposite Mohsin Abbas Haider. Marina Khan and Hania Aamir are playing mother and daughter in NMA2.
NMA also featured Mehwish Hayat in the item song Billi. In NMA2, the super model Sadaf Kanwal is doing the dance number Kaifo Suroor.
Like NMA, NMA2 is also a comedy film. In the recent years films of comedy genre have proved the most popular genre in local Urdu films followed by films of action and family drama genre. So NMA2 is expected to give a tough competition to PNJ on Eidul Azha.
NMA2 is the third film from the producer Fizza Ali Meerza and director Nabeel Qureshi. Their previous two films NMA(2014) and Actor In Law (2016) were also released on Eidul Azha and proved the highest earning films of the respective year.
Bhai Log (بھائی لوگ)
Bhai Log is an Urdu film released in 2011. The film proved average at the box office. After a gap of five years the film is re-releasing on this Eidul Azha.
Bhai Log is directed by Syed Faisal Bukhari and has a long cast featuring Shamoon Abbasi, Moammar Rana, Shafqat Cheema, Babrik Shah, Nadeem, Javed Sheikh, Saima, Noor, Babar Ali, Meera, Sila Hussain and Nayyer Ejaz.
Syed Faisal Bukhari is known for masala commercial films and Bhai Log is also a loud action film.
Punjabi Films
Punjabi is the largest spoken language in the Pakistan and for almost six decades Punjabi cinema proved the backbone of the Lahore based Pakistan film industry. However the popularity of Punjabi cinema has completely eroded till mid 2000's. Very few Punjabi action films are now produced based on gandasa theme. Punjabi films are only released in the province of Punjab.
Two Punjabi films are releasing on this Eidul Azha
Sholay (شعلے)
Cast:Nadeem, Moammar Rana, Masood Akhter, Sobia Khan, Nisha Bhatti, Shafqat Cheema
Writer: Muhammad Kamal Pasha
Director: Shahid Rana
Producer: Muhammad Waqas, Muhammad Irfan
Suhaag Diyan Choorian (سہاگ دیاں چوڑیاں)
Cast: Haider Sultan, Suhaina Khan, Sonia Ali, Alia Khan, Raheela Agha, Qadeer Khan, Shafqat Cheema, Shahbaz Akmal
Writer: Nauman Ahmad Figar
Director: Shahzad Haider
Producer: Ishfaq Mughal
Pashto Films
Pashto is the second largest spoken language in Pakistan. Pashto speakers reside in all the provinces of Pakistan in considerable numbers. The circuit of Pashto films is the province of KPK (Peshawar, Mardan, Swat), Balochistan (Quetta) and Sindh (Karachi). Normally Pashto films are not released in Punjab but sometimes there is a limited release in the city of Rawalpindi. The famous artist of Pashto cinema are Shahid Khan, Jahangir Jani, Ajab Gul, Arbaaz Khan and Babrik Shah. Pashto films are mostly male oriented of action genre. The famous female artists of Pashto films are Sobia Khan, Afreen Pari and Dua Qureshi.
Pashto cinema has its own dedicated circuit and usually all the Pashto films recover their budget easily even if they are not successful.
Three Pashto films are coming on Eidul Azha which are Lambe (لمبے) , Shaddal Zalmay (شڈل زلمے) and Jurmo Saza (جرم و سزا)
Lambe (لمبے)
Cast:Arbaaz Khan, Sidra Noor, Ajab Gul, Afreen Pari
Directed by : Shahid Usman
Written by : Saleem Murad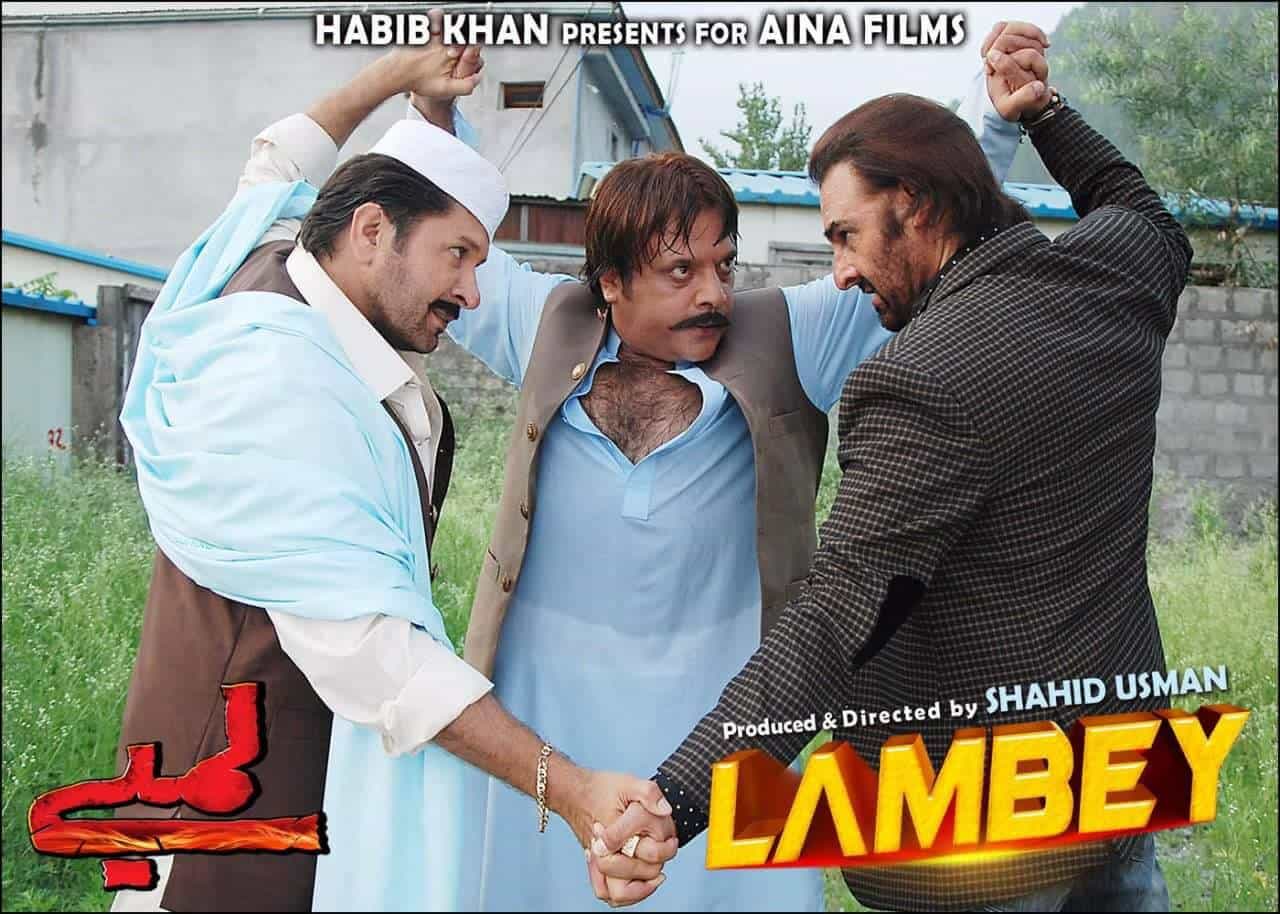 Jurm Ao Saza (جرم و سزا)
Cast: Arbaz Khan, Jahangir Jani, Sidra Noor
Directed By : Arbaaz Khan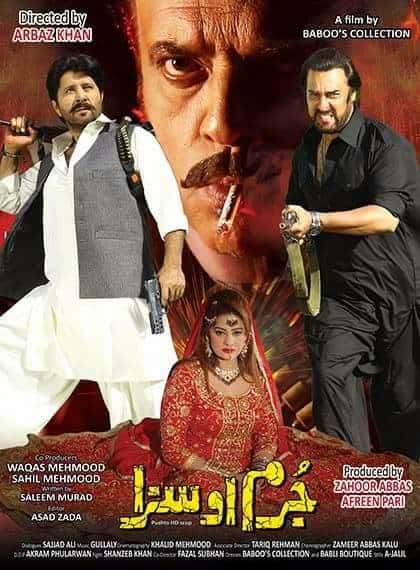 Shaddal Zalmay (شڈل زلمے)
Cast: Shahid Khan, Dua Qureshi, Jahangir Jani
Directed By: Arshad Khan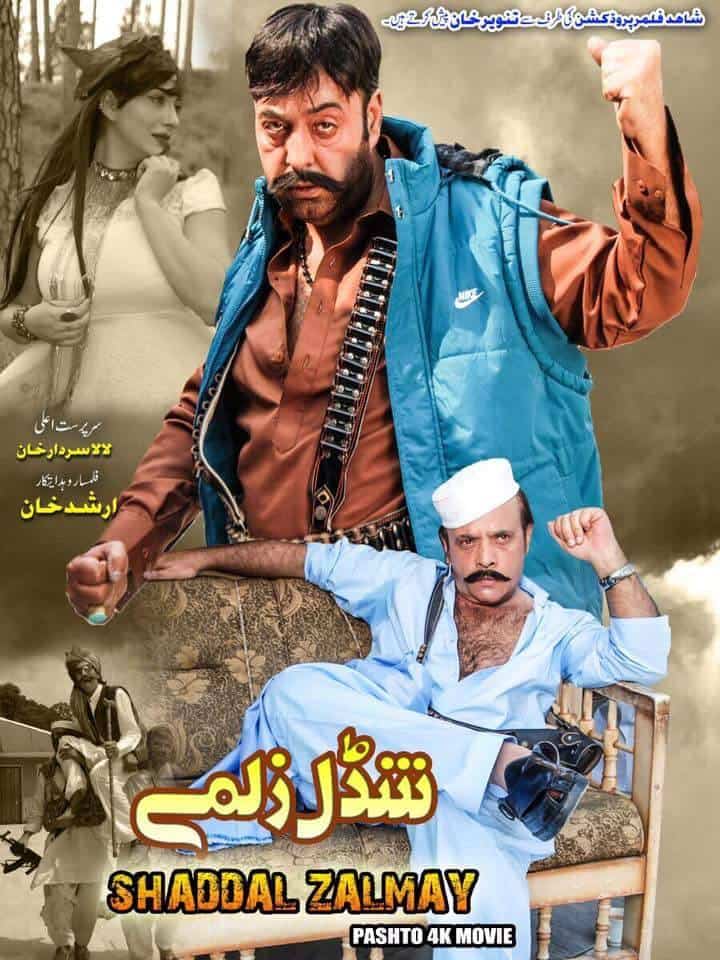 So it sums up the films releasing on this Eidul Azha.
Thanks for your time.
Rashid Nazir Ali