2017 has so far proved a dismal year with respect to local cinema. A total of five main stream Urdu films are released in this year all of which failed to do any considerable business. Thora Jee Le (January), Whistle (February), Balu Mahi (February), Raasta (March) and Chalay Thay Saath (April) are the five movies released this year where no Urdu film was released in the month of May. Due to the Holy Muslim month of Ramazan no film is scheduled throughout the major part of June as well.
Chalay Thay Saath the last released Urdu film of 2017 was released on 21st April 2017. So from 21st April 2017 to 26th June 2017 it has been a two month dry season for Urdu cinema.
The two major festive occasion in our country are the Eidul Fitr and Eidul Azha which spread over atleast three holidays. These long holidays provide ample time for family reunion and outing plans, which in result benefit the entertainment industry including cinema and theaters.
To cash on these holidays the major films of the year are scheduled for Eid. Eidul Fitr has traditionally been the occasion when the most successful film of the year was released. However from past one decade, Eidul Azha has won the priority of the Urdu film makers.
The major Urdu films which once were specific to Eidul Fitr are now released on Eidul Azha. The most significant reason is the direct competition with the Bollywood film. Every Eidul Fitr a major Khan (Salman or Shahrukh) starring Bollywood film is also released which eats up the majority of the shows and revenue of Eidul Fitr holidays.
On 2015's Eidul Fitr, Bollywood's Bajrangi Bhaijan (BB) emerged blockbuster. Due the enormous success of BB, many shows of the two Urdu films Bin Roye and Wrong No. also released on Eidul Fitr were shifted to BB. Though eventually Wrong No. and Bin Roye also proved successful but their business was impacted by BB.
On 2016's Eidul Fitr, Bollywood's Sultan made many new records of collections like most earning in a single day, most earning on a weekend. The film earned around 34 crore and became the highest earning Bollywood film in the Pakistan. Two Urdu films Swaal 700 Crore Dollar Ka (SSCDA) and Blind Love were also due to release on Eidul Fitr in 2016. But due to unavailability of shows Blind Love was not released and the only film SSCDA struggled against Bollywood's Sultan.
Thus to avoid direct competition with the Eid release of Bollywood, major Urdu film makers are opting for Eidul Azha over Eidul Fitr. However this year few big budgeted Urdu films are releasing on Eidul Fitr. The performance of these Urdu films might determine the future of scheduling of Urdu films on Eidul Fitr. If successful the noted film makers might opt Eidul Fitr again over Eidul Azha.
Here is a summary of the films coming on Eidul Fitr 2017
Bollywood: Tubelight
Bollywood films have a proven solid market in Pakistan. The loyalty of Bollywood fans in Pakistan is unmatched that even the tense relationship of India and Pakistan hardly impact the business of Bollywood films in Pakistan. The only Bollywood Eid release of 2017 is Tubelight starring Salman Khan. Due to a history of the overwhelming response towards Khan starer Bollywood films, the premier show times at cinemas are allotted to these films. Like the Bollywood films released on Eid in previous years Tubelight is expected to outshine all the other films on this Eidul Fitr too.
Due to the pressure of local film makers Tubelight might will see a delayed release after few days of Eid to provide space for local films.
As per press reports Tubelight is based on the 1962 war fought between Indian and China. This war resulted in a humiliating defeat for India and as a result relationship among India and China are still not friendly.
Bollywood films enjoy widespread success at major and small urban centers, modern multiplexes and traditional single screen cinemas alike. The main business hub of Bollywood films is the provinces of Punjab, Sindh and the Islamabad Capital Territory.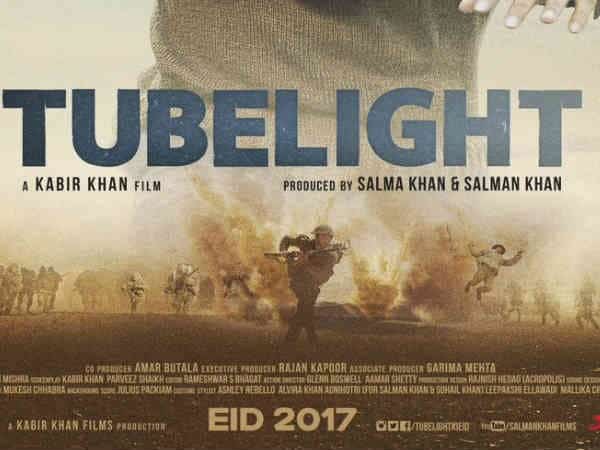 Urdu Films
Urdu is the national language of Pakistan and Urdu cinema is gradually recovering after its extinction in the last decade. In 2016 only one Urdu films SSCDA was released on Eidul Fitr which failed to leave any impact. However situation looks promising as two big budgeted Urdu films are releasing on this Eidul Fitr. A third film Shor Sharaba was also announced on Eid but later pulled back.
The main business circuit of Urdu films is Sindh, Punjab and Islamabad Capital Territory. Urdu films have a limited appeal in the provinces of Balochistan and KPK
Yalghaar (یلغار)
The most prominent Urdu film of this Eidul Fitr is Yalghaar. This film was announced on December 2013 after the historical success of Urdu (multilingual) film Waar released in October 2013. Hassan Waqas Rana the producer of Waar, directed the Yalghaar apart from being the producer and writer.
Some big names of Urdu cinema Shaan, Humayun Saeed are appearing together for the very first time in a film. Further to this the film has a huge cast of new and experienced artists like Adnan Siddiqi, Sana Bucha, Aisha Umar, Bilal Ashraf, Armeena Rana Khan, Aleeze Nasr, Ayub Khoso.
Yalghaar is the debut film for Adnan Siddiqi, Sana Bucha, Aleeze Nasr, Naeem Haque and few other artists. Like Waar, Yalghaar is also an action film based on security operations. This film covers the Peochar operation of 2009 in the Swat Valley.
The film took almost three years to complete and thus have huge expectations associated with it. The film started by ARY Films a film distribution company but in 2015, Hum Films acquired its rights for distribution. Apart from Pakistan, Yalghaar is also releasing in the Middle East, Europe, North America, Africa (East & South) and Asia-Pacific region.
It will be interesting to see the head to head performance of Yalghaar vs Bollywood's Tubelight. Yalghaar is produced in Islamabad.
Film: Yalghaar (یلغار)
Release Date: 26th or 27th June 2017
Genre: Action
Cast: Shaan Shahid, Humayun Saeed, Adnan Siddiqui, Asher Azeem Gill, Naeem Haque, Gohar Rasheed, Bilal Ashraf, Owais Shiekh, Ahmad Taha Ghani, Wali Yousuf, Irfan Gilani, Atiya Khan, Sana Bucha, Ayesha Omar, Aleeze Nasser, Armeena Rana Khan, Uzma Khan and many more
Music Arrangement: Akash Pervaiz
Written by: Dr. Hassan Waqas Rana
Directed by: Dr. Hassan Waqas Rana
Executive Producer: Javeria Hassan Rana
Produced by: Dr. Hassan Waqas Rana
Production House: Mindworks Media
Distributor: Hum Films
Facebook: https://www.facebook.com/YALGHAAR/
Mehrunnissa V Lub You (مہرالنسا وی لب یو)
Mehrunnissa V Lub You (MVLY) is the second film directed by Yasir Nawaz and produced by YNH (Yasir Nawaz, Nida Yasir, Hassan Zia Films) Films. The first film of this team Wrong No (WN) proved successful when released on Eidul Fitr in 2015. Though Wrong No was an ARY Films, MVLY is distributed by Urdu1 Films.
Like WN, Danish Taimoor and Javed Sheikh are also a part of MVLY. MVLY is also a Romcom like Wrong No. Another common highlight of Wrong No. and MVLY is the inclusion of item song performed by famous model Amna Ilyas. Sana Javed a well known name of TV dramas will be making big screen debut from MVLY
MVLY is shot on an expensive set costing around 20 million rupees (2 crore). The set shows the busy inner city area of Karachi. WN in 2015 the last film from the same team earned around 15 crore and MVLY is expected to also earn big. Traditionally films of light romantic comedies genre have been the most successful genre in our local cinema and MVLY is targeting the same audience. MVLY is produced in Karachi
Famous Indian filmmaker and lyricist Gulzar has penned the lyrics for this film, while Indian singers like Sukhwinder Singh has also provided vocals.
Film: Mehrunnissa V Lub You (مہرالنسا وی لب یو)
Release Date: 26th or 27th June 2017
Genre: Romantic Comedy
Cast: Qavi Khan, Jawed Sheikh, Danish Taimoor, Sana Javed, Saqib Sumeer, Nida Mumtaz, Nayyer Ejaz, Sarah Omair Siddiqi, Adnan Saeed
Guest Apperance: Arshad Mehmood, Leyla Zubairi, Dr. Faraz Manan
Special Apperance: Hinna Khawaja Bayat, Amna Ilyas
Music: Simab Sen
Screenplay: Yasir Nawaz & Saqib Sumeer
Dialogues: Saqib Sumeer
Story: Yasir Nawaz
Directed by: Yasir Nawaz
Produced by: Yasir Nawaz, Nida Yasir, Dr. Hassan Zia
Production House: YNH Films
Distributor: Urdu1 Films & Everready Productions
Facebook: https://www.facebook.com/YNHFILMS
Punjabi Films
Punjabi is the largest spoken language in Pakistan. For almost five decades Punjabi cinema has proved to be the backbone of our cinema and film industry. The success of Punjabi films also provided a space for Urdu cinema to flourish.
However after Urdu cinema, Punjabi film making has also been extinct till the end of last decade. Unlike Urdu cinema there has been no considerable effort to revive the Punjabi cinema. Every year very few Punjabi films of inferior quality are produced which hardly add any value towards the disfunct Punjabi cinema.
Two Punjabi films are expected to release on this Eid which are traditional gandasa films. The punjabi films will only release in the Punjab province.
Dushman (دشمن)
Cast: Moammar Rana, Khusbho, Babrik Shah, Afreen Pari, Dua Qureshi, Haider Sultan, Shahid, Nawaz Khan, Jahangir Jani, Achi Khani, Shafqat Cheema
Director: Masood Butt
Producer: Chaudhary Yaqoob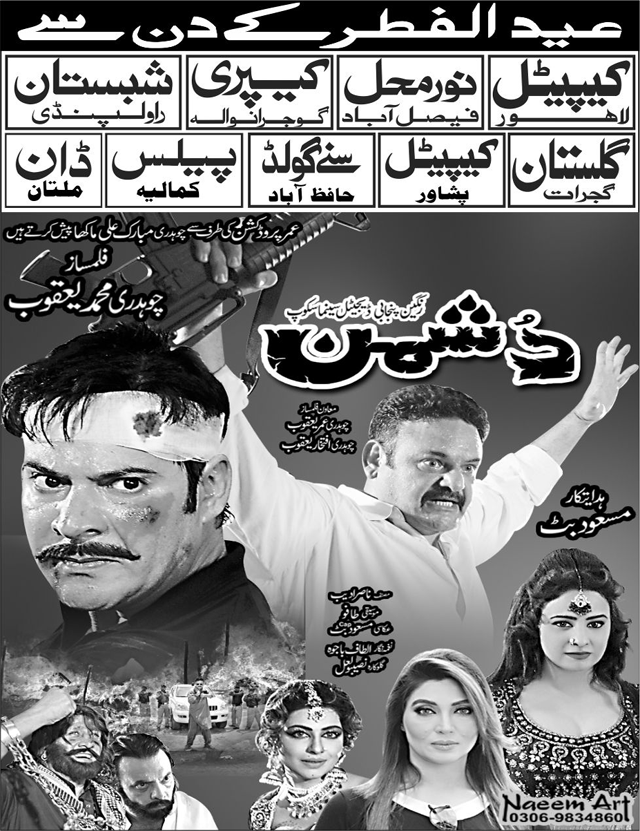 Malik Bahadur (ملک بہادر)
Cast:Moammar Rana, Sobia Khan, Arbaz Khan, Sahar Malik, Jahangir Jani, Wali Bukhari, Rahila Agha, Anila Agha, Nisha Bhatti, Nasir Chinioti
Director:Maqsood Ahmed
Producer: Qaiser Piya
Pashto Films
Pashto is the second largest spoken language in Pakistan after Punjabi. Pashto cinema was the third most successful film circuit after Punjabi and Urdu films. Unlike Urdu and Punjabi cinema which faded a decade ago, Pashto cinema has survived well despite dismal situation of law and order in its circuit. Pashto cinema seldom gets the attention of the mainstream media, still Pashto films have successfully retained their viewership.
Pashto cinema has its own dedicated circuit in the province of KPK, Balochistan (Quetta) and Sindh (Karachi only) where native Pashto speaker live in large numbers. Apart from Pakistan, Pashto films are also released in UAE (Dubai/Sharjah) and Afghanistan (Kabul).
The leading artists of the Pashto cinema are Shahid Khan, Jahangir Jani, Arbaaz Khan and Ajab Gull. Total five Pashto films are expected to release on this Eidul Fitr.
Zakhmona (زخمونہ)
Cast: Arbaz Khan, Ajab Gull, Afreen Pari
Directed By : Shahid Usman
Produced By : Zahoor Abbas & Afreen Pari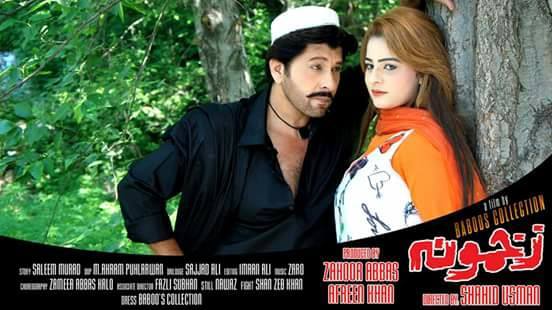 Das Khush Bamani (دس خوشی بامنی)
Cast: Shahid Khan & Dua Qureshi
Directed By : Arshad khan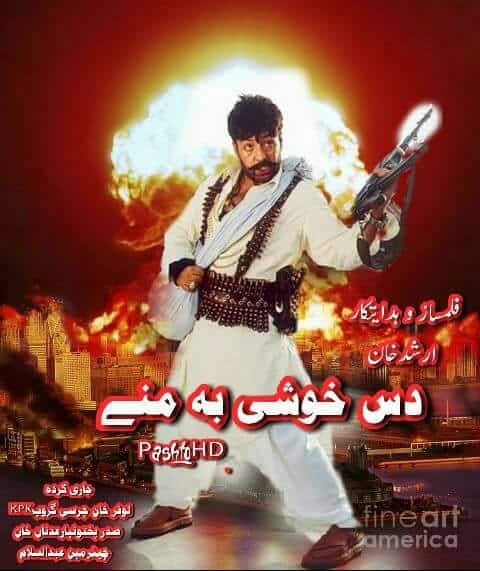 Sata Mohabbat Mi Zindagi Da (ستا محبت می زندگی دا)
Cast: Arbaz Khan, Jahangir Jani, Sobia Khan
Directed By : A K Khan
Produced By : Muzafar Khan
Co Producer : Arshad Khattak
Writer: Sajjad Ali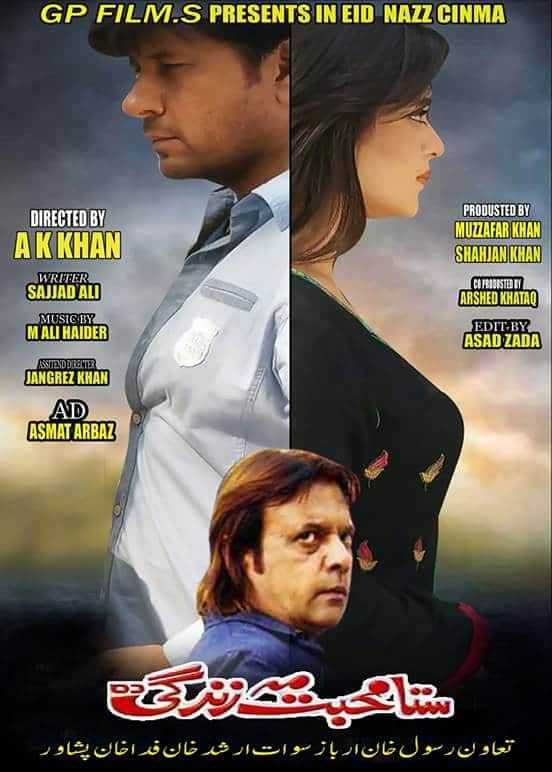 Giriftar (گرفتار)
Cast: Shahid khan, Jahangir Jani,Sobia khan ,Sumbal khan,Sidra Noor
Directed By: Nadar Khan
Produced By: Shahzeb Khan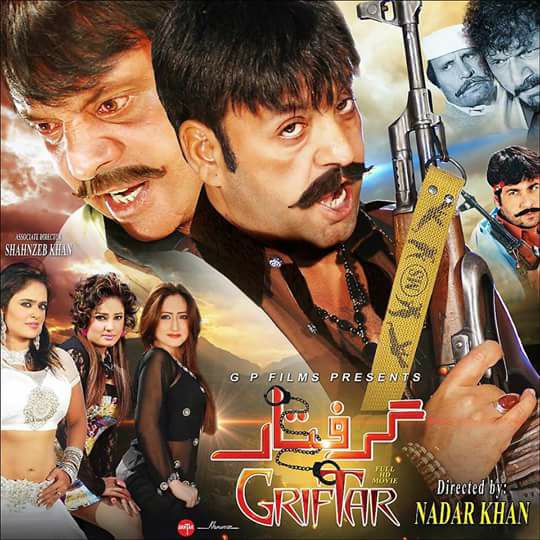 Gul Jana (گل جاناں)
Staring Aryan Khan & Afreen Pari
Directed By : Liaqat Ali Khan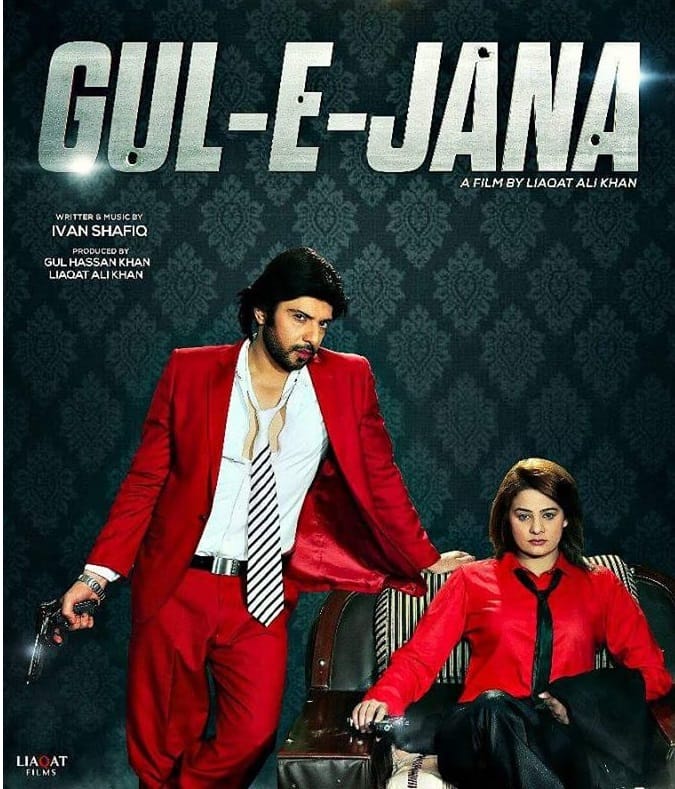 So it sums up the films coming on the Eidul Fitr 2017.
Thanks for reading. Wishing everyone a happy Eidul Fitr.
Rashid Nazir Ali