Eidul Azha is a festive occasion in our country. Apart from religious significance it is an event of family gathering and other festivities as well. Traditionally our film makers reserve their premier productions for Eid for which cinema bookings are done months ago. From past two decades local cinema has declined considerably and since 2006 this space is filled by Bollywood movies.
This Eid, a mix of Bollywood (Hindi), Urdu (Karawood, Lollywood), Punjabi and Pashto films are releasing. These films will be released on multiplexes and single screen cinemas across the country.
Bollywood
Any festive occasion without a Bollywood film, is something that seldom happens in Pakistan (like Blue Moon). Due to huge demand of Bollywood films, at-least one Bollywood film is a must release. Only one Bollywood film is releasing this Eidul Azha, like Eidul Fitr. On Eidul Fitr only one Bollywood film Bajrangi Bhaijan was screened, which was allotted the lion's share in the number of screens to release. The film exceeded all the expectations and has done splendid business and is the most successful film for the year 2015 in Pakistan by earning nearly 22.5 crore (unconfirmed statistics).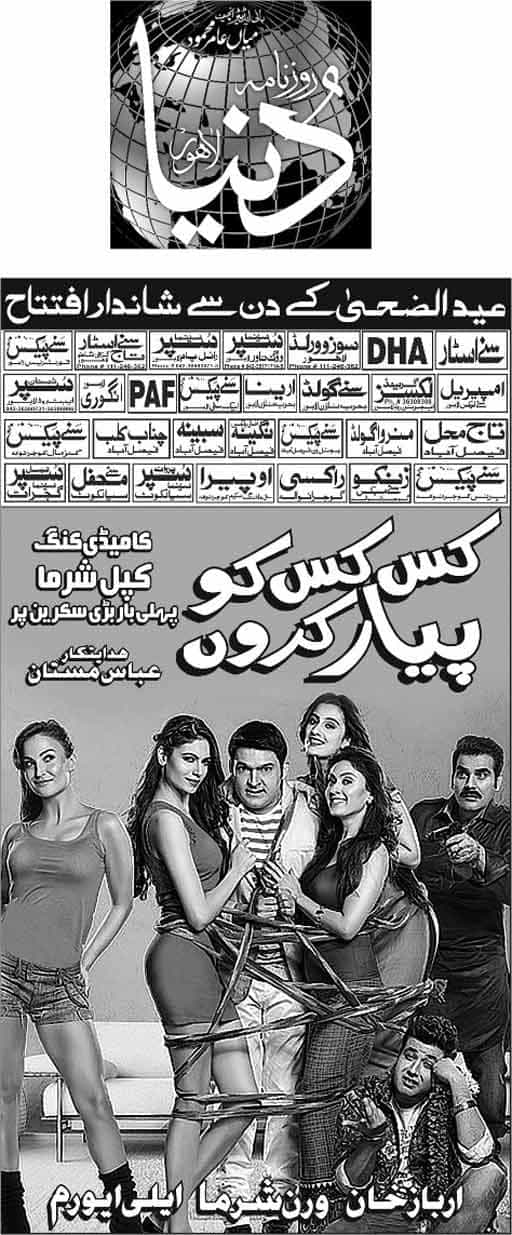 This year, a Bollywood film named "kis kis se pyar karoon" is releasing. It stars famous Indian comedian Kapil Sharma. Kapil Sharma's television show is quite popular in Pakistan and the film is expected to do well like any other Bollywood film released in Pakistan.
Urdu Films
A total of three Urdu films are releasing on this Eid produced in Karachi and Lahore
Karawood
Both films produced in Karachi are commercial films of comedy genre. On Eidul Fitr, another comedy film Wrong No, also produced in Karachi proved quite successful. Wrong No. is the most successful Urdu film of the year and so as per unconfirmed reports has earned more than 14 crores.
Both Urdu films produced in Karachi are releasing in multiplexes as well as single screen cinemas.
Jawani Phir Nahin Aani
A comedy film with a star cast.
Cast: Humayun Saeed, Hamza Ali Abbasi, Ahmed Ali Butt, Vasay Ch, Aisha Khan, Sarwat Gillani, Mehwish Hayat,Sohai Ali Abro, Javed Sheikh, Bushra Ansari, ZQ, Ismail Tara
Directed by: Nadeem Baig
Producers: Salman Iqbal, Humayun Saeed, Mohammad Jerjees Seja & Shahzad Nasib
Halla Gulla
A comedy film with veteran comedians like Ismail Tara, Ashraf Khan and a relatively young cast.
Starring: Javed Sheikh, Ismail Tara, Ghazala Javed, Asim Mehmood, Muneeb, Sidra Batool, Ashraf Khan ,Zara Gul Jasmeen Adil Wadia, Maryam Ansari, Hina Rizvi, Hunain Maniar, Bilal Yousufzai
Director & Screenplay: Kamran Akbar Khan
Writer: Raheela Mushtaq Shah
Producer: Hamid Mohammad
Designer: EDGE (Men)
Studio: MFN (VFX Director-1stop Studio)
& Social Media
DOP: Asif Khan
Editor: Nasir Inayat
Lollywood
The traditional hub of film making in Pakistan is the Lahore based film industry. Only one Urdu film produced in Lahore is releasing on this Eid.
Sanam
Directed by Syed Noor, it is a film completed twelve years ago but was not released then. Starring Babar Ali, Saima and Reema the film is shot on old cameras of 35 mm and can only be released in a traditional single screen cinema. Sanam is only releasing in Punjab.
Punjabi films
Two low budget formula Punjabi films are lined up for this Eidul Azha. Formula Punjabi films have their own dedicated circuit, and normally they recover their cost easily. Like a routine Punjabi formula film both these films are full of similar stuff like violence, steamy dances, loud dialog. Punjabi films are only released in traditional single screen cinemas. The name of the films are Sohna Gujjar (starring Moammar Rana) and Ishq De Qaidi.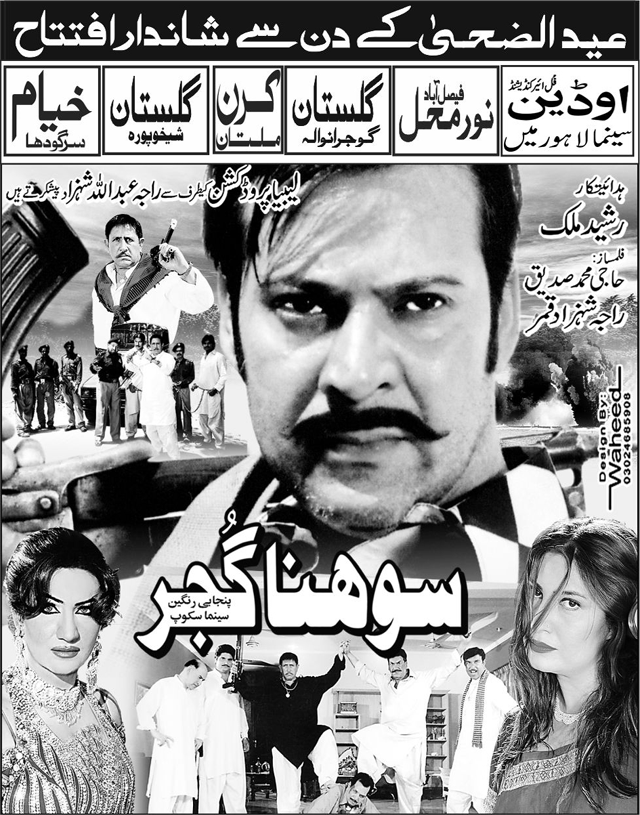 Pashto films
Pashto film industry is the most successful and vibrant film circuit of Pakistan. In recent years the number of Pashto films have out numbered the Punjabi and Urdu films. Pashto films have a dedicatd circut in the three provinces i.e. Khyber Pakhtunkhwa (Peshawar, Mardan, Swat, Charsadda, Noshehra), Balochistan (Quetta only) and Sindh (Karachi only). Apart from Pakistan the Pashto films are also regularly screened in foreign countries Afghanistan (Kabul) and UAE (Dubai).
On Eidul Fitr, five pashto films were released and on Eidul Azha six pashto films will be screened. The famous artists appearing in these films are Arbaz Khan, Shahid Khan, Ajab Gul and Jahangir Jaani.
The name of the pashto films are Malang Pe Dua Rang, Zoe Da sharabi, Badnaam, Tezaab, iqraar, Janaan
Hollywood films
Like Punjabi and pashto films, Hollywood films also have their dedicated market in Pakistan. Hollywood films are screened in big urban centres of Karachi, Lahore and Islamabad normally in multiplexes. Every multiplex has a dedicated screen equipped with the latest technology like IMAX for such Hollywood films. This Eid two Hollywood films are releasing namely Everest and Dinosaur Island.
Rashid Nazir Ali