Frieha Altaf is an icon in fashion industry. Her contributions towards promotion of fashion and styling industry of Pakistan are priceless. Here is a detailed interview of Frieha from Urdu monthly Gourmet Khawateen done by Sameeha Khaalid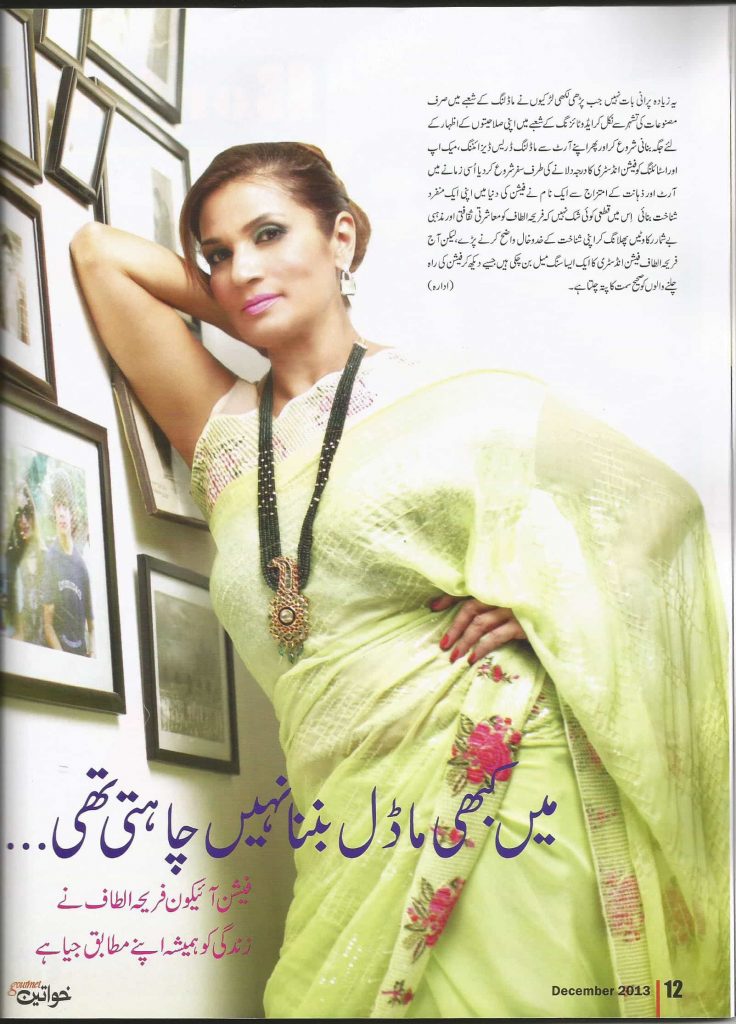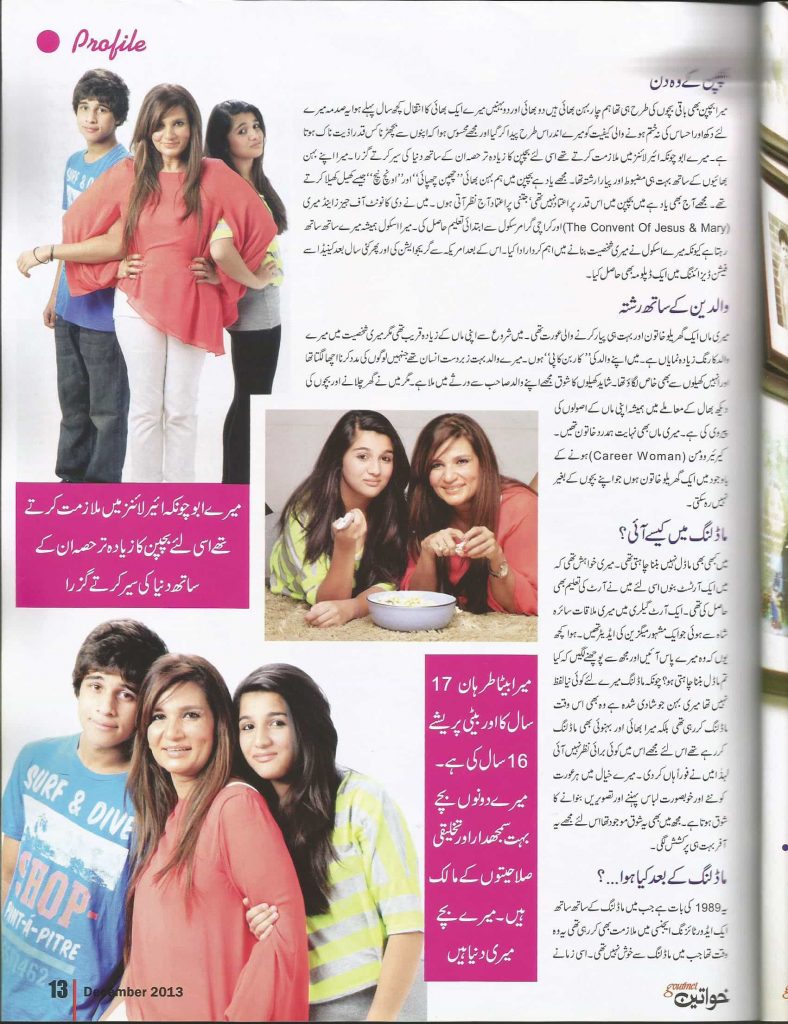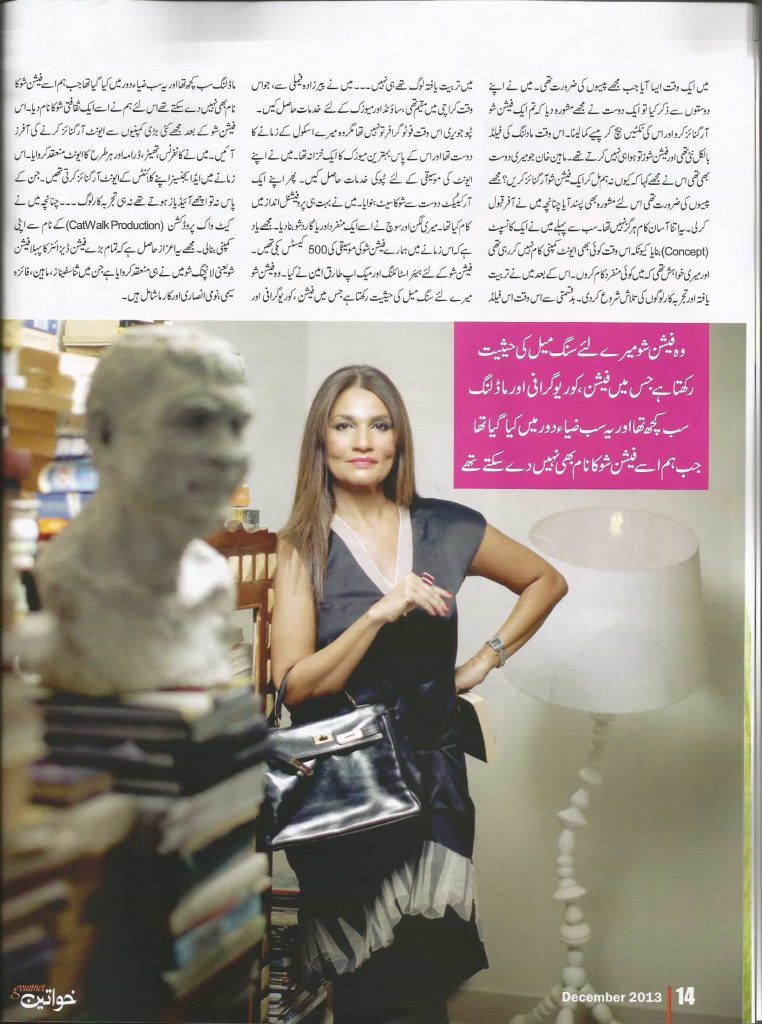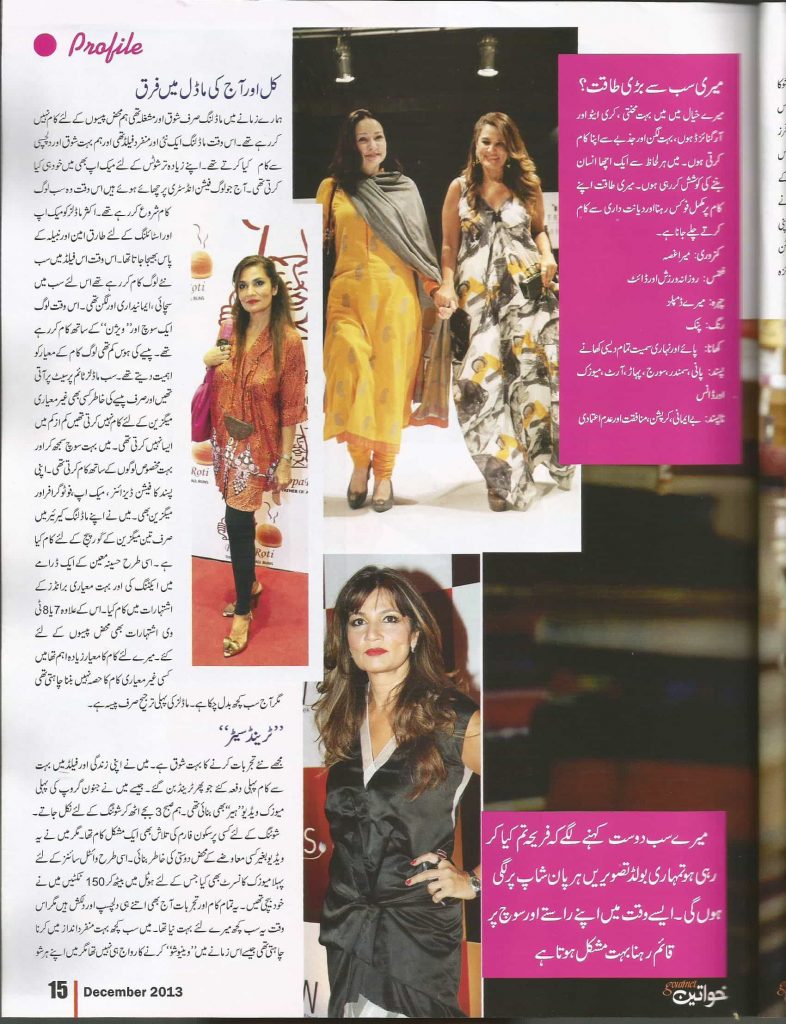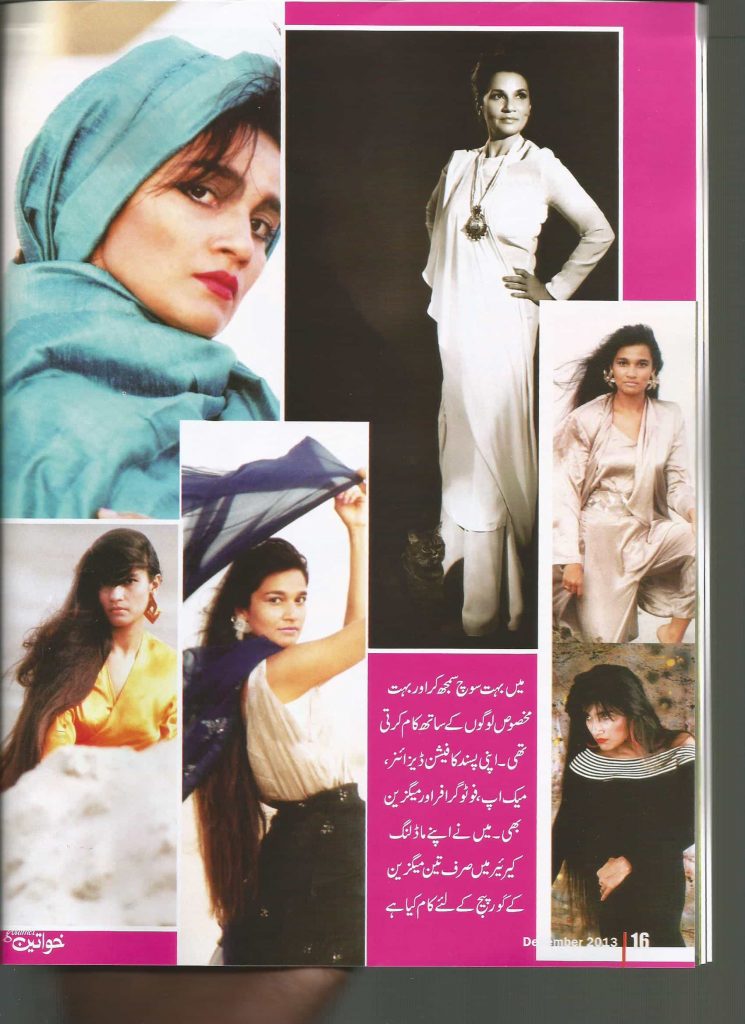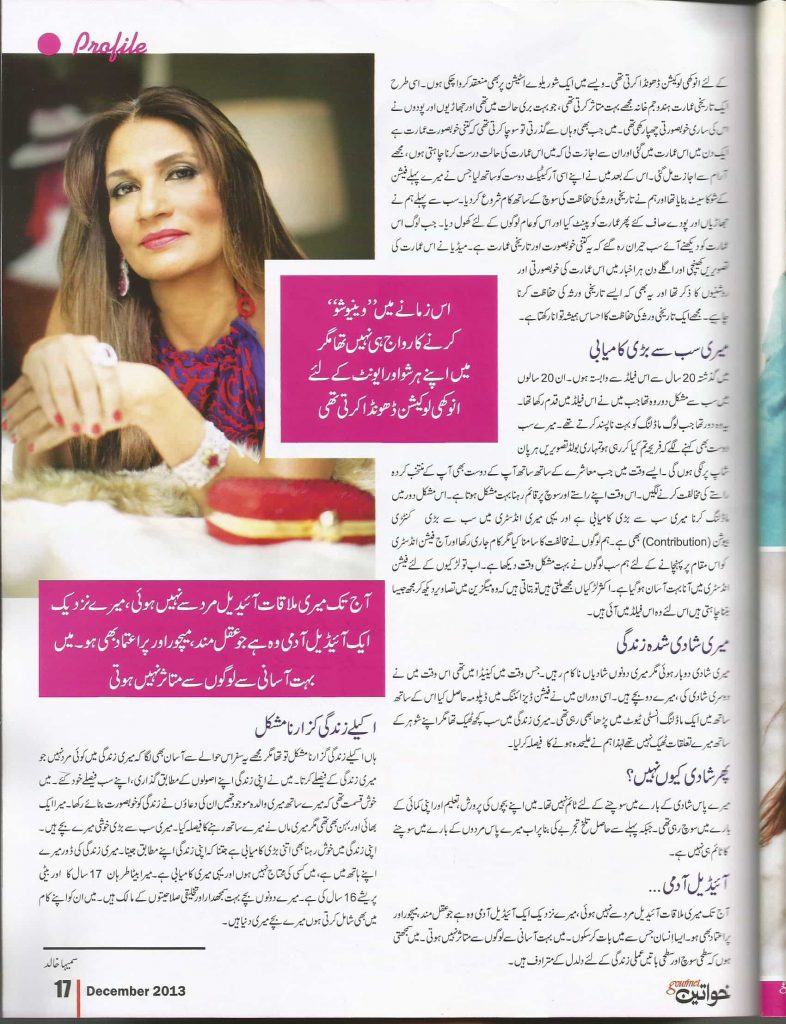 Interview content in roman urdu
Mein kabhi model nahin ban-na chahti thi… fareeha altaf nay zindagi ko hamesha apnay mutabiq jiya hai
Yeh zyada puran baat nahin jab parhi likhi larkiyion nay modeling kay shobay mein sirf masnoo-aat ki tash-heer say nikal kar advertising kay shobay mein apni salahi-ton kay izhaar kay liye jaga banana shru kar di aur phir apnay art say modeling dress designing, makeup aur styling ko fashion industry ka darja dilanay ki taraf safar shru kar diya ussi zamany mein art aur zihanat kay imtizaaj say aik naam nay fashion ki dunya mein apni aik munfarid pehchan banayee is mein qatayee koi shauk nahin kay fareeha altaf ko muasharti, siqafti aur mazhbi beshumaar rukawatain phalaang kar apni shinakht kay khadokhaal wazaih karnay paray. Lekin aaj fariha altaf fashion industry ka aik aisa sange meel ban chuki hain jissay dekh kar fashion ki raah chalnay waalon ko sahih simat ka pata chalta hai
Bachpan kay who din
Mera bachpan bhi baqi bachon ki tarah hi tha. Hum chaar behan bhayee hain do bhayee aur do behnain meray aik bhayee ka intiqaal kuchh saal pehlay huwa yeh sadma meray liye dukh aur ehsas kin a khatam honay waali kefiyat ko meray andar kucch is tarah peda kar gaya aur mujhey mehsoos huwa kay apnon say bicharna kis qadar azeeyat naak hota hai . meray abu choonkay airlines mein mulazmat kartay thay isliye bachpan ka zyada tar hisa unkay sath dunya ki sair kartay guzra. Mera apnay behan bhaiyon kay saath rishta bohat mazboot aur pyara rishta tha. Mujhay yaad hai bachpanmein hum behan bhayee chhupan chhupayee aur oonch neech jesay khail khela kartay thay mujhey aaj bhi yaad hai mein bachpan mein isqadar pur etmaad nahin thi jitni pur aitmaad aaj nazar aati hoon. Mein nay the convent of jesus and marry aur Karachi grammer school say ibtadayee taaleem ghaasil ki. Mera school hamesha meray saath saath rehta tha kyonkay meray school nay meri shakhsiyat banana mein aham kirdaar ada kiya . is kay baad America say graduation kiaur phir kayee saal baad Canada say fashion designing mein diploma bhi haasil kiya
Waledain kay saath rishta
Meri walida aik gharelo khatoon aur bohat hi pyar karnay waali aurat thi- mein shru say apni maan kay zyada qareeb thi magar meri shakhsiyat mein meray waalikd ka rang zyada numayan hai. Mein apnay waalid ki carbon copy hoon. Meray waalid bohat zabardast insaan thay jinhain logon ki madad karna achha lagta tha aur unhain khelon say bhi khaas lagao tha. Shayed khelon ka show mujhey apnay waalid sahib say wirsay mein mila hai. Magar mein nay ghar chalanay aur bachonn ki dekh bhal hamesha apni maan kay asoolon ki pervi ki hai. Meri maan bhi nihayat humdard khatoon thi. Career women honay kay bawjood mein aik gharelo khatoon hon jo apnay bachon kay baghair nahin reh sakti
Modeling mien kesay aayee?
Mein kabhi bhi model nahin ban-na chahti thi. Meri khwahish thi mein aik artist banon isliye mien nay art ki taaleem bhi haasil kit hi. Aik art gallery mein meri mulaqat saira shah say huwi jo aik mash-hoor magazine ki editor then aur mujh say poochnay lageen kay kiya tum model ban-na chahti ho? Chonkay modeling meray liye koi naya lafz nahin tha meri behan jo shadi shuda hai who bhi uswaqt modeling kar rahi thi balkay mera bhai aur behnoi bhi modeling kar rahay thay isliye mujhey is mein koi burayee nazar nahin aaye lahaza mein nay foran haan kar di. Meray khayal mein har orat ko naye aur khoobsorat libaas pehan-nay aur tasveerain banwanay ka shoq hota hai. Mujh mein bhi yeh shoq mojood tha isliye mujhey yeh offer bohat hi porkashish lagi
Modeling kay baad kiya huwa…?
Yeh 1989 ki baat hai jab mein modeling kay saath saath aik advertising agency mein mulazmat bhi kar rahi thi yeh who waqt tha jab mein modeling say khush nahin thi. Is zamany mein aik waqt aisa aaya jab mujhey paison ki zaroorat thi. Mein nay apnay doston say zikar kiya to aik dost nay mujhey mashwara diya kay tum aik fashion show organize karo aur uski ticktain bech kar pesay kama lena. Iss waqt modeling ki field bilkul naee thi aur fashion shows to huwa hi nahin kartay thay. Maheen khan jo meri dost bhi thi us nay mujhey kaha kay kyon na hum milkar aik fashion show organize karain? Mujhey paison ki zaroorat thi isliye mashwara pasand bhi aaya chunanchay mein nay offer qabool kar li. Yeh itna aasan kaam hargiz nahin tha. Sab say pehlay mein aik concept tbanaya kyonkay is waqt koi bhi event company kaam nahin kar rahi thi aur meri khwahish thi kay mein koi munfarid kaam karon. Iskay baad mein nay tarbiyat yaafta aur tajruba logon ki talaash kar di. Badqismati say is waqt is field mein tarbiyat yaafta log thay hi nahin.. mein nay pirzada family say , jo is waqt Karachi mein muqeem thi, sound or music kay liye khidmat haasil keen. Tapu javeri us waqt fotografer to nahin tha magar who meray school kay zamanay ka dost tha aur uskay paas behtreen music ka aik khazana tha. Mein nay apnay event ki mosiqi kay liye tapu ki khidmat haasil keen. Phir apnay aik architect dost say show ka set banwaya mein nay bohat hi professional andaaz mein kaam kiya tha. Meri lagan aur soch nay usaay aik munfarid aur yaadgaar show bana diya. Mujhey yaad hai kay uss zamanay mein humara fashion shows ki mosiqi ki 500 cassetain biki then. Fashion show kay liye hair styling aur make up tariq amen nay kiya woh fashion show meray liye sange meel ki hesiyat rakhta hai jis mein fashion, choreography aur modeling sab kuchh tha aur yeh sab zia dor mein kiya gaya tha jub hum usaay fashion show ka naam bhi nahin day saktay thay isliye hum nay usaay aik saqafti show ka naam diya. Is fashion show kay baad mujhey kayee bari companiyon say event organize karnay ki offes aayen. Mein nay conference, theatre, drama aur har tarah ka event munaqid karwaya. Us zamany mein ad agencies anay clients kay event organize karti then. Jinkay paas na to achhay ideas hotay thay naa hi tajarba kaar log chunachay mein nay catwalk production kay naam say apni company bana li. Mujhey yeh aizaz haasil hai kay tamam baray fashion designers ka pehla fashion show yaani launching show mein nay hi munaqid karwaya hai jin mein sana safinaz, maheen, seemi, nomi ansar aur karma shaamil hain
Kal aur aaj ki model mein farq
Humaray zamany mein modeling sirf shoq aur mashghala thi aur hum mehaz peson kayliye kaam nahin kar rahay they. Us waqt modeling aik nayee au munfarid field thi aur hum bohat dilchaspi say kaam kiya kartay they. Apnay zyada tar shots kay liye makeup bhi mein kud hi kiya karti thi. Aaj jo log fashion industry per chhaye huway hain us waqt who sab log kaamshru kar rahay thay. Aksar models ko makeup aur styling kay liye tariq amin aur nabeela kay paas bheja jaata tha us waqt is field mein sab naye log kaam kar rahay thay isliye sab mein sachayee, emandaari aur lagan thi. Us waqt log aik soch aur vision kay saath kaam kar rahay they. Paisay ki hawas kam thi log kaam kay mayaar ko ahmiyat detay thay. Sab models time per set per aati then sirf pesay ki khaatir kisi bhi gher mayaari magazine kayliye kaam nahin karti theen kam az kam mein aisa nahin karti thi mein bohat soch samajh kar aur bohat makhsoos logon kay saath kaam karti thi apni pasand ka fashion designer, makeup, photographer aur magazine bhi . mein nay apnay modeling career mein sirf teen magazine kay cover page kayliye kaam kiya hai. Isi tarah haseena moin kay aik drama mein acting ki aur bohat mayaari brands kay ishtiharaat mein kaam kiya iskay ilaawa 7 ya 8 tv ishtiharaat bhi mehaz peson kay liye kiye. Meray liye kaam ka mayaar zyada aham tha mein kissi ghair mayaari kaam ka hisaa nahin ban-na chahti thi magar aaj sab kuchh badal chukka hai models ki pehli tarjih sirf pesa hai.
Trend setter
Mujhey naye tajarbuaat karnay ka bohat shoq hai. Main nay apni zindagi aur field mein bohat say kaam pehli dafa kiya jo phir trend ban gaye. Jesay mein nay junoon group ki pehli music video heer bhi banayee thi. Hum subah 3 bajay uthh kar shooting kay liye nikal jaata . shooting kay liye kissi pursakoon farm ki talaash bhi aik mushkil kaam thaa. Magar mein nay yeh video baghair kisi muawzay kay mehaz dosti ki khaatir banayee. Issi tarah vital signs kay liye pehla music concert bhi kiya jiskay liye hotel mein beth kar 150 tickets mein khood bechi theen. Yeh tamam kaam aur tajarubaat aaj bhi itnay hi dilchasp aur dilkash hain magar uswaqt yeh sab kuchh meray liye bohatnaya tha. Mein sab kuch bohat munfarid andaaz mein karna chahti thi jesay us zamany mein venue show karnay ka riwaaj hi nahin thaa magar mein apnay har show kay liye anokhi location dhoonda karti thi. Wesay mein aik show railway station per bhi munaqid karwa chuki hoon. Issi tarah aik tareekhi amarat hindu gymkhana mujhey bohat mutaasir karti thi. Jo bohat buri haalat mein thia aur jhaariyon aur paudon nay uski saari khobsoorti chhupa raki thi. Mein jab bhi wahan say guzarti to socha karti thi kay kitni khobsoorat imaarat hai aik din mein is imaarat mein gayee aur unsay ijazat li kay mein is imaarat ki halat darust karna chahti hoon. Mujhey aaraam say yeh ijazat mil gayee. iskay baad mein nay apnay issi architect dost ko saath liya jis nay meray pehlay fashion kay how ka set banaya tha aur hum nay tareekhi virsa ki hifazat ki soch kay saath kaam shru kar diya. Sab say pehlay humnay jhariyaan aur pauday saaf kiye phir poori imaarat k paint kiya aur usko aam logon kay liye khol diya. Jab log is imaarat ko dekhnay aaye sab heraan reh gaye kay yeh kitni khoobsorat aur tareekhi imaarat hai. Media nay is imarat ki tasveerain khenchi aur aglay din har akhbar mein is imaarat ki khoobsurti aur roshniyon ka zikar tha aur yeh bhi kay aisay tareekhi virsa ki hifazat karna chahiye. Mujhay aik tareekhi virsa hifazat ka ehsas hamesha tawaana rakhti hai.
Meri sab say bari kamyabi
Mein 20 saal say is field say wabasta hoon. In 20 saalaon mein sab say mushkil daur who that jab mein nay is field mein qadam rakha tha. Yeh who daur tha jab log modeling ko bohat napasand kartay thay. Meray sab dost bhi kehnay laga fareeha tum kiya kar rahi ho tumhari bold tasveerainhar pan shop per lagi hon gee. Aisay waqt mein jab muashray kay saath saath apkay dost bhi aapkay muntakhib karda raastay ki mukhalfat karnay lagain. Us waqt apnay raastay aur soch per qayem rehna bohat mushkil hota hai . is muskil daur mein modeling karna meri sab say bari kamyabi hai aur yehi meri industry mein sab say bari contribution bhi hai hum logon nay mukhalfit ka saamna kiya magar kam jaari rakha aur aaj fashion industry ko iss muqaam per pohnchanay kay liye hum sab logon nay bohat mushkil wat dekha hai. Abto larkiyon kay liye fashion industry mein aana bohat aasan ho gaya hai. Aksar larkiya mujhey milti hain to batati hain kay who magazine mein tasveer dekh kar mujh jesa ban=na chahti hai isliye who is field mein aayee hain.
Meri shaadi shuda zindagi
Meri shaadi do baar huwee magar meri donon shaadiyan nakaam raheen.  jis waqt mein Canada mein thi us waqt mein nay doosri shaadi ki meray do bachay hain. Issi doraan mein nay fashion designing mein diploma haasil kiya iss kaay saath mein aik modeling institute mein parha bhi rahi thi. Meri zindagi mein sab theek tha magar apnay shohar kay saath mera taluqaat theek nahin they lihaaza hum nay alehda honay kaa faisla kar liya
Phir shaadi kyon nahin ki
Meray paas shaadi kay baaray mein sochnay kay liye time nahin tha. Mein apnay bachon ki parvarish taaleem aur apni kamayee kay baray mein soch rahi thi. Jabkay pehlay say haasil talkh tajrubay ki bina par ab meray paas mardon kay baray mein sochnay ka time hi nahin hai
Ideal aadmi
Aaj tak meri mulaqat ideal mard say nahin huwi, meray nazdeek aik ideal aadmi who hai jo aqalmand, mature aur pur aitmad ho aisa insaan jis say mein baat kar sakoon. Mein bohat aasani say logon say mutaasir nahin hoti. Mein samajhti hoon kay sat-hi soch aur sat-hi batain amli zindagi kay liye daldal kay mutraadif hain
Akele zindagi guzarna mushkil
Haan akelay zindagi guzarna mushkil to tha magar muhey yeh safar is hawalay say aasan bhi laga kay meri zindagi mein koi mard nahin jo meri zindagi kay faislay karta. Meinnay apni zindagi apnay asoolon kay mutabiq guzaari apnay sab faislay khud kiye. Mein khush qismat thi kay meray sath meri waalida mojood theen unki duwaoon nay zindagi ko khobsoorat banaye rakha. Mera aik bhai aur behan bhi thi magar meri maan nay meray saath rehnay ka faisla kiya. Meri sab say bari khushi meray bachay hain. Apni zindagi mein khush rehna bhi itni bai kamyabi hai jitna kay apni zindagi apnay mutabiq jeena. Meri zindagi ki daur meray apnay haath mein hai mein kisi ki mohtaaj nahin hoon aur yehi meri kamyabi hai . mera beta tarhaan 17 saal ka aur beti parishay 16 saal ki hai. Meray donon bachay bohat samajhdaar aur takhleeqi salahiton kay maalik hain. Mein unko apnay kaam mein bhi shaamil kar ti hoon meray bachay meri dunya hain.
Rashid Nazir Ali
Top Trending Video