Geo News insulted by a caller Live in Amir Liaquat's Show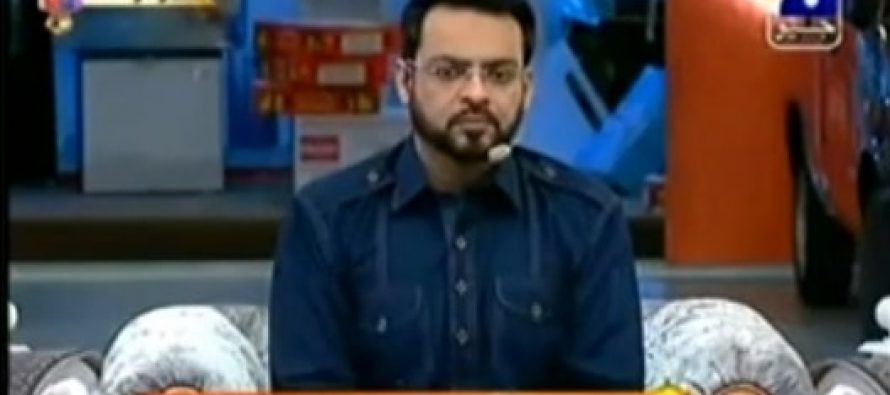 The channel which had been lately in the news for supporting the airing of foreign content has once again received another blow to its popularity among the viewers.    It has been noticed that Geo Network seems to follow its own strategy of making money without keeping in view the customs and traditions of the country it actually represents.
The foreign influence on the channel has finally forced the citizens of Pakistan to speak openly over the issue and it was only today in the live transmission of Ramadan that a caller criticized the channel for giving importance to the Indian celebrities who actually do not even exist for half of the people in Pakistan.
Calling in Amir Liaquat Hussain's show, he said that charity begins at home and when it comes to protecting Islam and its teaching, there is no point of showing which Bollywood actress has celebrated her birthday and which Bollywood movie will now be releasing. The caller was basically pointing towards the news which was recently shared by Geo News about Katrina Kaif's celebration of her birthday. The news was a part of a headline "Hindi Nahi ati par Hindustan par raaj kerti hoon".
Trying his best to ignore the question been raised on their own policies, Amir Liaquat played it safe and did not cover much of its details. Audience, however, seems delighted with the point been raised by a caller and as a matter of fact, it is really important now  that we, as a nation should start questioning the authorities about their diplomacies which are been imposed under the title of 'Entertainment'.
Wishes,
Nida Zaidi
http://www.youtube.com/watch?v=Z-WHYv5C-LE
---