Recently, a video of Aspire College students visiting Murree went viral on the social media. The girls who couldn't contain their excitement around the Local news reporter made some bloopers when asked about their experience in the city. The news reporter then posted the video on Facebook which went insanely viral in no time.
One of the girl in the video was quoted saying "Hum Aspire sae hai tou inspire tou kare gay hi" and the other said "Boht maza aa raha hai, We are proud of you". The girl, who accidentally said that "We are proud of you" was massively trolled on social media. Some people and even Facebook pages posted memes to further humiliate the girl and mock her English speaking skill.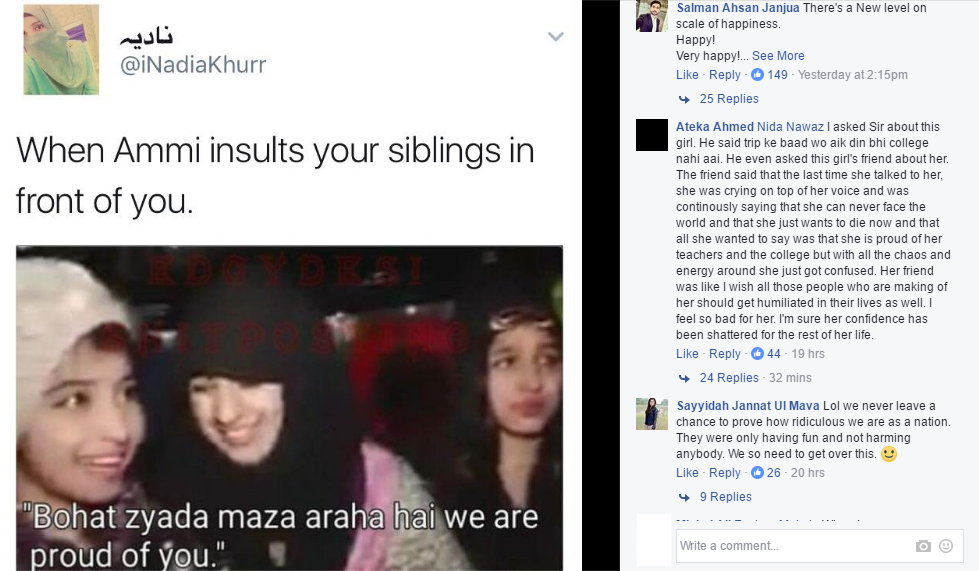 A post was brought to attention from a person who goes to school with the ladies and shared how the girl is being affected due all the trolling. Atika Ahmed wrote, "I asked sir about this girl. He said trip ke baad wo aik din bhi college nahi aai. He even asked this girl's friend about her. The friend said that the last time she talked to her, she was crying on top of her voice and was continuously saying that she can never face the world and that she just wants to die now and that all she wanted to say was that she is proud of her teachers and the college but with all the chaos and energy around she just got confused. I'm sure her confidence has been shattered for the rest of her life", she concluded.
People trolled her and made memes but did not even think once about the girl who just lost her confidence because of us. She was excited and made a mistake, anybody else could've made a mistake either but she certainly did not deserved this. The insensitivity of the new trolling culture bared all of the them to see how it was affecting the girl. All those who humiliated her need to apologize and think before targeting an individual because we never know what our actions can lead to.